Super moist, creamy, and topped with a luscious cream cheese lemon glaze, this lemon poppy seed cake is easy and simple to make. Serve this lemon poppy seed cake with cup of hot coffee or cold glass of whole milk.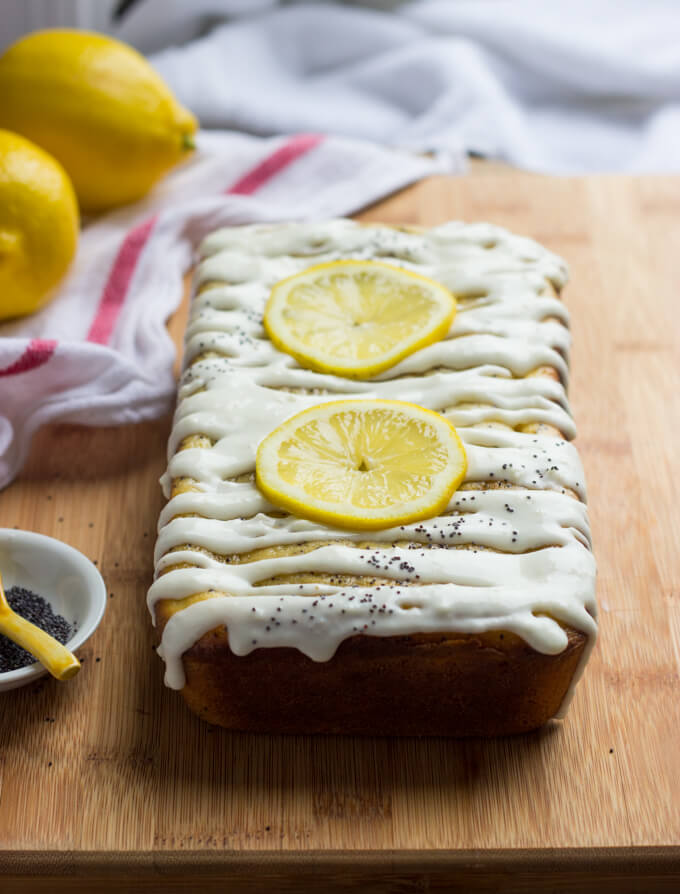 I have some happy food for you guys today! Because let's be honest, this time of the year sucks. If you're anywhere near the east coast then you know, how dreadful, cold, colorless, and sun-less the days can get in February. This →lemon poppy seed cake← however, is bright, citrusy, fresh, and I want to get up and conquer the world type of cake. Well maybe not exactly conquer the world but you get where I'm going with this.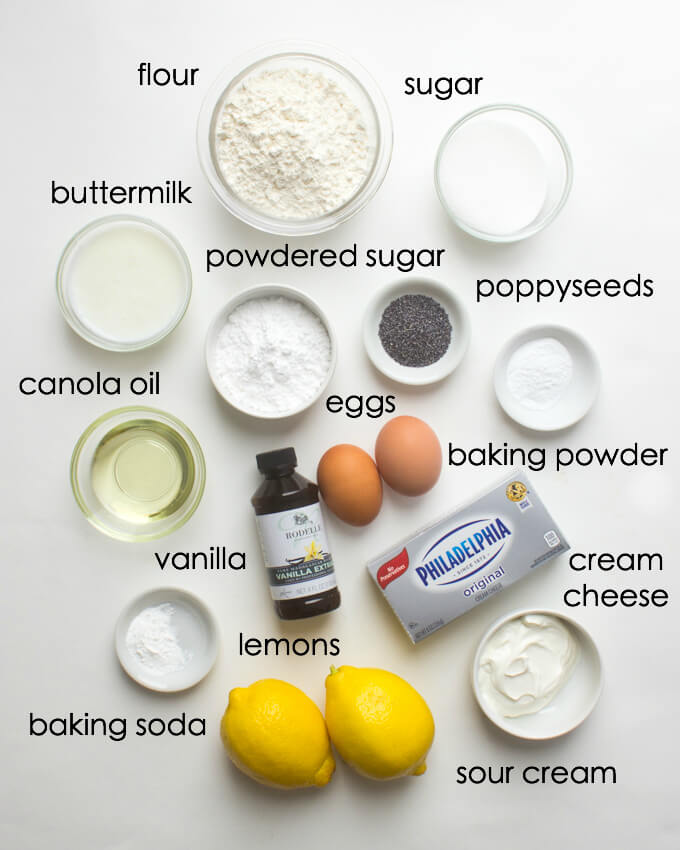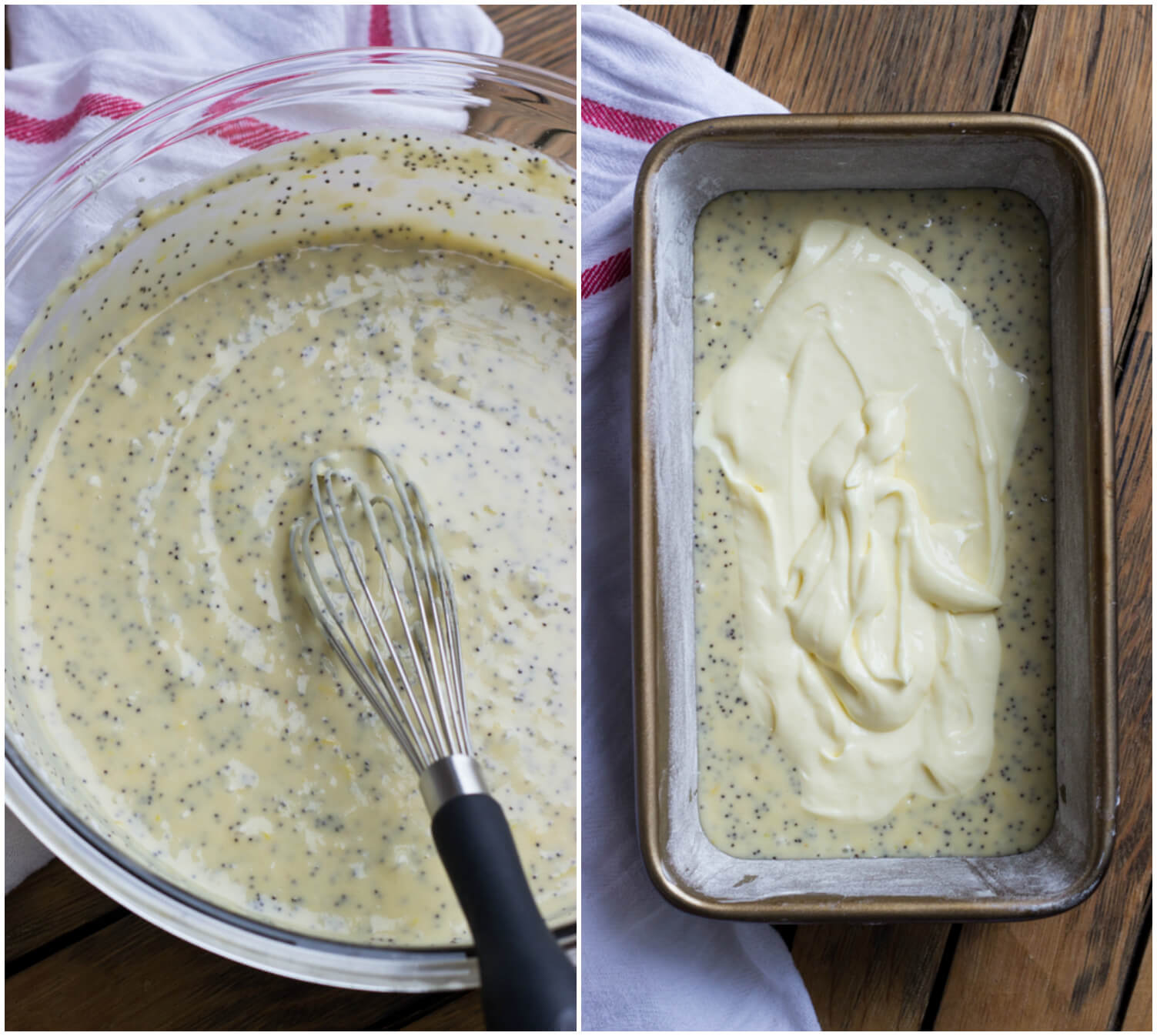 It's a cake that will brighten even the gloomiest of the days. In the morning, when you need something fresh and on the go with your coffee, this cake will do it. When 3 o'clock hits and you're craving a little afternoon pick me up, this cake will do it, preferably with cold glass of organic milk.  Or when dinner is done and you want something sweet but not overly heavy, this cake will do it. I mean it don't matter when you decide to satisfy your sweet craving, this cake will leave you happy. Like really happy.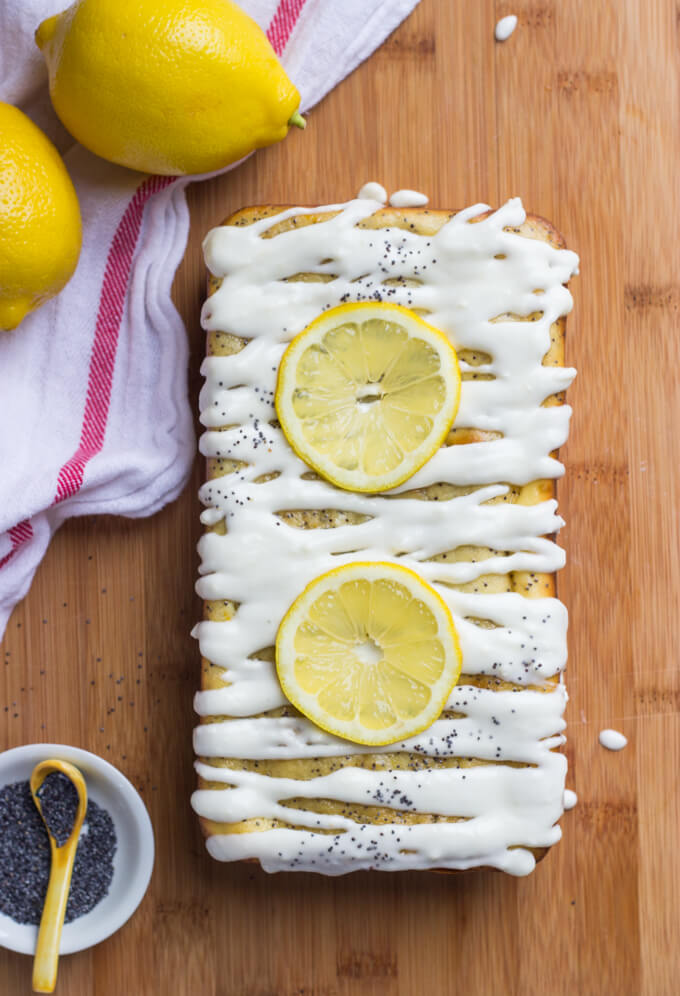 This cake is made up with three layers. You have a tenderly moist lemon + poppy seed cake layer.  Made with tenderizing buttermilk and sour cream. Then a perfectly silky smooth cream cheese layer, and then another lemon + poppy seed layer. Baked in a standard loaf pan for about 40 minutes and then drizzled with a luscious lemony cream cheese glaze. It's pure heaven. All in one loaf.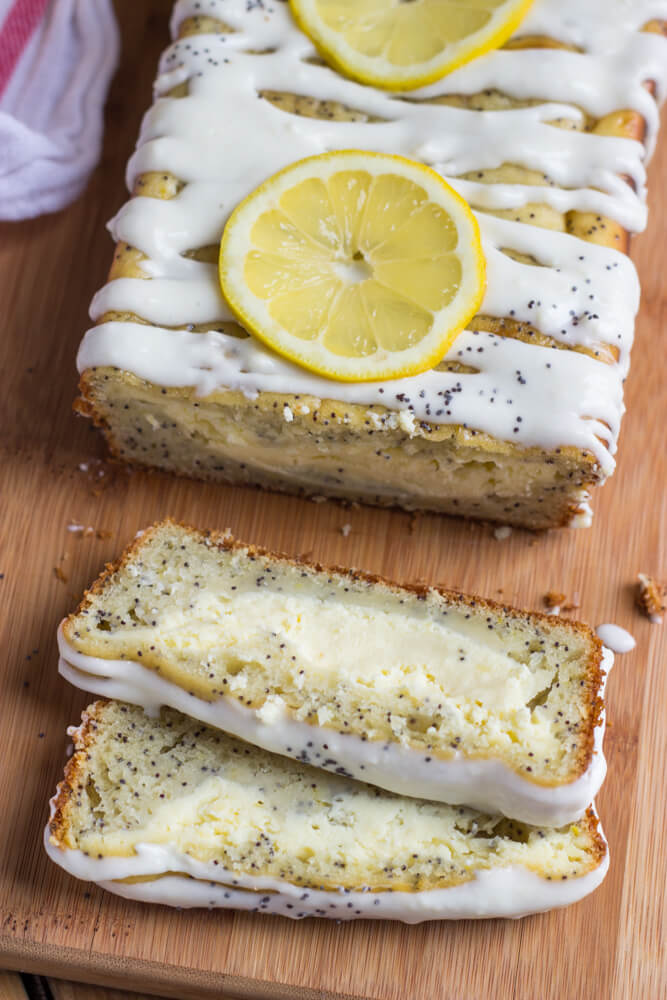 You will want it everyday, for the rest of the cold days to come.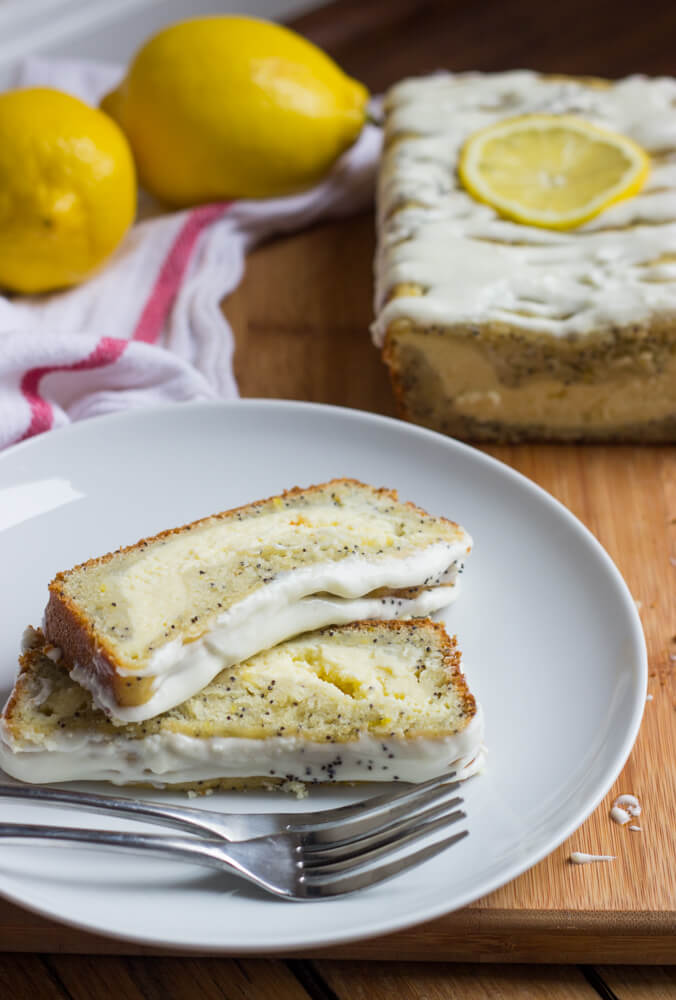 Make it. Snap it. Show it. Instagram @littlebrokenblog or snapchat → littlebrokenblg

Lemon Poppy Seed Cake
Author:
Katya @ https://www.littlebroken.com
Ingredients
Cake Layer
1 cup all-purpose flour
½ cup granulated sugar
½ tsp. baking powder
½ tsp. baking soda
1 egg
½ cup sour cream
¼ cup buttermilk
¼ cup canola oil
1½ tsp. vanilla extract
2 tsp. lemon zest
2 Tbsp. fresh lemon juice
1 Tbsp. poppy seeds
Cream Cheese Layer
8 oz. cream cheese, at room temperature
¼ cup granulated sugar
1 egg
Lemon Glaze
2 oz. cream cheese, at room temperature
½ cup powdered sugar
3 Tbsp. fresh lemon juice
Instructions
Preheat the oven to 350F.
Butter and flour 9X5 loaf pan. Set aside.
Prepare the cake layer by whisking together the flour, sugar, baking powder, and baking soda.
In a separate bowl, beat together the egg, sour cream, buttermilk, oil, and vanilla until well blended. Add lemon zest, lemon juice, and poppy seeds. Add dry ingredients gradually to the wet and beat to combine. Set aside.
Prepare the cream cheese layer by beating the cream cheese until creamy smooth. Add sugar, egg, and beat to combine.
To assemble the cake, spread half of the cake batter into prepared loaf pan. Then add the cream cheese mixture, spreading evenly over the cake batter. Top with remaining cake batter.
Bake for 40-43 minutes or until toothpick inserted into the middle comes out clean.
Remove cake from the oven and cool in the pan for 5-7 minutes before removing to a wire rack to cool completely.
While the cake is cooling, prepare the glaze by beating the cream cheese until creamy. Add powdered sugar and lemon juice, continue beating until silky smooth.
Once the cake is cooled, drizzle the glaze over the cake, slice, and serve.
© Little Broken. All images and content are copyright protected. Please do not use my images without prior permission or claim my work as your own. Feel free to Pin, Tweet, Facebook and share away with a link back to the recipe post. If you want to republish this recipe, please re-write the recipe in your own words and link back to this recipe.