Moist and fall apart salmon cakes made with fresh roasted salmon and superfood – quinoa. This recipe is an easy way to transform leftover salmon into next day meal! Serve these warm or cold as a sandwich, main course or over a salad.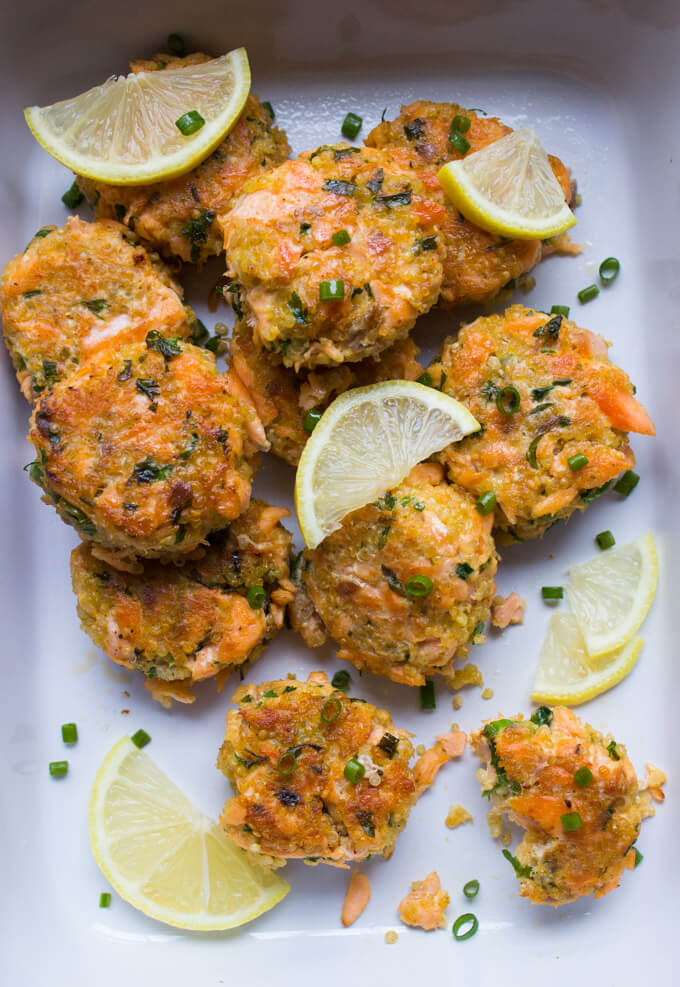 Salmon cakes or salmon patties are quite possibly the best way to give leftover salmon a second chance. It's an absolutely different twist on leftovers that I look forward to eating every single time. These cakes are wonderfully easy to make.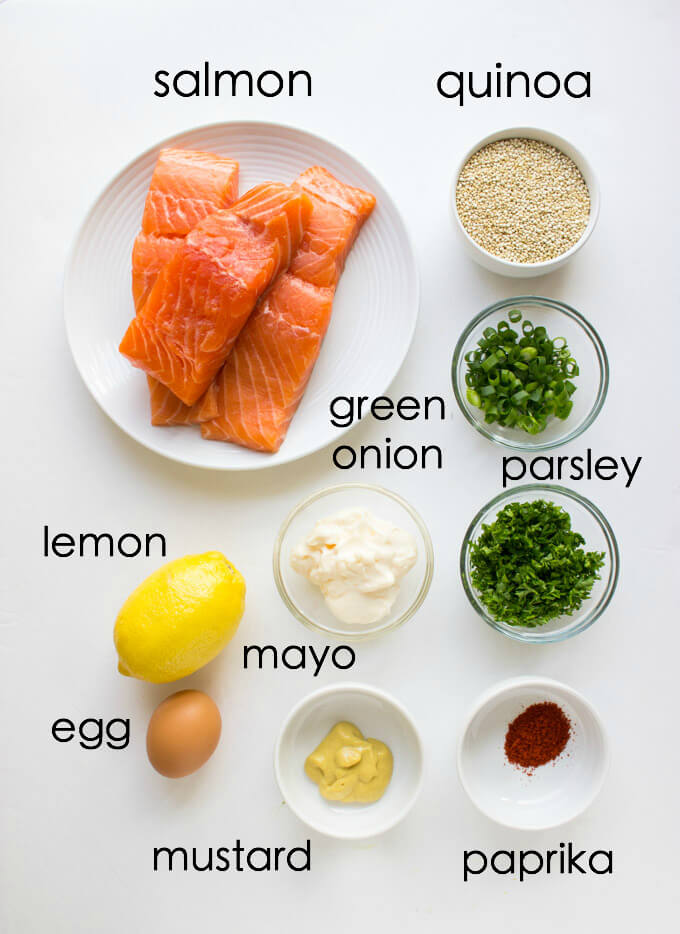 Traditional salmon cakes are normally made with breadcrumbs, I basically replaced the breadcrumbs with cooked quinoa, for extra nutrition and texture. The base is just roasted salmon, quinoa, chopped green onions and parsley, mayo, Dijon, paprika, and an egg. All formed into a patty, which are then quickly sautéed in a skillet.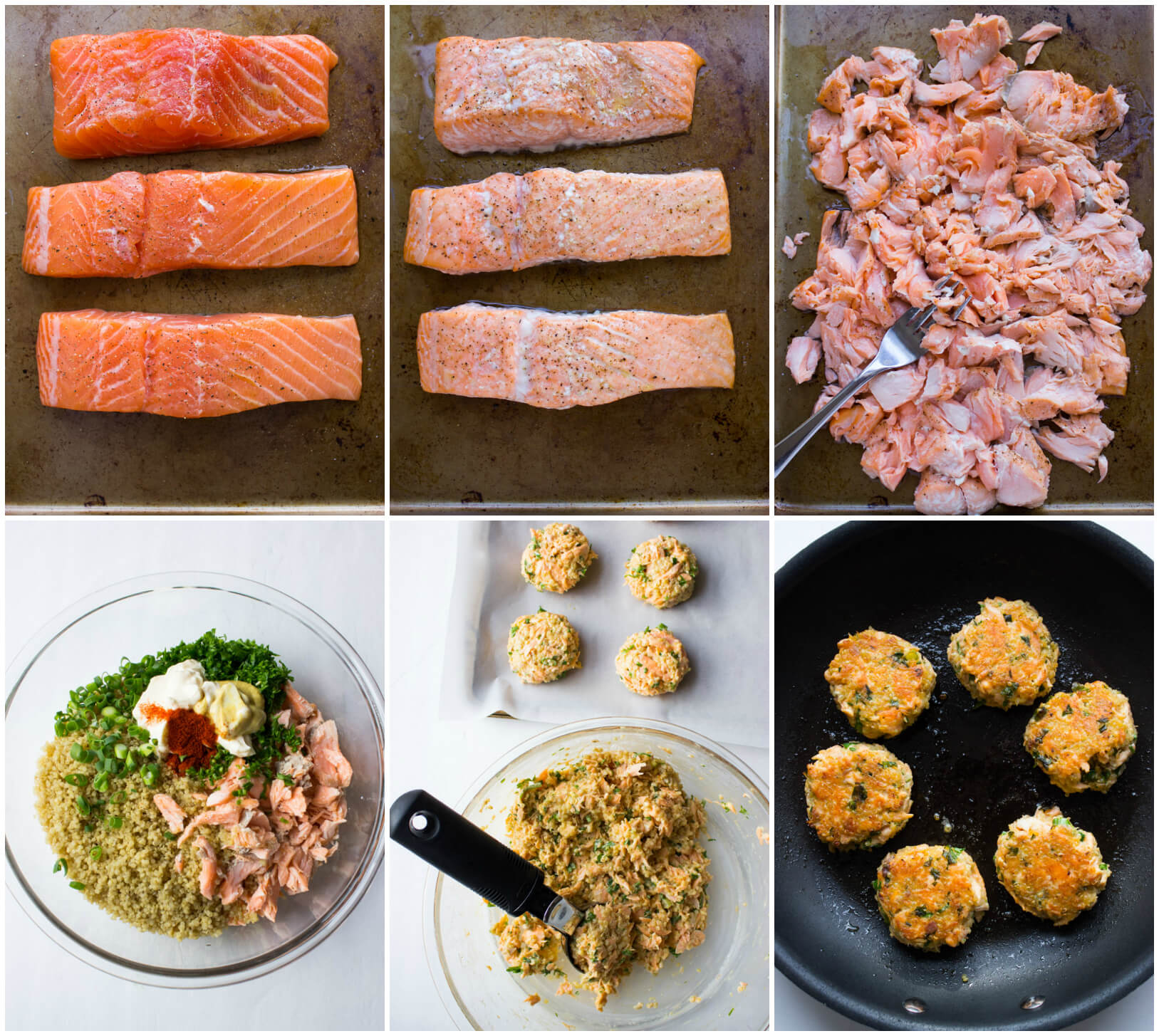 These cakes are slightly crispy on the outside and fall apart moist on the inside. Plus they are filling and are perfect over a simple salad or some roasted vegetables. Shape them into slightly larger patties, and you have some great salmon burgers ready to go. These cakes are also good the next day! Stuff them in a pita pocket with some crunchy lettuce and lunch is ready to go.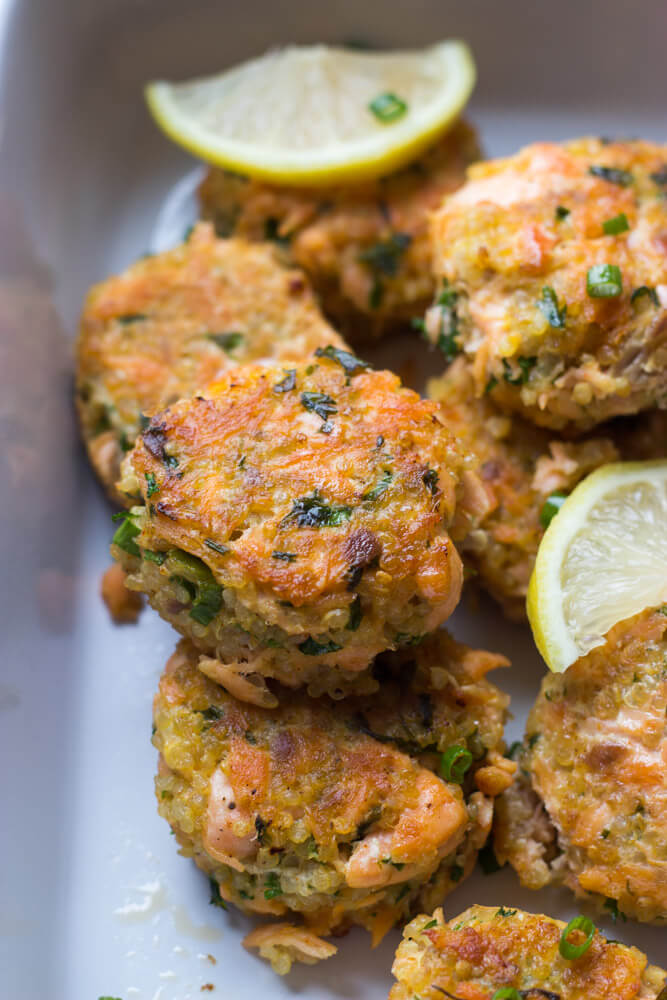 Secret to getting these moist and tender? Not overcooking the salmon (super, duper important). I made that mistake the first time I made these. You want the salmon just slightly undercooked. And don't forget to add all the juices and oils from the pan into your mixture. It's golden 🙂 Secondly – do not skimp out on the mayo! It adds the necessary fat to make these taste just perfect.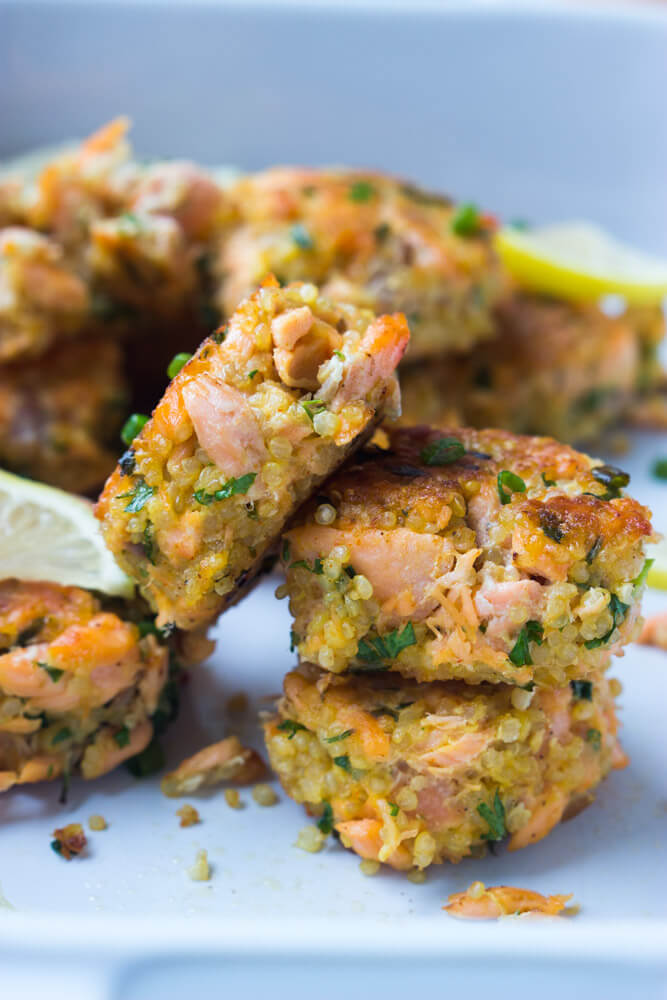 Salmon Quinoa Cakes
Author:
Katya @ https://www.littlebroken.com
Ingredients
1 lb. fresh salmon, skin removed or cooked leftover salmon*
1½ cups cooked quinoa, completely cooled
1 green onion, sliced
¼ cup chopped fresh parsley
⅓ cup mayonnaise
1 Tbsp. Dijon mustard
1 egg
2 tsp. fresh lemon juice
½ tsp. paprika
olive oil
salt and pepper
Instructions
Preheat the oven to 425F.
Rub salmon with olive oil and lightly season with salt and pepper. Place on a foil lined baking sheet and roast in the preheated oven for 10 minutes. You want the salmon just slightly undercooked. Flake with a fork and cool enough to handle.
In a medium bowl, combine the flaked salmon, quinoa, green onion, parsley, mayonnaise, Dijon, egg, lemon juice, and paprika. Season with salt and pepper as needed.
Using your hands or an ice cream scoop, shape salmon mixture into 2-inch wide patties. I found that they stick better together when shaping them by hand.
Pour just enough olive oil into a medium non-stick skillet to cover the bottom. Preheat on medium heat. Fry the cakes for 4-5 minutes per side or just until golden brown. If they seem to be frying too quickly or slowly, adjust the heat.
Transfer to a serving platter and repeat with the rest of the cakes. Serves 8 (2 cakes per person)
Notes
* for moist salmon cakes, do not overcook the salmon and skimp out on the mayo
*if using leftover salmon, you may have to adjust your cooking time slightly
© Little Broken. All images and content are copyright protected. Please do not use my images without prior permission or claim my work as your own. Feel free to Pin, Tweet, Facebook and share away with a link back to the recipe post. If you want to republish this recipe, please re-write the recipe in your own words and link back to this recipe.
Tag me @littlebrokenblog and follow me showing me your food creations, whether from LittleBroken.com or your own: Facebook, Instagram, Pinterest