Beet and Feta Salad with Sunflower Vinaigrette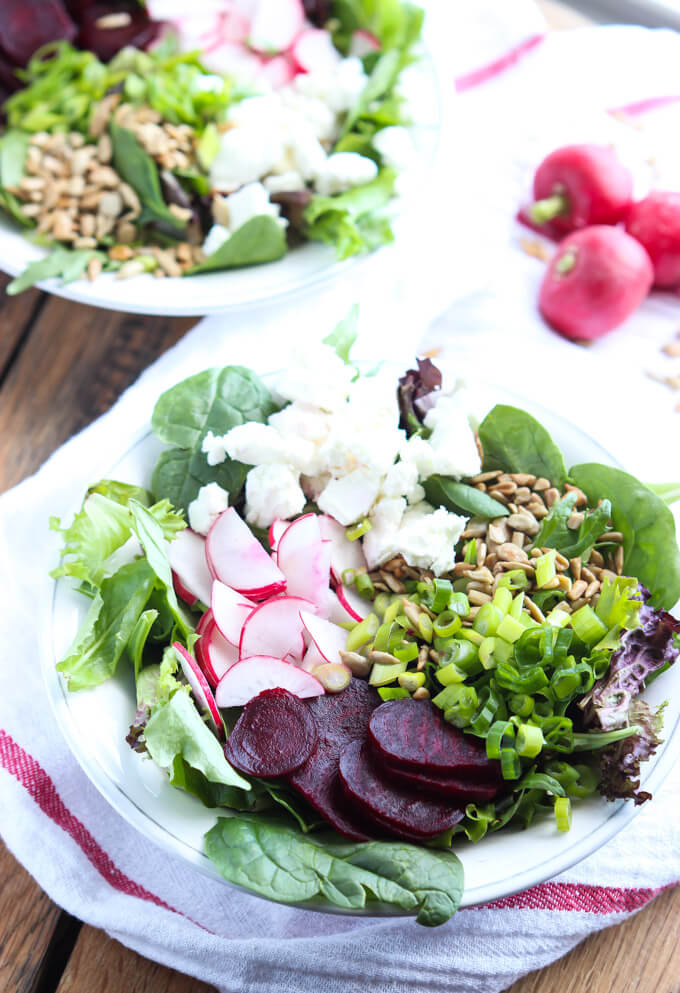 If you guys are like me and tend to get into a same veggie routine then look no more. I got a simple, yet tasty salad that you can whip up during the week and serve alongside any dinner dish. It's packed with lots of veggies I grew up eating but gave up on as I only ate them smothered in mayo. True story.
I think I previously mentioned that Russians love their mayo, specifically mayo salads, so my memories of eating beets or radishes were under loads of thick, salty, yellowish mayonnaise. Heart attack waiting to happen right there. Personally, I'm not a huge mayo salad lover so I've been trying to incorporate these veggies into more healthier options that I can eat on daily basis.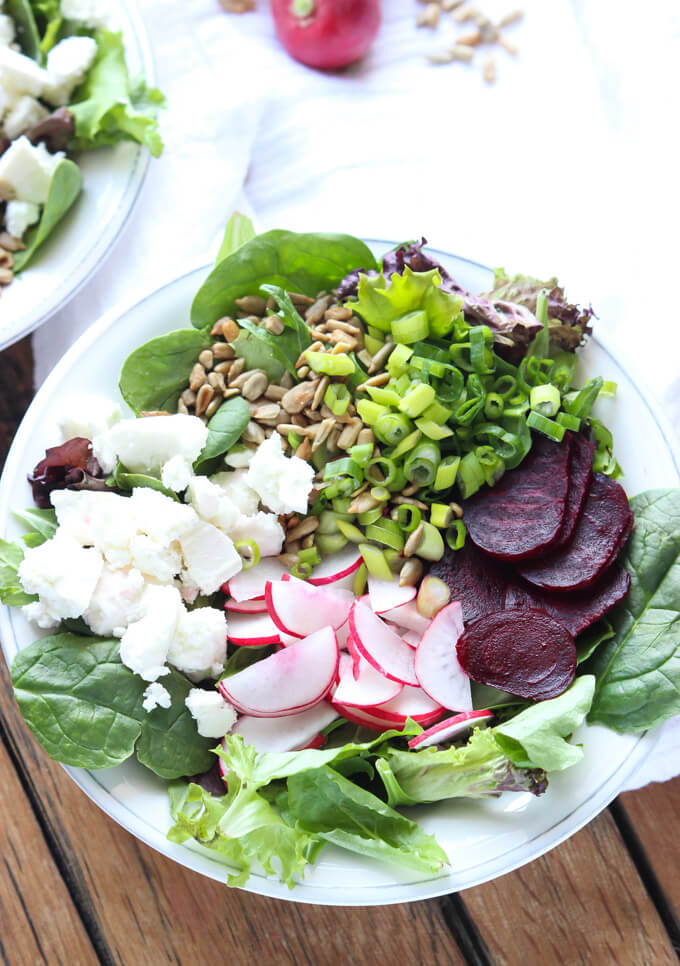 One of them is this Beet and Feta salad that I whipped up on a whim one evening with veggies I had in my fridge and it was one of those simple salads that you don't think twice about putting together but comes out super tasty. Now it's making rounds at our dinner table.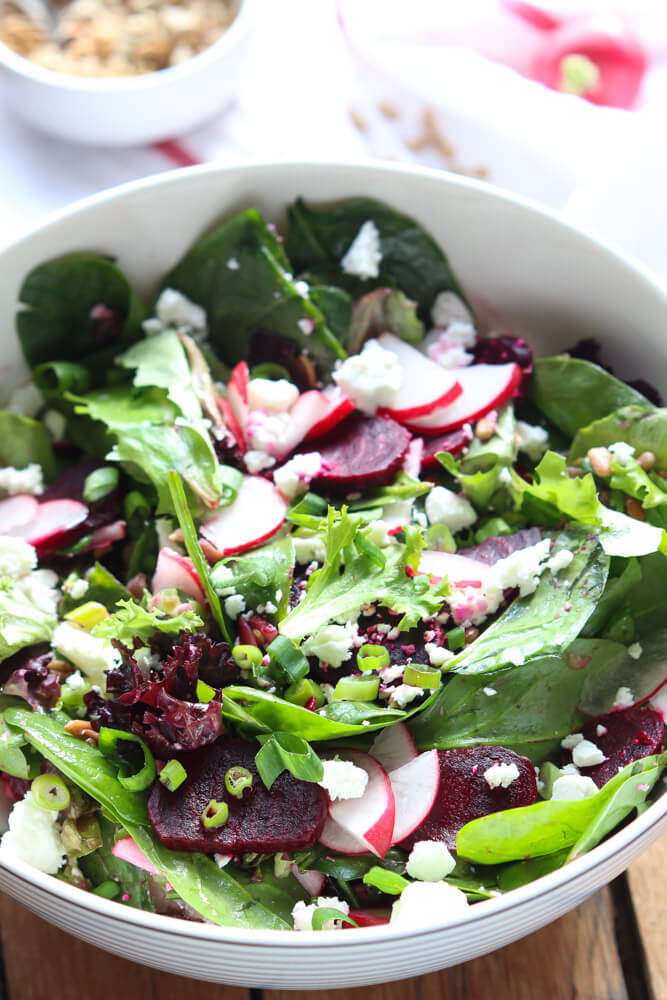 First of all, let's talk beets. Beets have a sweet and earthy flavor and are extremely versatile and can be cooked in multiple ways or eaten raw. I like them hard boiled. I know they sell canned stuff and honestly never had them canned. I grew up eating fresh cooked beets and that's how I still like them. You can cook them the night before and store in the fridge until ready to use (they actually taste best when chilled!).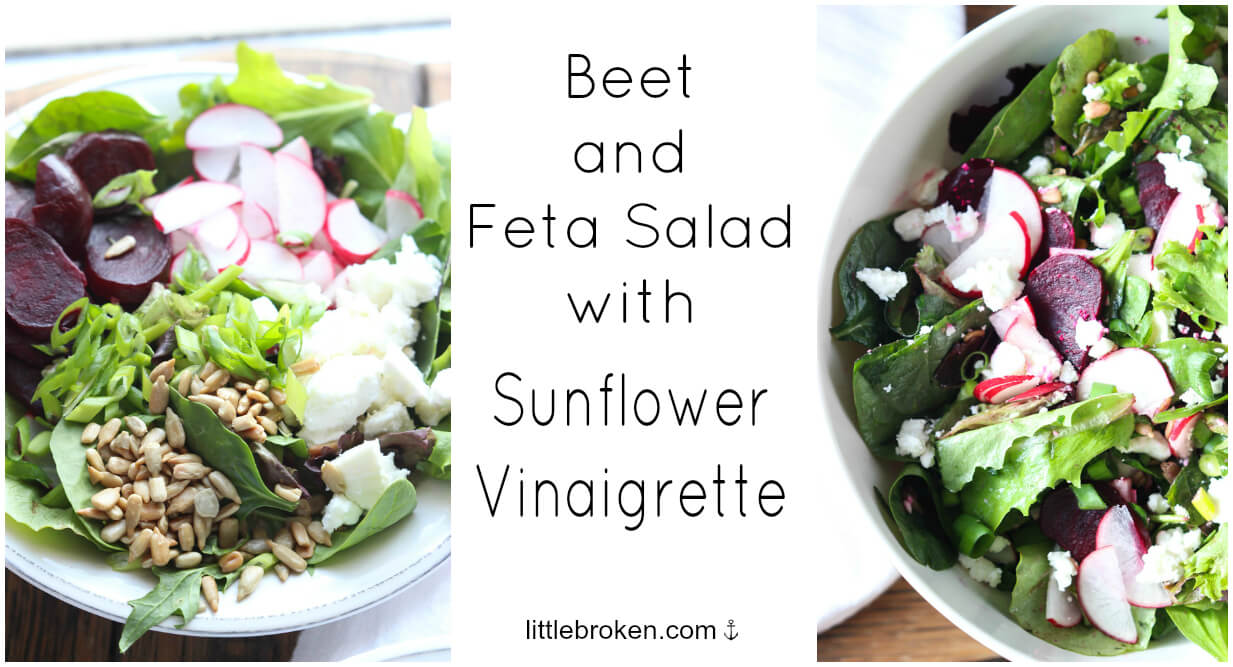 So you have the taste of sweet beets, crunchy radishes, scallions, toasty sunflower seeds, and salty feta. Tossed in a light sunflower oil based vinaigrette. I kept the vinaigrette ingredients super simple as the salad ingredients on their own have plenty of flavor. I mean beets + feta are a delicious match but when you throw in some crunchy veggies into the mix, you have a mouthful of some major deliciousness that is healthy, different, and obviously tasty.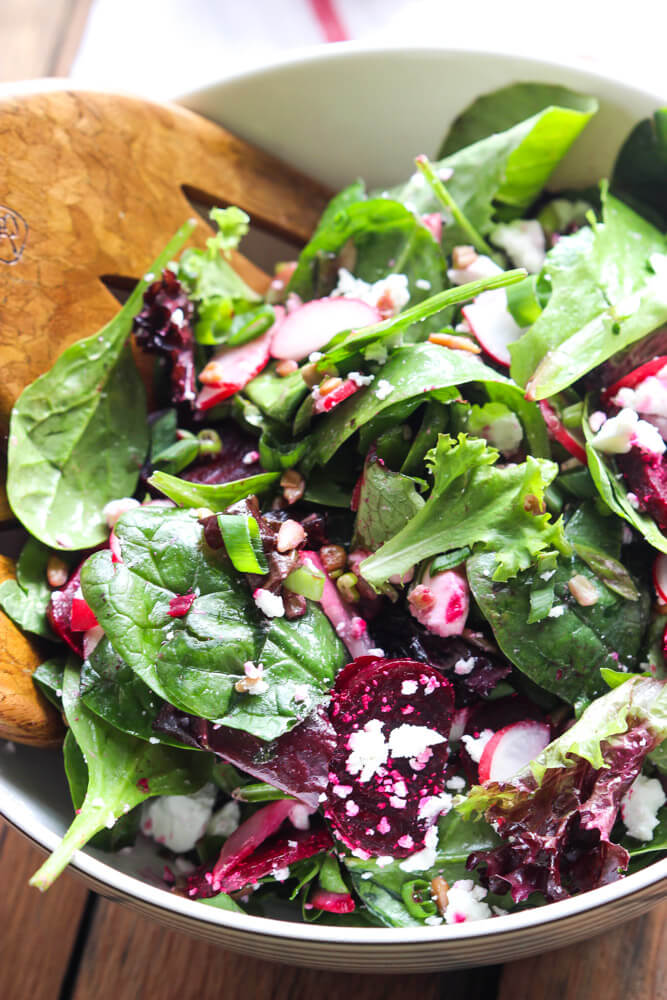 Here are a couple more non-Russian ways I like to eat my beets: Beet Salad (different take on childhood favorite salad "Vinegret"), and Deviled Eggs with Beets and Smoked Salmon (these were making rounds at our holiday tables this past year and are addictive!).
Print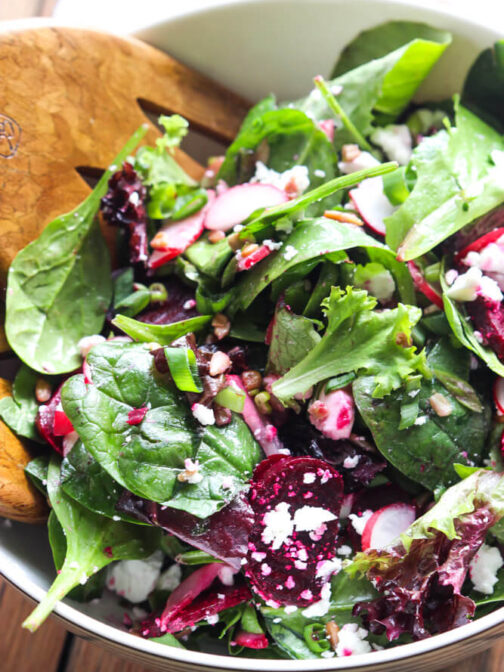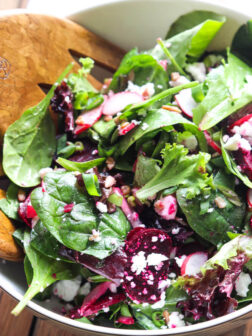 Beet and Feta Salad with Sunflower Vinaigrette
Author: Katya
Prep Time: 20 mins
Cook Time: 20 mins
Total Time: 40 mins
Yield: 4 1x
Category: Salad
Method: Chop
Cuisine: American
---
4–5 fresh small beets, green stems removed
10 cups spinach and spring mix (not packed)
5–6 radishes, thinly sliced
2 scallions, thinly sliced
1/4 cup crumbled feta
2 Tbsp. sunflower seeds, toasted
Sunflower Vinaigrette
1/4 cup sunflower oil
1 Tbsp. apple cider vinegar
1 tsp. honey
1/2 tsp. dijon mustard
1/2 tsp. fresh lemon juice
salt and pepper
---
Instructions
Place beets (unpeeled) in a small sauce pan, cover with water and bring to a boil. Lower the heat to medium and cook partially covered for 15-20 minutes or until knife tender. Drain and cool completely. Once cooled, peel the beets. Cut lengthwise and then thinly slice.
In a large bowl, combine all salad ingredients, including the beets. Toss with the vinaigrette and serve immediately.
Sunflower Vinaigrette
Whisk together all ingredients. Season with salt and pepper as needed. Serve immediately.
---
Notes
Make Ahead: Both the beets and salad vinaigrette can be prepared the night before. Cover and store in the refrigerator until ready to use. Bring the salad vinaigrette to room temperature before using.
**Salad tastes the best when super cold. Keep all the ingredients in the refrigerator until ready to use. You can even chill the beets before slicing.***
Nutrition
Serving Size:
Calories: 235
Sugar: 7.9 g
Sodium: 213.5 mg
Fat: 18.6 g
Carbohydrates: 14.2 g
Protein: 5.9 g
Cholesterol: 8.3 mg
Keywords: easy, beets, simple, side