Postpartum food diary documenting what I eat in a day. Simple, quick, and healthy!
This post may contain affiliate links. Please read our disclosure policy.
I'm happy to bring back WIAW while I take a break from new recipes! You guys loved the idea when I mentioned it on instastories. And if you're not familiar with WIAW, it's basically a food diary documenting what I eat in a day and in my case it's postpartum (hello one week old baby!). I will try to have a post up every Wednesday. I'm hoping these food diaries can give you simple and healthy breakfast, lunch, and dinner ideas that you can incorporate into your own diet, whether you're breastfeeding or not.
Right now, I'm concentrating on eating more healthy fats, wholesome grains, and foods that will give me energy and keep me full.
BREAKFAST
Water. I did not take any photos of the water but I start my day with a jug of water. I have a 24 ounce cup that is always filled with plain or sparkling water and I drink probably good 5 or 6 of them if not more through out the day.
Two eggs over easy
Half avocado
Leftover cucumber + tomato salad from night before (I try to add veggies to breakfast and leftovers from night before are always a good option)
PB toast on Dave's Killer Bread with fresh blueberries
Coffee with vanilla coconut creamer. It's my absolute favorite homemade creamer so far! I'm trying to limit dairy as all of my kids had a hard time digesting it and this creamer is so tasty.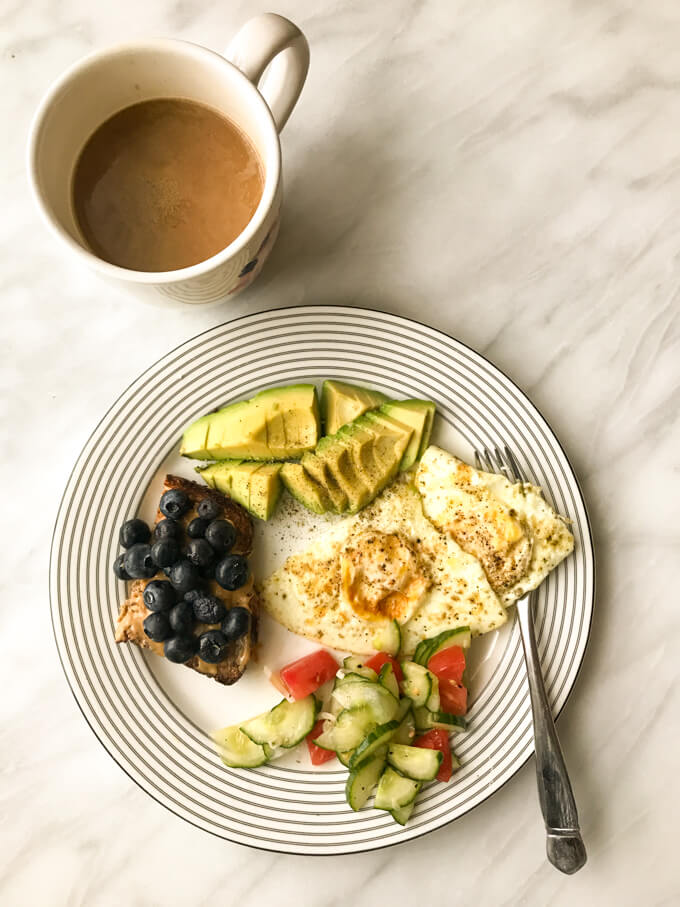 SNACK
Crackers – these are from Costco and I wish I had the box to show you guys because they are SO good! Super crunchy and ton of texture. Love them with just about any nut butter.
Figs
Peanut Butter – I usually go for almond butter but ran out.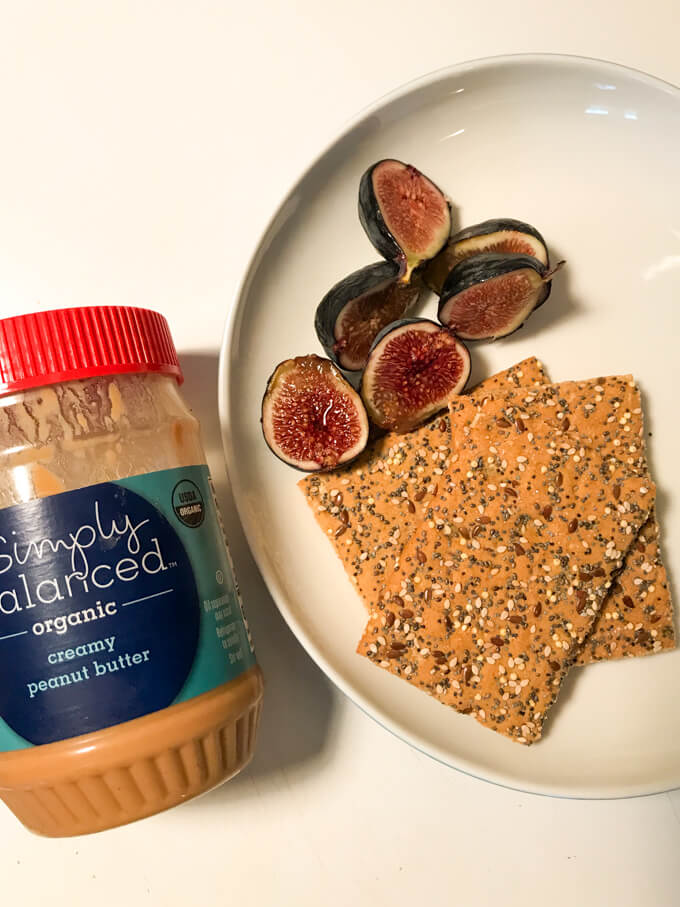 LUNCH
One-Pot Chicken Stew – I shared this recipe last fall on my blog and it's also one of the meals that I freezer prepped while pregnant. I can not tell you how NICE and convenient it has been to have a freezer stash of meals. I so highly recommend it.
Avocado toast on Dave's Killer Bread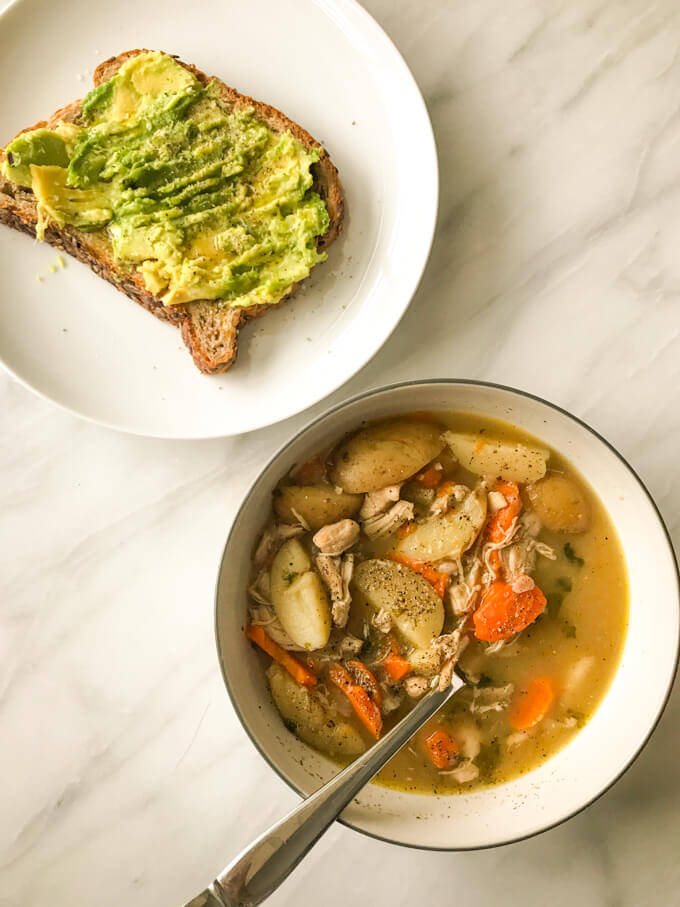 DINNER
Balsamic Chicken – it's a recipe I started testing out with hopes of sharing it on the blog before the babe came but since she decided to show up a little early I never got a chance to. I'm still hoping to share it with you guys soon. It's easy and juicy chicken breast recipe. I whipped it up while the baby was napping and family approved it 🙂
Basmati Rice
Simple cabbage salad – 1/2 head of cabbage, 1/2 English cucumber, 1/2 white onion (sliced). Everything tossed with oil and vinegar. I used sunflower oil and apple cider vinegar. Plus S+P.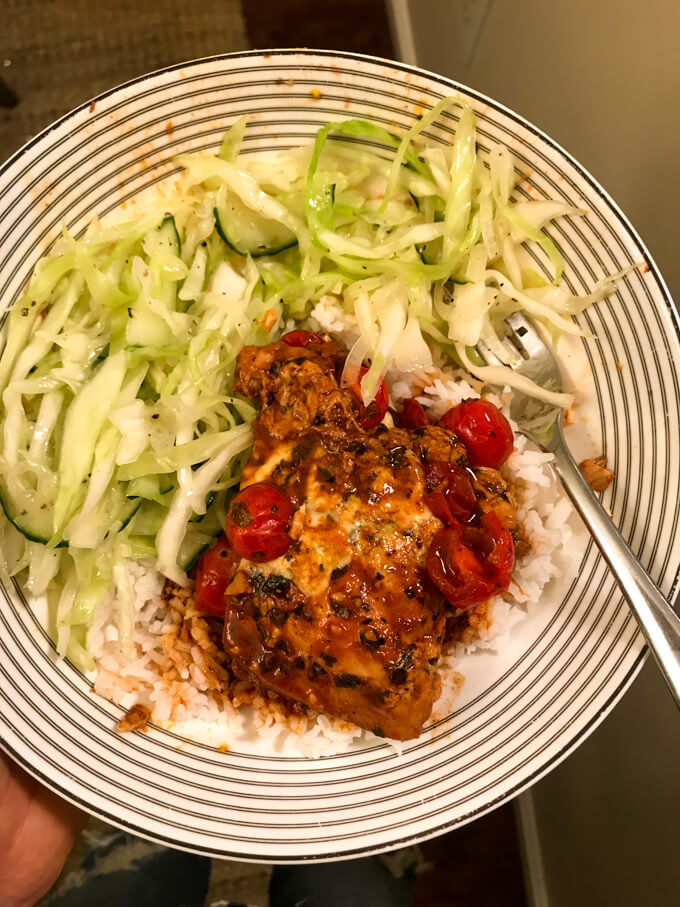 Plus water with every meal. And if any of you are struggling with getting your water intake for the day, start with flavored sparkling water or toss a handful of fresh lemon/lime slices to your water and try using a cup/jug of some sort vs. grocery store bottles. I find that using your own jug for water makes it SO much easier to drink for some reason.