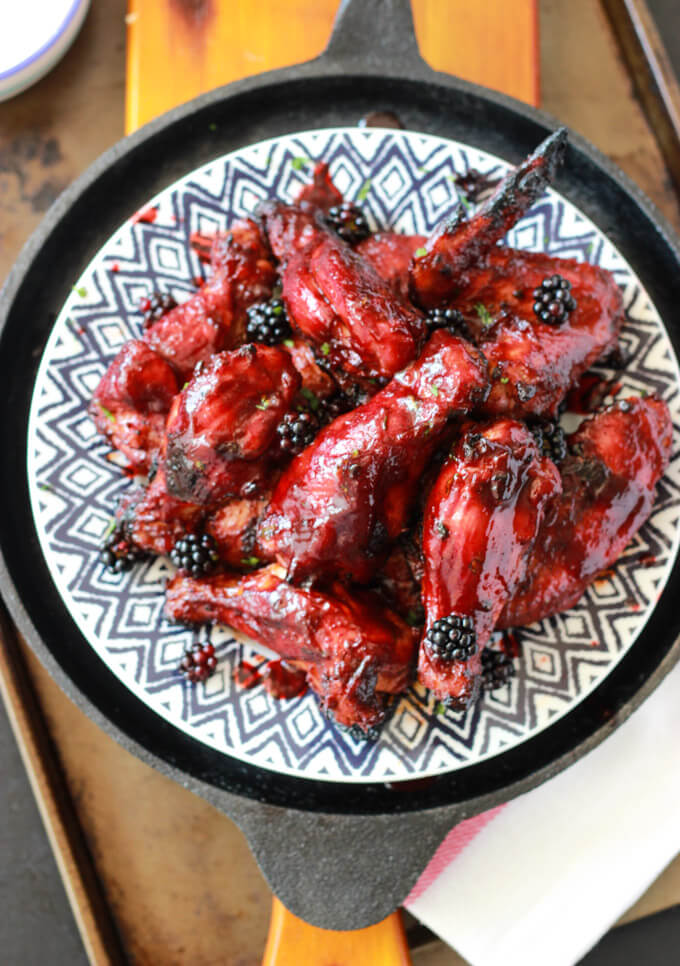 This post may contain affiliate links. Please read our disclosure policy.
I hate wings. Seriously.
Texture, taste, especially deep fried are just not my thing. On the other hand, Mr. Spouse can eat wings every day if he could. Thing is I hardly ever make them at home. I'm not a big deep fryer or pan fryer of anything so wings kinda always get the boot. Plus it's too much work for so little meat. You know what I mean? By the time you're done sucking out the meat, you're covered in BBQ sauce and meat from every hole of your mouth.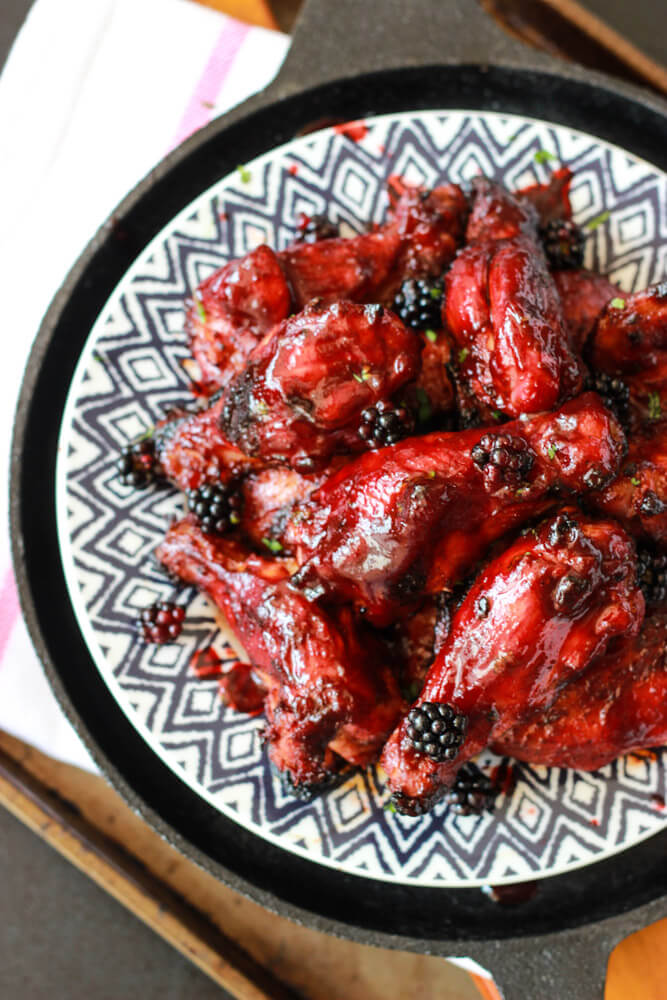 Recently, though I gave wings another try and I think I like it.
So, we've lived at our current house for almost ten years now and apparently there's loads, I mean loads of wild blackberries growing in the back of the house that I had no clue even existed until this years. Seriously? No clue how I missed it. Well, over the last couple weekends we picked probably close to four pounds of berries. That's a lot! Wild berries are just a little bitter than the ones from the store but still very delicious and FREE!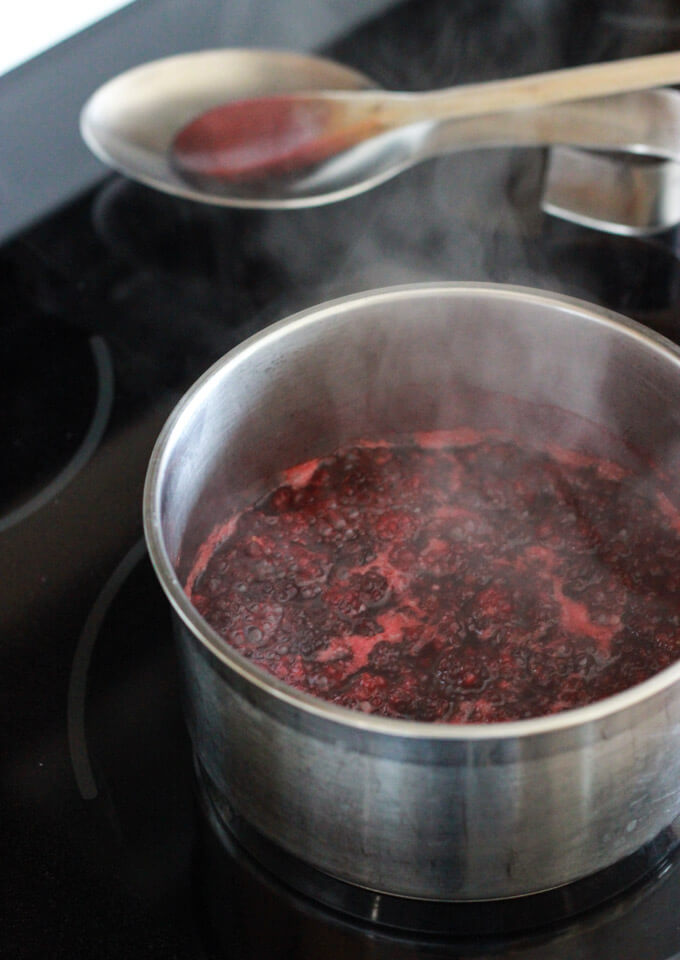 I had all these berries (which BTW go bad very fast) and no clue what to do with them until one morning, I was having my cup of tea on the deck and looked at my grill and realized that I need a new grill and that I've never done wings on the grill. As you know, we are huge grilling freaks in this house and grill just about anything but wings? Nope. Never. But I didn't want to do just regular wings, I wanted something different. So first I was playing with the idea of homemade BBQ sauce but that's just plain boring. Blackberry BBQ Wings that's better but Sriracha Blackberry BBQ Wings? Bingo!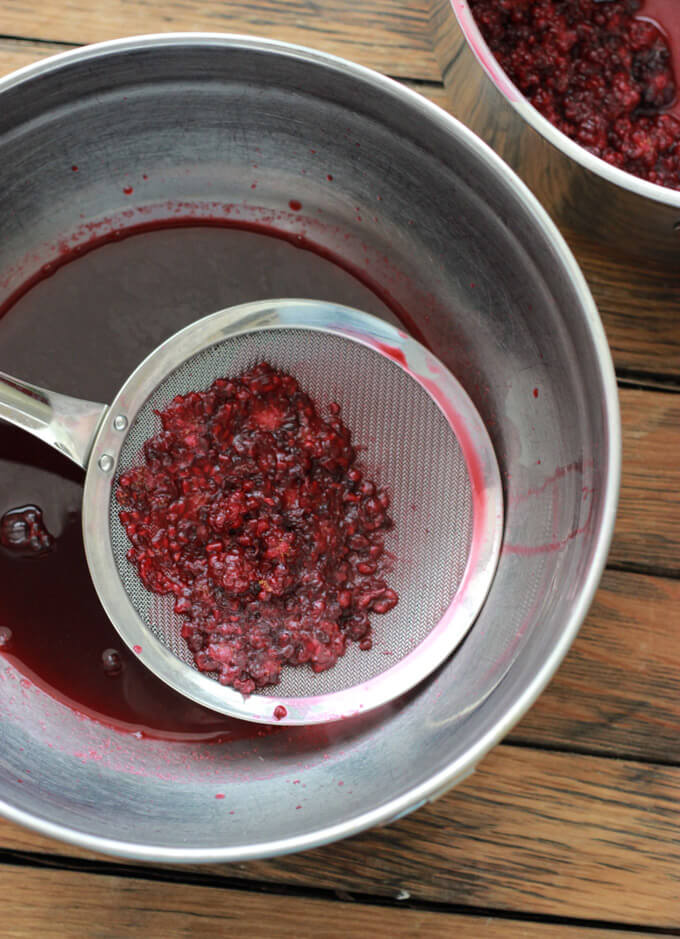 What I like about these wings, specifically the BBQ sauce is that you take a bite, you taste the sweetness and little bit of bitterness from the blackberries and then BOOM you're hit with some major heat from the Sriracha. It's like a taste with an undertaste. You know? The BBQ sauce is easy peasy stuff. Everything simmers in the pot until the sauce thickens. The hardest part is probably just straining the blackberries, which I show you how to do.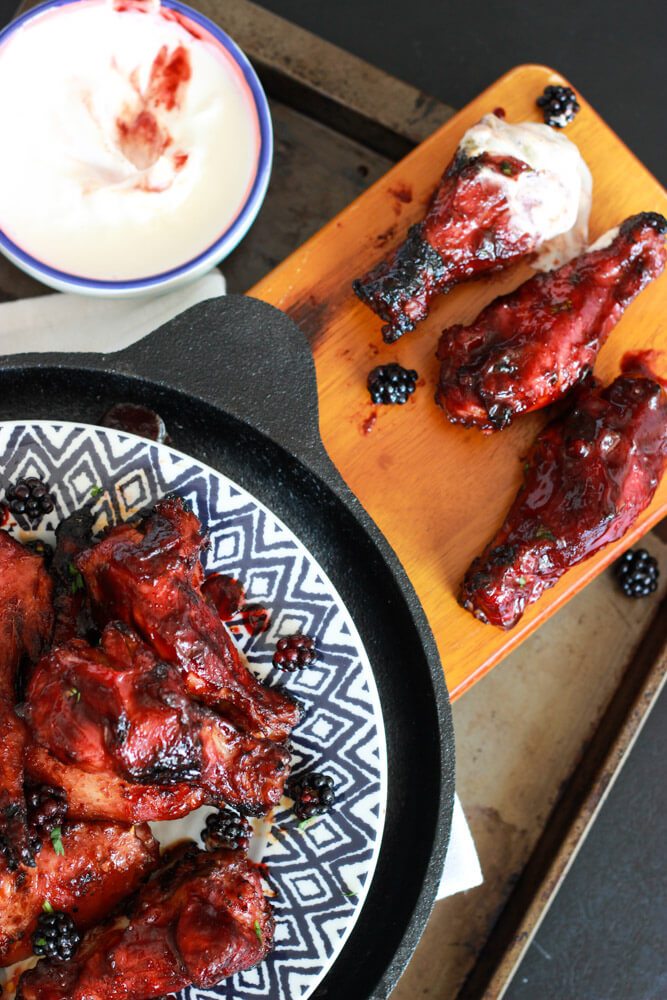 You can slather on the sauce on any cut of chicken and adjust the amount of Sriracha per your taste. We like things hot up in this house so I don't mind a little heat. You can start off with 1 teaspoon of Sriracha and add more after the sauce has cooked.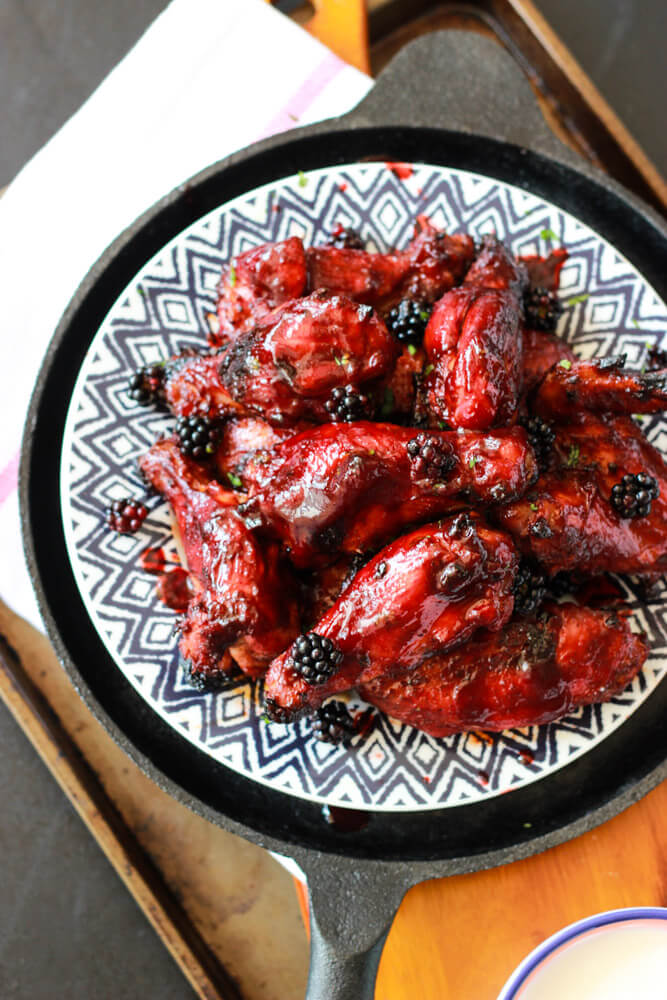 Print Sriracha Blackberry BBQ Wings
---
2

cups

fresh blackberries

1

cup

chicken stock

1/2

cup

ketchup

1/4

cup

brown sugar

2 Tbsp

. apple cider vinegar

1/2

lemon, juiced

2 1/2 tsp

. chili powder

1/2 tsp

. paprika

1/8 tsp

. cinnamon

1/4 tsp

. ground mustard

1 Tbsp

. Sriracha

1/4 tsp

. cumin

1/2 tsp

. black fresh pepper
pinch of salt

2 1/2

lbs. chicken wings
---
Instructions
Rinse the blackberries under cold water and place in a small saucepan. Add chicken stock and simmer on medium heat for 5 minutes or until the berries start to break down.
Strain the mixture through a mesh strainer mashing the berries to get all the juices out. You only want the liquid without any seeds.
Add the strained sauce back to the saucepan, along with the rest of the ingredients, except the chicken wings and simmer on medium-low heat uncovered for 15-20 minutes or until the sauce thickens. Remove from the heat and cool slightly.
Reserve 1/4 cup of BBQ sauce and add the rest of the sauce to the wings, coating evenly. Marinade the wings 30 minutes or up to overnight.
Preheat the grill to medium-high heat. Layer the wings on the grill and cook for 10-12 minutes, turning occasionally and basting with the reserved BBQ sauce.
Serve with your favorite dipping sauce. Enjoy!
---