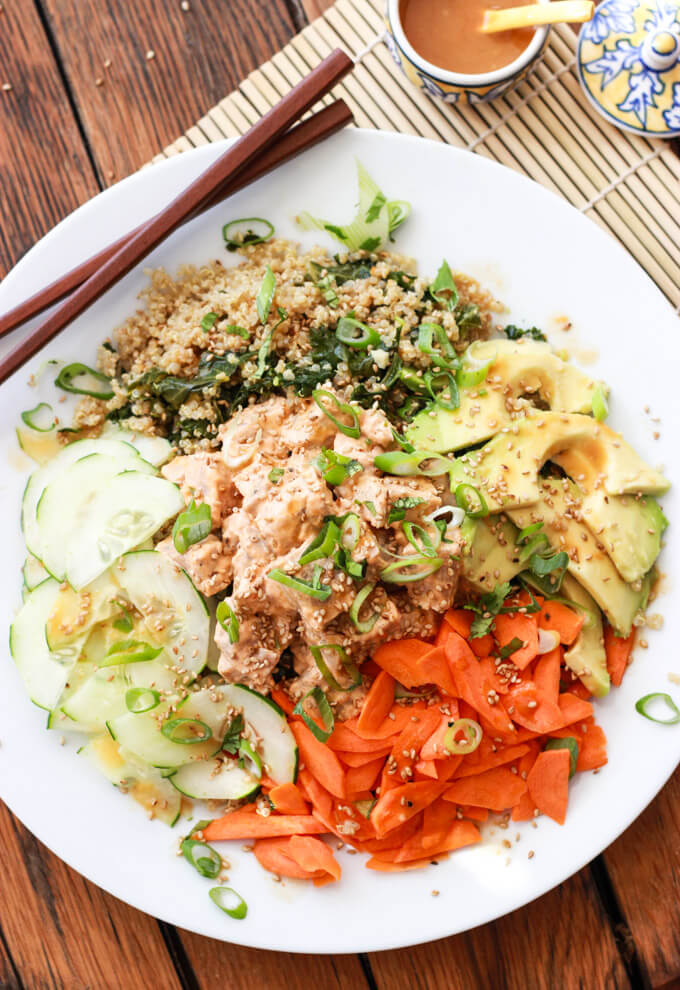 This post may contain affiliate links. Please read our disclosure policy.
First time I had ahi tuna was in Hawaii in '06 while on vacation. I thought it was the most tender piece of fish I've ever tasted as it just melted in my mouth. Shortly thereafter, I started eating sushi but I started with those cheap grocery store California rolls and slowly worked myself to legit raw stuff and definitely not grocery store quality.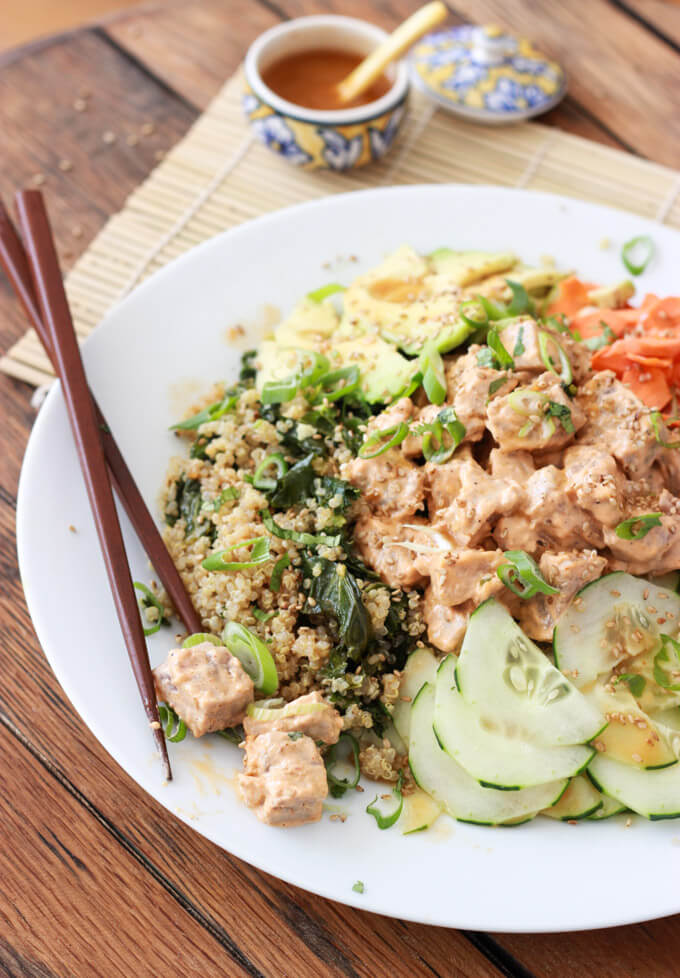 Now, I can live off of spicy tuna and recently learned that ahi tuna from a grocery store is not the same as sushi grade tuna from a sushi vendor . Oops. Apparently non sushi grade tuna can be full of living organisms (as in parasites and other things) and has to be cooked to completely kill anything off. Well, I ate my share of "non sushi grade tuna" raw and I'm perfectly well 🙂 No seriously, I'm glad I'm not sick as I ate way too much of raw tuna from Whole Foods thinking it was safe and same as sushi.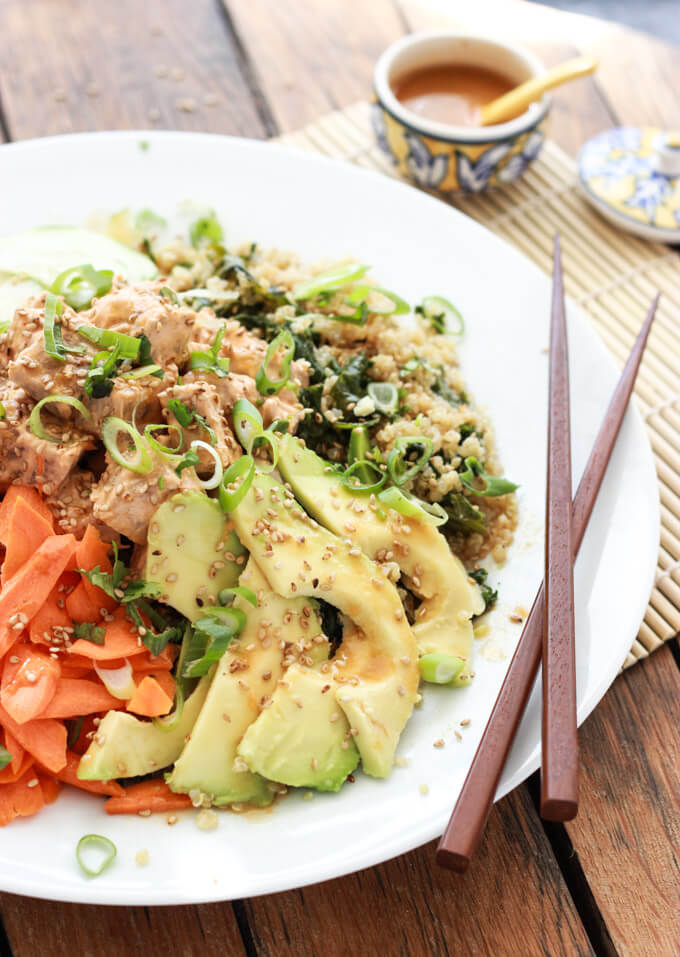 Now I resort to cooking my fish and wanted to create a sushi bowl using some of my favorite sushi combinations, one of them being spicy tuna seared in sesame oil and coated in sriracha mayo. Traditional sushi rolls are all about rice but I skipped the rice and went for quinoa to which I added healthy, leafy kale that I've sautéed in garlic, ginger and soy. I love the crunchiness of the kale with softness of the quinoa. Plus kale adds so much flavor to the bland quinoa. If you find that your quinoa is a bit dry, especially if you store it in the refrigerator overnight, just add little bit of extra virgin olive oil.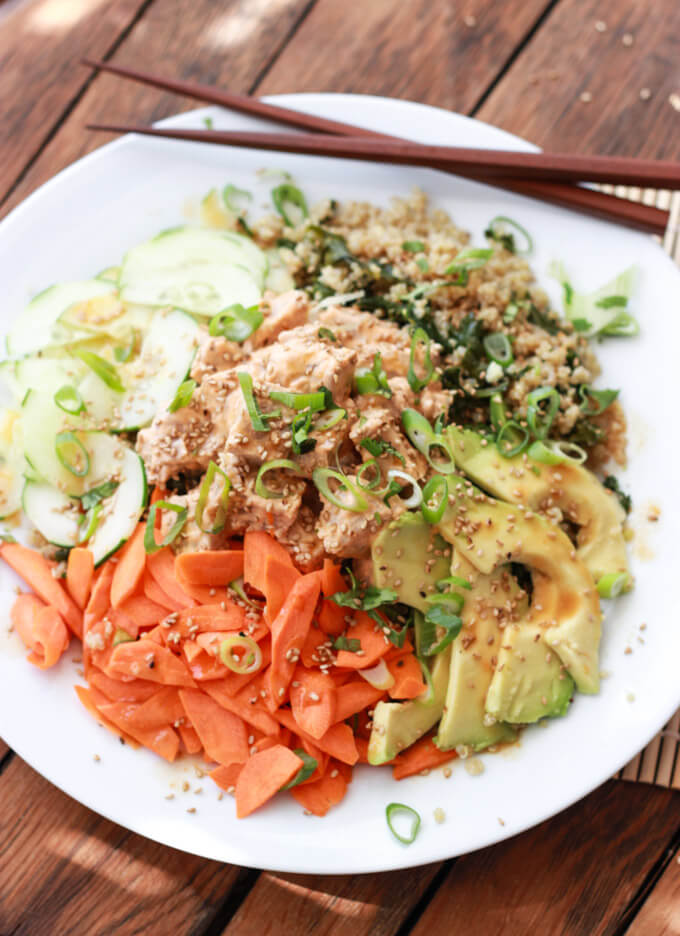 Spicy tuna and quinoa combined with fresh cucumbers, carrots, and avocado is best of all worlds: spicy, crispy, nutty and fresh. To finish the bowl, I made Hula Ginger Vinaigrette using a recipe from the talented Tieghan at Half Baked Harvest, which has some awesome flavors like sesame oil, sriracha, tahini, garlic and pineapple juice.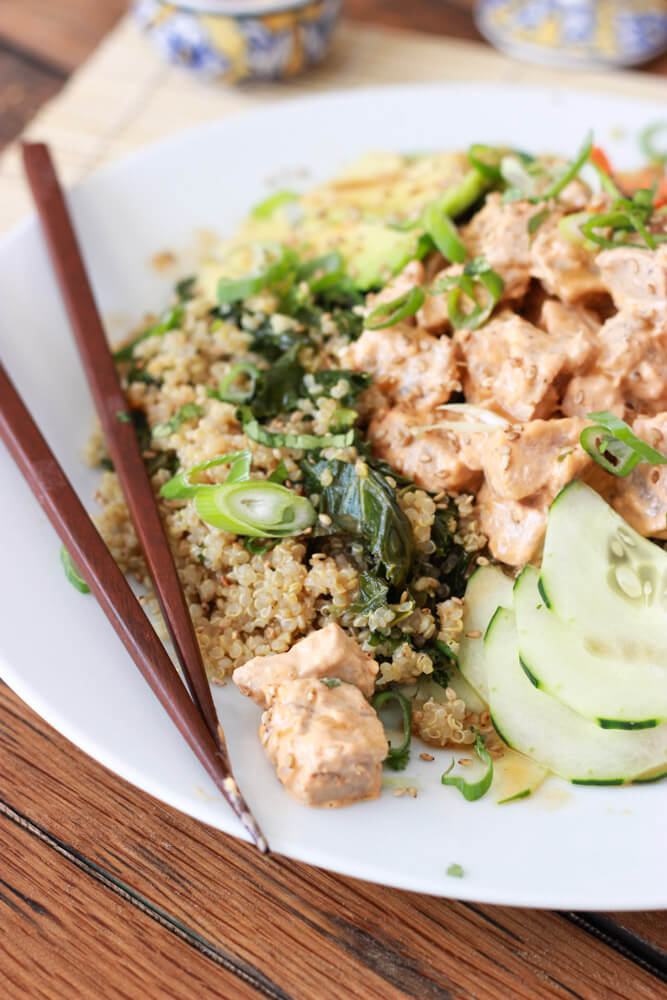 You can serve these sushi bowls with hot or cold quinoa. I went with the hot as I love the cold tuna and fresh crispy veggies a top of my hot quinoa. Either way. It's good stuff no matter how you do it.
Print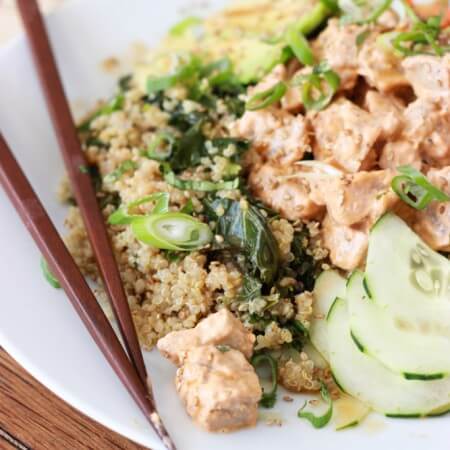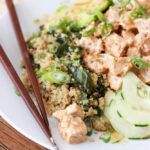 Quinoa Spicy Tuna Sushi Bowl
---
Tuna
1

lb. ahi tuna steaks

1 1/2 Tbsp

. sesame oil

3 Tbsp

. mayonnaise

1 Tbsp

. sriracha

1 1/2 Tbsp

. green onions, plus extra

1/2 tsp

. lemon juice
sea salt and fresh ground black pepper
Quinoa
1 1/2 cup

quinoa

2 Tbsp

. coconut oil

2

garlic cloves, minced

1 1/2 tsp

. ginger, minced

3

kale leaves, stalk removed and roughly chopped (about

6 1/2 cups

)

1 tsp

. soy sauce

3 tsp

. fresh lemon juice

1/2 tsp

. sea salt
fresh ground black pepper
Hula Ginger Vinaigrette
1/4 cup

sesame oil

2 Tbsp

. soy sauce

1 Tbsp

. pineapple juice

1 Tbsp

. rice vinegar

1/2 tsp

. sriracha

1 tsp

. tahini

1 tsp

. lemon juice

1 tsp

. fresh ginger, grated

1

garlic clove, pressed
To Assemble
2

medium carrots, halved and thinly sliced

1

medium cucumber, halved and thinly sliced

2

avocado, sliced
sesame seeds
---
Instructions
Tuna
Season tuna steaks with salt and pepper. Add sesame oil to a skillet along with tuna and sear the steaks on medium/high heat for about 45 seconds on each side or until lightly browned on the outside. You want the tuna to be seared on the outside but still have some pink in the middle.
Set aside and cool completely.
For the spicy mayo, mix the mayo, sriracha, green onions and lemon juice.
Chop the tuna steaks into 1/2″ inch cubes and add to the mayo, mixing until fully coated. Chill in the refrigerator until serving time.
Quinoa
In the meantime, cook the quinoa according to package directions. Hold off on salt.
In a large skillet, heat coconut oil on medium heat. Add garlic and ginger. Cook for 1 minute or just until fragrant. Add kale and cook stirring frequently (do not burn the garlic!) for about 4 minutes or until the kale starts to cook down. Add soy sauce and continue cooking for 4 more minutes until kale is tender soft but not completely wilted. You want your kale to be tender but still have a little crunch to it.
Remove the kale from the stove. Add cooked quinoa to the kale, lemon juice and salt. Season with fresh ground pepper. Mix and set aside.
Hula Ginger Vinaigrette
Whisk all ingredients in a small bowl.
To Assemble
Spoon the quinoa into a bowl. Add sliced carrots, cucumbers, and avocado to the quinoa. Top with spicy tuna. Drizzle with vinaigrette and sprinkle with sesame seeds and green onions. I served these sushi bowls when the quinoa was still hot but you can completely cool the quinoa and serve cold.
---