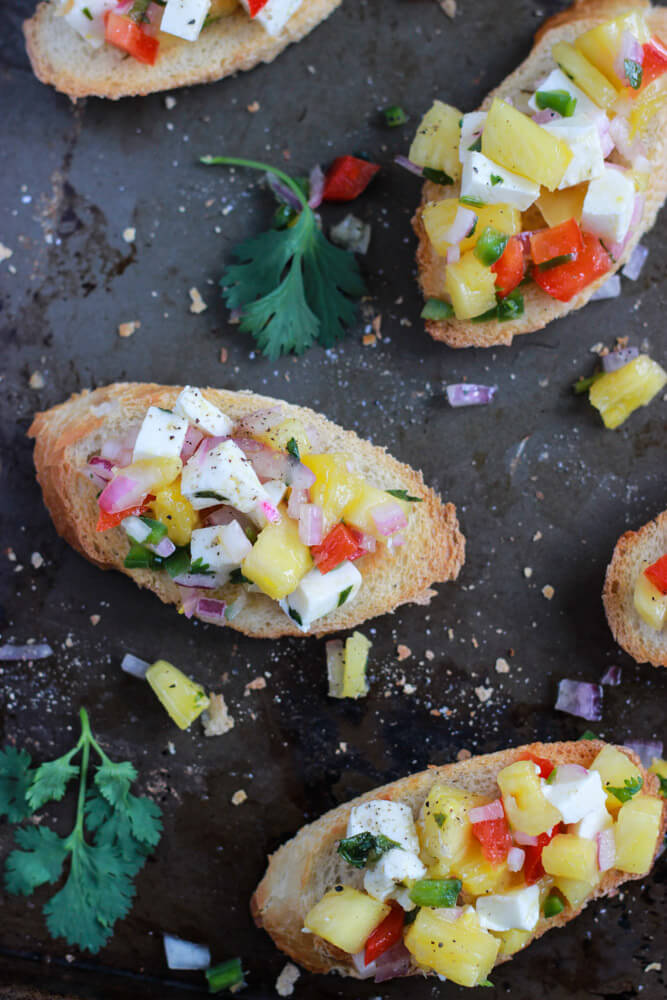 This post may contain affiliate links. Please read our disclosure policy.
I was at the grocery store the other day and picked up fresh cherries! Yeay! Even though it cost me an arm and a leg but so worth it.
I'm loving this time of the year as my weekly grocery trips are an adventure! I always bring back something new and exciting that was not on my list . Grocery budget….what is that?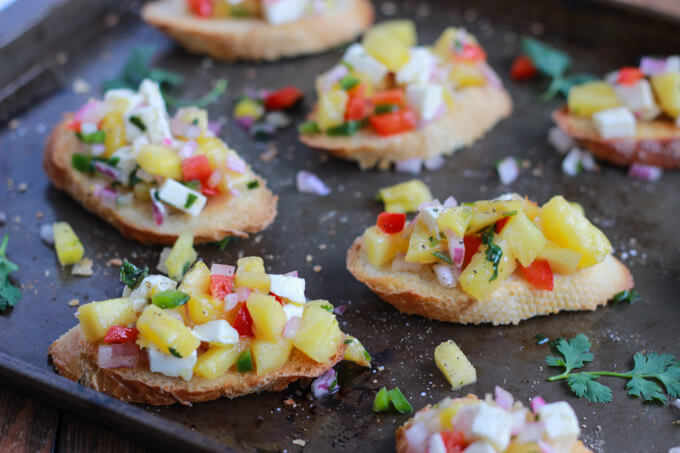 I love grocery shopping. Seriously. I can spend hours at a grocery store. We have an amazing Whole Foods near us and I like to think of it as my Nordstrom of the grocery stores. Except for designer shoes and bags, it's organic juicy heirloom tomatoes and mouth watering peaches.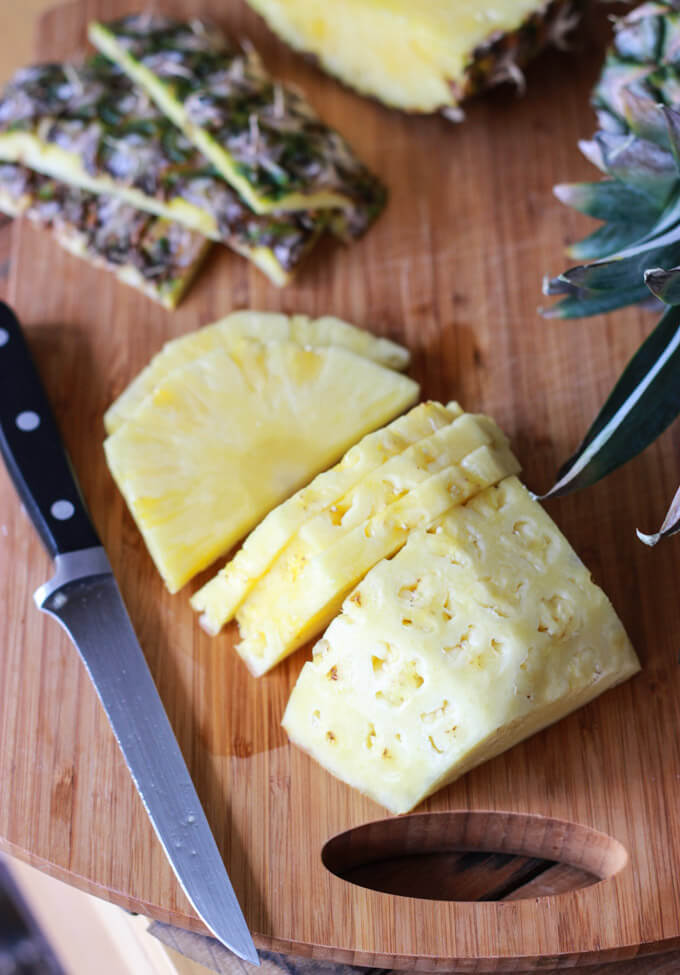 Well, pineapple was not on my grocery list last week but it was just so golden, ripe, and fragrant. I couldn't resist ( I do that a lot, pick up more things than I need). I'm not a big pineapple person unless it's a top of a drink. But I knew I wanted to do something fun with it.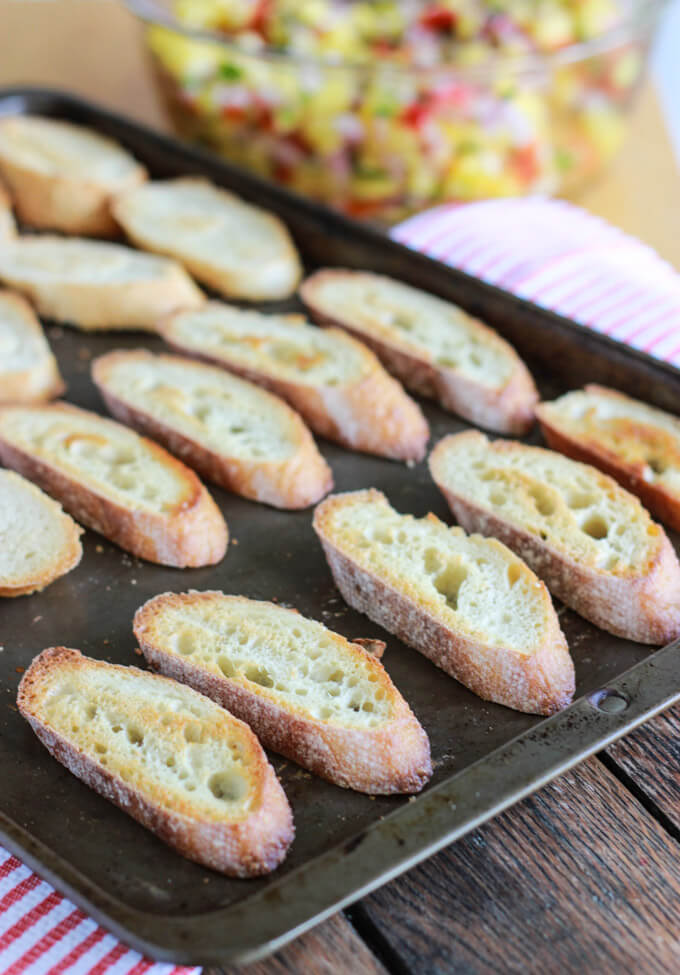 Last week, our dear friends had us over for dinner and homemade bruschetta was on the menu. I forgot how delicious bruschetta tastes and how simple it is to make. So I wanted to give a traditional tomato based bruschetta a little make over with more of a lighter, sweeter, and summery version using pineapple.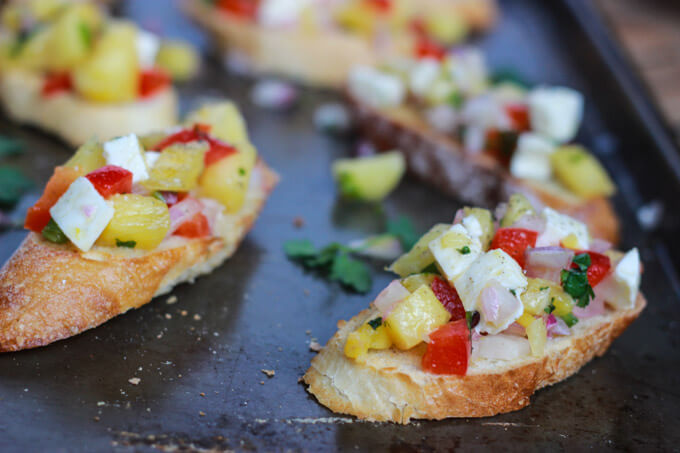 Sweet, spicy, fresh, and light are just a few of the flavors of this vibrant dish. Serves absolutely beautiful a top of crispy, golden toasts. My kind of good.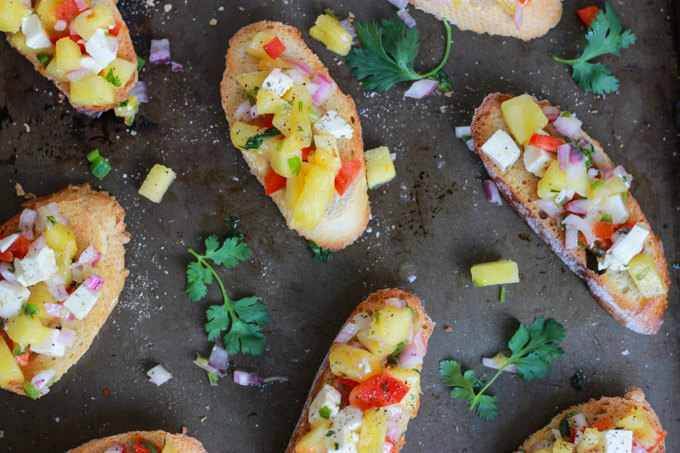 Print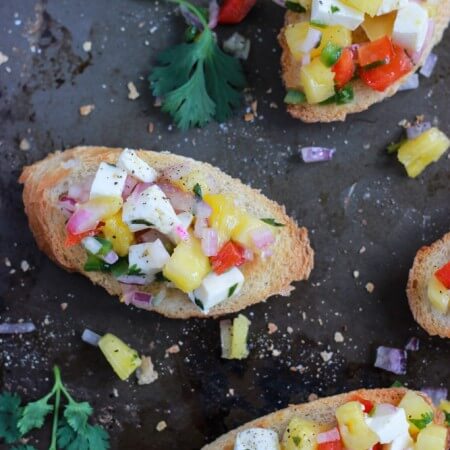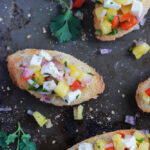 ---
4 cups

diced pineapple (

1/4

inch)

1 1/2 cups

diced red onion (

1

medium)

1 cup

diced red bell pepper (

1

small)

1/2 cup

chopped fresh cilantro

1/4 cup

minced jalapeno, seeds removed

1/4 cup

extra-virgin olive oil, plus more

1/4 cup

fresh lemon juice

1 1/2 tsp

. grated lemon zest

1/2 tsp

. sea salt, plus more

1

French baguette, sliced diagonally into 1/4 inch-thick slices (approx

30

slices)

8 oz

. fresh mozzarella, diced
fresh black pepper for taste
---
Instructions
In a large bowl, combine together pineapple, red onion, red bell pepper, cilantro, and jalapeno.
In a small bowl, whisk together olive oil, lemon juice, lemon zest, and salt. Drizzle over the pineapple mixture and mix well. Cover and refrigerate at least 30 minutes. I made the pineapple the day before and refrigerated overnight.
Preheat the oven to 400F. Arrange baguette slices on a large baking sheet and brush lightly with olive oil. Bake 8-10 minutes or until golden and crisp.
To serve, add the fresh mozzarella to the pineapple mixture; mix well. Top each bread slice with the mixture and sprinkle with sea salt and fresh ground pepper.
---