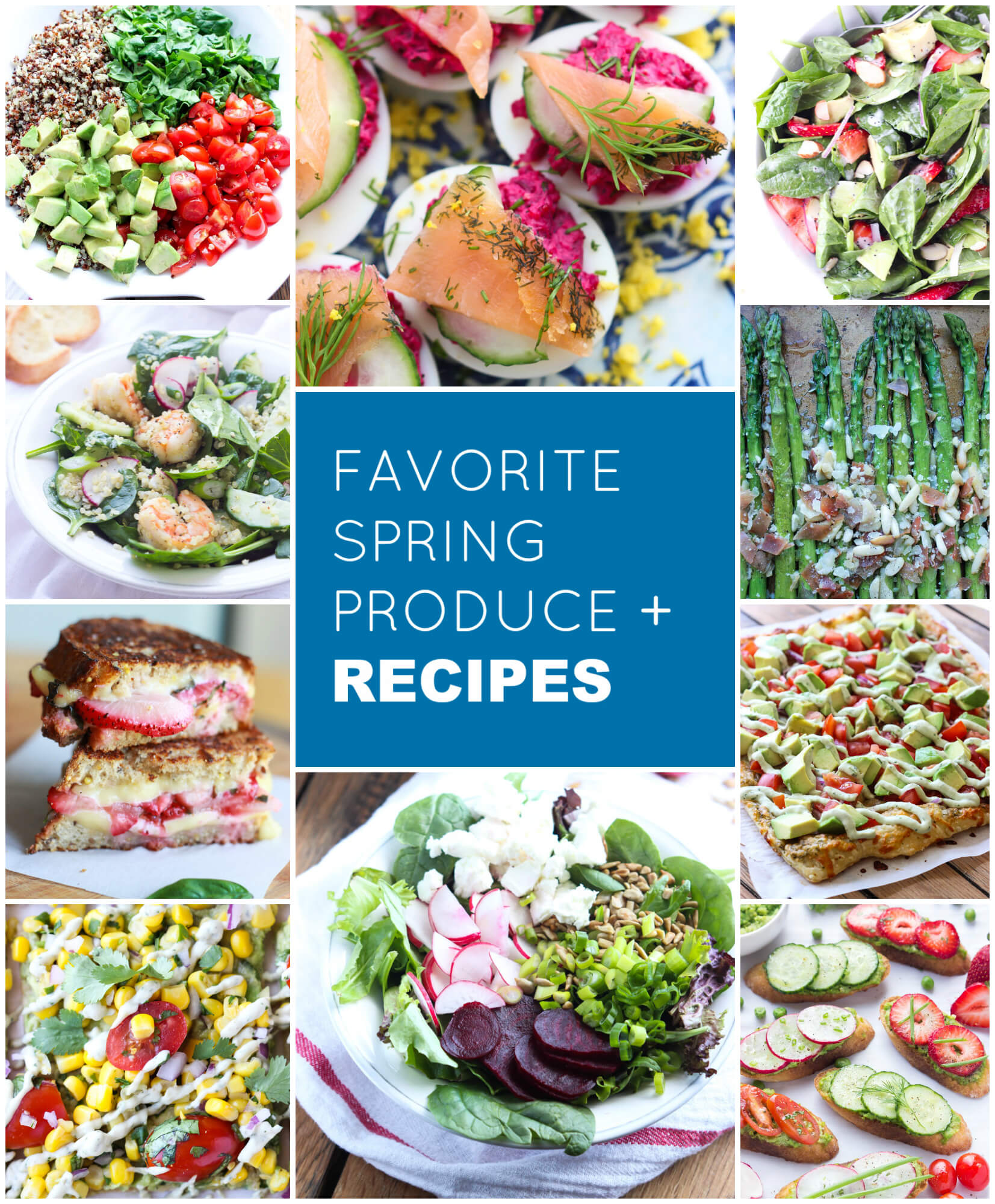 March officially marked the first month of Spring but for us (Marylanders) it still felt like winter. We're now coming up on Easter Sunday and finally (I think) it's starting to feel more like Spring weather. But aside from warmer weather, one thing that always gets me excited is opening of the local farmers markets (which is today- yeay!) and in-season vegetables and fruit. I never really cared about eating "seasonally" until I started this blog and dove into food like I never have before. Eating seasonal vegetables and fruit is a way to support local farmers, communities, and best of all a way to get the freshest produce at an affordable price. Today I'm sharing a list of my favorite spring produce + delicious recipes to inspire you to make something tasty of your own.
ASPARAGUS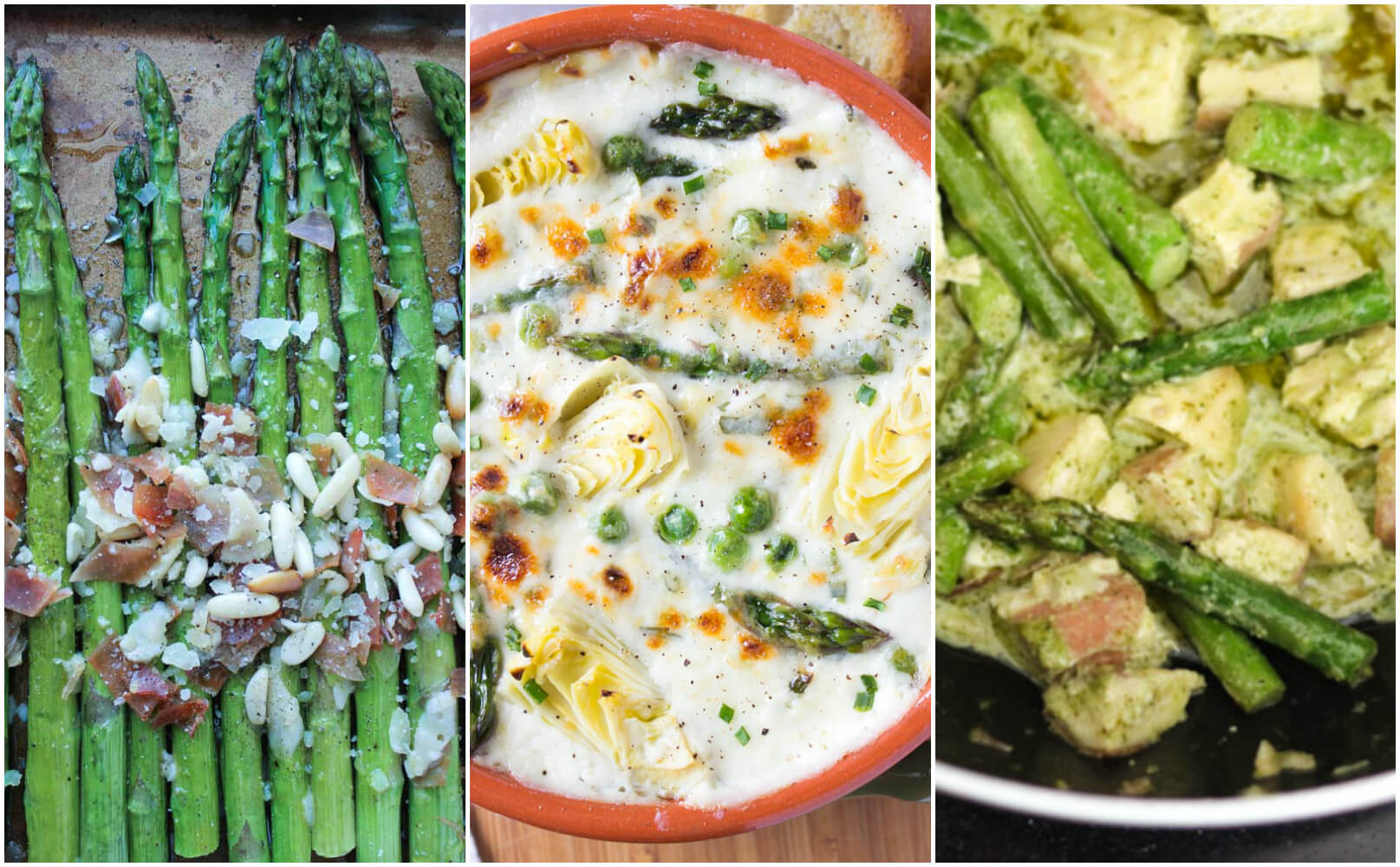 Why I like it: It's super easy and quick cooking, you can eat it raw, grilled, roasted, or steamed, and besides the fact that it makes your pee smell funny, it is darn tasty!
 How I prepare it: (from left) Easy Parmesan and Prosciutto Roasted Asparagus; Loaded Spring Vegetable Cheese Dip; Creamy Basil Chicken with Asparagus
AVOCADO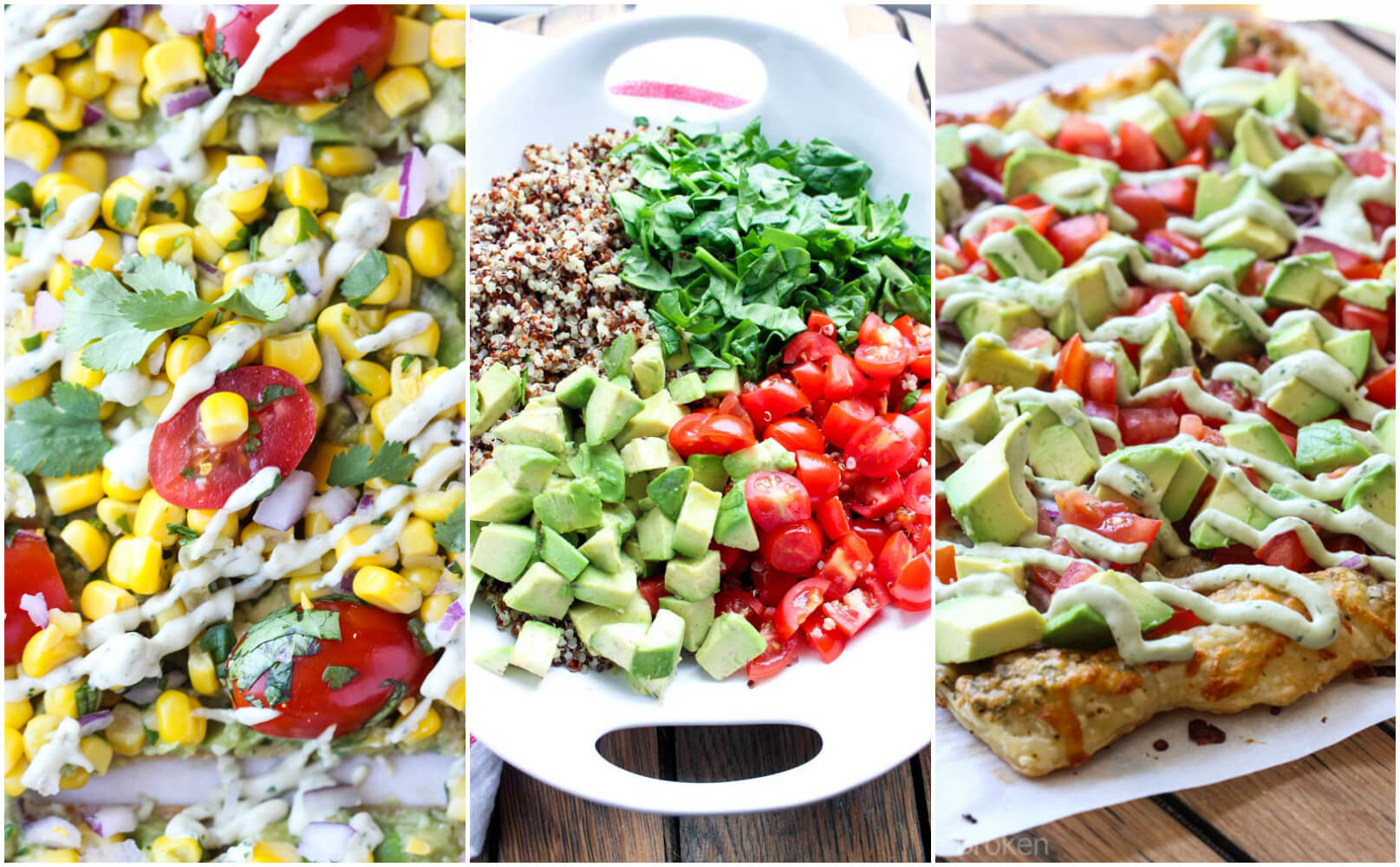 Why I like it: Even though this fruit (yes fruit! did you know that?! – I had no clue) is available year round, big and ripe California avocados are harvested in Spring and I can give you 1001 reasons why I love this fruit but all I will say is it's the BEST thing out there! And if I ever live in a warmer climate, I will have a backyard full of avocado trees so I don't have to pay $2.50 for one 🙂
How I prepare it: (from left) Southwestern Flatbread with Avocado Cream; Avocado, Tomato, and Spinach Quinoa Salad; Skinny Avocado Pizza
BEETS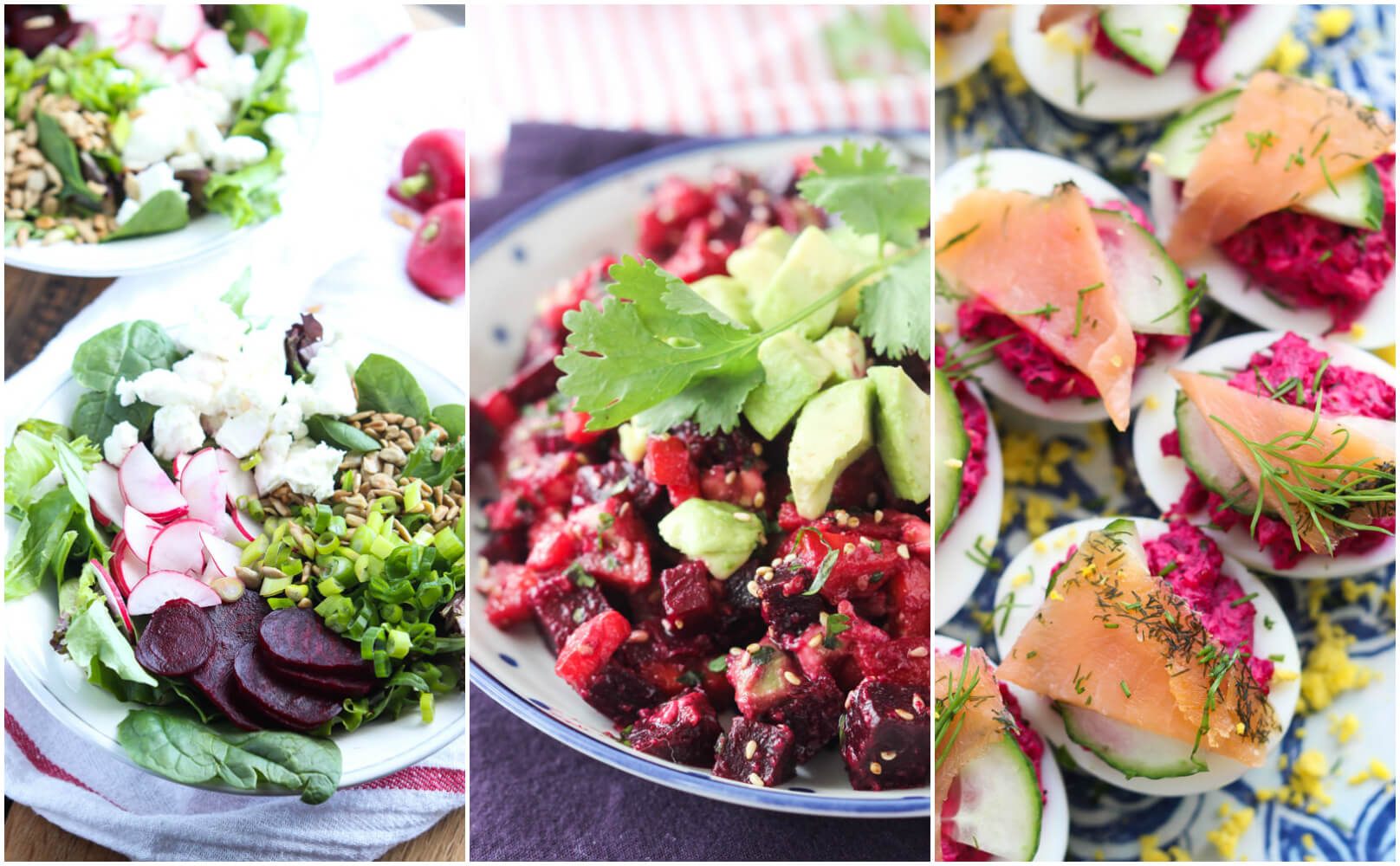 Why I like it: My go to way to eating beets is hard boiled in a fresh salad. But they are also delicious in soups, purees, and wraps. They have a mild sweet undertone to them and buying fresh vs. canned are way tastier!  Not only are they fairly inexpensive but they also add pop of color to any dish.
How I prepare it: (from left) Beet and Feta Salad with Sunflower Vinaigrette; Beet Salad; Deviled Eggs with Beets and Smoked Salmon (if you try one beet recipe this one is it!)
RADISHES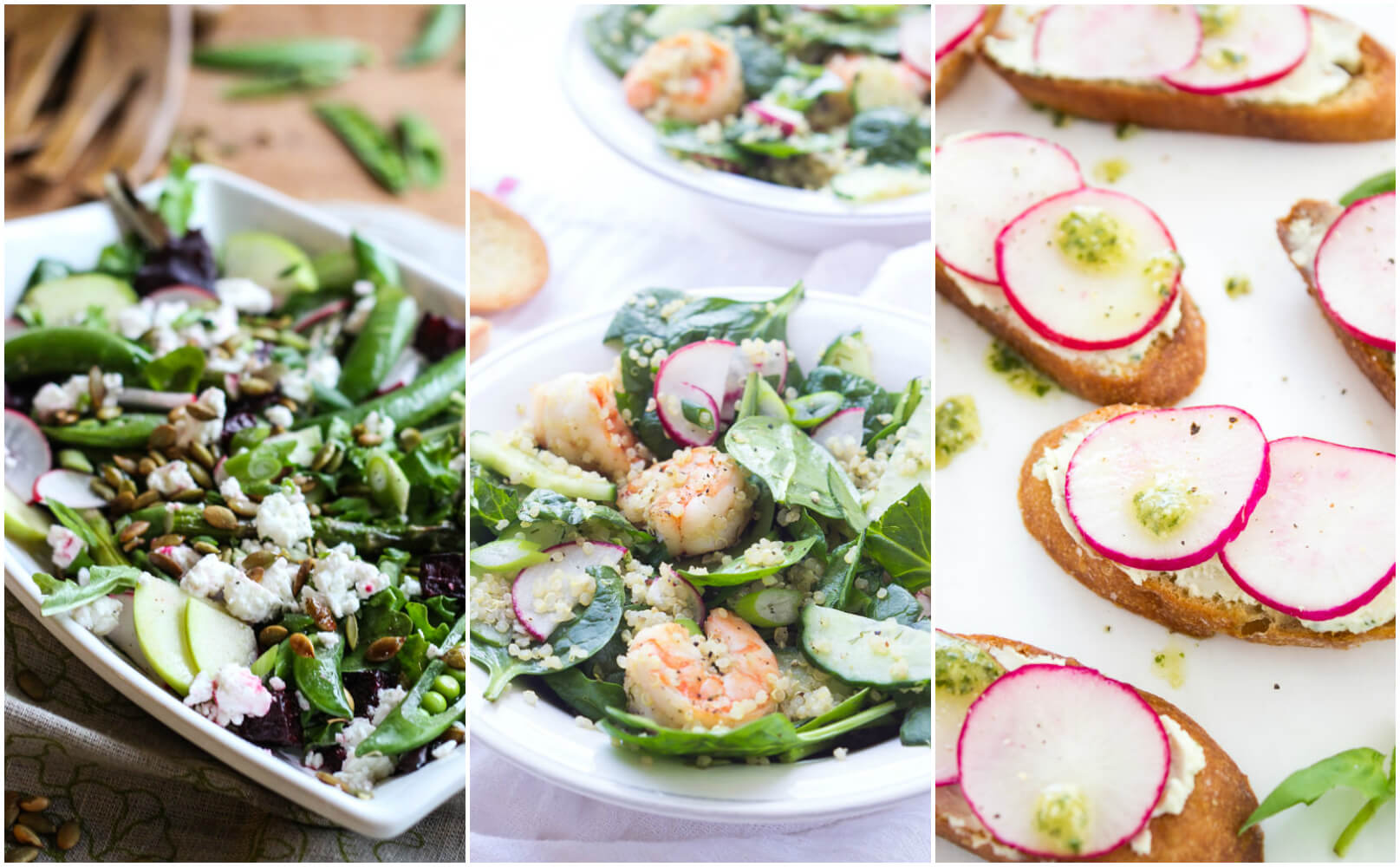 Why I like it: Super inexpensive, add crispness to any dish, I like them raw – sometimes just as is or in a salad or with some hummus, and they have a decent shelf life when compared to other veggies. Plus my little guilty pleasure from childhood is a cabbage salad with cucumbers, radishes, and green onion that I will make ONLY on special occasions. The guilty part it's normally mixed with mayo but I tend to healthy it up a bit and go half and half with sour cream and mayo. Yum! Super tasty but so so not healthy.
How I prepare it: (from left) Green Detox Salad; Spring Quinoa Shrimp Salad with Honey Lemon Vinaigrette; Radish Crostini with Creamy Pesto Spread
STRAWBERRIES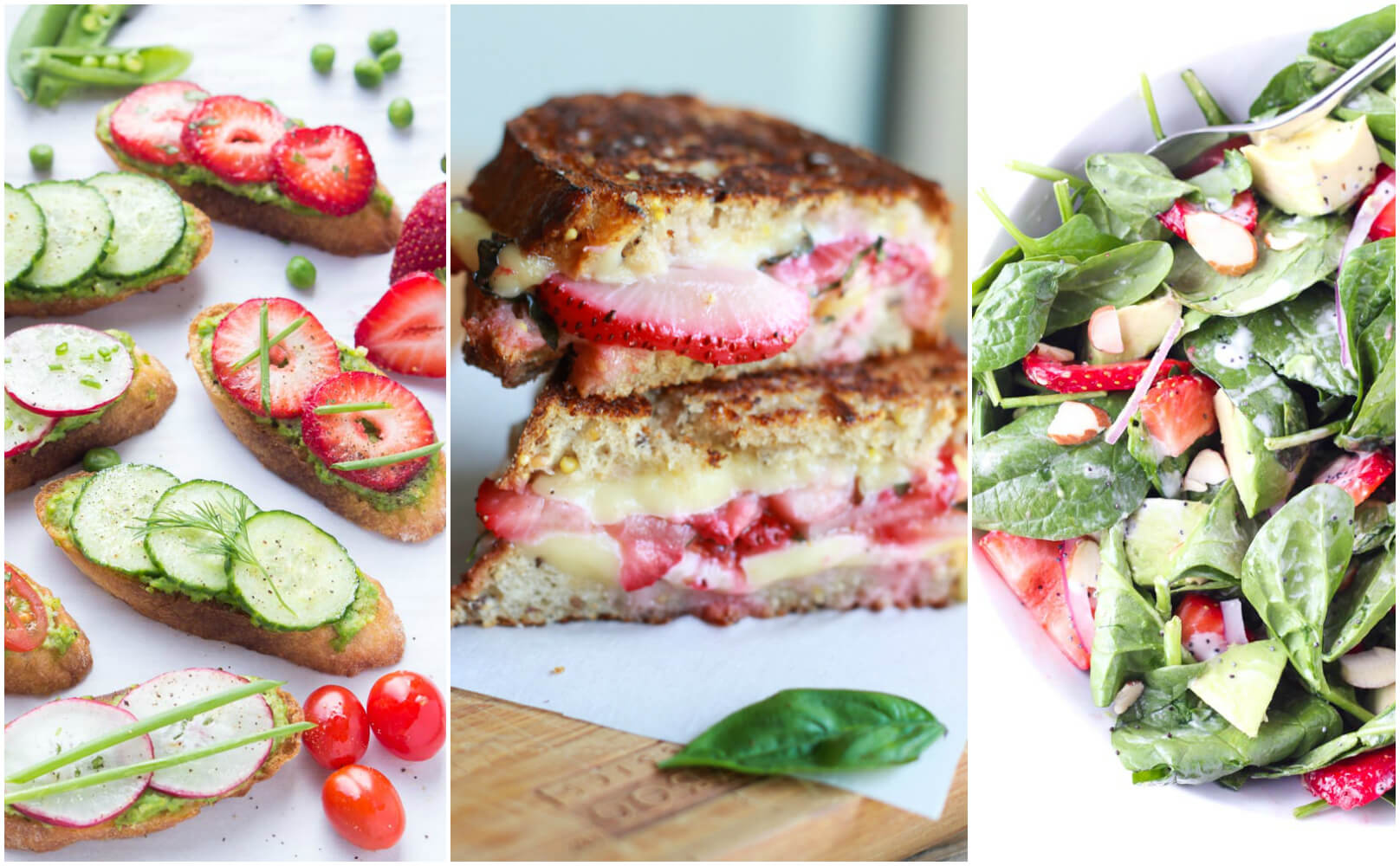 Why I like it: Strawberries can be purchased year round but their peak season is from April-June and if you ever tasted a freshly picked strawberry then you know there is no comparison to it. Sweet and juicy berries that I personally like to eat with my oatmeal in the morning or add into my salads and baked goods. Plus strawberries are probably one of those fruits that you can add into anything and it will taste good. One of the things I look forward to every spring is picking our own strawberries from a local farm – it's a fun weekend activity that I get to drag my whole family to (whether they like it or not but I think they do 🙂
How I prepare it: (from left) Spring Crostini with Pea Pesto; Strawberry Bruschetta Grilled Cheese; Strawberry Avocado Spinach Salad with Poppyseed Dressing
Now it's your turn guys! Tell me what's your favorite part about Spring time and if you have any delish dishes you love to make around this time of the year.
And Happy Easter to all of you!!!