Fresh Corn and Crab Chowder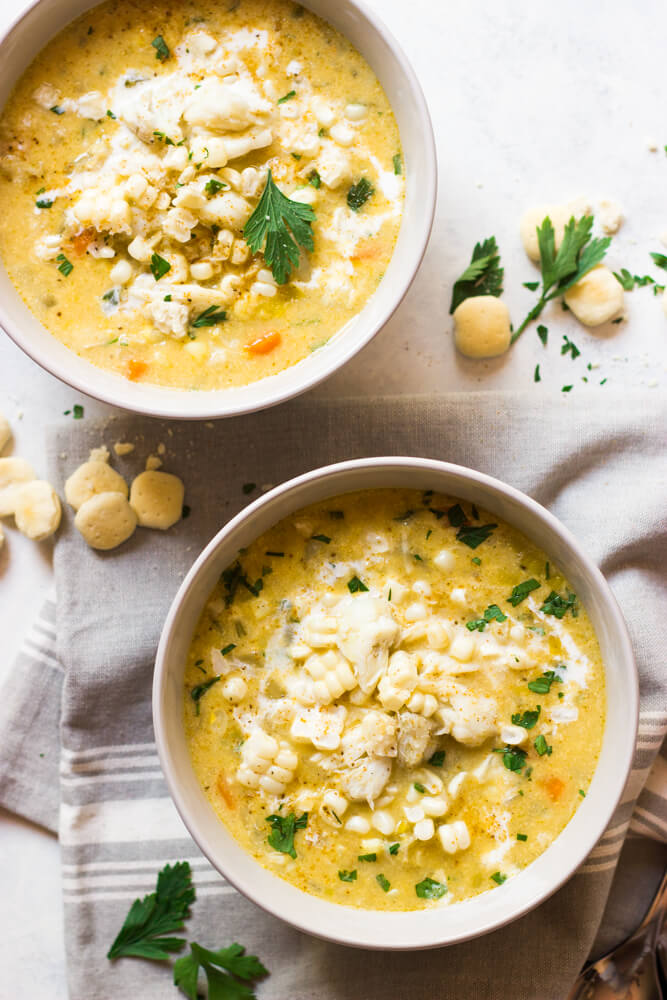 Author:
Katya @ https://www.littlebroken.com
1 Tbsp. olive oil
1 Tbsp. unsalted butter
1 small/medium onion, chopped (1 cup)
2 celery ribs, chopped
2 medium carrots, peeled + chopped
2 leeks, white and light green part sliced into half moons (2 cups)
2 large russet potatoes (about 2 lbs.), peeled and diced into small cubes
1 bay leaf
1 Tbsp. Old Bay seasoning*, plus extra for serving
1½ tsp. kosher salt
1 (32 oz.) carton chicken stock
3 large ears fresh sweet corn, husk + silk removed and kernels cut from cob (4 cups corn)
1 pound fresh lump crab meat
1 cup half and half
¼ cup finely chopped fresh parsley
fresh ground black pepper
In a large dutch oven, heat oil and butter over medium heat. Add onion, celery, carrots, leeks, and sauté 5-7 minutes or until soft.
Add potatoes, bay leaf, Old Bay seasoning, salt, black pepper, to taste, and chicken stock. Bring the mixture to a simmer and cook partially covered over medium heat for about 8-10 minutes or until the potatoes are halfway done.
Discard bay leaf, transfer 2 cups of chowder to a food processor or blender, and purée until smooth. Stir the mixture back into the pot. Add corn, crab meat, half and half, and cook uncovered just until corn is tender, about 7-10 minutes. Make sure the chowder is not at a rapid boil at this point or the half and half will separate. If need to, reduce heat to medium/low.
Stir in chopped parsley and if desired, serve with sprinkle of Old Bay seasoning.
*found near seafood department or in spice aisle
Recipe by
Little Broken
at https://www.littlebroken.com/2017/07/27/fresh-corn-and-crab-chowder/