Vanilla Greek Yogurt Chia Seed Pudding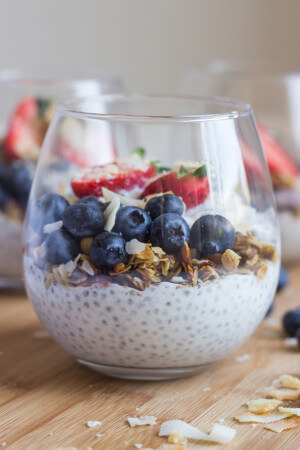 Author:
Katya @ https://www.littlebroken.com
¾ cup milk (whole cow's milk)
2 (5.3 oz.) containers of Yoplait® Greek 100 Calories Vanilla Yogurt (about 1 cup)
2 Tbsp. pure maple syrup
1 tsp. vanilla extract
pinch of fine sea salt (about ⅛ tsp.)
¼ cup chia seeds
fresh berries, granola, toasted coconut flakes or sliced almonds, to serve
Add all ingredients except chia seeds to a medium bowl and whisk vigorously to combine. Add chia seeds and whisk to combine.
Cover the bowl with plastic wrap and refrigerate overnight. You want pudding-like consistency in the morning.
In the morning, give the pudding a good whisk to evenly distribute chia seeds that have settled on the bottom. Spoon into individual serving dish and enjoy chilled with desired toppings.
Leftovers keep covered in the fridge for 2-3 days. Serves 4 (1/2 cup serving size).
*add additional time to chill the pudding
Recipe by
Little Broken
at https://www.littlebroken.com/2016/03/08/vanilla-greek-yogurt-chia-seed-pudding/