Edamame Quinoa and Apple Chopped Salad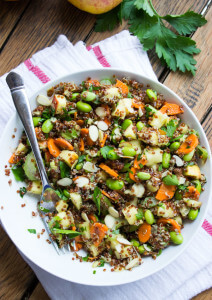 Author:
Katya @ https://www.littlebroken.com
1 cup cooked red quinoa, completely cooled
1 cup cooked, shelled, edamame
1 celery rib, sliced (about ½ cup)
⅓ cup sliced green onions
1 large carrot, thinly sliced
¼ cup chopped fresh parsley
1 apple such as Envy, Gala, Granny Smith, diced
1 avocado, diced
⅓ cup sliced almonds
2 Tbsp. fresh lemon juice
2 Tbsp. fresh orange juice
¼ cup extra-virgin olive oil
1 garlic clove, minced
1 tsp. Dijon mustard
salt and fresh ground black pepper, to taste
In a large bowl, toss all ingredients with vinaigrette. Season with salt and pepper as needed.
Refrigerate at least 30 minutes before serving.
Whisk ingredients together until combined.
Recipe by
Little Broken
at https://www.littlebroken.com/2015/09/26/edamame-quinoa-and-apple-chopped-salad/