Chocolate Fudge and Raspberry Bars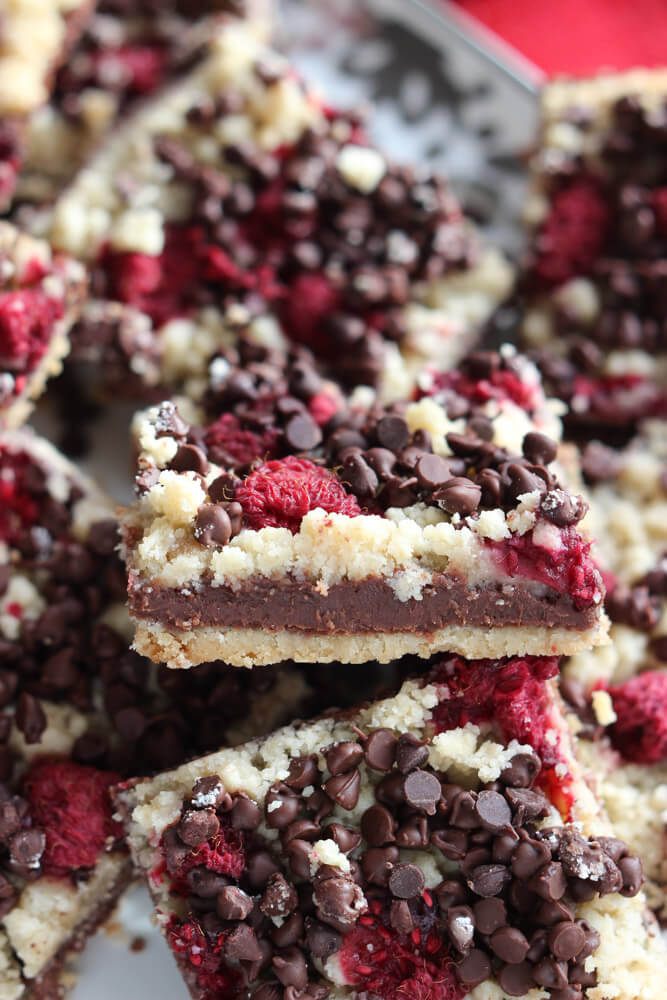 Author:
Katya @ https://www.littlebroken.com
1 cup unsalted butter, at room temperature
½ cup brown sugar, packed
2 cups all-purpose flour
¼ tsp. salt
1 cup dark chocolate chips
1 cup mini semi-sweet chocolate chips
1 can (14 oz.) sweetened condensed milk
6 oz. fresh raspberries
Preheat the oven 350F.
Spray a 9X13 pan with non-stick cooking spray.
In a large bowl, beat butter until creamy. Beat in brown sugar, flour, and salt until crumbly. Press 1¾ cups of crumb mixture into the prepared pan; bake for 12 minutes.
In a small sauce pan, combine the condensed milk and dark chocolate chips. Heat over medium heat until chocolate has melted, stirring constantly.
Remove the crust from the oven and pour the condensed chocolate mixture over the crust, spreading gently. ***You want to be really gentle when spreading the hot chocolate as the crust is not fully baked so it will lightly lift up when you pour and spread the chocolate***
Sprinkle the remaining crumbs over the chocolate layer; top with fresh raspberries and mini chocolate chips.
Bake for 25 minutes. Cool the pan on a wire rack before cutting.
Recipe by
Little Broken
at https://www.littlebroken.com/2014/12/02/chocolate-fudge-and-raspberry-bars/