Crockpot Sesame Meatballs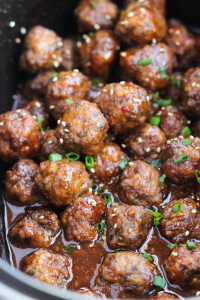 Author:
Katya @ https://www.littlebroken.com
Serves:
50 mini meatballs
1 lb. ground pork
1 lb. ground beef
2 large eggs, lightly beaten
3 large garlic cloves, minced
¼ cup grated onion
¼ cup Panko breadcrumbs (Japanese style breadcrumbs found next to regular breadcrumbs or in Asian food aisle)
¼ cup fresh cilantro, chopped
salt and pepper
¾ cup packed brown sugar
½ cup soy sauce (I used low-sodium)
½ cup ketchup
¼ cup honey
2 Tbsp. white wine vinegar
3 garlic cloves, minced
1 tsp. salt
1 tsp. ground pepper
½ tsp. crushed red pepper flakes (use ¼ tsp. for little less heat)
2 Tbsp. green onion, white and green parts chopped
1 Tbsp. sesame seeds
In a large bowl, combine the meatball ingredients. Season with salt and pepper.
Line two large baking sheets with foil and lightly coat with non-stick cooking spray. Form 1 to 1½ inch meatballs and place on the lined baking sheet in a single layer.
Broil the meatballs on high for 6-7 minutes, flipping halfway through, or just until browned. **You want the meatballs ONLY browned on top and not cooked through***
Combine all the sauce ingredients, except for the green onion and sesame seeds.
Place the meatballs in a crockpot, coating with sauce evenly.
Cook the meatballs on low for 3 hours. Mixing couple times to evenly coat with sauce.
Transfer the meatballs to a serving platter and sprinkle with green onion and sesame seeds.
Time Management Tip: broil the meatballs and prepare the sauce the night before; store in the refrigerator covered until ready to be cooked in the crockpot.
Recipe by
Little Broken
at https://www.littlebroken.com/2014/11/07/crockpot-sesame-meatballs/