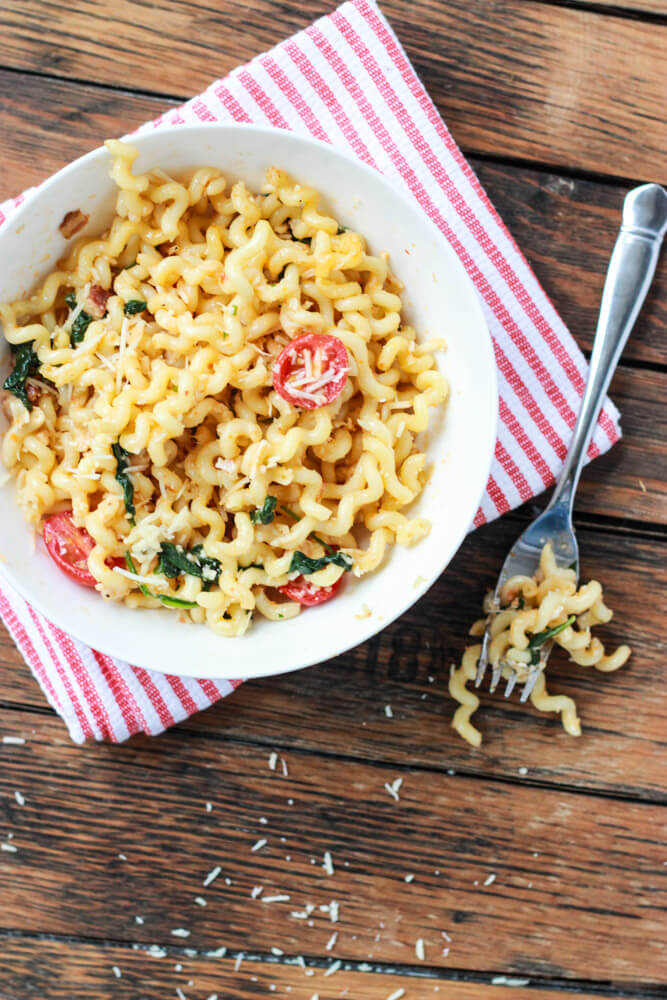 I. love. pasta. Period.
Seriously, it is one of my weaknesses. I like simple stuff though. Pasta with cheese sauce. Pasta with creamy garlic sauce. Pasta with red sauce. But not the skimpy red marinara type. You know the good stuff with chunks of ground beef, mushrooms, onions, garlic and ton of parm that's been simmering in a pot for hours.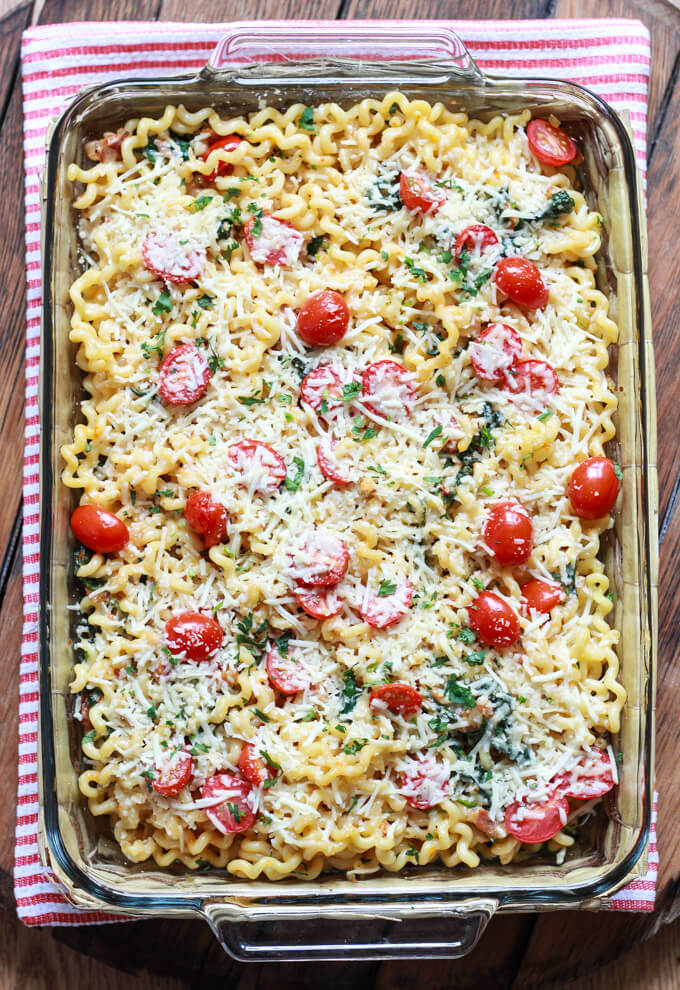 I used to order pasta out but then upgraded to more grown up stuff like filet mignons of this world. Growing up sucks. I think just because pasta is such an easy dish to make, I hate paying double at a restaurant when I can make it taste as good at home in a fraction of the cost. I guess I get wiser with age 🙂 And you can't really screw up pasta. Take any meal and add pasta to it and it will taste delish.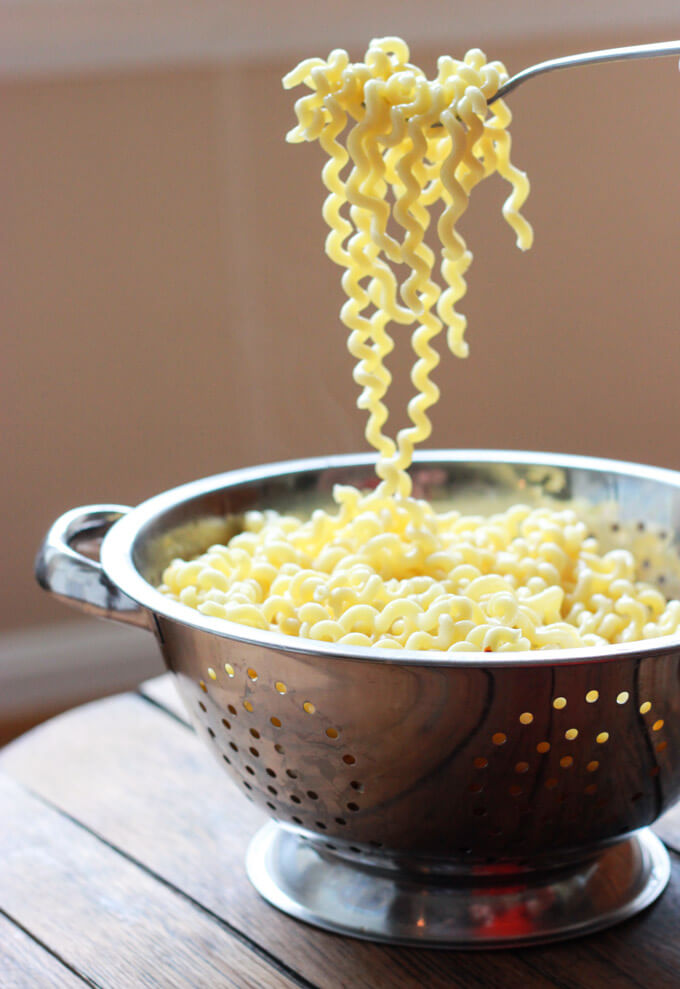 So, my child, just like his mama, is a fan of pasta. Mac-n-cheese that is. Specifically, "mac-n-cheese from scratch" as he likes to say it. He grocery shops with me once in a while and always asks me to buy those mac-n-cheese in a box but my answer is always "I'll make it home from scratch" . Mac-n-cheese from a box? Seriously, I can't!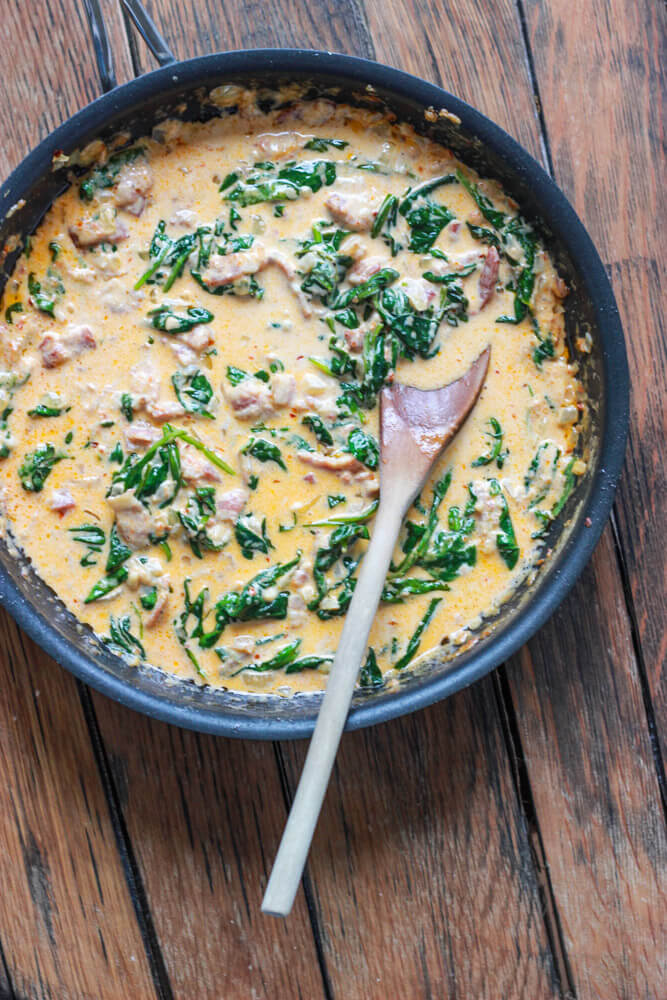 Making mac-n-cheese at home is yes the easiest and fastest meal you can possible make your child but not always the most nutritious. Not that pasta is healthy but I like to get creative and throw in as many veggies as I can. Creamy BLT Pasta is somewhat "healthy" when compared to stuff like macaroni smothered with cheese sauce.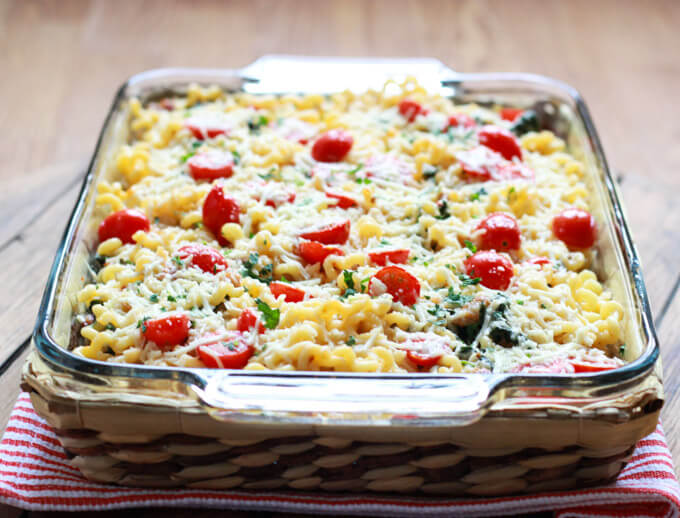 It has all the elements of your classic BLT.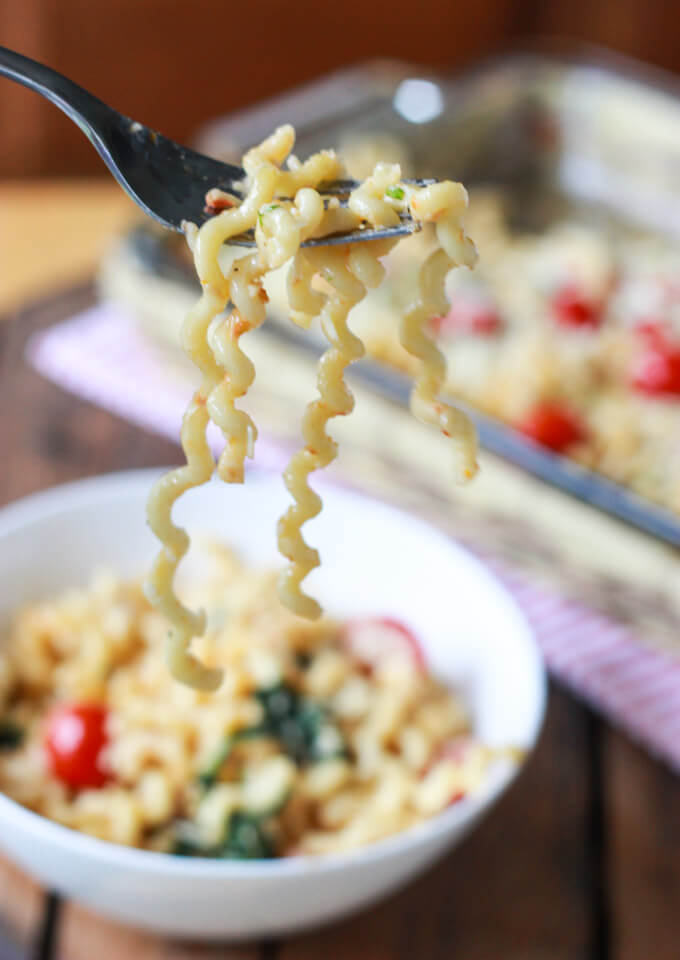 You start off with a simple white and red sauce using this sun-dried pesto, which I've been loving lately. You can buy it at places like Whole Foods and Trader Joes in the refrigerated section. Only several ingredients and tastes amazing. Good stuff! Bacon, spinach, and cheese go in the sauce. Cooked pasta mixed in with the sauce then piled into a casserole dish. Topped off with grape tomatoes and cheese. Baked until crispy and melty. Easy, peasy.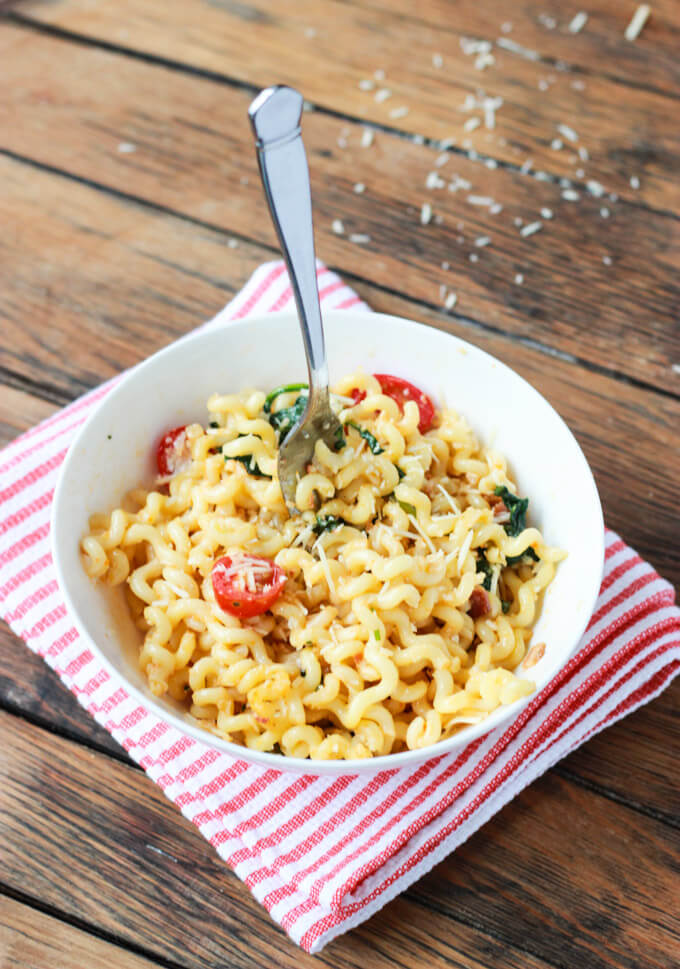 Oh, can I tell you that this fusili long pasta is like my new favorite! It reminds of me of long bouncy curls. So fun, careless and happy 🙂
You'll want to eat a bowl or two !
Print
---
Scale
Ingredients
1

lb. fusili long pasta

6

slices bacon, chopped

1

sm. onion, chopped

2

large cloves garlic, chopped

1/2 tsp

. crushed red pepper

3 Tbsp

. sun-dried tomato pesto

3/4 cups

heavy cream

1 1/2 cup

shredded parmigiano-reggiano cheese

6 oz

. bag baby spinach

1/2 pint

cherry tomatoes, halved
salt & pepper
---
Instructions
Cook pasta according to package instructions or until al dente. Go light on salt. Drain, reserving 1/2 cup of pasta water.
In a large skillet over medium heat, cook bacon until crisp at the edges, 3-5 minutes. Add the onion and cook until translucent. Add the garlic and crushed red pepper and cook, stirring for 1 minute.
Stir in tomato pesto and cream; bring to a simmer. Stir in half the cheese until melted; then the reserved pasta water; turn of the heat and stir in spinach. Add the pasta to the sauce and toss.
Pile the pasta into a 9X13 casserole dish and top off with tomatoes and sprinkle with remaining cheese. Bake in preheated 450F oven until browned, about 8-10 minutes.
---