Grilled Chicken Sliders
Grilled Chicken Sliders are the perfect summer dish for entertaining. They are made with juicy chicken thighs and topped with chunky guacamole. They are the ideal size for kids and incredibly easy to make.
Grilled chicken sliders are delicious little bites of juicy chicken, similar to our grilled chicken tenders, which are creamy guacamole, and fresh slider buns. The guacamole neatly complements the cilantro-lime flavors in the chicken.
This recipe makes twelve sliders, but it's easy to double the recipe to make even more! Not to mention, this recipe comes together fairly easily just like our grilled chicken drumsticks with easy-to-find fresh ingredients.
It's the perfect slider recipe for easy entertaining during summer paired with our mini cherry pies.
Ingredients
cilantro
fresh lime juice
olive oil
garlic
salt
chicken thighs
tomatoes
avocado
white onion
slider buns, for serving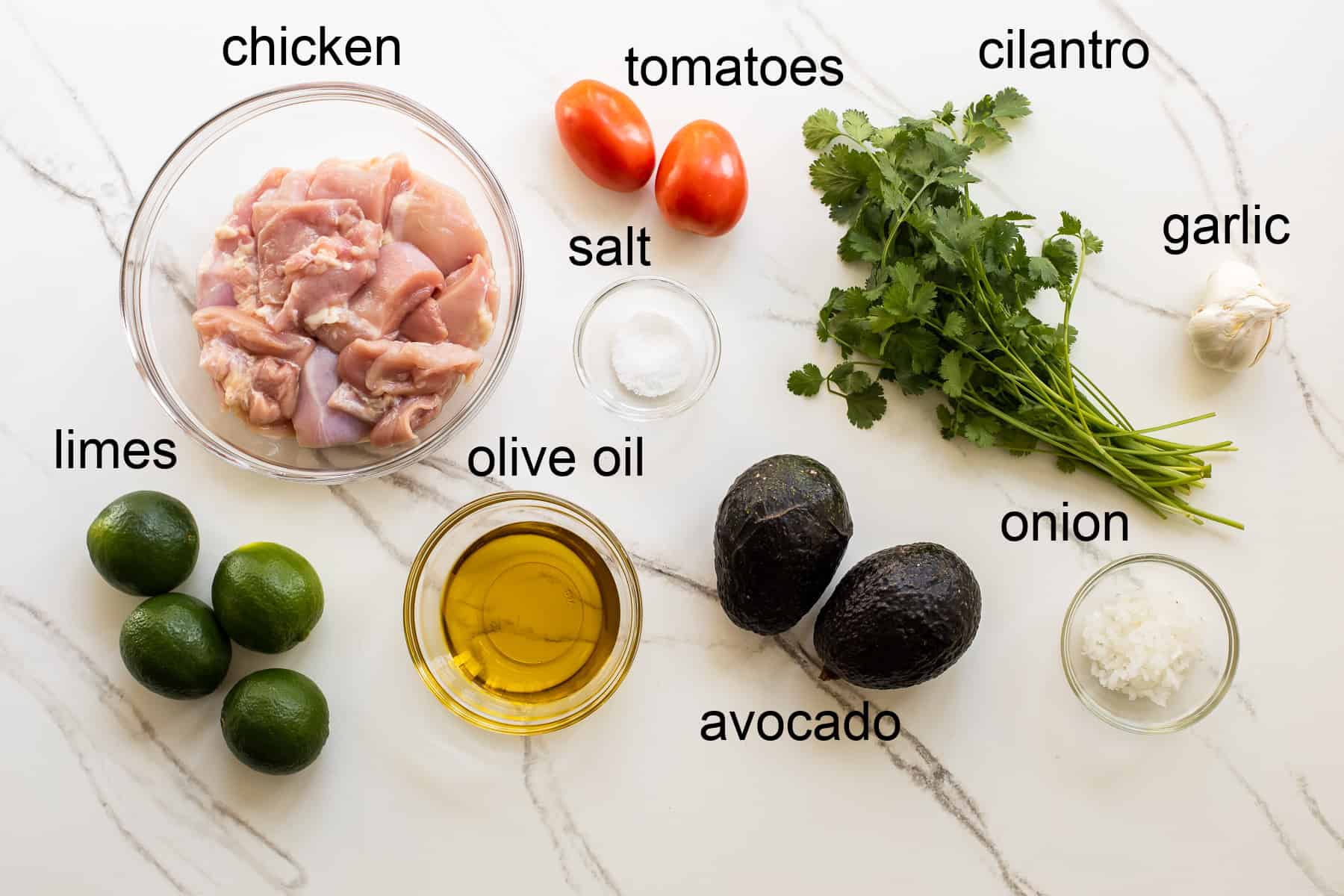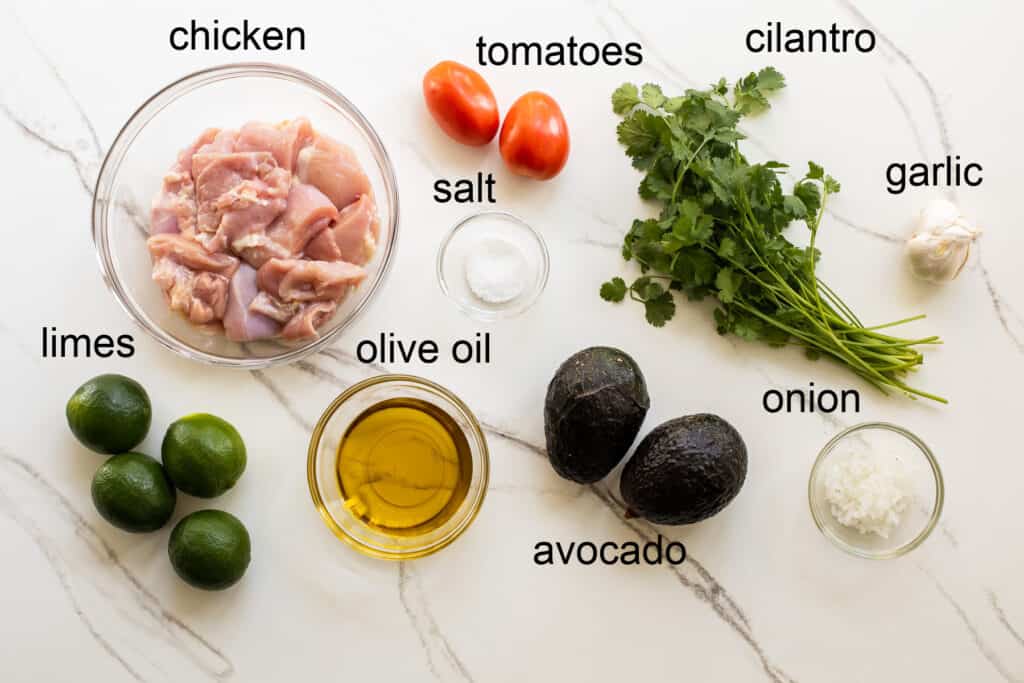 Can I Use Chicken Breasts?
Yes, you can use chicken breasts instead of chicken thighs in this recipe. To get the best result, slice the breast in half horizontally and pound it between two sheets of plastic wrap to make the chicken the same thickness all the way across.
To assemble: place grilled chicken on the bottom bun, top with a good heaping of guacamole, and close with the top bun. Serve immediately.
Tips to Keep Sliders from Getting Soggy
When you remove the chicken from the grill, allow them to rest on a plate for five minutes before putting them on the buns.
Grill the buns before placing the chicken on top. The grilling creates a protective layer so that the buns don't get mushy.
Be sure your guacamole isn't liquidy but rather thick before putting it on top of the chicken. This will prevent the top bun from absorbing moisture.
Add a layer of cheese between the chicken or guacamole and the bun.
Recipe Variations
Try these other grilled chicken slider variations:
Teriyaki: Pour some teriyaki sauce over the chicken after grilling for that sweet and savory flavor.
Cajun: Spicy cajun chicken rub is a delicious substitute for guacamole.
Buffalo: Buffalo sauce is spicy, tangy, and perfect for these little chicken sliders.
Barbecue: Add some barbecue sauce after grilling or in with the chicken in a pressure cooker or crockpot.
Pesto: Slather some homemade basil pesto over the chicken and top with a freshly grilled bun.
Hawaiian: Lay fresh pineapple slices on the chicken to make a Hawaiian version of this recipe.
Serving Chicken Sliders
These chicken sliders are perfect as a main dish and go well with many different side dishes: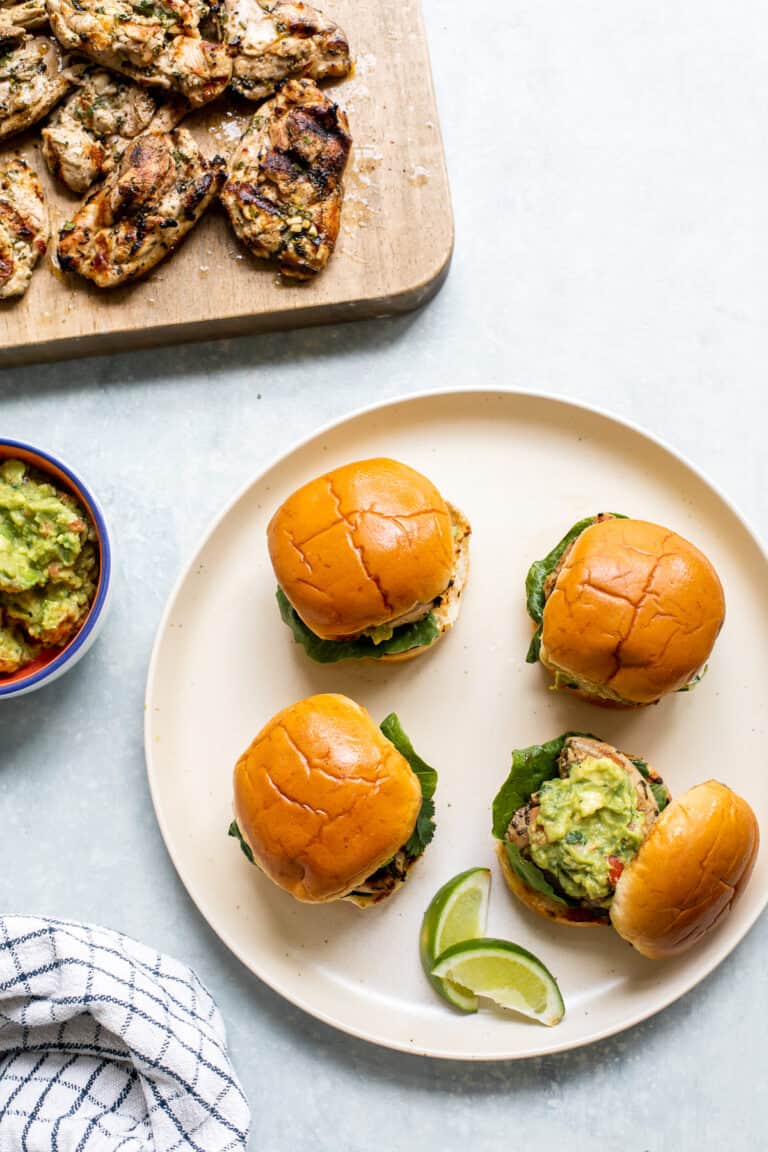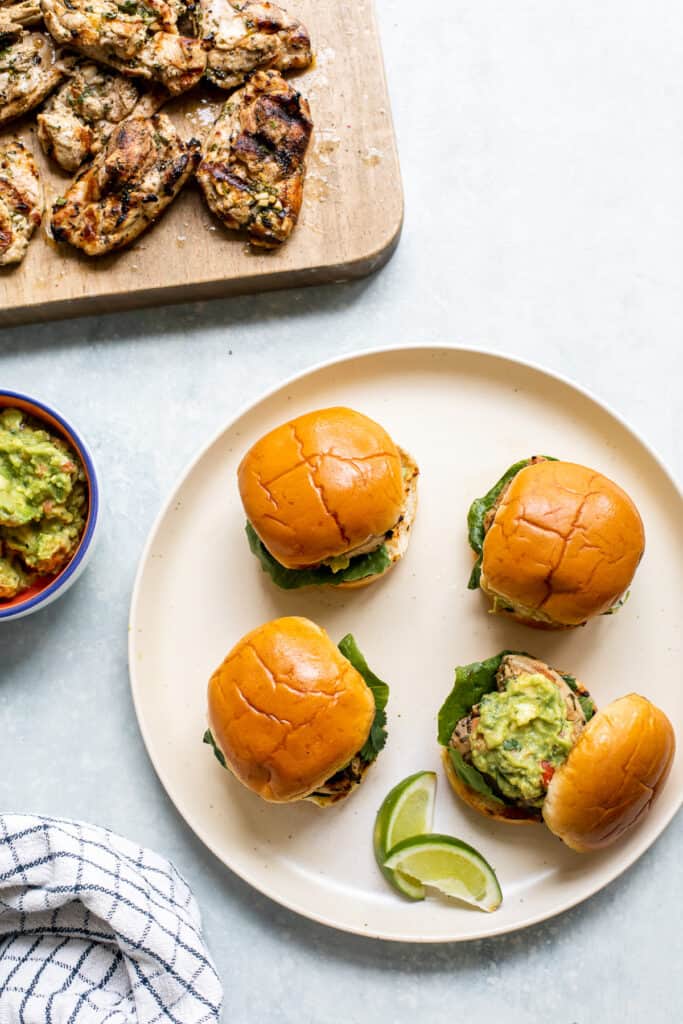 Other Ways to Cook the Chicken for Sliders
Besides grilling, you can also fry, saute, or bake the chicken thighs for these sandwiches.
Use an instant pot or slow cooker to make the chicken shreddable. Add some liquid or sauce to give the chicken flavor, and top it with guacamole or coleslaw on the slider buns.
You can also make these sliders with ground chicken, rotisserie chicken, or pulled chicken and pile tender meat between two buns.
Make a crispy sandwich by frying the chicken before adding bacon or ranch dressing to the top.
Frequently Asked Questions
Can I add cheese to grilled chicken sliders?  
You can add cheese to these sliders. Some great options are crumbled feta cheese, fresh mozzarella, or a slice of cheddar cheese. 
What kinds of buns can I use for this slider recipe?  
You can make your own buns, use sweet Hawaiian rolls, or some soft slider buns from the grocery store. Any of these would work perfectly.    
Do I need to marinate the chicken for this recipe?   
This recipe calls for the chicken to be marinated before cooking it, and this is so that all those good flavors soak into the chicken. Marinate for at least 15 minutes but no more than 30 minutes.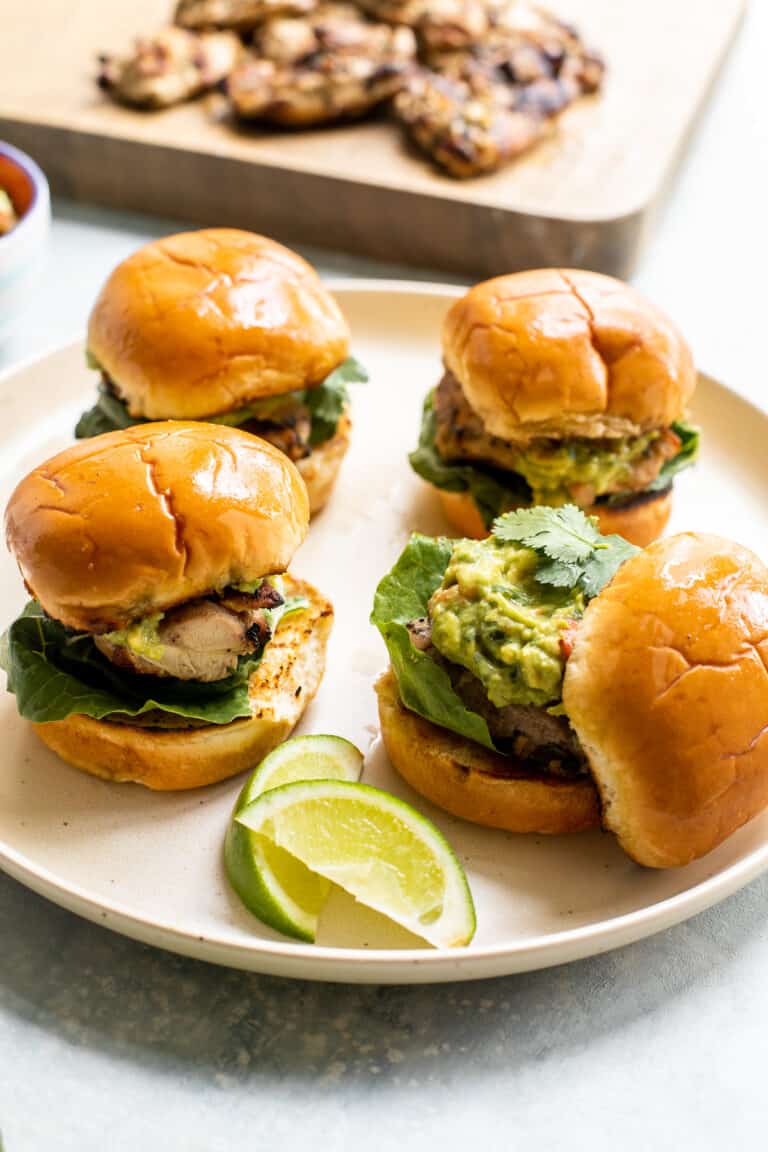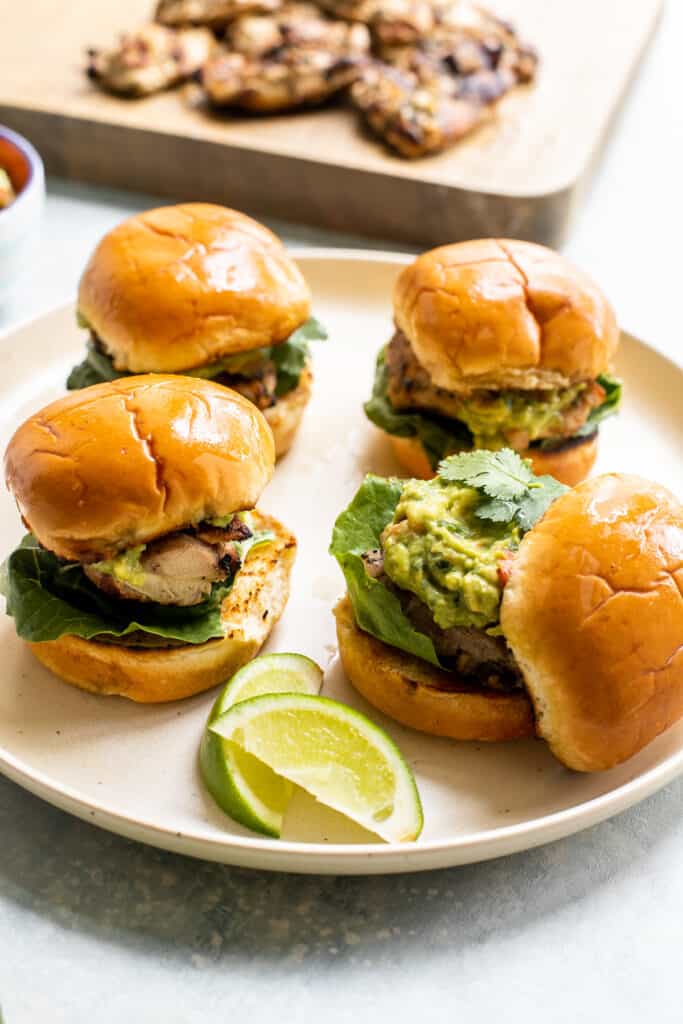 More recipes to try: BBQ Chicken Sliders, Mediterranean Turkey Burgers, or Grilled Salmon Burgers
Print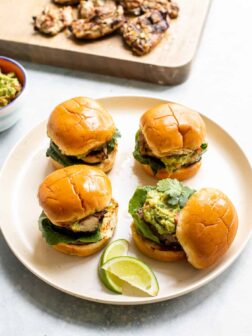 Grilled Chicken Sliders Recipe
Author: Katya
Prep Time: 20 min
Cook Time: 10 min
Total Time: 30 minutes
Yield: 12 1x
Category: Main
Method: Grilled
Cuisine: American
---
Description
These grilled chicken sliders are made with chicken thighs that are quickly marinated in cilantro, lime, and garlic. Then grilled until juicy tender and served topped with delicious guacamole. 
---
Chicken
1/4 cup chopped fresh cilantro
3 Tbsp. fresh lime juice
1/4 cup olive oil
2 cloves garlic, minced
1 1/2 tsp. kosher salt
6 chicken thighs, skinless, boneless, sliced in half, about 2 lbs. total
Black pepper, to taste
Guacamole
2 plum tomatoes, chopped
2 large ripe avocados
1 Tbsp. finely chopped white onion
2 Tbsp. finely chopped fresh cilantro
2–3 Tbsp. fresh lime juice
1 clove garlic, minced
Kosher salt, to taste
To Serve
---
Instructions
Prepare the chicken marinade by whisking together cilantro, lime juice, olive oil, garlic, and salt. Add black pepper to taste.
Add chicken thighs to the marinade and toss to coat all over. Cover the bowl and place in the refrigerator for no more than 30 minutes.
While the chicken is marinating, prepare the guacamole by adding all of the ingredients into a bowl and   with a fork, mash everything together until chunky consistency. Season with salt and black pepper to taste. Cover and refrigerate until ready to serve.
Preheat the grill on medium-high and grill the chicken for about 3 minutes on each side or until cooked through. Transfer to a plate and loosely cover with aluminum foil until ready to serve.
To assemble: place grilled chicken on the bottom bun, top with a good heaping of guacamole, and close with top bun. Serve immediately. Makes 12 sliders.
---
Notes
Leftovers: Store grilled chicken in an airtight container for up to 3 days. Leftover guacamole can be covered and stored in the refrigerator for no more than 1 day before it begins to brown.
Recipe originally published June 2015
Nutrition
Serving Size: 1 slider
Calories: 298
Sugar: 4.1 g
Sodium: 550 mg
Fat: 13 g
Carbohydrates: 25.9 g
Protein: 19.7 g
Cholesterol: 70 mg
Keywords: grilled chicken thighs, sliders, summer