Make ahead lunches do not have to be complicated. Personally, I love to keep things simple and well organized when it comes to packing school lunches.
This post has been sponsored by Del Monte®. All thoughts and opinions are my own.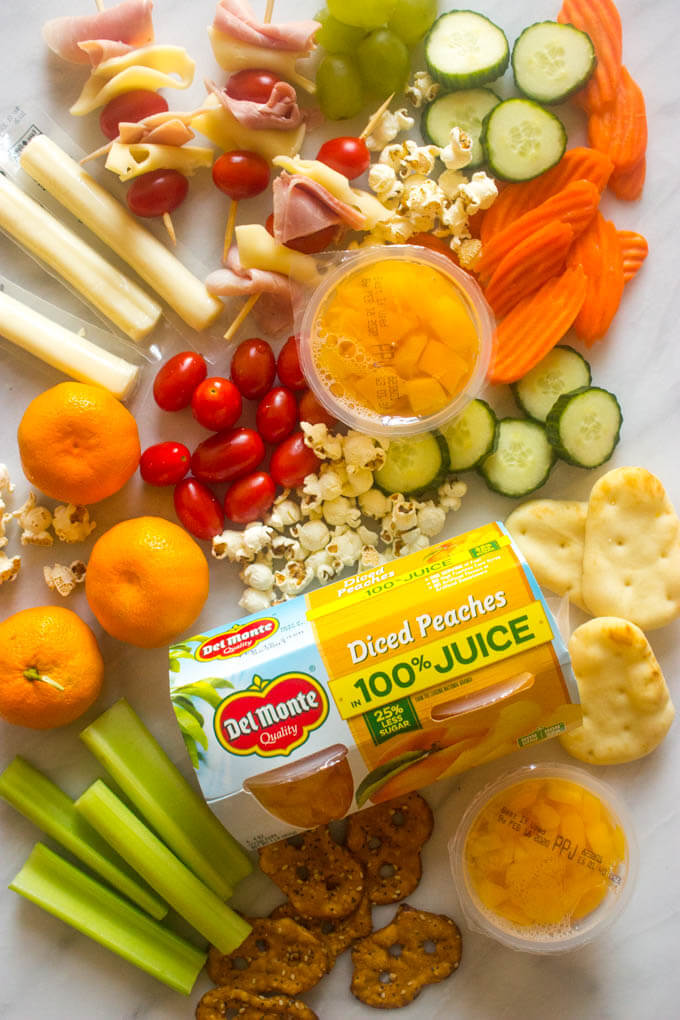 I like to stick to basics when it comes to fruits, veggies, snack items, and some type of sandwich item. Meaning basic ingredients that I can pick up just about anywhere and prep on a Sunday night to last us an entire week.
Therefore, I love to stock up on things such as cucumbers, tomatoes, celery, carrots, pretzels, crackers, popcorn, apple sauce, and Del Monte® Fruit Cup® snacks. In fact, Del Monte Fruit Cup snacks are made in 100% juice with 25% less sugar*. They are luscious and make for one delicious snack- find them in the fruit snack aisle today! Today, I'm sharing my 3 go-to tips for easy make-ahead lunches. Hopefully these tips will make your school mornings run a lot smoother.
Tips for Healthy Make-Ahead Lunches
Invest in basic refrigerator storage containers – I love using clear plastic containers meant for soda cans to hold my yogurts, cheese, fruits, and veggies. They have an opening in the front that makes reaching for items easy, so my 10-year-old can effortlessly find what he needs on days that he packs his own lunch.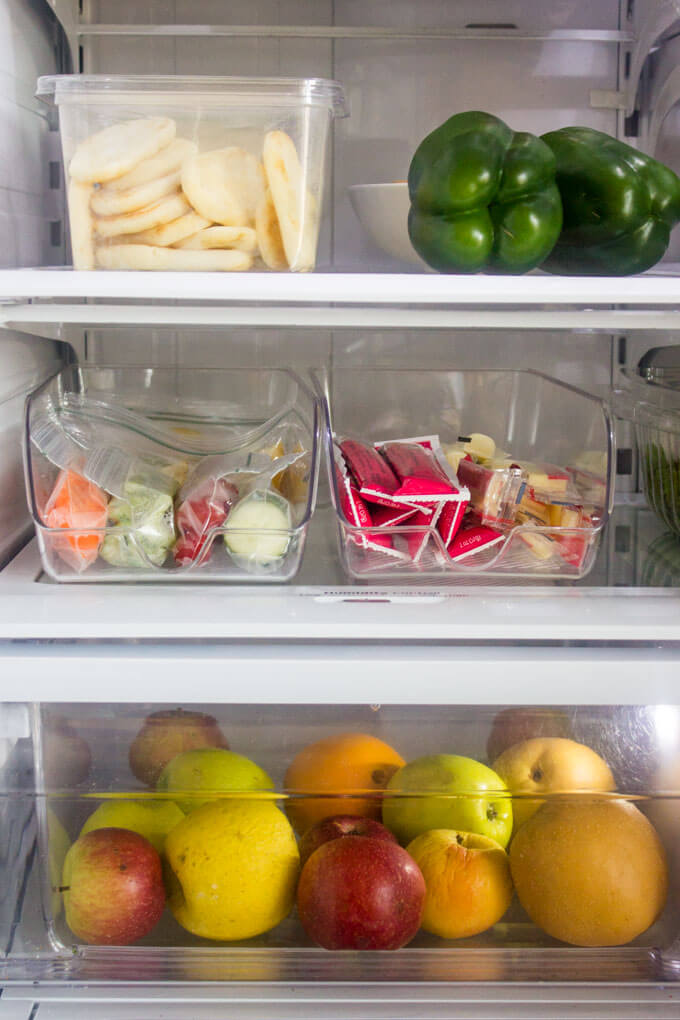 Meal-prep ahead of time – it's something I started doing recently that makes the biggest difference in our school mornings. We all want our kids to eat healthier and prepping food in the morning rush before school is a hustle. However, by dividing out snacks, washing veggies at beginning of the week, and packing into snack size baggies helps us run a lot quicker in the mornings. I normally pack just enough to last for a week's worth of lunches. I like to store everything in the refrigerator in the clear plastic bins. That way nothing is lost or forgotten.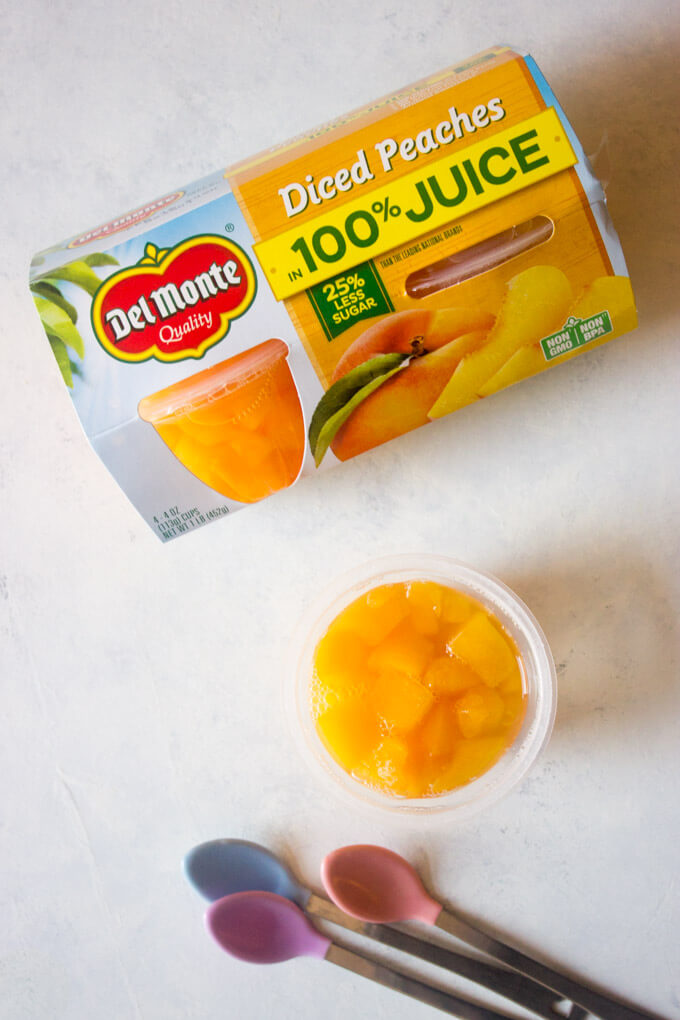 Designate an area for dry snack items – we have two "school lunch baskets" in our kitchen where I like to keep some of my son's favorite dry snacks, such as veggie sticks, pretzels, and popcorn. The second basket is for veggie/fruit related items. Specifically, things that do not have be refrigerated, such as Del Monte Fruit Cup snacks and apple sauce. I sort everything into snack-size baggies and store in those baskets. On any given morning, I know I can easily reach in and pick something to throw in my son's lunch bag without having to sort and pack. You can now save $1.00 on any two packs of Del Monte Fruit Cup snacks. Link here.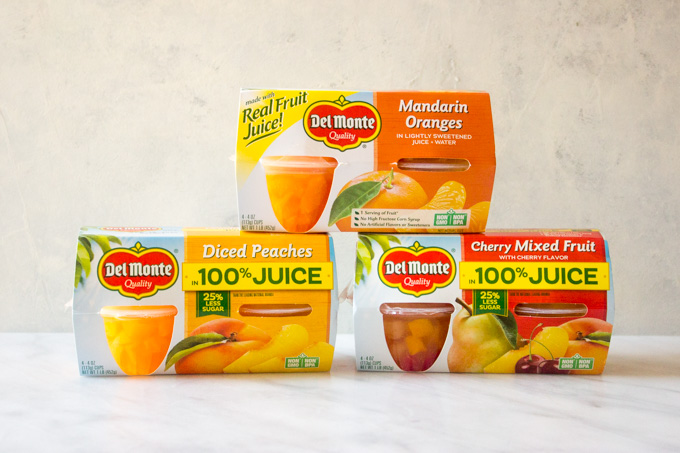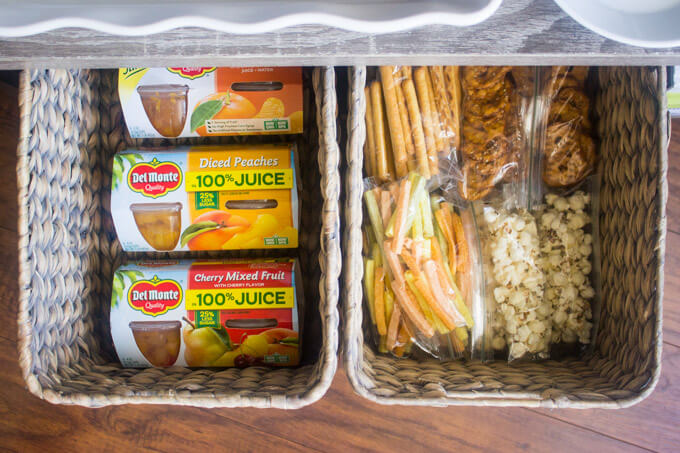 We started this lunch routine fairly recently, and I've been absolutely loving it! All it takes is a little prep time over the weekend that pays off big time during the weekdays. I personally love knowing my son can pack his own lunch with healthy options at this fingertips. I pack his sandwich or the "main course" in the morning and I don't have to worry about anything else.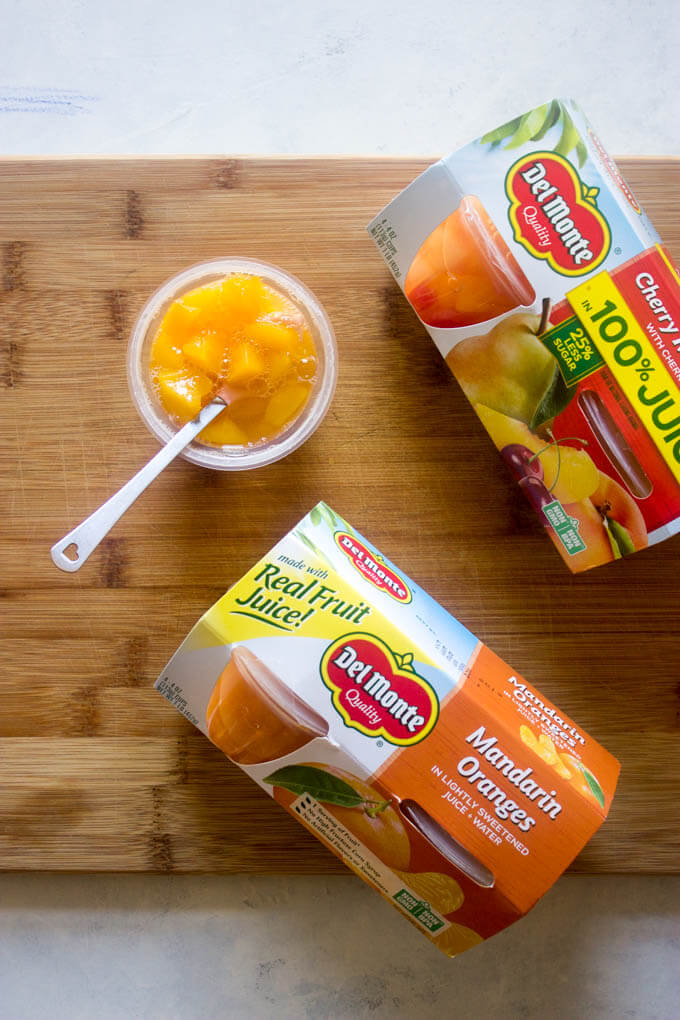 Some of Our Favorite Easy Make-Ahead Lunches
Ham/cheese/veggie skewers, celery sticks, peanut butter, asian pear, and pretzel crisps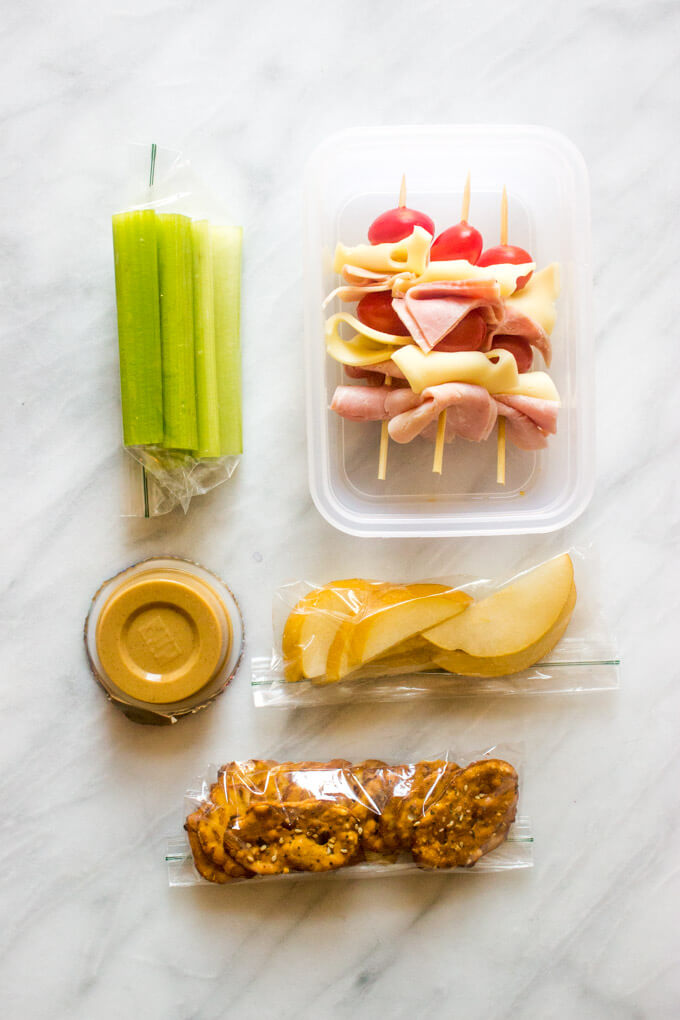 Turkey/Swiss sandwich, popcorn, cucumber slices, cheese stick, and Del Monte Fruit Cup snacks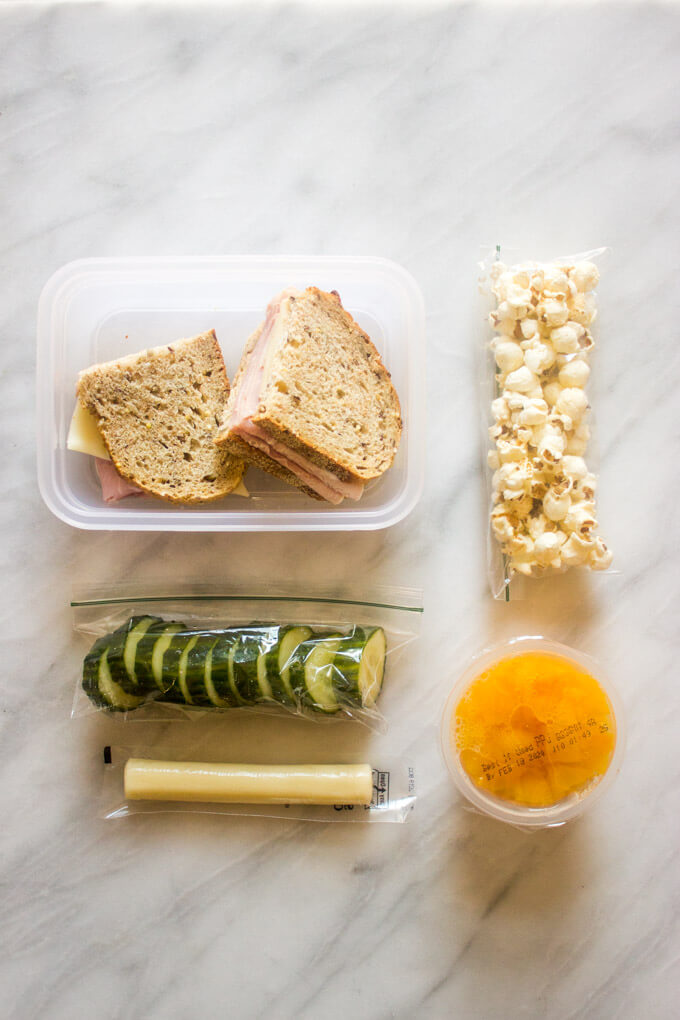 Naan dipper stacks (ham/cheese/cucumber slices), guacamole, yogurt, carrot slices, and grapes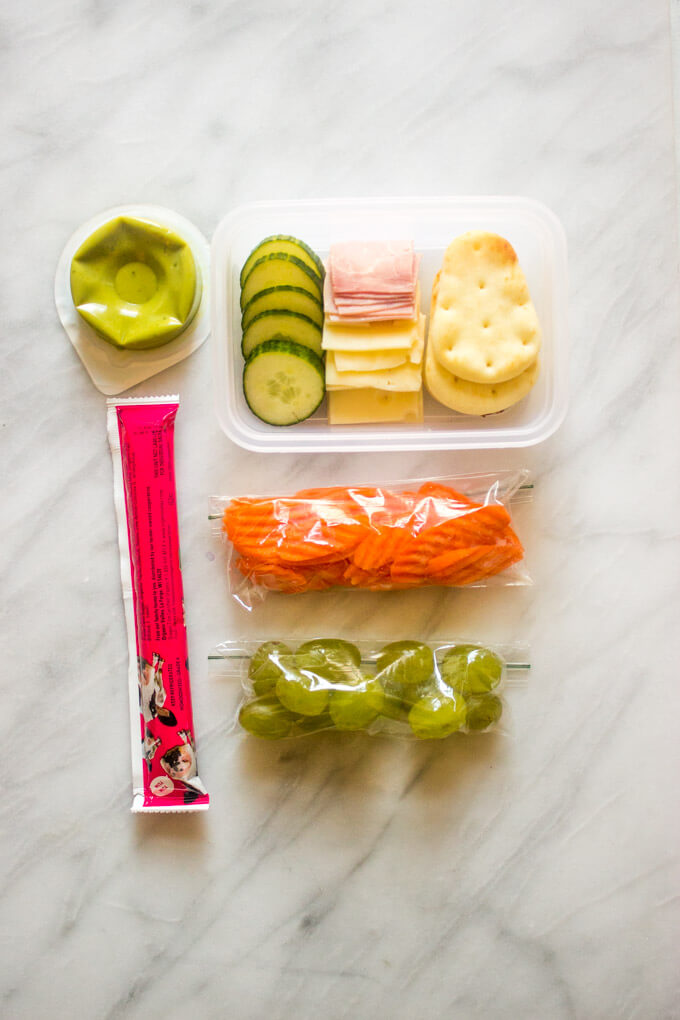 More Easy Make-Ahead Lunch Recipes That You Might Enjoy
Banana Pineapple Oatmeal Breakfast Bars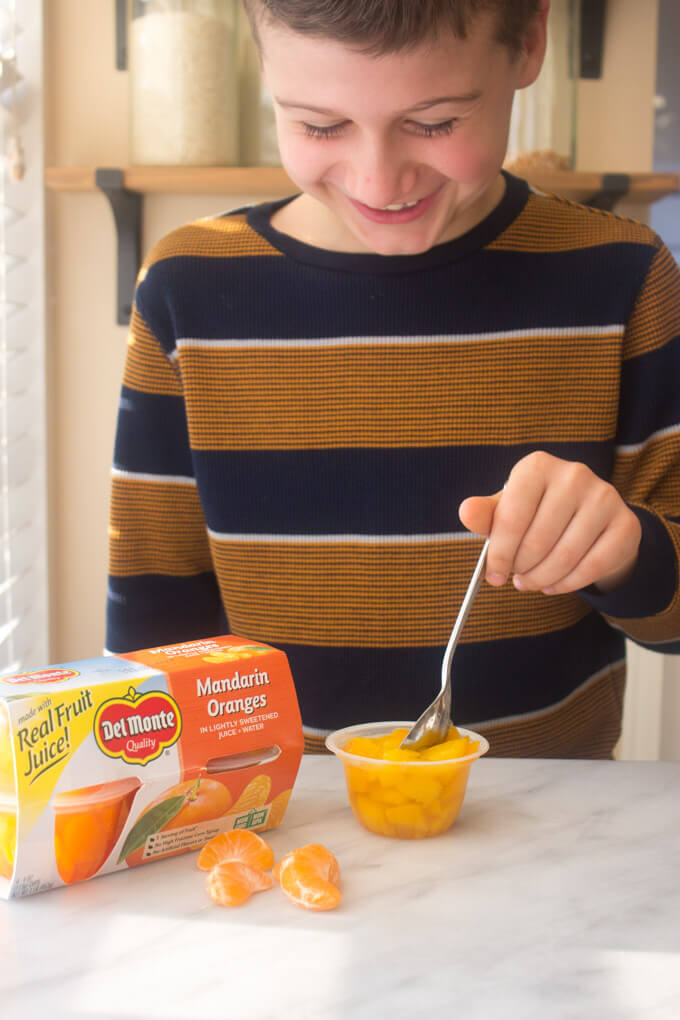 *Contains 13g of sugar per serving compared to 18g of sugar per serving in the leading national brand