Sponsored post written by me on behalf of Smithfield® Marinated Pork. As always, all opinions stated are my own.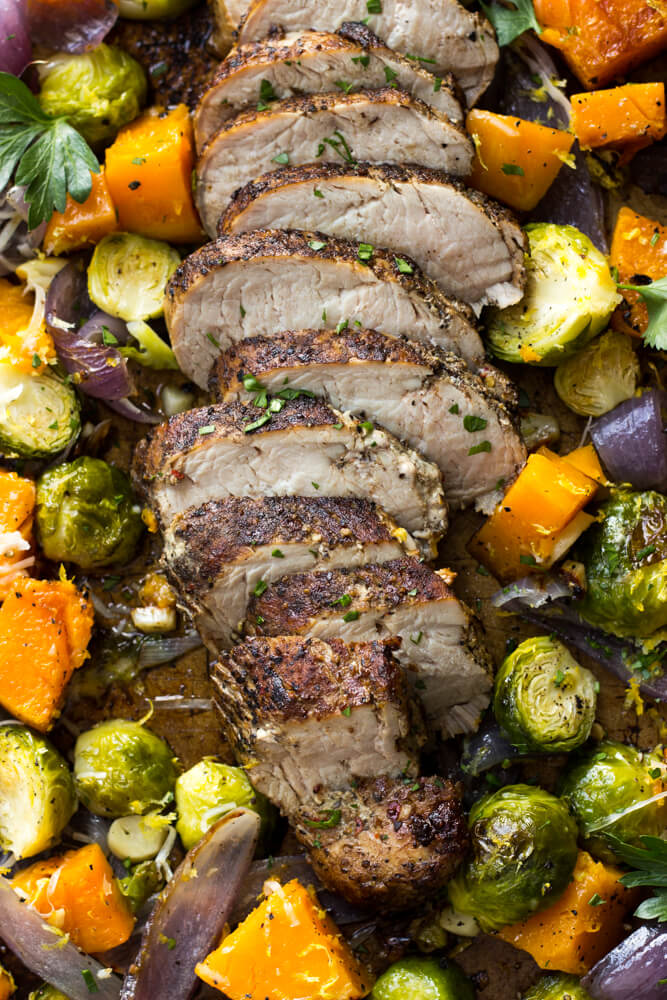 Pork tenderloin with brussels sprouts and butternut squash is the ultimate fall dinner! Roasted in the oven and then topped with lemon zest and parmesan cheese. The flavor is out of this world and clean up is so easy!
Even as someone who loves to cook and challenge myself in the kitchen, I LOVE ME some one pan oven dinners. There is something just so effortless about throwing everything together and letting it cook on its own. Even though this pork + veggie recipe is technically not a one pan, however, everything is roasted at the same time and in my book it TOTALLY qualifies as an easy almost (one pan dinner).
You basically start off with preparing the vegetables first and all you need to do is combine the brussels sprouts, butternut squash, and garlic in a large bowl. Drizzle with olive oil and season with salt and pepper. Give it a good toss and spread onto a baking sheet. Set it aside while you prepare the pork.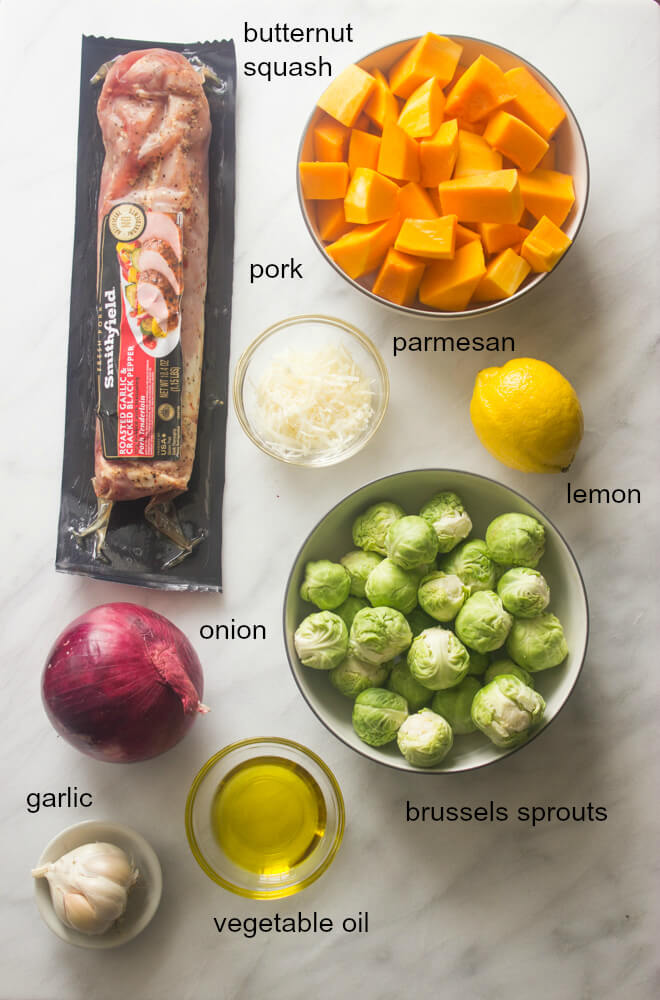 I'm using Smithfield Roasted Garlic and Cracked Black Pepper Pork Tenderloin that I picked up at my local Food Lion. I love it because it makes dinner time a piece of cake!  Basically, all the guess-work is already done for you. It's perfectly pre-marinated and you get real flavor real fast. For this recipe, all you have to do is just roast it but before you do, you want to sear the tenderloin. Searing caramelizes the sugars and browns the proteins in the meat, resulting in more appealing color and flavor.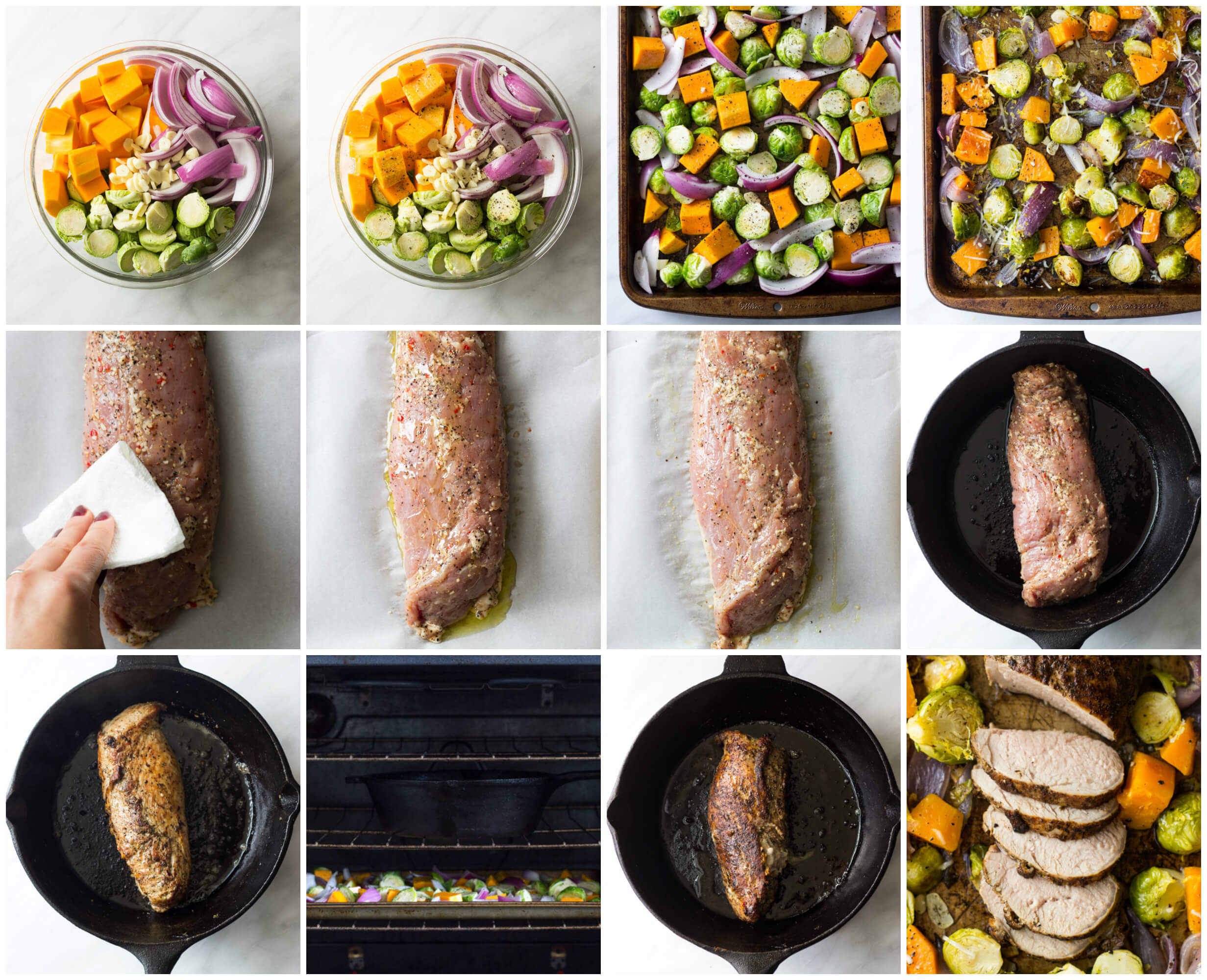 So to do that you want to pat dry the tenderloin to remove the excess moisture. Then rub it with vegetable oil or any other high smoke point oil, such as peanut or corn oil.  Make sure to use a heavy-duty oven safe pan, such as Dutch oven or cast iron. Heat the oil and when it begins to ripple, add the tenderloin. Sear all sides until brown, about 5-6 minutes.
Then roast the pork in the oven along with the vegetables for 13-15 minutes. When the pork registers 150 degrees F, take it out and let it rest for 5-10 minutes before slicing, while continuing to roast the vegetables for 5-6 minutes longer or until tender.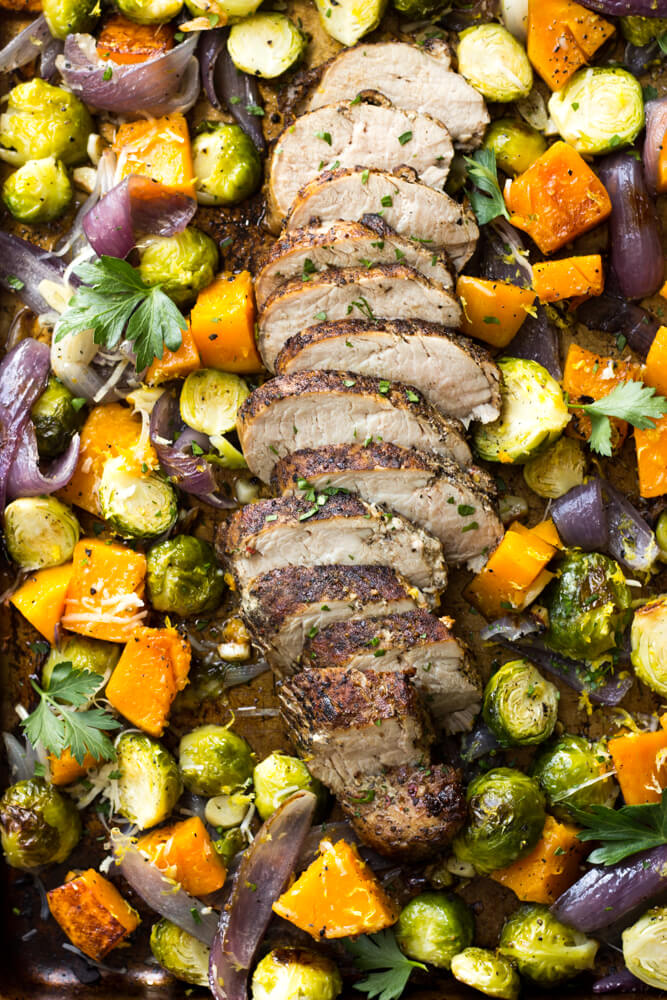 Just before serving, top the vegetables with lemon zest and parmesan. That's my little secret to the most delicious roasted veggies. Then all you have to do is just serve. In about 30 minutes you have yourself a hearty dinner on the table. I mean it's totally easy…right? Now run to Food Lion and get yourself a marinated pork tenderloin and start cookin' 🙂 #RealFlavorRealFast
Smithfield Marinated Fresh Pork is available in a variety of real flavors across Tenderloins, Loin Filets, and Sirloins, and it can be grilled, roasted, or sautéed.
Make it. Snap it. Show it. Instagram @littlebrokenblog or snapchat → littlebrokenblg

Oven Roasted Pork with Fall Vegetables
Author:
Katya @ https://www.littlebroken.com
Ingredients
Vegetables
1 - 1½ pounds brussels sprouts, trimmed and halved
3 cups butternut squash, cut into bite size chunks
1 red onion, cut into wedges
6 large garlic cloves, sliced
Zest of 1 lemon
2 Tbsp. grated parmesan cheese
Olive oil
Salt and fresh ground black pepper
Pork
Instructions
Vegetables
Place one oven rack in the middle and the second in the bottom third of the oven. Preheat the oven to 400 degrees F.

Combine brussels sprouts, butternut squash, onion, and garlic in a large bowl. Drizzle with just enough olive oil to coat lightly and season generously with salt and pepper, to taste.
Spread the vegetables onto a large baking sheet and set aside. You can line the baking sheet with parchment paper or aluminum foil first.
Pork
Remove the pork tenderloin from the packaging, pat dry with a paper towel, and rub with 1 Tablespoon of vegetable oil.
Heat the remaining 1 Tablespoon of vegetable oil over medium-high (more on the high side) heat in a large cast-iron or Dutch oven. You want to use a pan that is oven-safe.
Once oil is hot and begins to ripple, add the pork, and sear on all sides, about 5-6 minutes total. Then transfer the pan with the pork to the oven, placing in the middle rack of the oven and the vegetables on the bottom third of the oven. Roast for 13-16 or until the temperature in the pork registers 150 degrees F, flipping the pork halfway through the roasting.
Remove the pork from the oven onto a cutting board or a platter and let rest for 5-10 minutes before slicing.
In the meantime, continue to roast the vegetables for additional 5-6 minutes or until fork tender.

Remove the vegetables from the oven and top with lemon zest and parmesan cheese. Serve immediately alongside the pork, garnished with fresh chopped parsley, if desired.
Notes
When searing the pork, make sure your pan and oil is hot enough before adding the tenderloin. Good indication of that is when you see the oil begin to ripple. If the pan is too cool, when you add the meat, it can stick and tear when you try to flip it.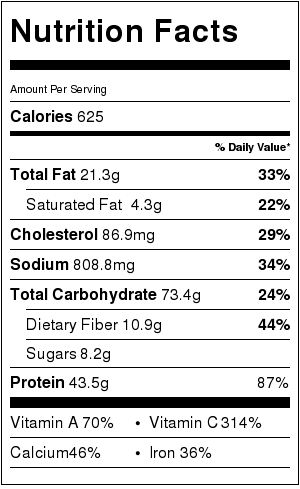 © Little Broken. All images and content are copyright protected. Please do not use my images without prior permission or claim my work as your own. Feel free to Pin, Tweet, Facebook and share away with a link back to the recipe post. If you want to republish this recipe, please re-write the recipe in your own words and link back to this recipe.
.