Crunchy and flavorful pumpkin granola with pecans. It's perfectly sweetened with honey and touch of brown sugar. Delicious as a snack or breakfast with milk, yogurt, or on its own!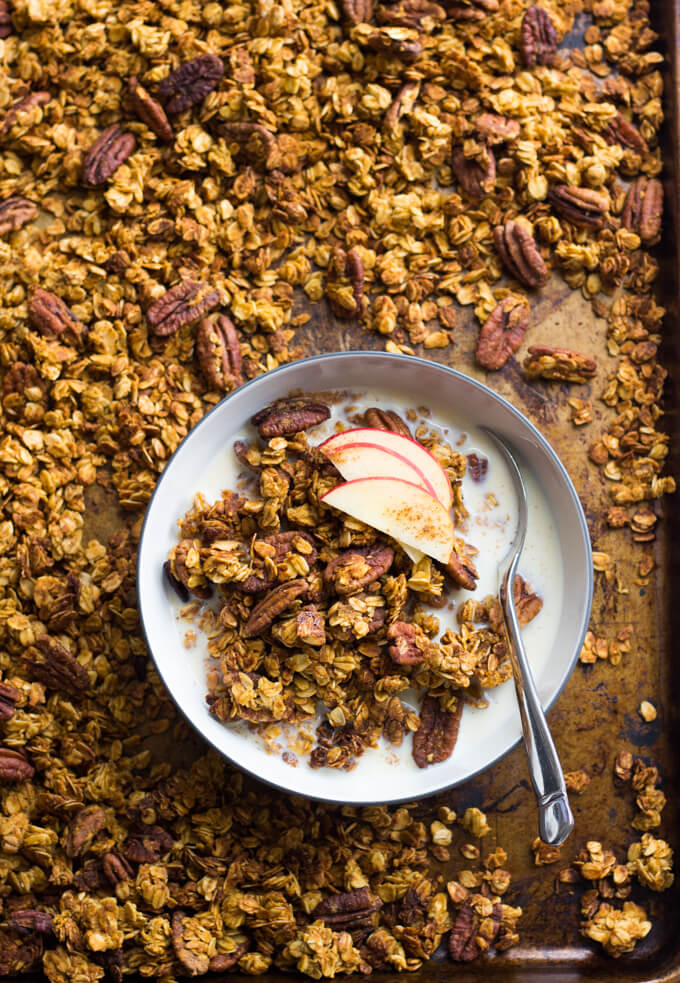 I'm so excited to share another granola recipe with you all and this one is all about fall! We've had a week of cold weather and rain so chili, lasagna, and basically everything hearty is a must. Including homemade granola.
I've become a homemade granola fan since this granola recipe.  Granola is so easy to make! I love that I can customize it with different add ins, ingredients, etc. My kids enjoy it as a snack without anything and I love it with Greek yogurt or milk.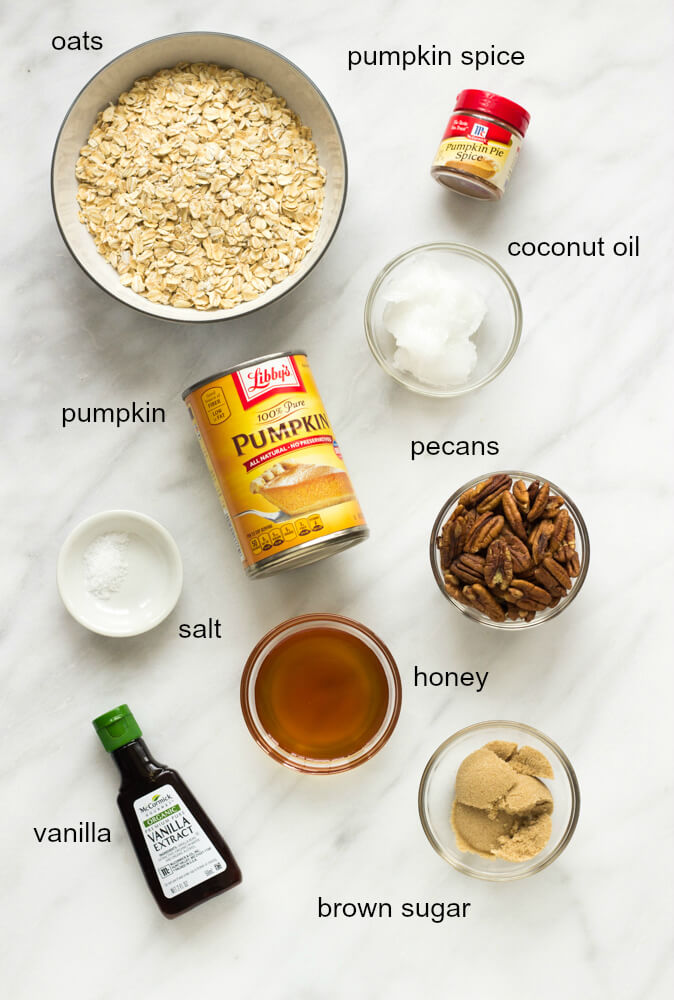 This pumpkin pecan granola is for all you pumpkin lovers. First off, it's crunchy and perfectly sweetened with honey and just a touch of brown sugar. I actually tested the recipe with coconut sugar in hopes to use it and it was just not the same. I love how brown sugar caramelizes the oats lightly and also adds flavor.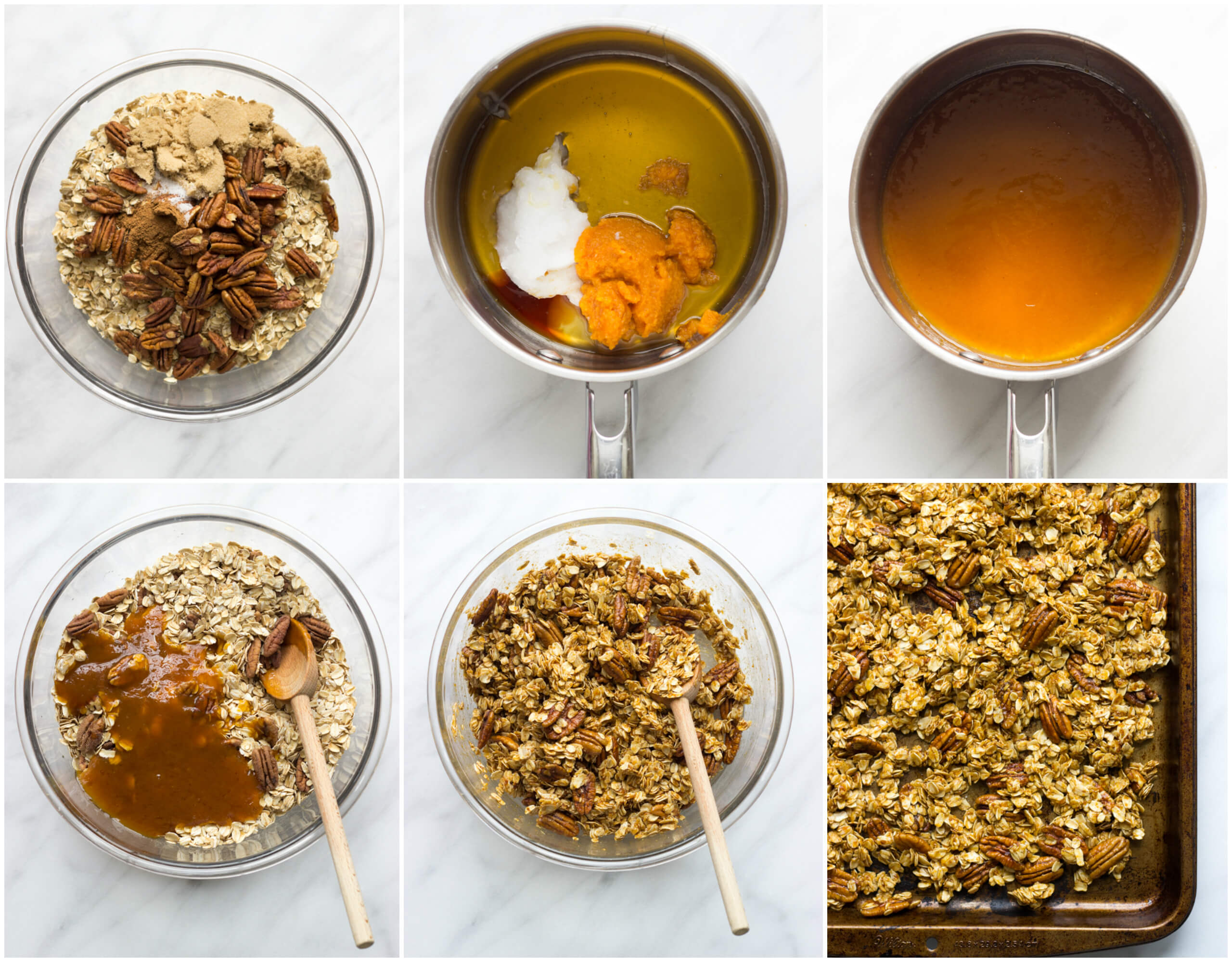 Then I used my all time favorite….coconut oil, which flavors the granola just a bit but honestly it's all about the pumpkin spice and pumpkin puree. I mean it is fall after all?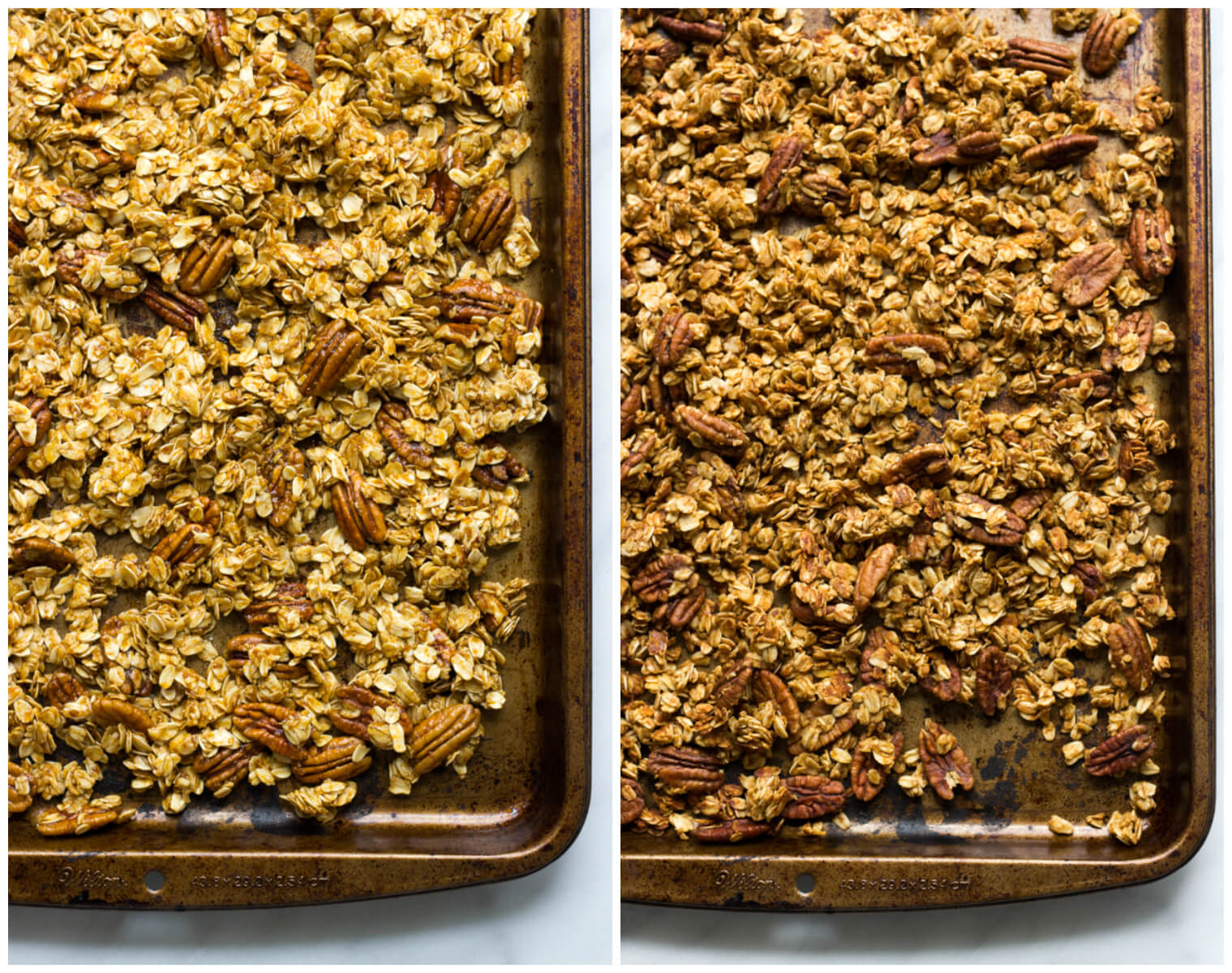 If you're someone who loves texture and color feel free to add dried fruit, seeds, or chocolate chips but only after the granola has cooled down.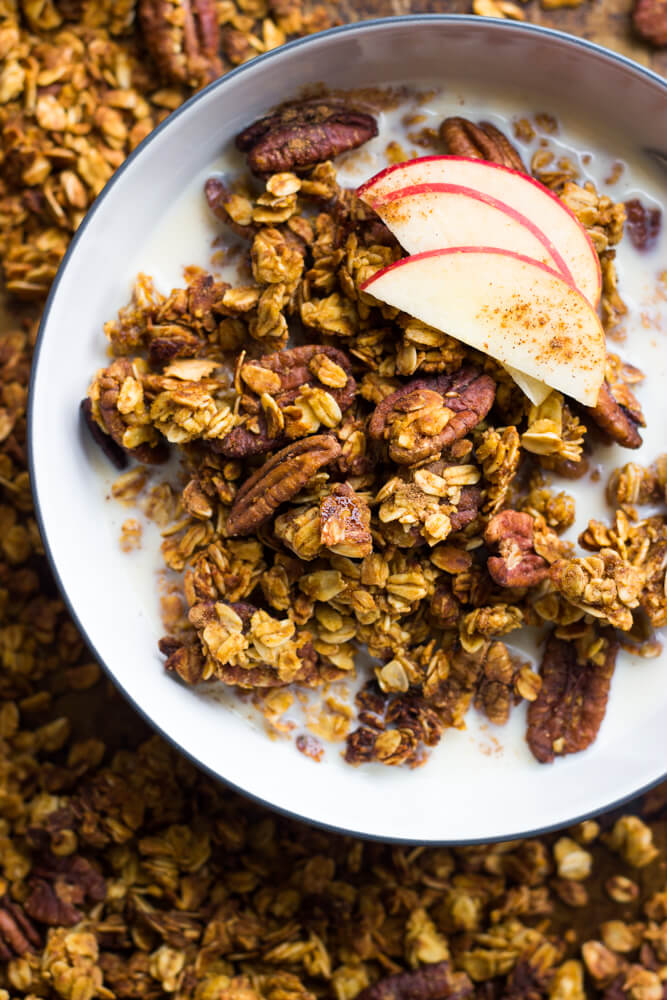 Make it. Snap it. Show it. Instagram @littlebrokenblog or snapchat → littlebrokenblg
Pumpkin Pecan Granola
Author:
Katya @ https://www.littlebroken.com
Ingredients
3 cups old-fashioned rolled oats
1 cup raw pecans
3 Tbsp. brown sugar
½ tsp. sea salt
1 tsp. pumpkin pie spice
¼ cup coconut oil
⅓ cup honey
⅓ cup pumpkin puree
1 tsp. vanilla extract
Instructions
Preheat the oven to 350 degrees F.
Mix the oats, pecans, brown sugar, salt, and pumpkin spice together in a large bowl.
In a small saucepan, whisk together the coconut oil, honey, pumpkin puree, and vanilla over medium heat until smooth and combined. Pour over dry ingredients and mix until everything is thoroughly moistened.
Spread the mixture evenly on a baking sheet. You can line the baking sheet with parchment paper first for easy clean up.
Bake for 25-28 minutes, stirring near the halfway point. The granola should be golden brown by the time it is done baking.
Remove from the oven and let cool completely in the baking sheet. It will further crisp up as it cools.
Store in an airtight container at room temperature for 1-2 weeks.
Nutrition info is based on a serving size of 1/4 cup. It's just an approximate for you to go by.