Easy and healthy Chicken Mexican Bowls served over white rice or for a low-carb option, cauliflower rice. Then topped with charred bell peppers and sides of your choice.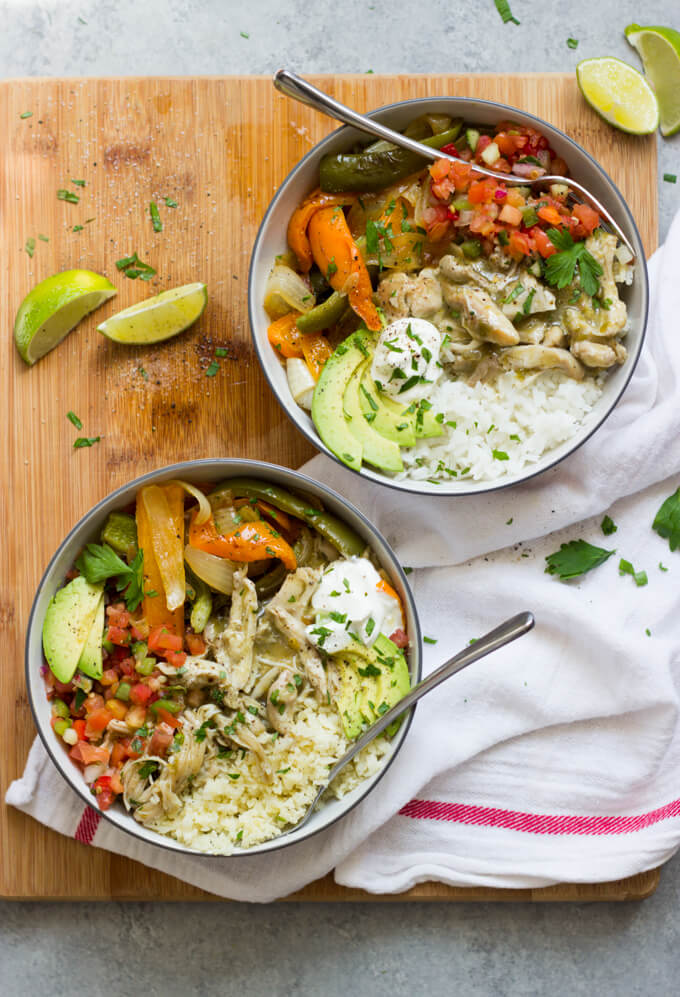 If you're someone who loves to meal prep on the weekends then this is a perfect meal for you. These chicken Mexican bowls are so easy to pull off and you can easily double or even triple the recipe. Served over white rice or my NEW favorite – cauliflower rice. It's a delicious low carb alternative that takes fraction of the time to prep than regular white rice.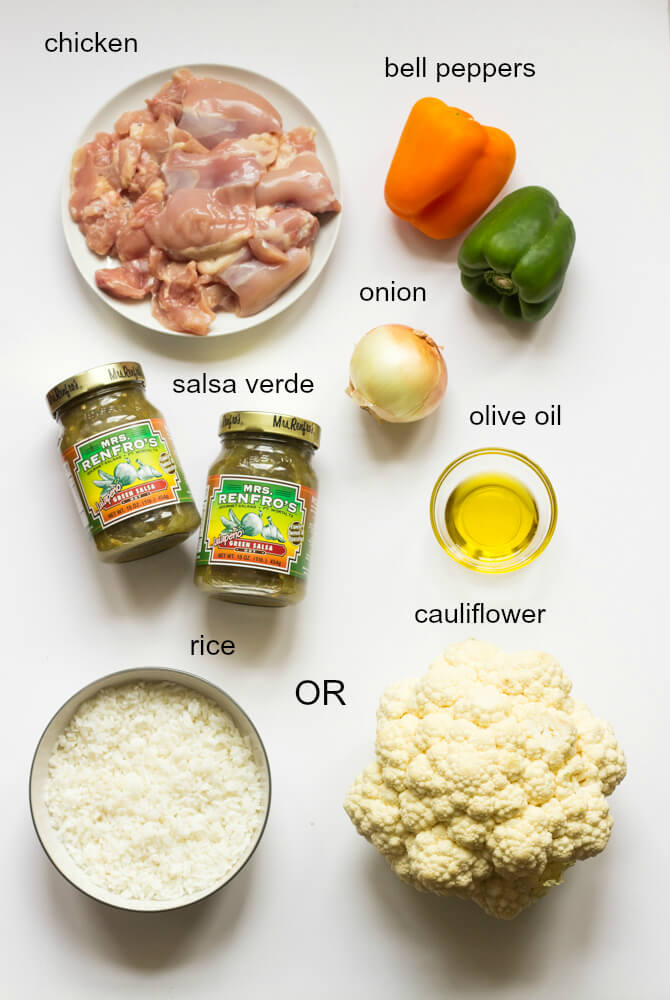 You basically start off with preparing the chicken in a large skillet. You want to sear both sides on high heat until golden brown. Then add store bought salsa verde and simmer on medium heat until tender. It should easily shred with two forks. I went with hot salsa and the chicken definitely has some heat because of it SO if you want less spicy or if planning on serving this to kids, make sure to go with mild salsa.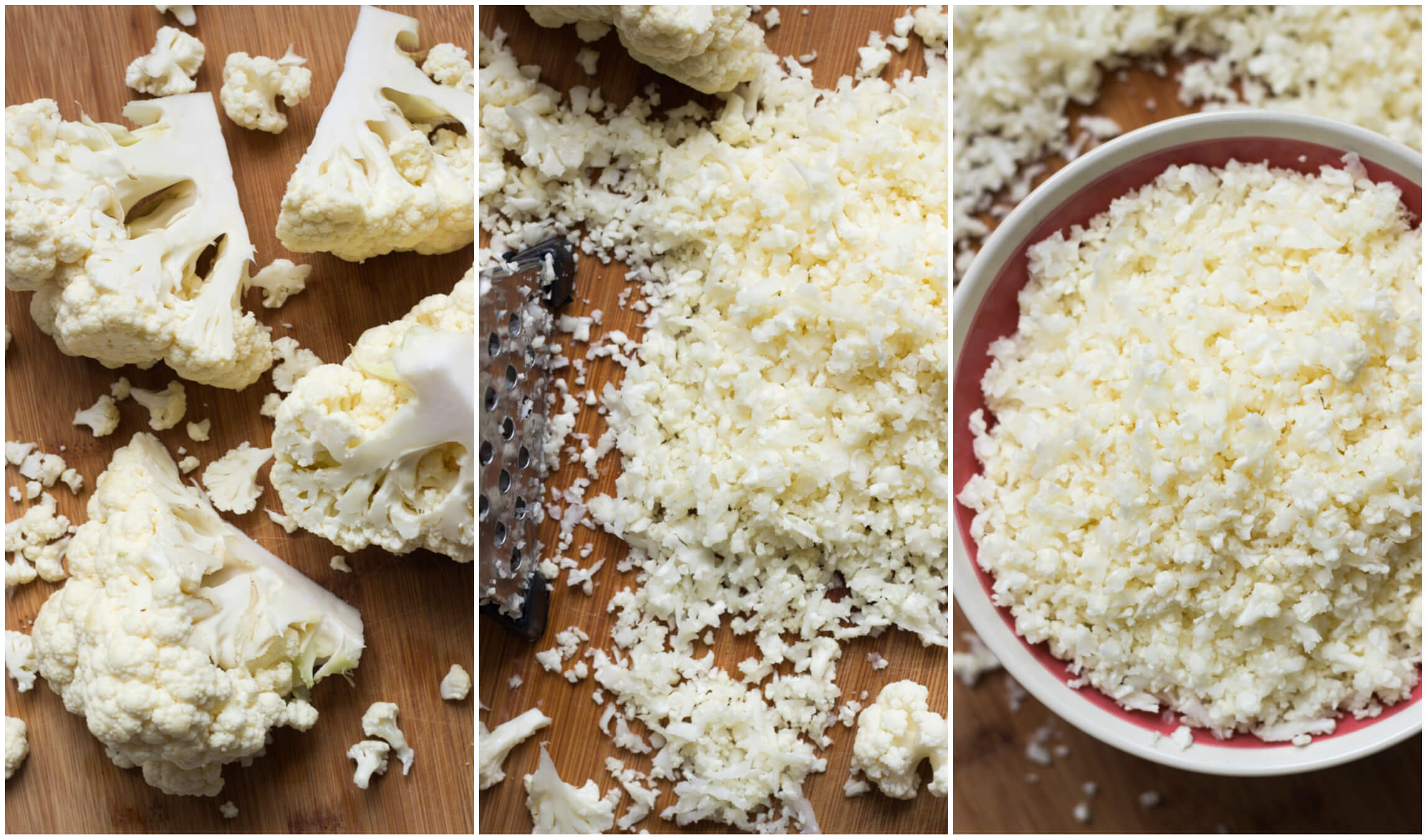 While the chicken is cooking, you want to prepare the bell peppers + onion. All you need to do for that is just stir fry them on medium-high heat with little salt and pepper until soft. Once the peppers are tender, remove to a plate or bowl, cover, and keep warm. Wipe the skillet clean for preparing the cauliflower rice or if serving over white rice then you want to start cooking the rice right after you cover the chicken.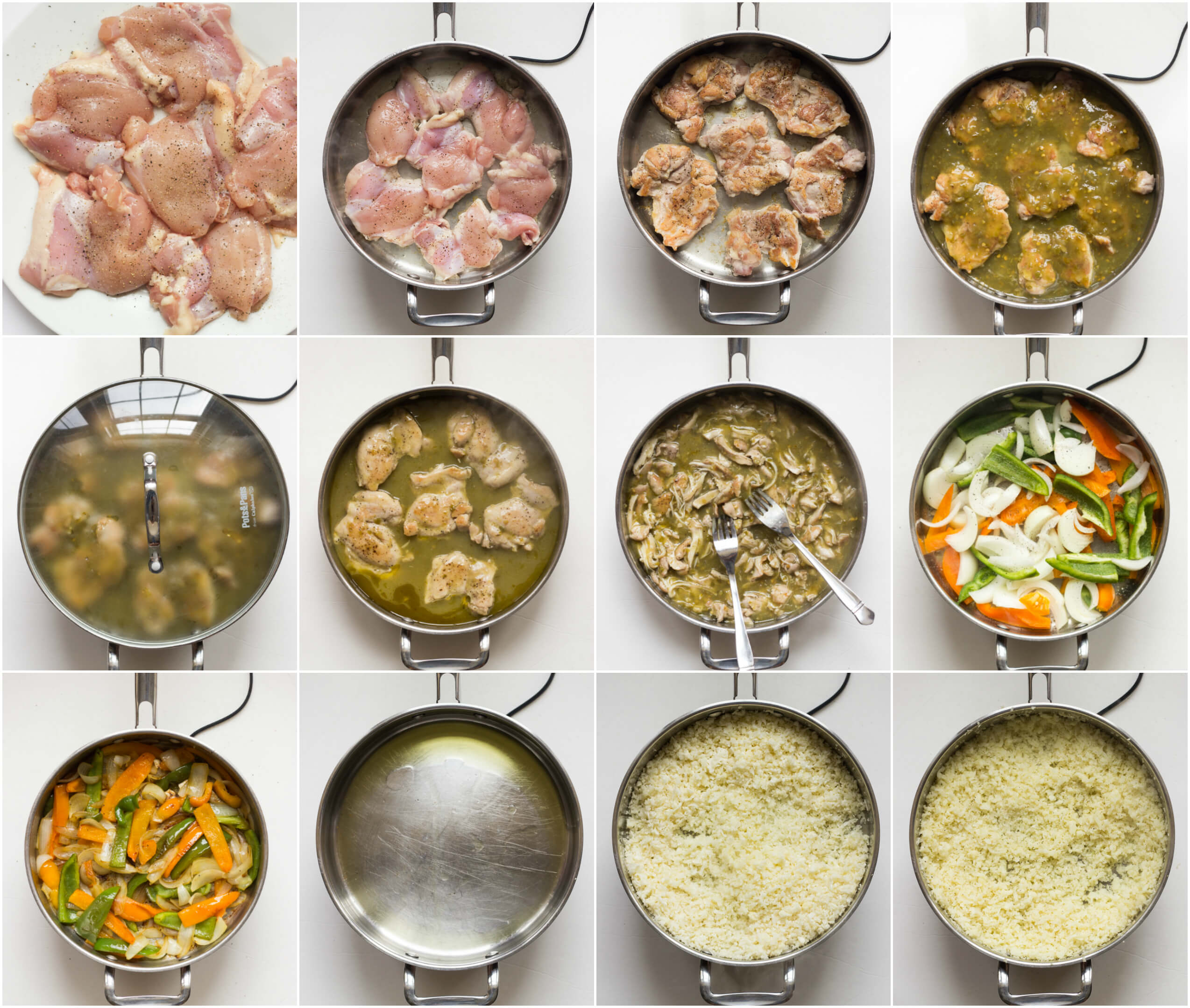 So cauliflower rice is somewhat new to me. I've tried it in the past but never really experimented much further until now and I am SO hooked! It's so easy to make. I was able to find riced cauliflower at my grocery store and I know Trader Joe's also carries it but if you're unable to find riced cauliflower then just pick up a large head of cauliflower. You want to remove all the greens then wash the cauliflower and dry throughly. Cut into small chunks and using medium-size holes of a box grater, grate the cauliflower into size of rice. It's that simple! Then cook over high heat in little bit of olive oil until tender.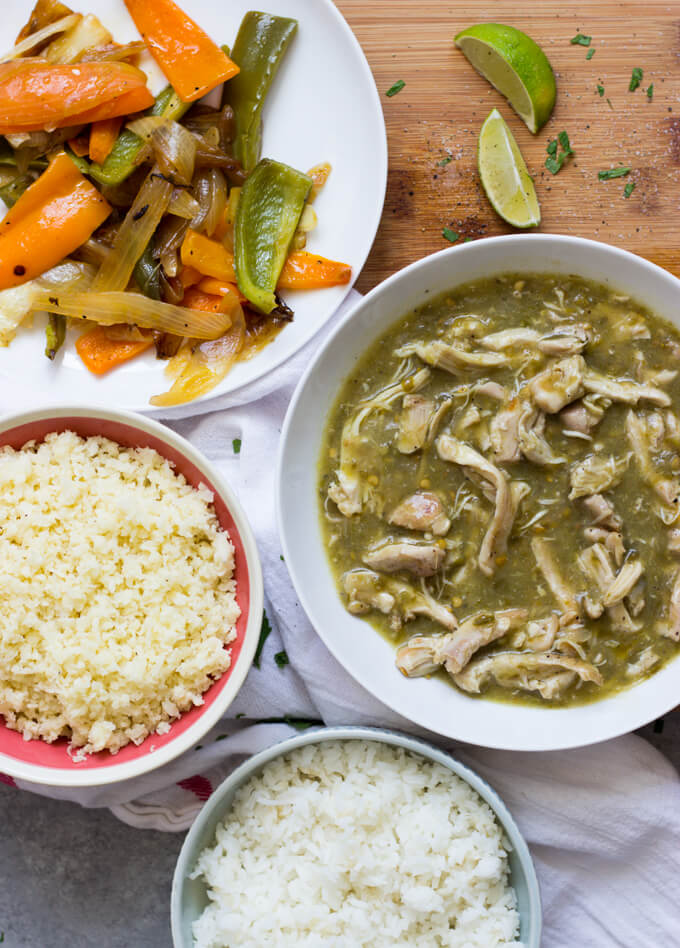 My favorite part is the combo of all the flavors and texture in these bowls. The chicken is so tender and saucy, making it absolutely perfect for rice. The rice absorbs some of the sauce and you get super creamy bowl of Mexican food. Then pile on all the toppings and you are basically set for life 🙂
I listed some topping options like fresh salsa, avocado, cilantro, and sour cream but honestly the list is so versatile and you can pile on absolutely anything you love to make these chicken bowls your own.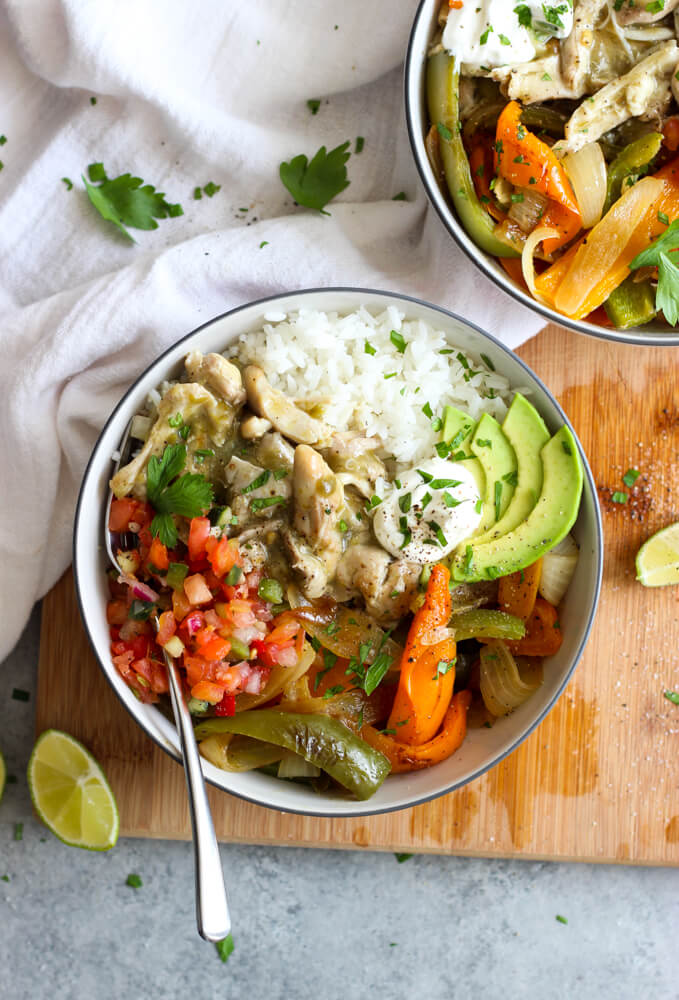 Make it. Snap it. Show it. Instagram @littlebrokenblog or snapchat → littlebrokenblg
Easy Chicken Mexican Bowls (Two Ways!)
Author:
Katya @ https://www.littlebroken.com
Ingredients
Chicken
6 chicken thighs, boneless + skinless
2 cups salsa verde*
1 Tbsp. olive oil
salt and fresh ground black pepper
Peppers
2 large bell peppers (any color), cored and sliced
1 large sweet onion, cut into thin wedges
2 Tbsp. olive oil
salt and fresh ground black pepper
Cauliflower Rice or White Rice
2-2½ pound head cauliflower
2 Tbsp. olive oil
OR 1 cup uncooked white rice
salt and fresh ground black pepper
To Serve
pico de gallo
avocado, sliced
sour cream
fresh cilantro, chopped
Instructions
Chicken
Season the chicken with salt and pepper on both sides, to taste.
In a large skillet, heat olive oil over high heat. Add chicken to the skillet and sear for 3 minutes on each side or until golden brown.
Add salsa and cover the skillet with a lid. Reduce the heat to medium and cook the chicken for 20-25 minutes, flipping halfway, so both sides cook evenly.
Remove the chicken from the heat and using two forks, shred the chicken. Set aside.
Peppers
While the chicken is cooking, heat olive oil in a separate large skillet over medium/high heat.
Add peppers and onion to the skillet. Season with salt and pepper, to taste, and cook for 8-10 minutes or until soft and slightly charred, stirring occasionally. Transfer to a bowl, cover, and keep warm. Wipe skillet clean and set aside to use for cauliflower rice (if serving with cauliflower rice).
Cauliflower Rice or White Rice
For the cauliflower rice, wash and dry thoroughly the cauliflower. Remove all greens and cut into small chunks. Using medium-size holes of a box grater, grate the cauliflower into size of rice, leaving any large, tough stems behind.
Heat olive oil over high heat in the same skillet used for peppers. Add the cauliflower rice to the skillet and cook for 5 minutes or until tender, stirring frequently. Remove from heat and season with salt and fresh ground black pepper, to taste.
If serving with white rice, cook rice according to package directions.
To serve, spoon the cooked white rice or cauli rice into a bowl, top with the shredded chicken, peppers + onion, and toppings of choice.
Notes
*When shopping for salsa verde look for chunky salsa. It works the best with this recipe as it adds perfect amount of texture to the chicken. Also - chicken is spicy just because I used hot salsa SO if you want less spicy or if planning on serving to kids, then definitely go for mild salsa.
© Little Broken. All images and content are copyright protected. Please do not use my images without prior permission or claim my work as your own. Feel free to Pin, Tweet, Facebook and share away with a link back to the recipe post. If you want to republish this recipe, please re-write the recipe in your own words and link back to this recipe.
Each bowl will vary greatly on how you build it, so I'm not including nutritional info on this one.