This is a sponsored post written by me on behalf of Giant Food Stores. All opinions are 100% mine.
Soft and chewy granola bars packed with all things good for you, like flax, chia, coconut oil, almonds, and dark chocolate! They make the perfect on the go breakfast or snack.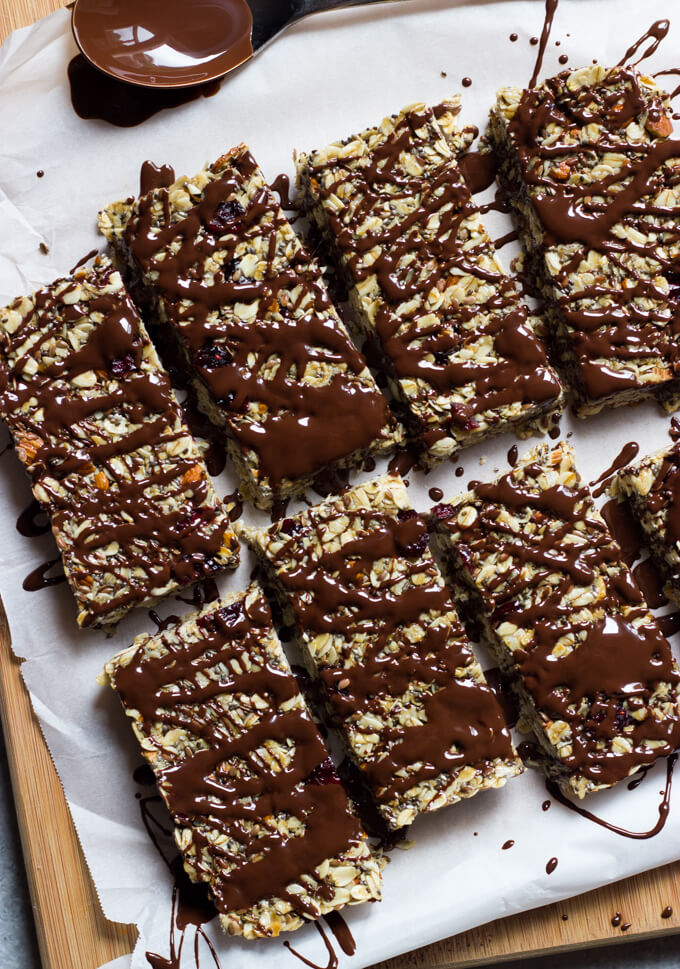 With the school only couple weeks away for us I figured it's the perfect time to share a granola bar recipe that is perfect to pack for school lunches and also grab as on the go breakfast or enjoy as a mid day snack.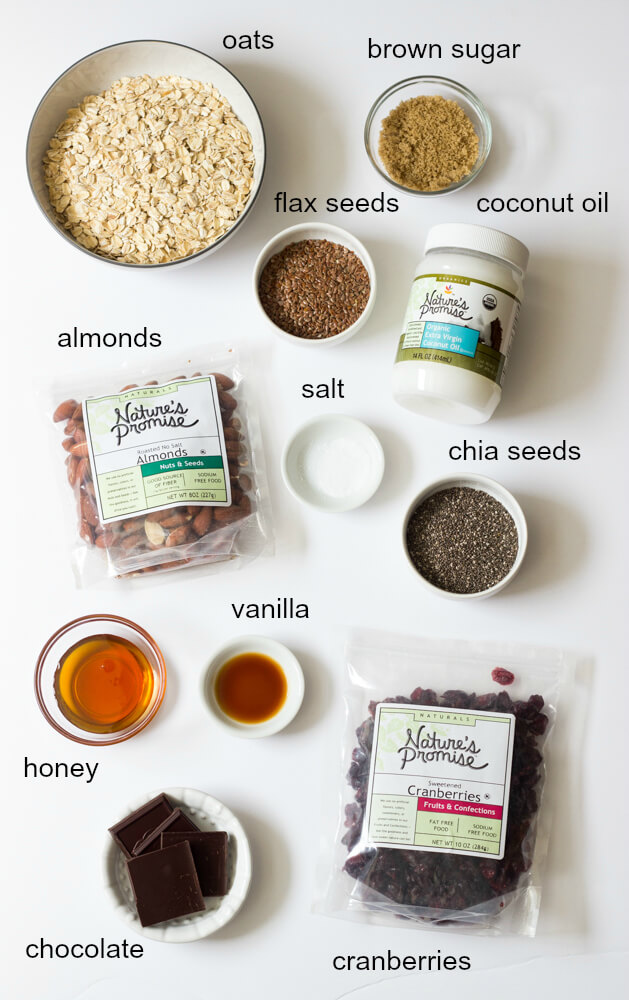 Ever since I shared my go to vanilla + flax granola recipe I knew that I wanted to incorporate similar ingredients into a granola bar recipe. These are nutty, soft, chewy, and sweetened with just the perfect amount of brown sugar and honey. Also a drizzle of dark chocolate totally makes these a little extra tasty and 100% kids approved!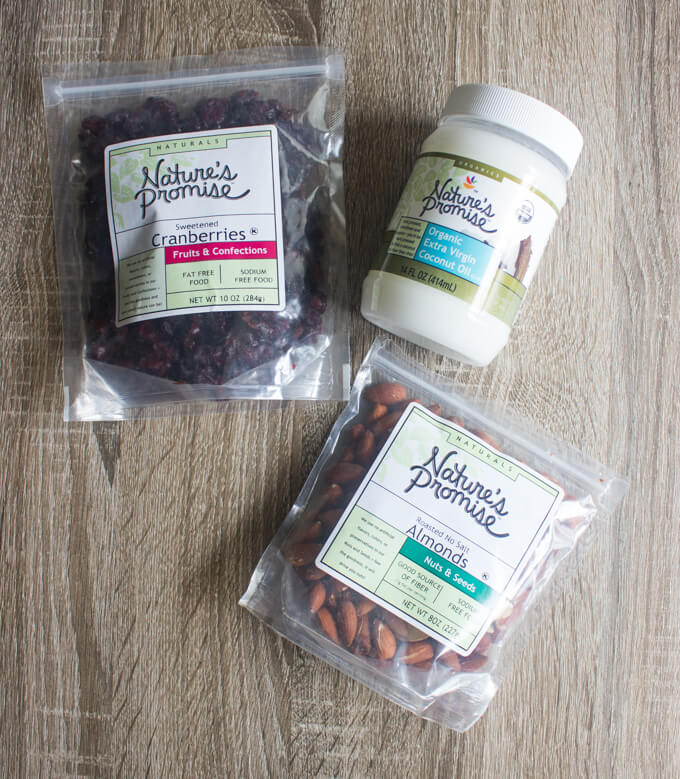 Homemade granola bars are way easier to make than most think, not to mention 100X better than anything from the store! It's basically granola in a bar form. I'm so excited to partner with a brand that I genuinely LOVE, LOVE to bring you these granola bars. Nature's Promise is all about no artificial colors, no artificial flavors, and no artificial preservatives. They have a whole line of organic and conventional products that are affordable and easily accessible at Giant Food Stores. I was actually super psyched when they reached out wanting to work with me because the brand stands for everything that I love to feed my family. Clean, organic, and wholesome. I did a whole post a while back on how I go grocery shopping  that helps me eat better. Basically it goes down to organic, simple ingredients, and a whole lot of fruits and veggies. It makes me feel good knowing what I'm eating and feeding my family is good for us. So Nature's Promise helps me do just that without breaking the bank!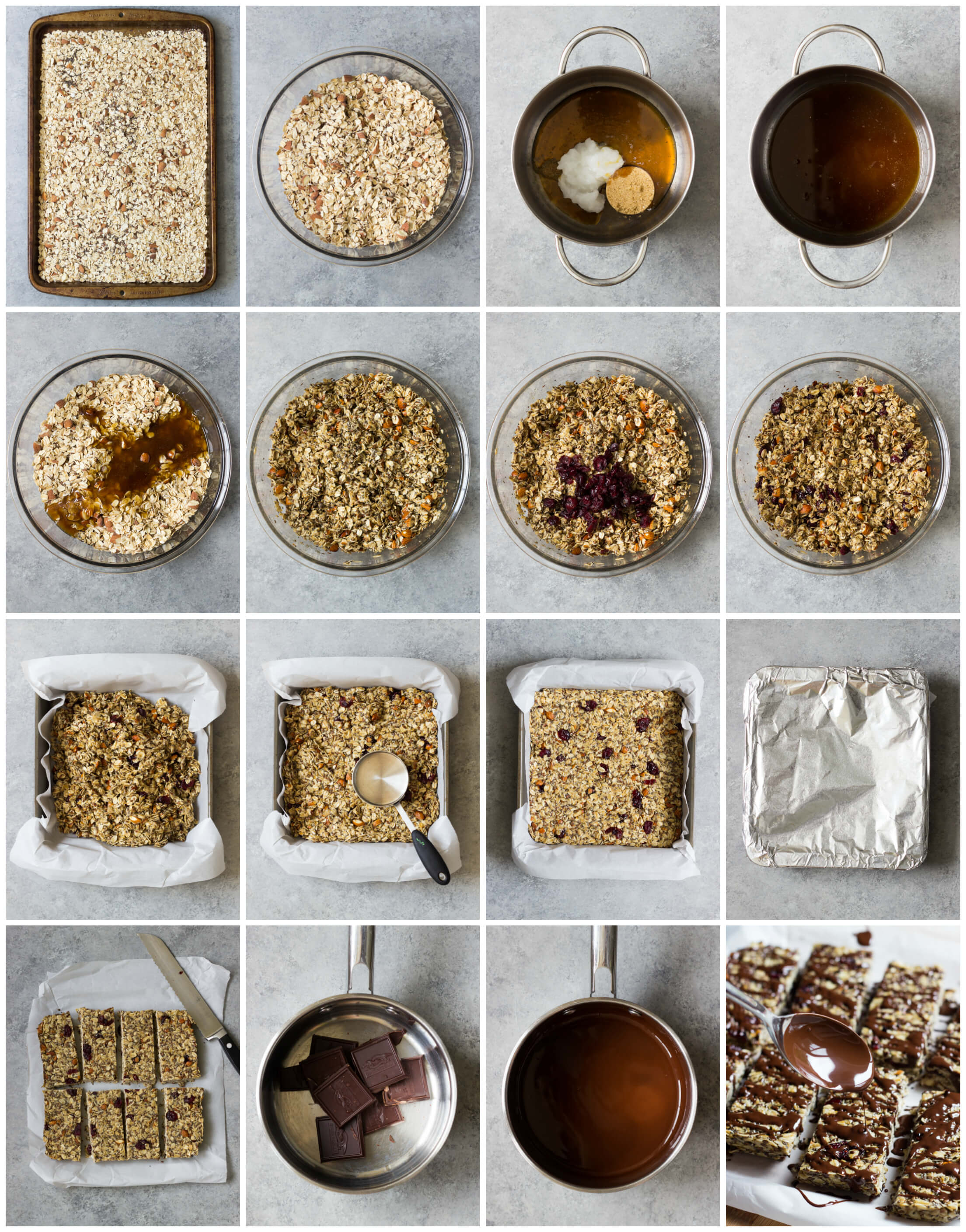 But back to these granola bars….they are packed with wholesome oats, almonds, chia seeds, flax seeds, honey, coconut oil, and even a little bit of chocolate. I wanted soft, chewy, and not overly sweet and that's exactly what these are.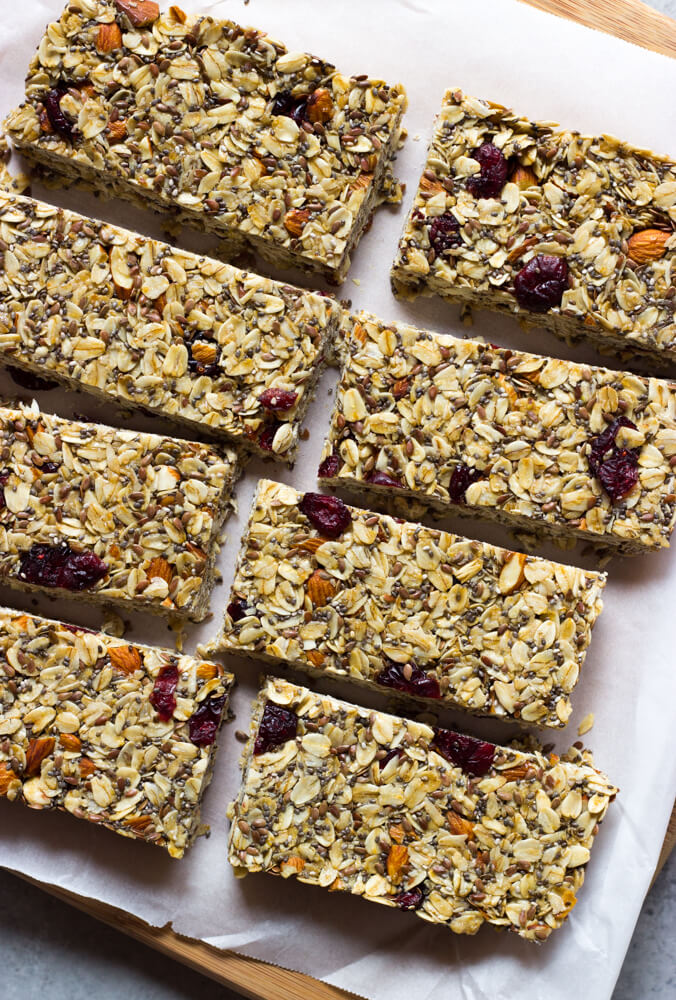 You basically start off with toasting the oats, nuts, and seeds. It gives the bars a much deeper taste and little crunch. Then you want to combine the sugar, coconut oil, honey, vanilla, and salt in a saucepan until the sugar dissolves. Pour the mixture over the oats and mix really, really good so that every oat and seed is coated. Spread the mixture into a pan and using the bottom of a measuring cup, pack down the oats. You want them really tight and packed down.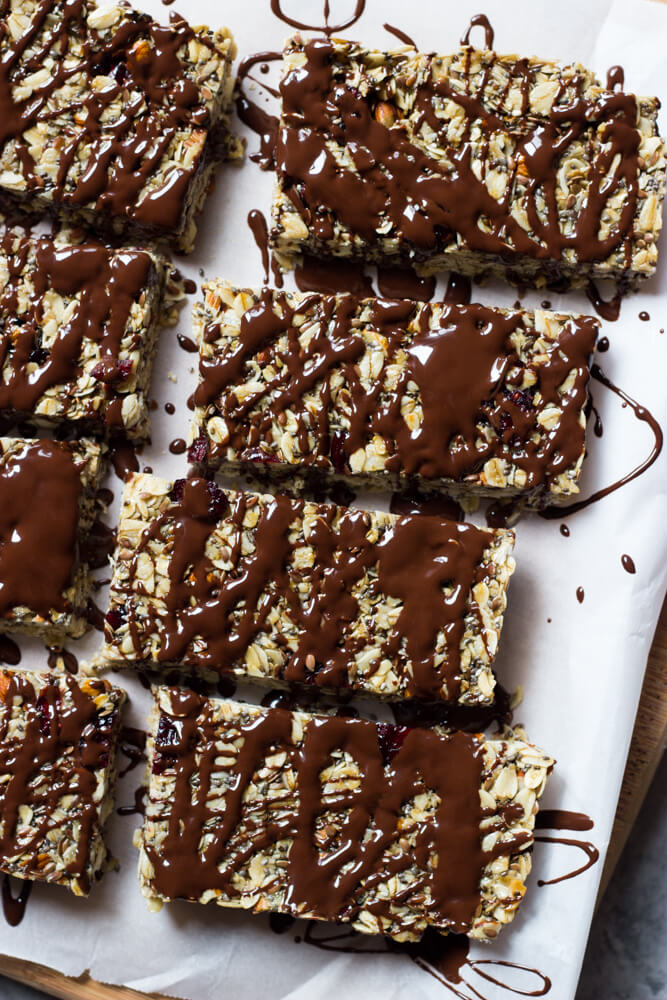 You then refrigerate the bars for about 2 hours and after that finish off with a drizzle of chocolate. I found that these stay the freshest when individually wrapped and stored in a large ziploc bag. I kept the bag in the refrigerator for extra freshness but you can also keep them at room temperature away from any heat or direct light, preferably in a cool, dry place.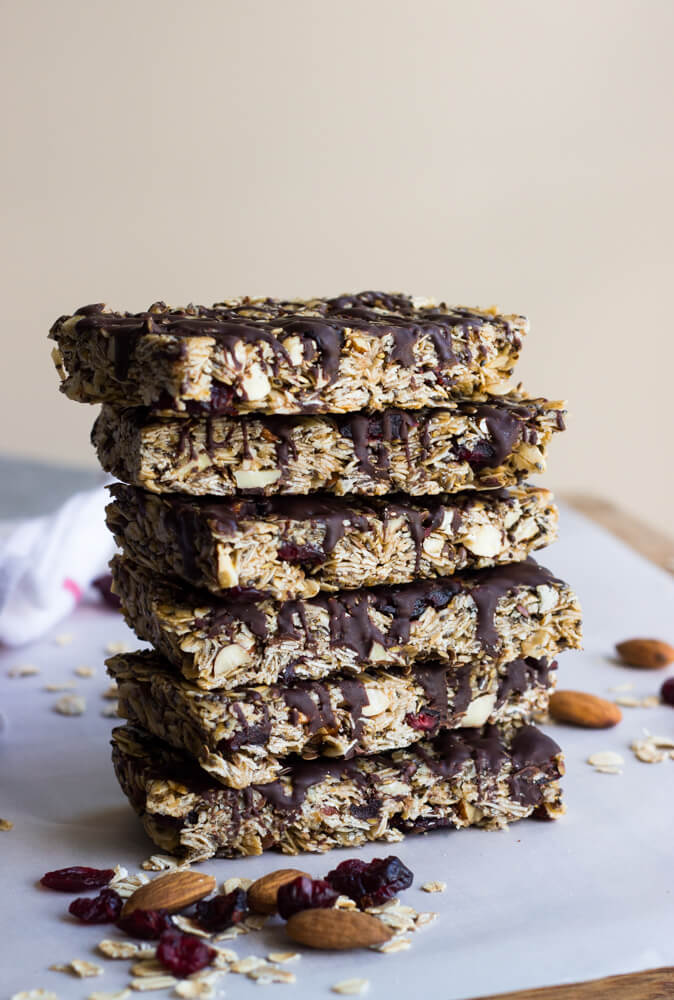 Load Offers for Nature's Promise Products To Your Giant Card Here
Using mobile? Click here to load offers
Make it. Snap it. Show it. Instagram @littlebrokenblog or snapchat → littlebrokenblg
Soft and Chewy Granola Bars
Author:
Katya @ https://www.littlebroken.com
Ingredients
2½ cups old-fashioned rolled oats
½ cup Nature's Promise roasted no salt whole almonds, roughly chopped
¼ cup chia seeds
¼ cup flax seeds
¼ cup brown sugar, packed
⅓ cup Nature's Promise organic extra virgin coconut oil
¼ cup honey
½ tsp. vanilla extract
¼ tsp. sea salt
¼ cup Nature's Promise sweetened cranberries
1 (3.5 oz.) bar of dark chocolate (I used 72% cacao)*
Instructions
Preheat the oven to 350 F degrees.
Spread the oats, almonds, chia seeds, and flax seeds on a large baking sheet. Toast the oats for 7-10 minutes or just until slightly golden brown. Transfer to a large mixing bowl and set aside.
In a small saucepan, combine the brown sugar, coconut oil, honey, vanilla, and salt. Heat the mixture over medium-low heat, stirring, until the sugar has melted.
Pour the sugar mixture over the oats and with a wooden spoon, stir to thoroughly combine, making sure every oat and seed is coated in the sugar mixture. Stir in the dried cranberries.
Line an 8X8-inch pan with parchment paper, leaving a few inches overhang on two sides. Spread the mixture evenly in pan, pressing down firmly. I used the bottom of a measuring cup to press down and really pack the oats, which helps them hold together better.
Cover the pan tightly with foil and refrigerate for 2 hours.
Remove from the pan with the parchment paper and slice into 8 even bars. Set aside.
Prepare the chocolate drizzle by melting the chocolate in a small saucepan over medium-low heat until smooth. Using a spoon, drizzle the chocolate over the chocolate bars and then transfer to a freezer on the parchment paper for 10 minutes or until set.
To store, wrap the granola bars individually in wax paper or plastic wrap and place in a large ziploc bag. I kept the bag in the refrigerator to keep them extra fresh but you can leave at room temperature somewhere cool and away from heat.
Notes
*the less sweet the better - dark or bittersweet chocolate compliments the sweetness of these bars the best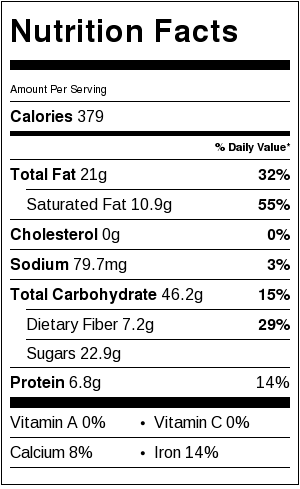 © Little Broken. All images and content are copyright protected. Please do not use my images without prior permission or claim my work as your own. Feel free to Pin, Tweet, Facebook and share away with a link back to the recipe post. If you want to republish this recipe, please re-write the recipe in your own words and link back to this recipe.