Fresh mango chunks, cilantro, and a kick of jalapeño make this mango cilantro salad dressing absolutely irresistible! All it takes is 10 minutes and you have yourself a vibrant dressing to go over your favorite salads.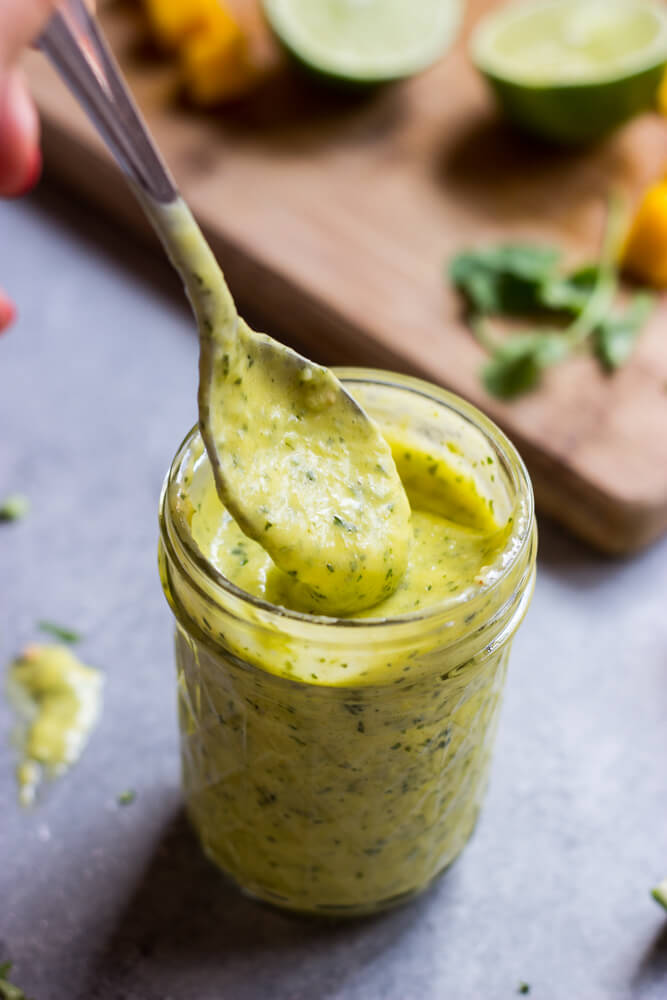 I'm kicking the week off with a new salad dressing recipe! Because it's been way too long since I've shared one but most importantly this one is a must before the summer is over. If you're not making your own salad dressings yet, this is a delicious one to start with.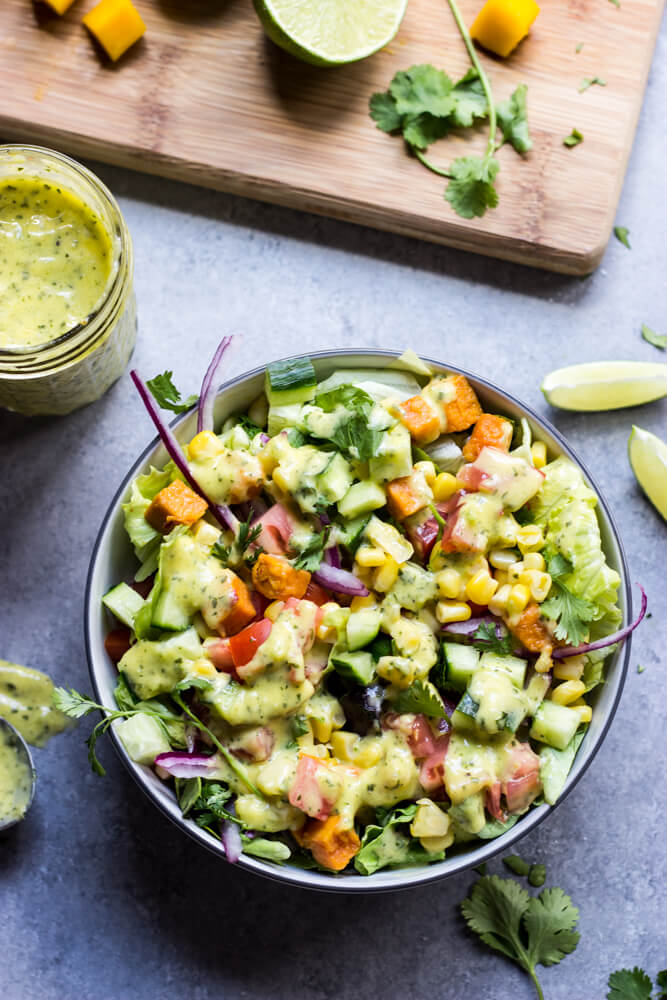 It's made with fresh mango, cilantro, green onion, garlic, jalapeño, and little cumin. Plus plenty of fresh lime juice. The result is vibrant, lightly sweet, tangy, with a little kick salad dressing.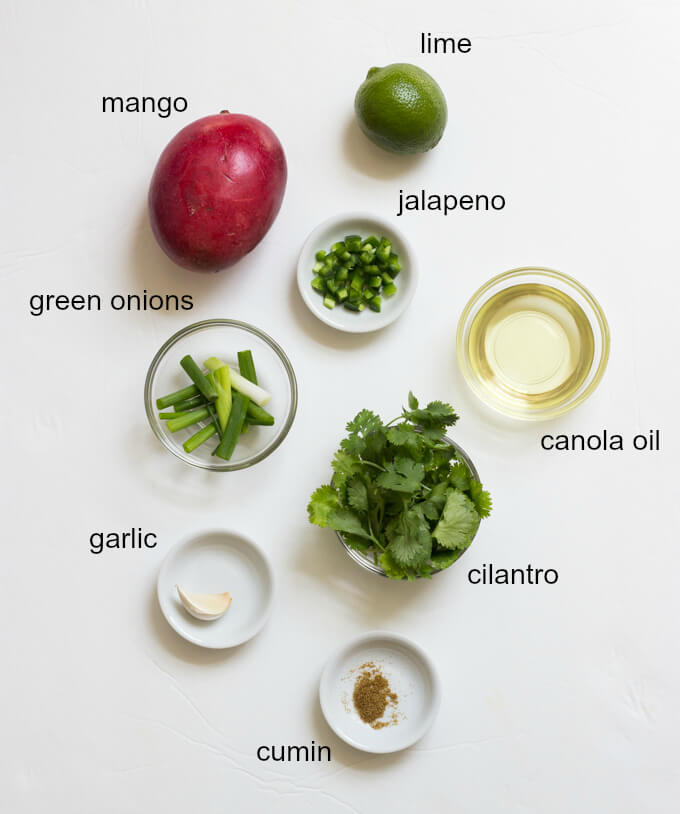 It goes so yummy over fresh chopped salads. Think corn, avocado, ripe tomatoes, crispy lettuce, beans, onion, topped with this creamy silky dressing. But don't stop there, since it's got a nice sweet + tangy kick to it….spicy shrimp, jerk anything (chicken, shrimp, white fish), plus this mango cilantro dressing is your new best friend. It pairs so well with spicy food.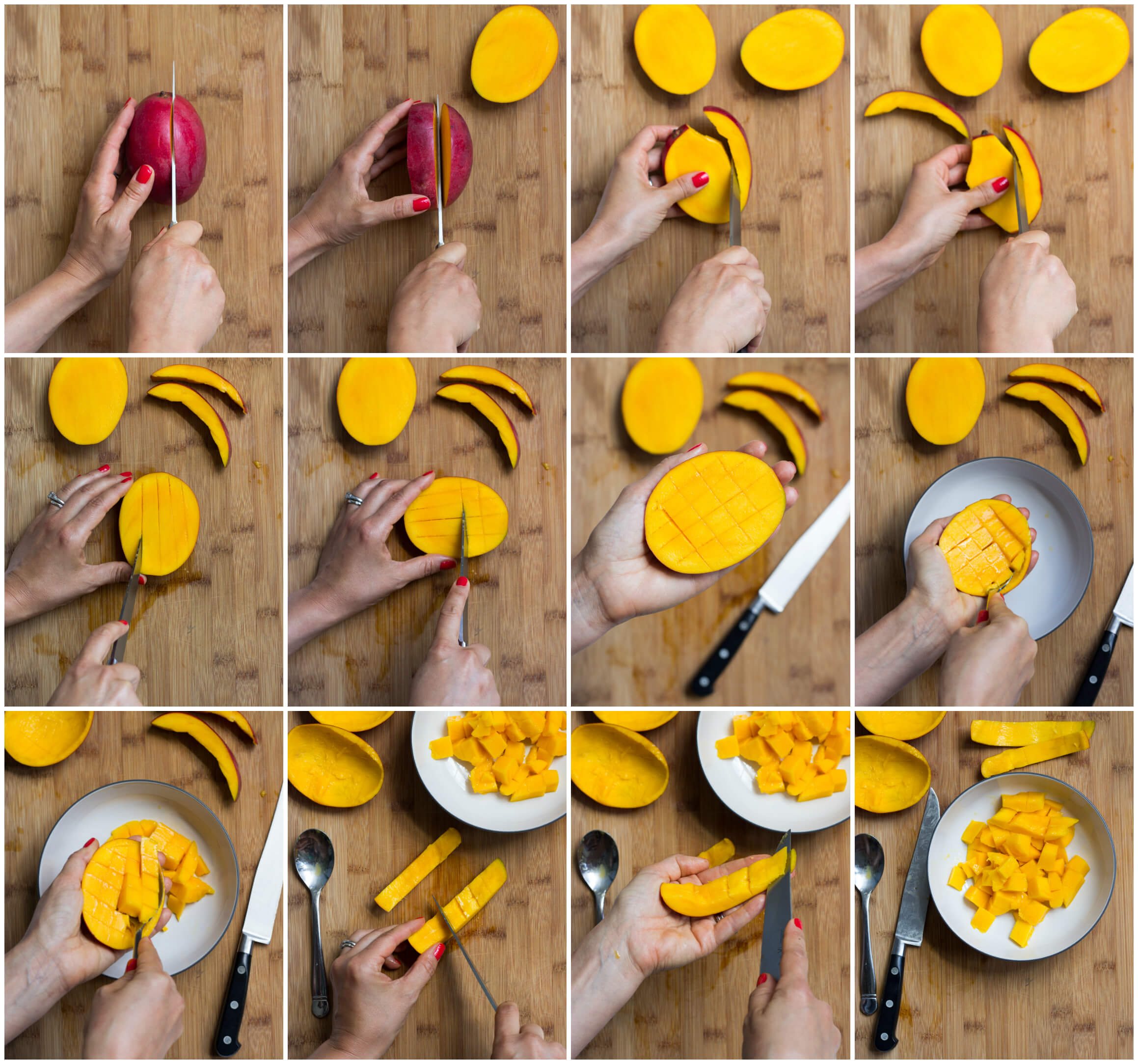 Key to making it creamy and silky is emulsifying the oil and the lime juice. If added all together, oil will separate but if you add the oil in a slow, steady, stream, it creates MAGIC! Seriously, that's the key to this dressing. By no means, do you want to add all the ingredients together at the same time or you will end up with a greasy mess. Best part, it takes only 10 minutes from start to finish!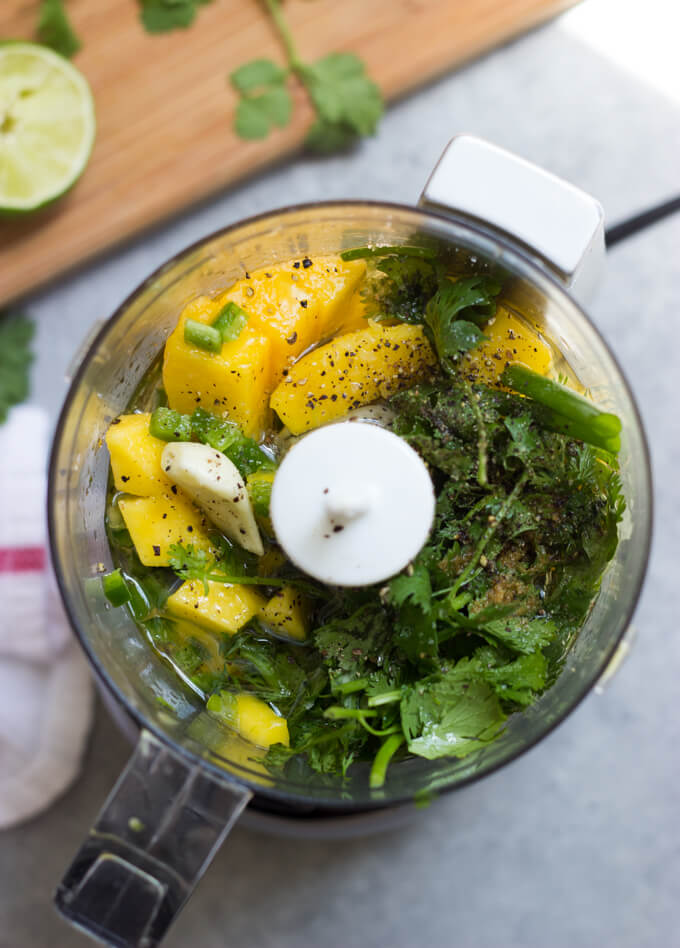 So you guys have no excuse to not make your own dressing. I even included a little visual on how to get the most out of a mango by showing you how to cut it apart. You're welcome 🙂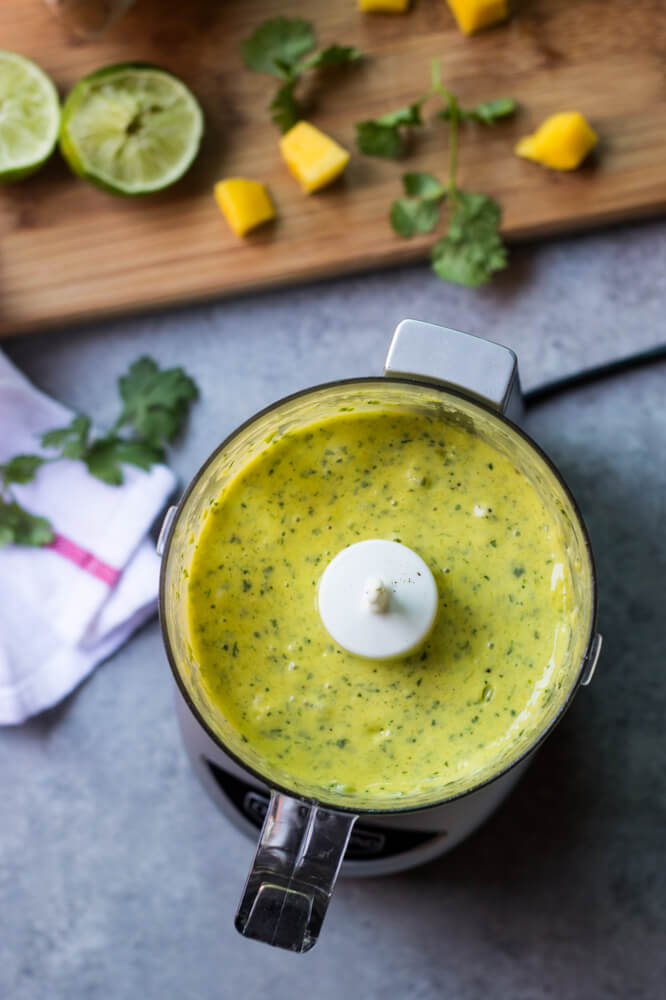 Make it. Snap it. Show it. Instagram @littlebrokenblog or snapchat → littlebrokenblg

Mango Cilantro Dressing
Author:
Katya @ https://www.littlebroken.com
Ingredients
Yields: 1 cup
1 large mango*, peeled, pitted, and chopped
½ cup fresh cilantro leaves
1 green onion, roughly chopped
1 garlic clove
1 Tbsp. chopped jalapeno
¼ tsp. cumin
¼ cup fresh lime juice (1-2 limes)
½ cup canola oil
salt and fresh ground black pepper, to taste
Instructions
To a bowl of a food processor, add mango, cilantro, onion, garlic, jalapeno, cumin, and lime juice. Season with salt and fresh ground black pepper, to taste. Puree until smooth.
Gradually add oil, in a steady, slow stream, and puree thoroughly after each addition.** Dressing should be thick, creamy, and light lime color.
Store, refrigerated, in an airtight container up to 3 days.
Notes
*You will need ¾ cup chopped mango, which equals to be about 1 large mango. Fully ripe mango works the best.
**Adding oil in a slow, steady, stream (gradually) is very important to creating thick and creamy dressing as oil and lime juice naturally separate but when emulsified, they create magic.
Serving size: 2 Tablespoons