Italian favorite comfort dish just got a whole lot healthier with zucchini noodles! It's easy, quick, and much lighter than the traditional shrimp scampi. Only 356 calories to be exact!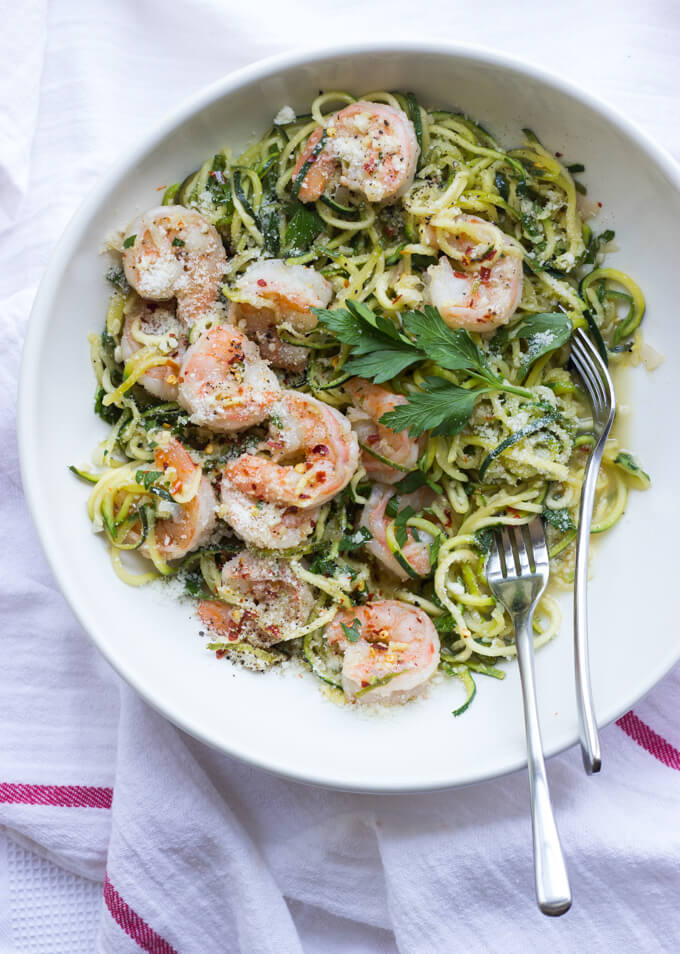 It feels good to share a recipe using my new spiralizer! I made the purchase couple months ago (I think?) or maybe a little longer but I haven't been using it to the full extent. I LOVE LOVE the idea of zucchini noodles! It's right up my alley. We do pasta very rarely as a whole family. Kids will eat it every day if I let them, hubby is not a fan at all, me?…well…I have to be in a very comfort eating mood to have it. So, it pretty much does not happen often but the idea of zucchini noodles in place of pasta is something I will eat every single day.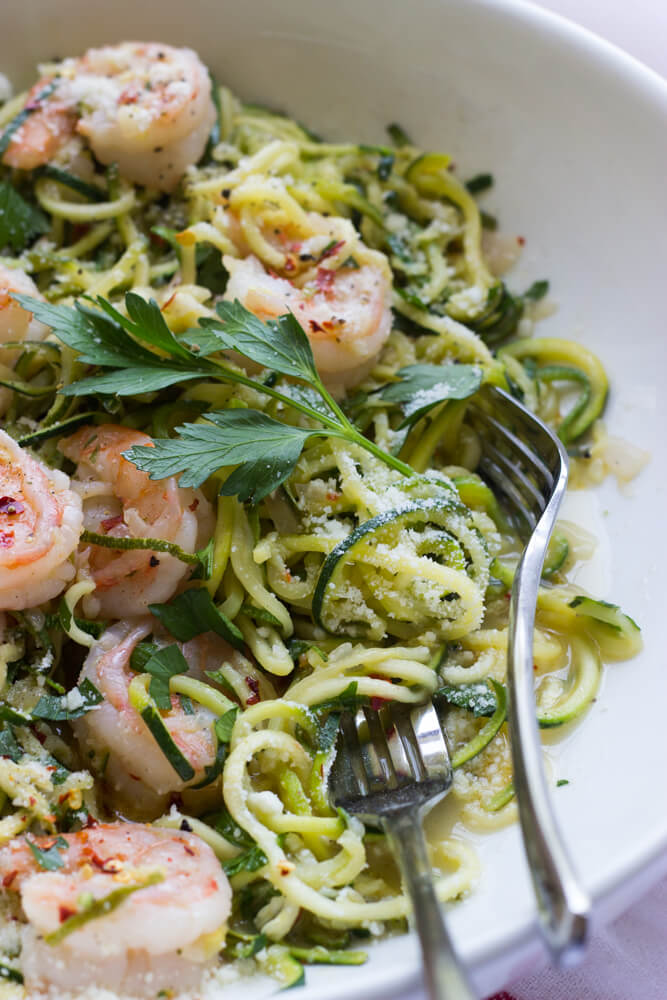 This Shrimp Scampi is your traditional recipe with all the flavor and butta' but in place of linguine noodles we're using zucchini noodles! To make the zucchini noodles you will need a spiralizer. A spiralizer is pretty much a vegetable slicer that cuts vegetables into long, thin strands, resembling a spaghetti noodle. So the end result is much lighter, healthier, and grain-free dish!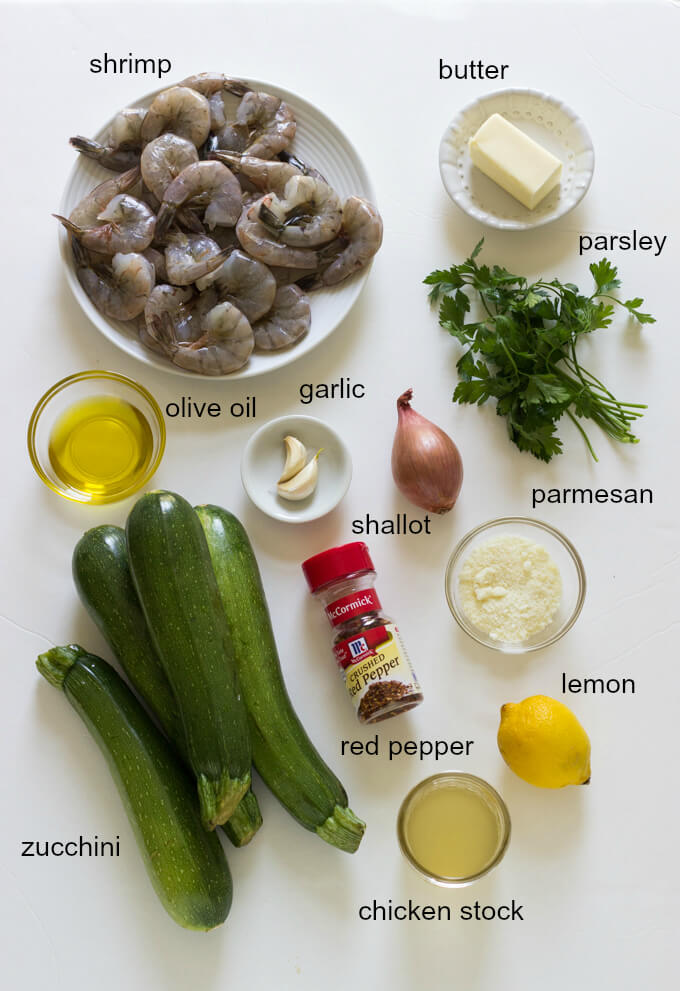 Zucchini noodles are not pasta noodles. That's something I discovered when I just began making them. There's a slight bite and they're not meant to be super duper soft or you'll just end up with soggy mess. That's me sharing from personal experience. Been there many times :/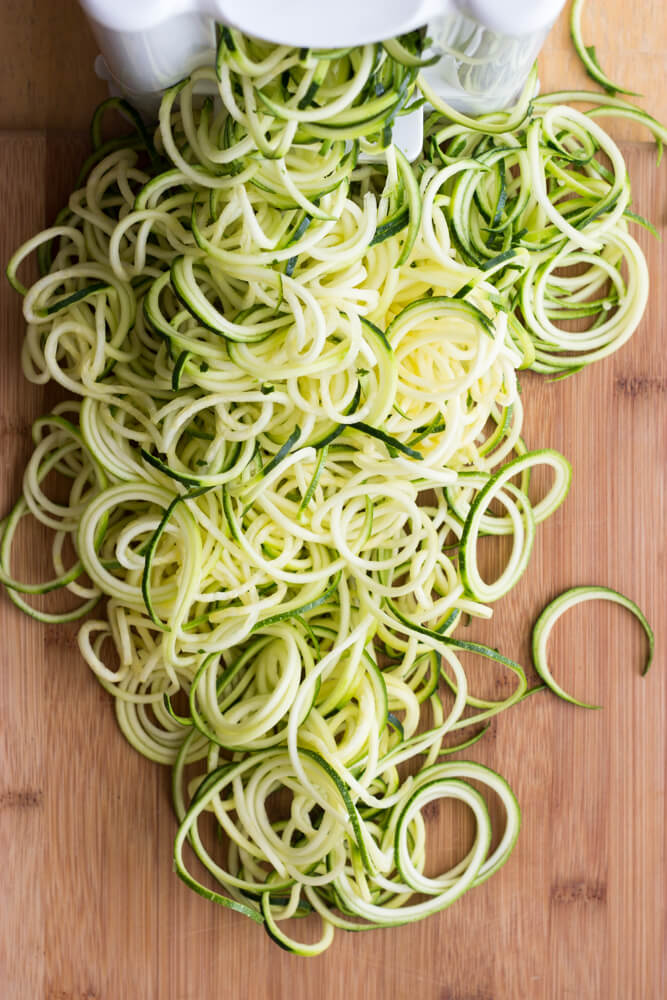 The rest of the recipe is pretty straight forward. I included tips and tricks (below) and encourage you to check them out, especially if you've never made zucchini noodles (or shrimp scampi) before.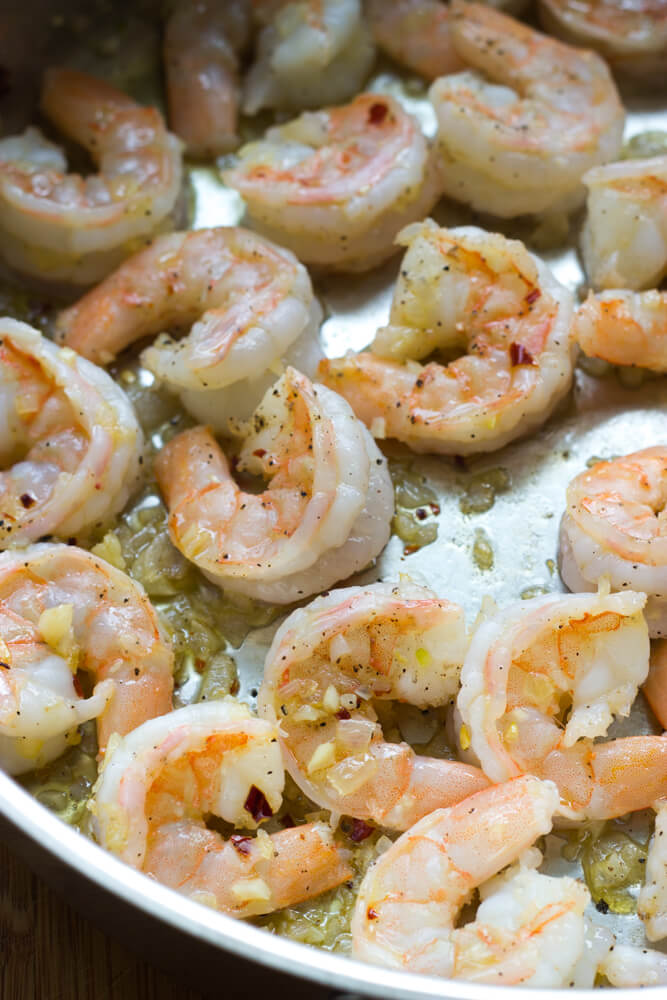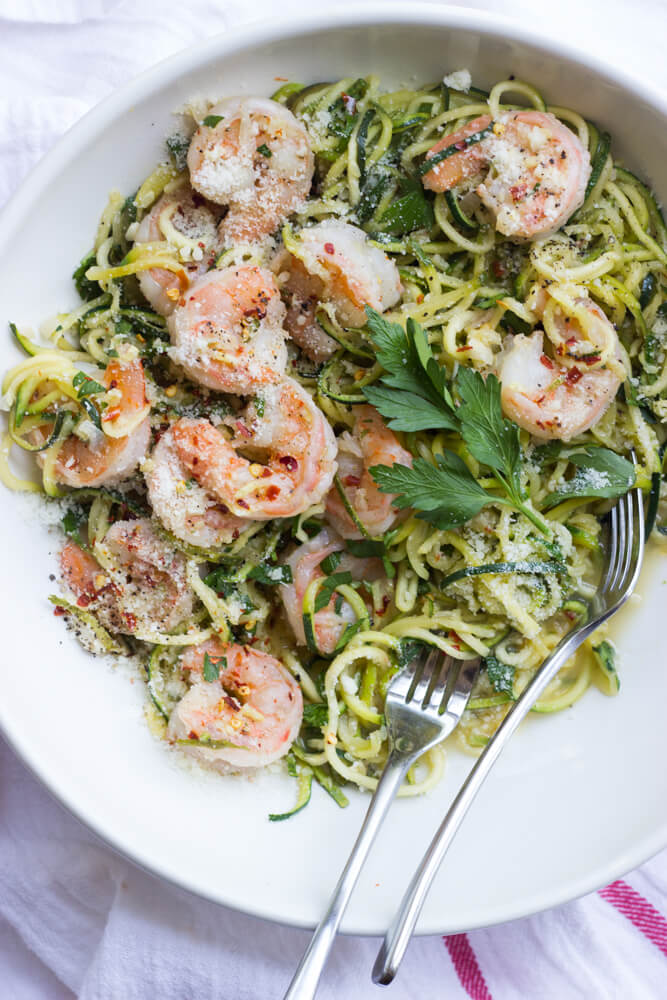 Make it. Snap it. Show it. Instagram @littlebrokenblog or snapchat → littlebrokenblg
Shrimp Scampi with Zucchini Noodles
Author:
Katya @ https://www.littlebroken.com
Ingredients
2¼ pounds fresh zucchini (about 4 medium/large), spiralized
1 pound large raw shrimp, peeled, tails off + deveined
4 Tbsp. unsalted butter, divided
2 Tbsp. extra-virgin olive oil
1 large (or 2 medium) shallot, finely chopped
2 large garlic cloves, minced
¼ tsp. red pepper flakes, plus more, to taste
¼ cup chicken stock
1 medium lemon, juiced (about 2-3 Tbsp. juice)
¼ cup fresh chopped parsley, plus more to garnish
2 Tbsp. grated Parmesan cheese
salt and fresh ground black pepper
Instructions
Start by creating the zucchini noodles by running the zucchini through a spiralizer. Set aside.
Lightly pat dry the shrimp with paper towel and then season with salt and pepper. Set aside.
In a 3-quart saute pan (or bigger pan if you have one) melt 2 tablespoons of butter and olive oil over medium-high heat. Add chopped shallot, garlic, and red pepper flakes. Saute, stirring occasionally, until shallots are soft and translucent, about 2-3 minutes.
Add shrimp to the pan and cook just until pink on the outside, flipping halfway, about 2-3 minutes. Remove the shrimp to a plate using tongs.
Add chicken stock and lemon juice to the pan, scraping up any brown bits that might be stuck to the bottom of pan. Bring to a boil and let reduce just slightly, about 1 minute or so. Add remaining 2 tablespoons of butter.
When the butter has melted, return the shrimp to the pan along with spiralized zucchini. Using tongs, toss the zucchini with shrimp to combine and continue doing so until zucchini is slightly tender and shrimp is cooked through, about 2-3 minutes. You also want to season the zucchini with salt and pepper at this point. Stir in chopped parsley.
Serve immediately, garnished with grated Parmesan cheese, parsley, and sprinkle of red pepper flakes, if desired.
Notes
**You will need atleast a 3-quart saute pan or bigger to make this recipe. I would not recommend anything smaller.
**Do not overcook the shrimp. When cooking the shrimp in the first part, all you want is pink outside on both sides. Shrimp will be raw on the inside.
**When adding zucchini to the pan, it may seem like it's too much and you don't have enough sauce but zucchini has high water content and as it cooks, it will soften and release some of its juice. You only want to cook the zucchini for 2-3 minutes or just until it begins to soften as anything longer will result in a soggy mess.
The end result of "zucchini noodles" is slightly tender with a bite. They're not meant to be super soft as your traditional linguine noodles that are usually used in shrimp scampi recipe.