Eat more greens with this 5-minute kale and arugula blend salad with shaved parmesan and toasted pine nuts, tossed in a simple olive oil lemon dressing. So easy, so good, and goes with any dish imaginable!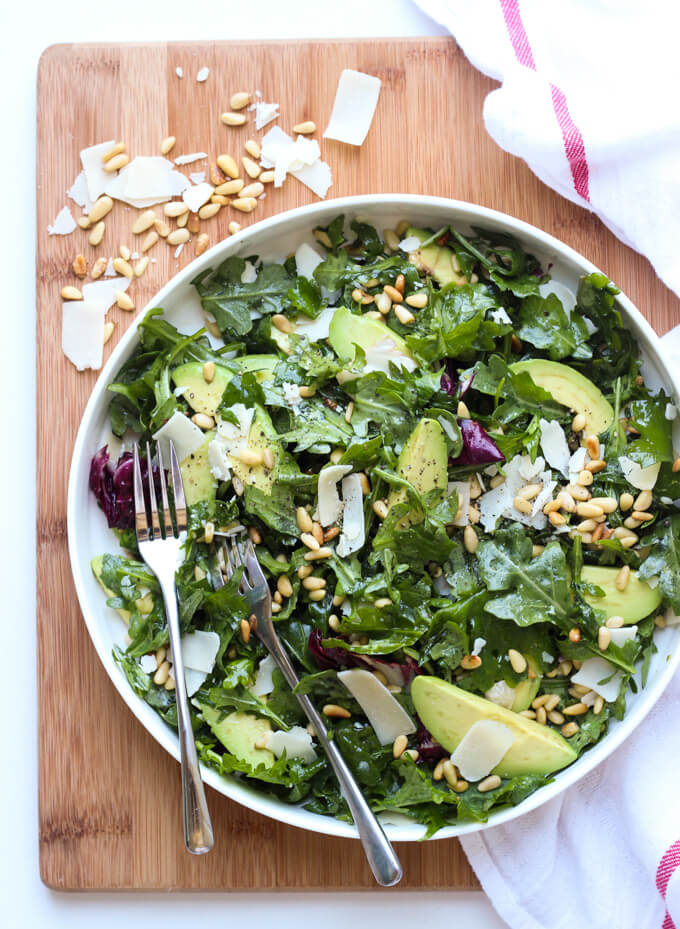 Hi friends! I'm SO SO pumped about todays posts! First, the recipe of course. This salad is only six ingredients and is packed with flavor! It was inspired by my sister, who I recently visited on the west coast. She's a huge salad lover and puts pine nuts in just about any salad she makes. It's so good and simple. So of course, I had to give it a try with a simple arugula kale blend greens, ton of shaved parmesan and creamy avocado, tossed in a simple olive oil lemon dressing. If you can't find shaved parmesan at your grocery store, you can simply use a vegetable peeler to shave your own parmesan. Just make sure it's at room temperature.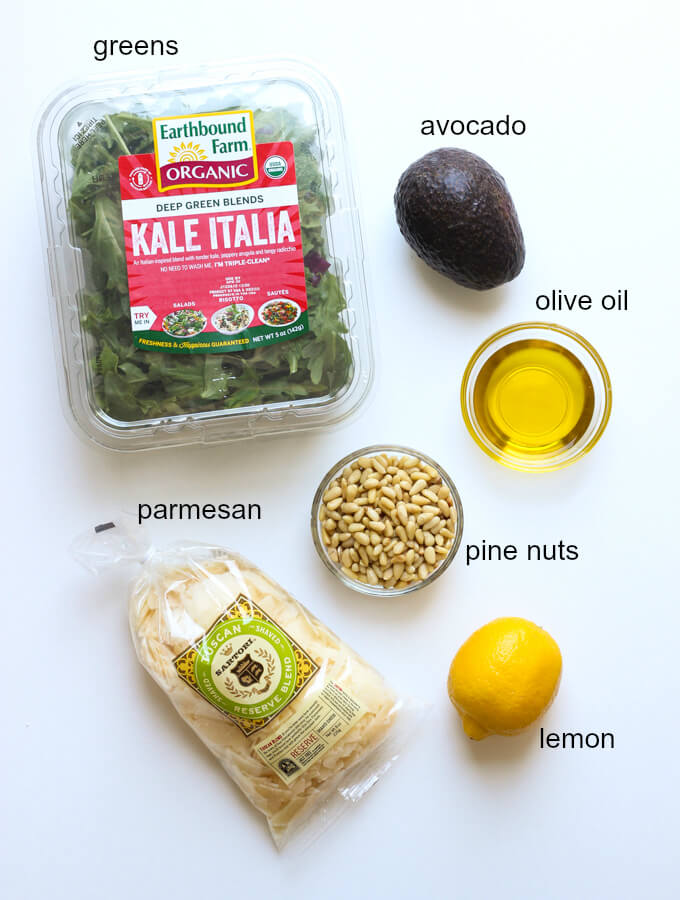 This salad makes the perfect side as it goes with just about anything imaginable. Plus it's the easiest 5-minute salad you will ever need to make! It's lemony and peppery at the same time, with a hint of creaminess and nuttiness.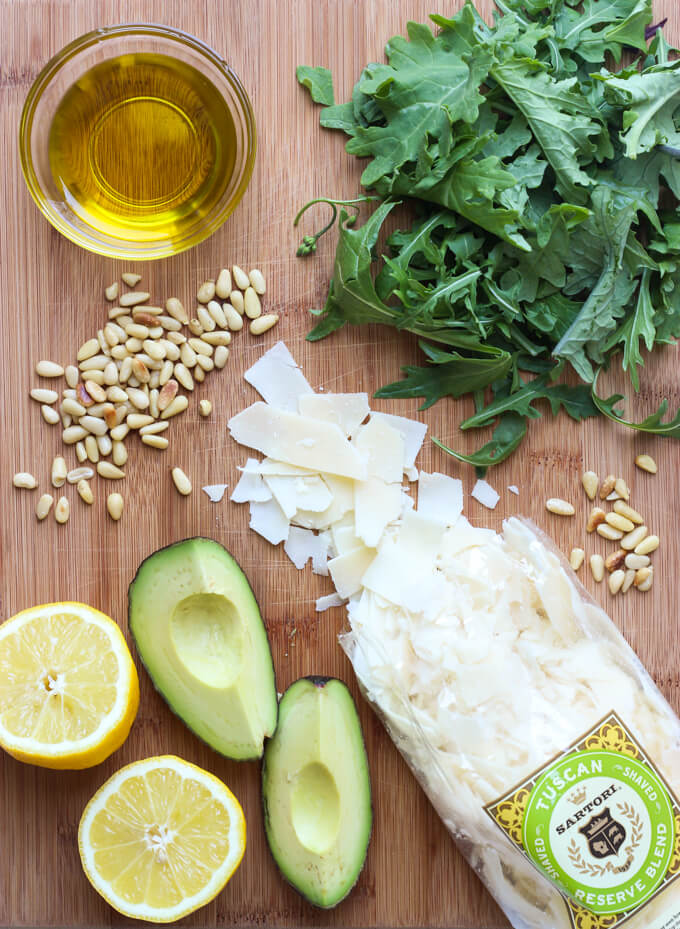 Second reason for my pumped up excitement is because April is Earth Month and in celebration of same I've teamed up with Safeway to bring awareness of eating healthy and being environmentally conscious. If you follow me on snapchat then you've seen my obsession for organic eggs, organic greens, drinking water, using re-usable shopping totes, and a whole lot more!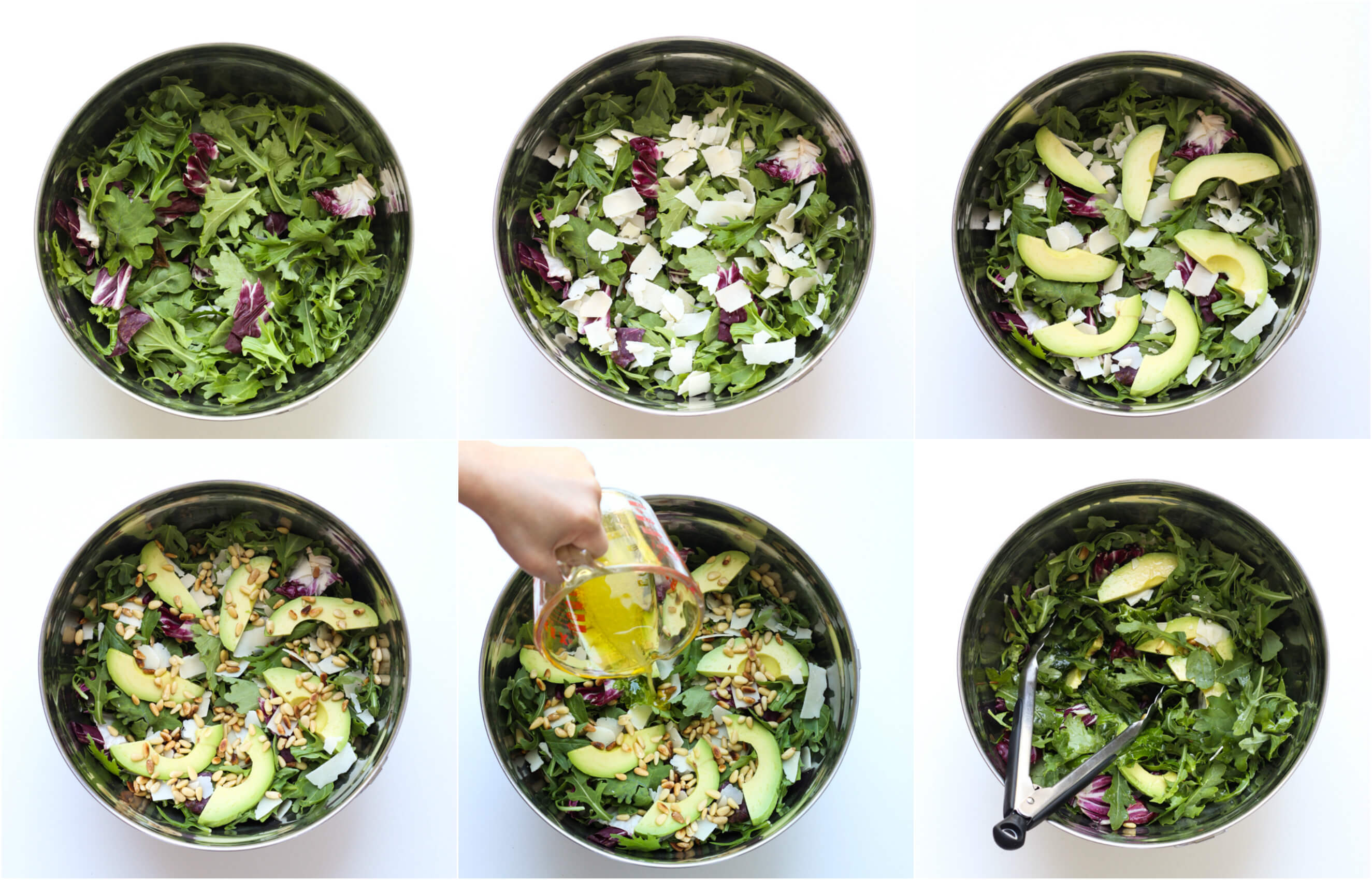 My passion for trying to make healthier food choices as much as I can by buying clean and wholesome ingredients has been something I've worked towards over the last 3-4 years. Last year, I wrote a whole post on how I go grocery shopping that helps me eat better (in case you guys want to check it out). Not until I decided to start my blog did I become more aware of things like organic, GMO, MSG, farm raised vs. wild caught, grass fed, corn syrup, etc. I think healthy habits begin when we want to know more. Where does our food come from? How is it made? What does it mean to buy local? Also, how does all of this impact the environment?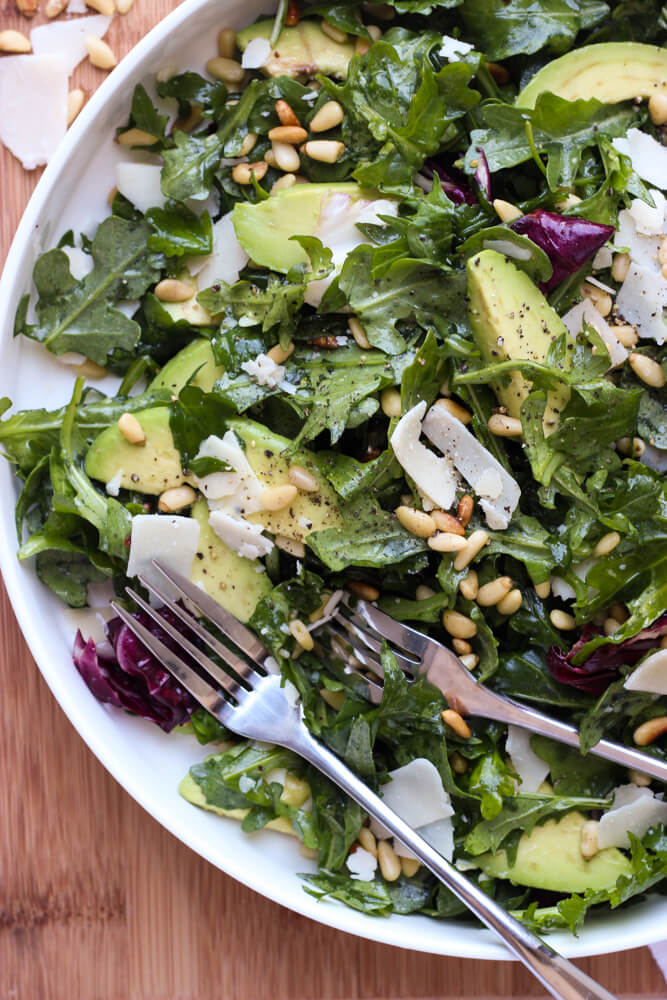 That's why I love food brands that are responsibly-produced and practice sustainable farming, such as Earthbound Farms, which is a brand of greens I'm using today to make this salad (available at Safeway). Also – in celebration of Earth Month, Safeway is doing "Every Cart Counts" program where they are actually buying shoppers carts of groceries around the country when you have one or more participating items. How awesome is that?!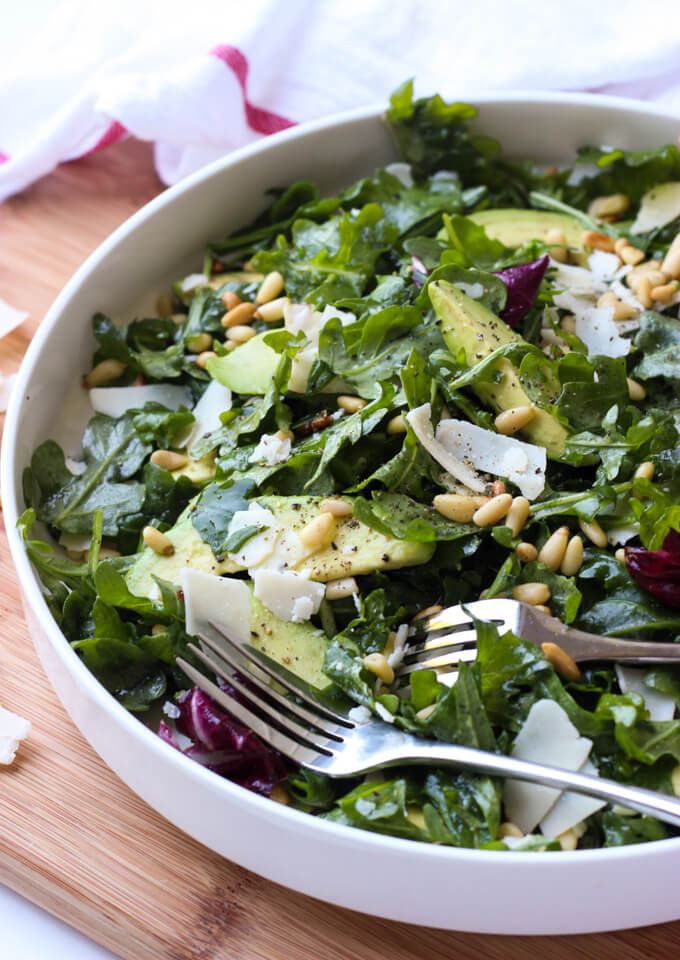 Now go make this salad and make sure to eat it all, preferably with some garlic toast. Mmm…good 🙂 No regrets. Promise.
Make it. Snap it. Show it. Instagram @littlebrokenblog or snapchat → littlebrokenblg
Parmesan Arugula Kale Salad with Pine Nuts
Author:
Katya @ https://www.littlebroken.com
Ingredients
5 oz. pkg. Earthbound Farm Organic Kale Italia salad blend
1 cup shaved parmesan cheese
¾ cup toasted pine nuts
1 avocado, pitted + sliced
¼ cup extra-virgin olive oil
2 Tbsp. lemon juice
salt and pepper
Instructions
In a large bowl toss the salad greens with parmesan, pine nuts, and avocado.
In a small bowl, whisk the olive oil with lemon juice and pour over the salad. Toss to combine. Season with salt and pepper, to taste.
Serve immediately.
© Little Broken. All images and content are copyright protected. Please do not use my images without prior permission or claim my work as your own. Feel free to Pin, Tweet, Facebook and share away with a link back to the recipe post. If you want to republish this recipe, please re-write the recipe in your own words and link back to this recipe.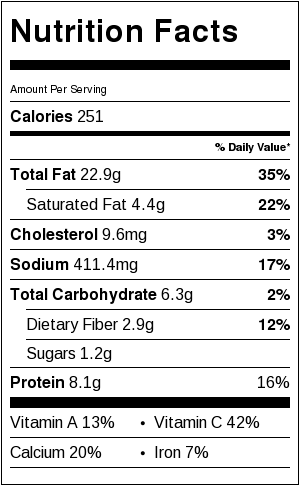 This is a sponsored conversation written by me on behalf of Safeway. The opinions and text are all mine.