Delicious salad made in minutes with canned salmon, eggs, crunchy veggies, plenty of fresh herbs, and healthy greek yogurt. Serve it over crostini or baby romaine for a lighter meal!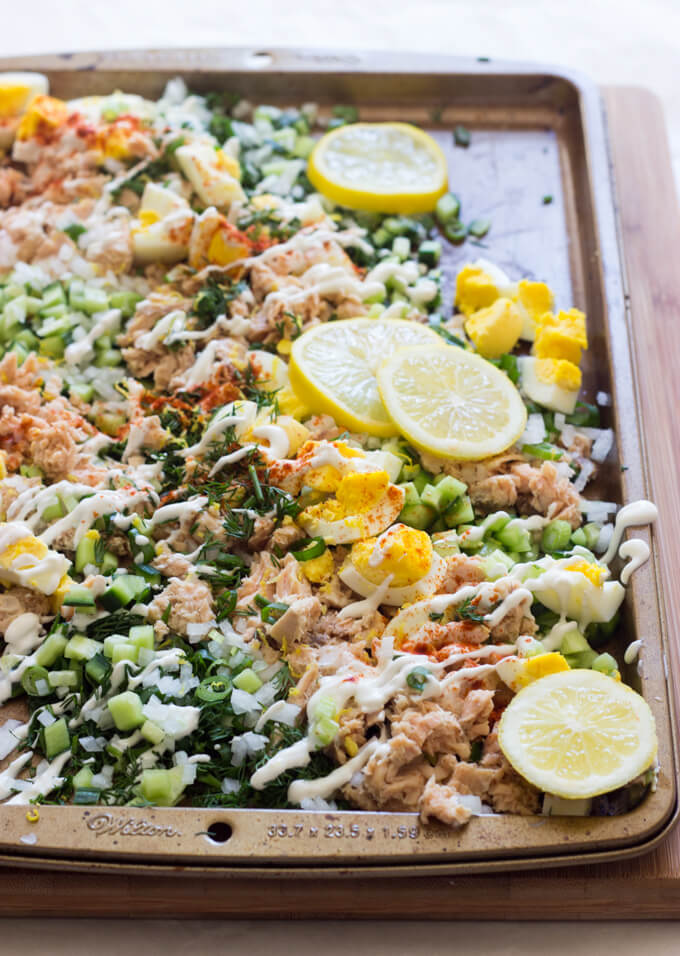 I'm trying something new today. Canned salmon! It's a first for me. How do you guys feel about canned anything? To be honest, I'll pick fresh over anything canned even if it means spending a little more time in the kitchen. But my sister shared this salad recipe with me when I asked her what she does with leftover hard-boiled eggs from Easter. She said she makes this super easy salad with canned salmon, eggs, onion, herbs, and sometimes relish to serve with crackers. I loved the simplicity of the recipe and could not wait to give it a try.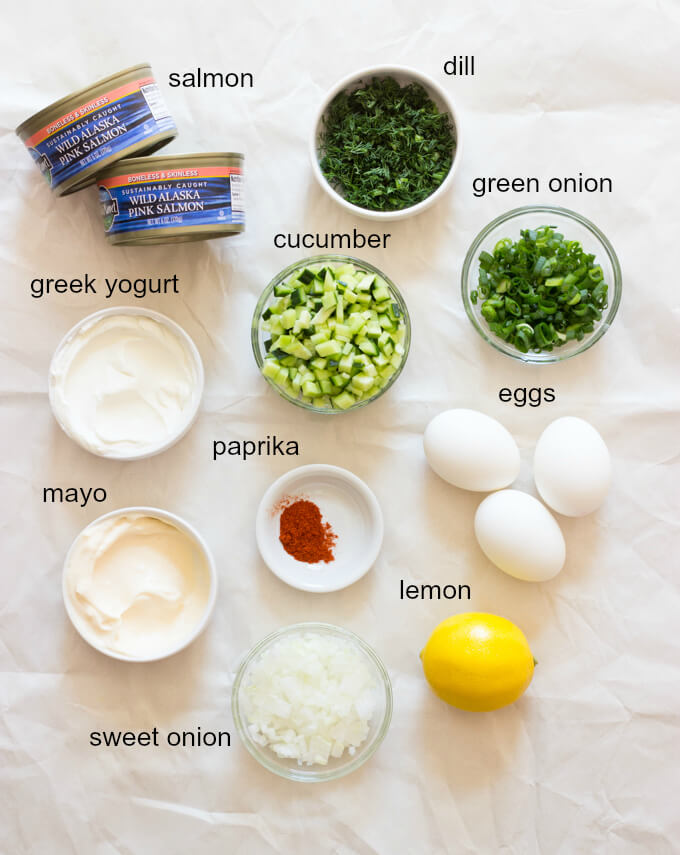 I put my own spin on the salad by adding fresh crisp cucumbers, green onions, fresh dill, paprika and even a little tabasco, which is completely optional but in my opinion adds a little kick to the salad. Instead of using 100% mayo for the dressing, I used greek yogurt with only couple tablespoons of mayo. I also added plenty of fresh lemon juice and zest. Fresh lemon juice always makes everything taste better!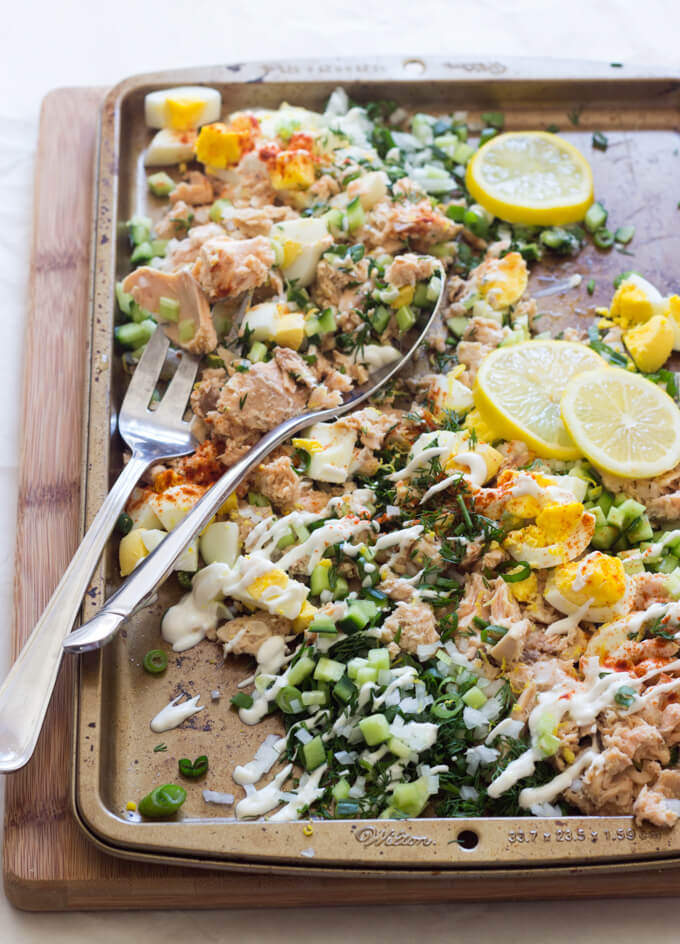 The result, I might say, is pretty delicious. I was even a little surprised of how much we've been enjoying this. Even with the couple "healthy" tweaks to the salad, the taste is 100% delicious and let's not forget an easy way to use those left-over eggs.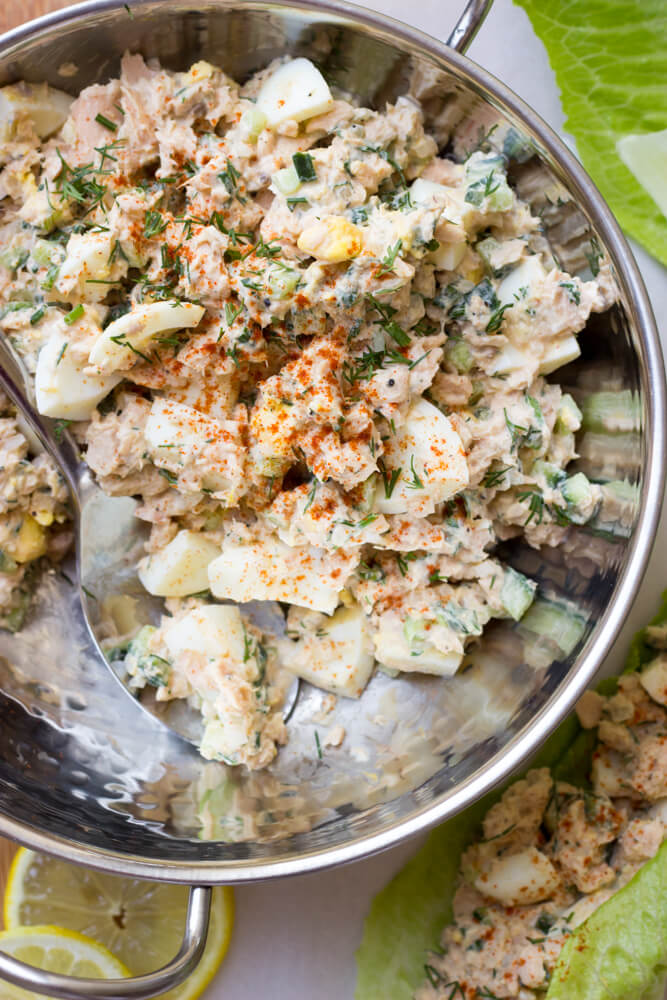 As I'm writing this later in the day, my daughter earlier today, ate a bowl of it without any fuss, which is funny because I offered her hard boiled eggs for breakfast that she completely refused but a bowl of this salad she had no problem eating. I'll never know.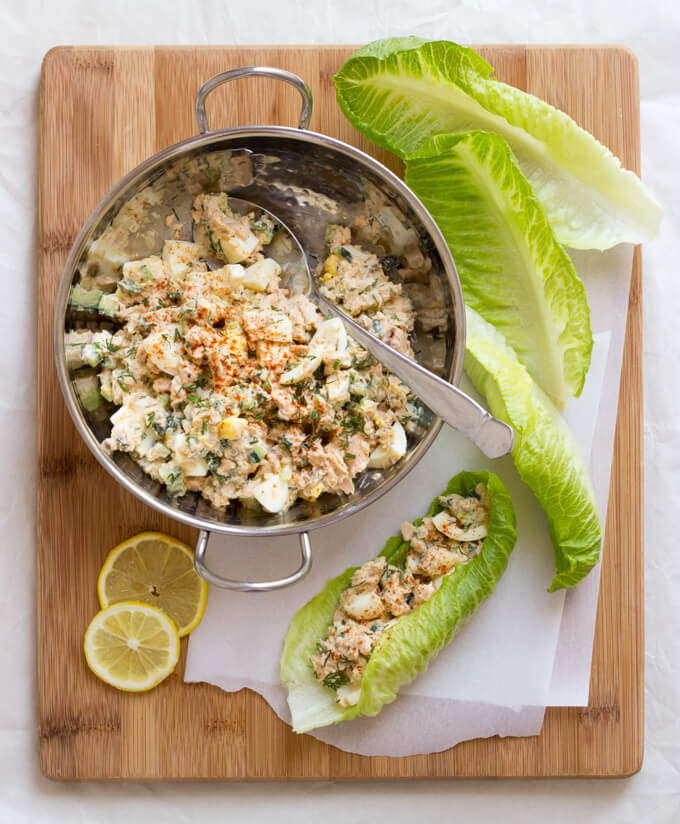 So far my favorite way to enjoy this salad has been over a crisp crostini. The combo is perfect! If you don't have any crostini on hand a well toasted piece of crusty bread is a delicious alternative. It's also good for lunch stuffed into baby romaine leaves or simply served over chopped lettuce.
Make it. Snap it. Show it. Instagram @littlebrokenblog or snapchat → littlebrokenblg
Salmon and Egg Salad Recipe
Author:
Katya @ https://www.littlebroken.com
Ingredients
2 cans (6 oz. each) boneless, skinless wild salmon, drained*
3 large hard-boiled eggs, peeled + chopped
⅓ cup sweet onion, finely chopped
½ cup seedless cucumber, finely chopped
⅓ cup green onion, chopped
¼ cup fresh dill, chopped
⅓ cup plain greek yogurt (I used full fat)
2 Tbsp. mayonnaise
½ tsp. paprika
2-3 tsp. fresh lemon juice
1 medium lemon, zested
salt and pepper
tabasco sauce, optional
Instructions
In a medium bowl, combine all the ingredients together and toss to combine. Season with salt and pepper, to taste. Add tabasco sauce to taste, if desired.
Serve immediately or store covered in refrigerator up to 1 day. Give a good stir before serving.
This salad is delicious over crostini or over baby romaine leaves. You can also serve it as a sandwich or with crackers as a snack.
Notes
*pink or red salmon is okay to use
© Little Broken. All images and content are copyright protected. Please do not use my images without prior permission or claim my work as your own. Feel free to Pin, Tweet, Facebook and share away with a link back to the recipe post. If you want to republish this recipe, please re-write the recipe in your own words and link back to this recipe.