Super easy 20-minute chicken dinner that is juicy, tender, and loved by everyone! All in one pan with juicy chicken thighs, fresh mozzarella, tomatoes, basil, and a drizzle of sweet and tangy balsamic glaze. Get your pan out. We're making chicken dinner!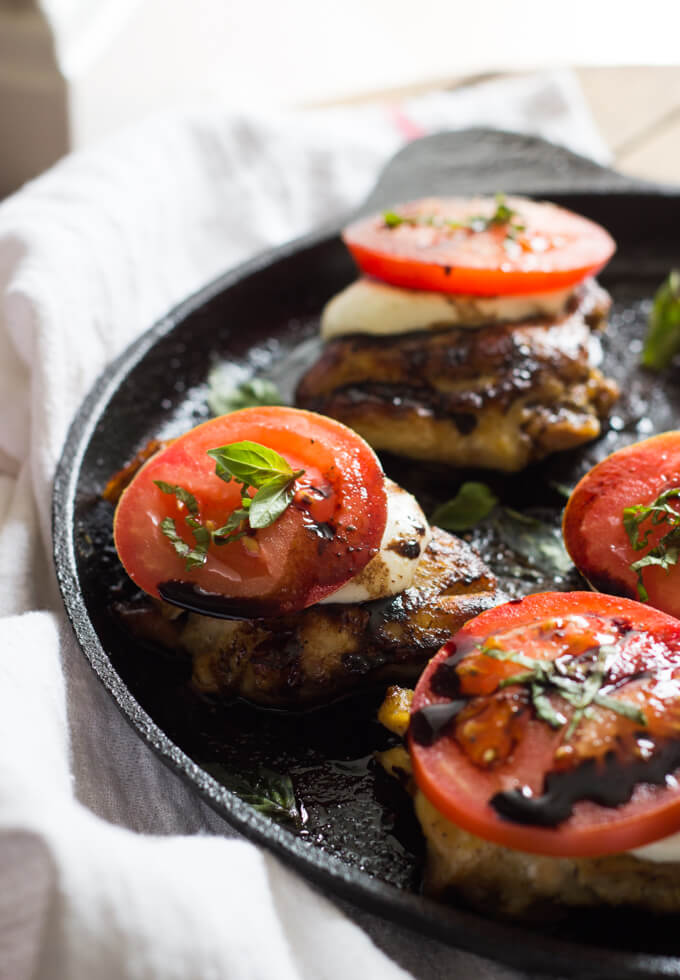 Hi friends!! Oh, do I have a treat for you today. It's chicken, caprese, 20-minutes, one pan, and did I mention 20-minutes?! Yes, yes, and yes! This chicken dinner recipe can not be any more easier or tastier. It combines one of the most loved flavor combinations: caprese. Tomato, basil, fresh mozzarella and balsamic vinegar. All on top of a juicy, tender, chicken thigh. I mean if that isn't love then I don't know what is.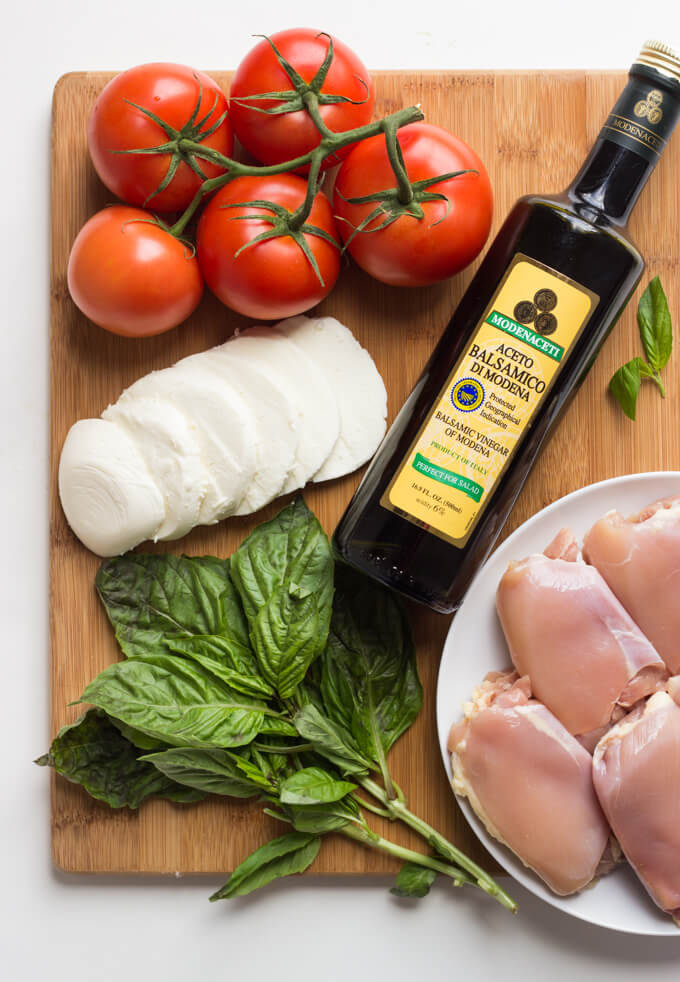 Key to success is not to over cook the chicken. You want your skillet pretty hot before adding the chicken. It should sizzle and begin browning right away. If the skillet is not hot enough, your chicken will give off moisture and "steam". If you have a cast-iron or a stainless steel pan, I so recommend using those. Both brown the chicken much better than a non-stick pan. Also make sure not to over-crowd the chicken and use large enough pan, at least 14-inches.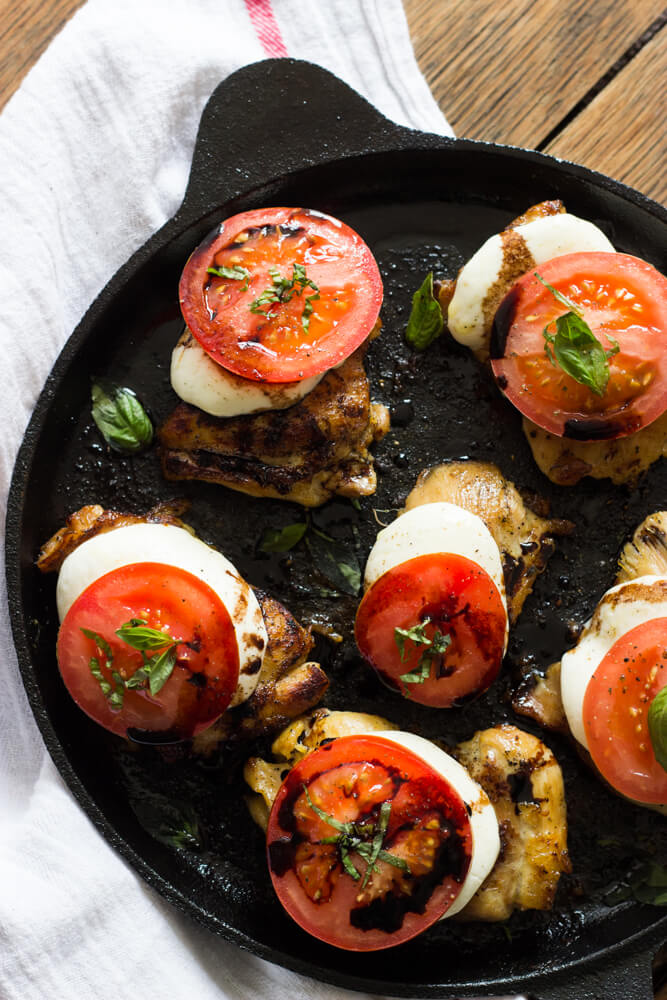 I love the simplicity of this recipe. The hardest part is browning the chicken and I know you guys can do that 🙂 Then you top the chicken with slice of fresh mozzarella, tomato, fresh basil, and drizzle of balsamic glaze.  You can certainly purchase balsamic glaze from the store but you can also make your own, like I did. All you need is balsamic vinegar and a small sauce pan. Bring the vinegar to a slow simmer and let it reduce until thick glaze. The result is amazingly dark, thick, sweet, and tangy glaze. It totally ties all the flavors together.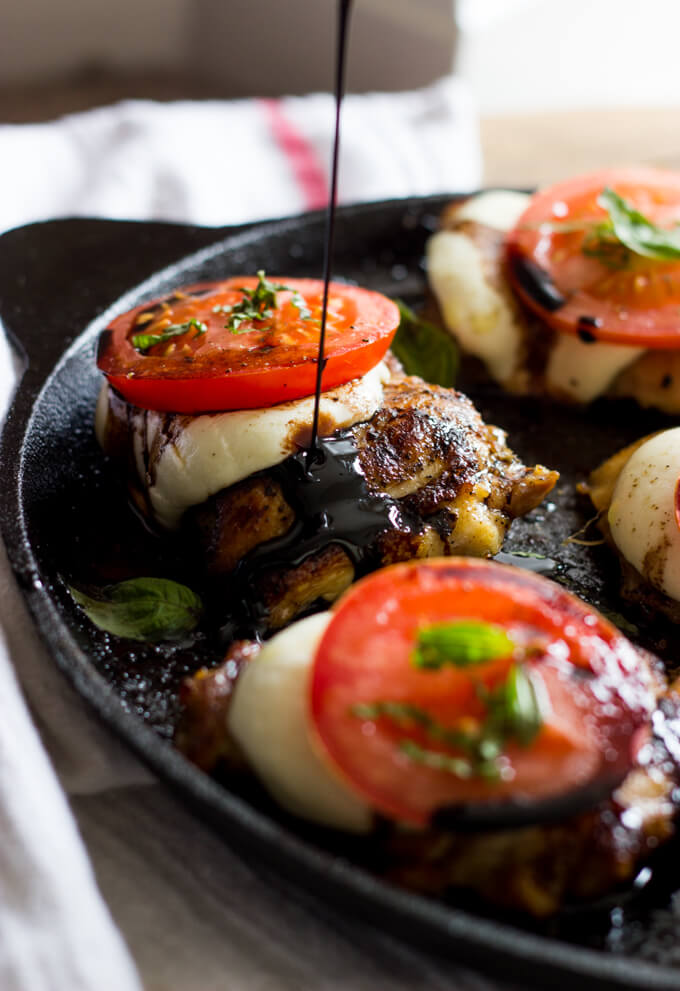 Now go make some chikin. ♥ You wont regret it.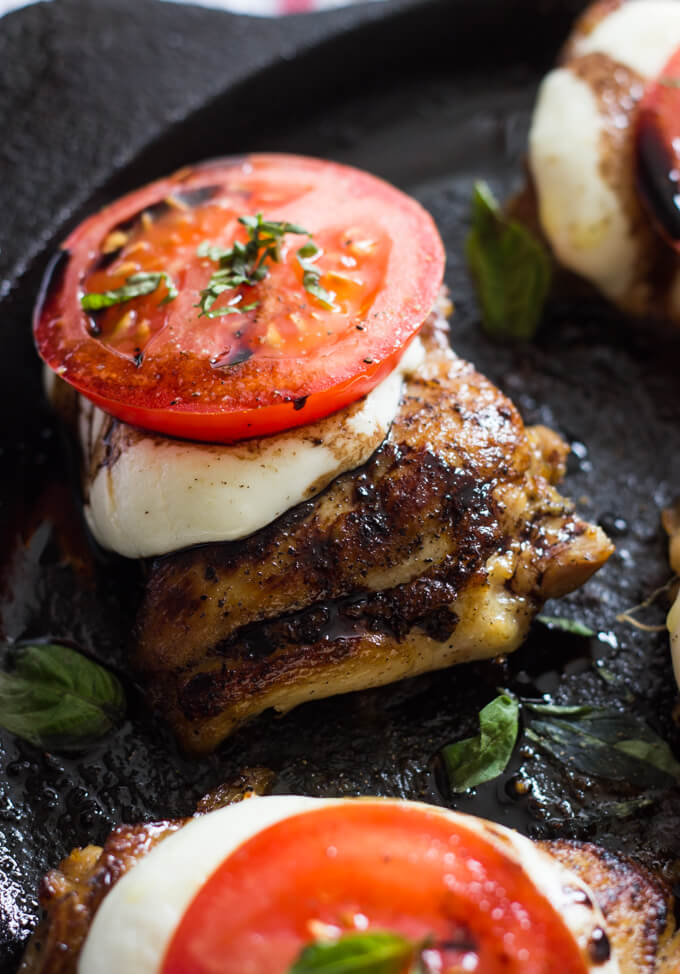 Make it. Snap it. Show it. Instagram @littlebrokenblog or snapchat → littlebrokenblg

20-Minute Easy Skillet Chicken Caprese
Author:
Katya @ https://www.littlebroken.com
Ingredients
1 cup balsamic vinegar
6 boneless, skinless, chicken thighs (about 2 pounds total)
2 Tbsp. unsalted butter
8 oz. fresh mozzarella cheese, cut into 6 slices
2 medium tomatoes on the vine, sliced
fresh basil, cut into thin strips
salt and fresh black pepper
Instructions
In a small saucepan, bring balsamic vinegar to a simmer over medium-low heat. Reduce heat to low or as needed and simmer partially covered for 20-23 minutes, until vinegar has reduced to a thicken glaze. Remove from heat.
While the vinegar is simmering, prepare the chicken. Lightly pat dry the chicken thighs with paper towel. Season both sides with salt and pepper, to taste.
In a large saute pan, melt butter over medium-high heat. When butter begins to sizzle, add chicken to the pan and cook for 3-4 minutes per side or until the chicken is nearly cooked through.
Top each chicken thigh with a slice of mozzarella cheese. Cover pan with lid, return to heat and allow to cook 1-2 minutes longer until the cheese has slightly melted.
Remove the pan from the heat, top each thigh with slice of fresh tomato and sprinkle with fresh basil. Drizzle with balsamic glaze and serve immediately.
Notes
Key to getting the chicken nicely golden brown is to make sure the skillet is hot and chicken is not crowded. Use a cast-iron or a stainless steel type of pan. Both pans will give you better results than a non-stick pan.
© Little Broken. All images and content are copyright protected. Please do not use my images without prior permission or claim my work as your own. Feel free to Pin, Tweet, Facebook and share away with a link back to the recipe post. If you want to republish this recipe, please re-write the recipe in your own words and link back to this recipe.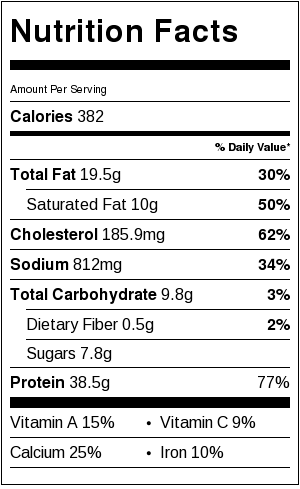 *Disclaimer: this post contains affiliate links, which means I receive a small commission if you make a purchase using this link at no cost to you. As always, thank you for supporting and allowing me to share recipes with you.