Creamy on the inside and crispy on the outside, these potato stacks are simple to make, delicious to eat, and really can't be beat. It's my new favorite way to serve potatoes for the holidays!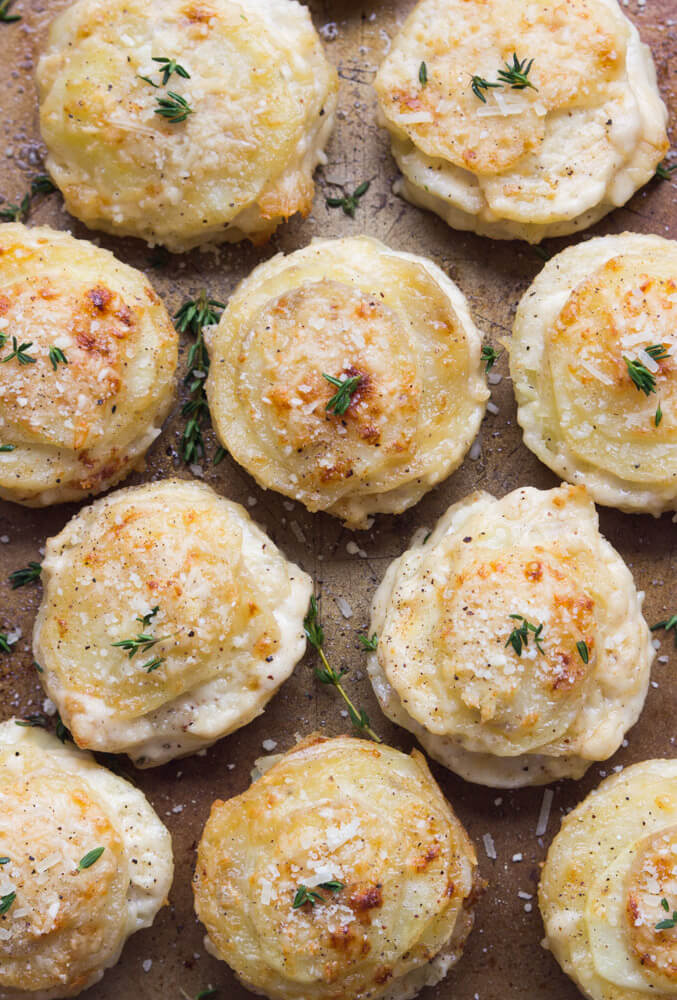 There is no doubt that if you asked any Russian person what type of food they ate growing up, their answer would be potatoes in some form. I was one of those people. Our dinner table was not complete without a potato dish. Whether mashed potatoes, roasted potatoes, or fried potatoes, we ate it all and it was good.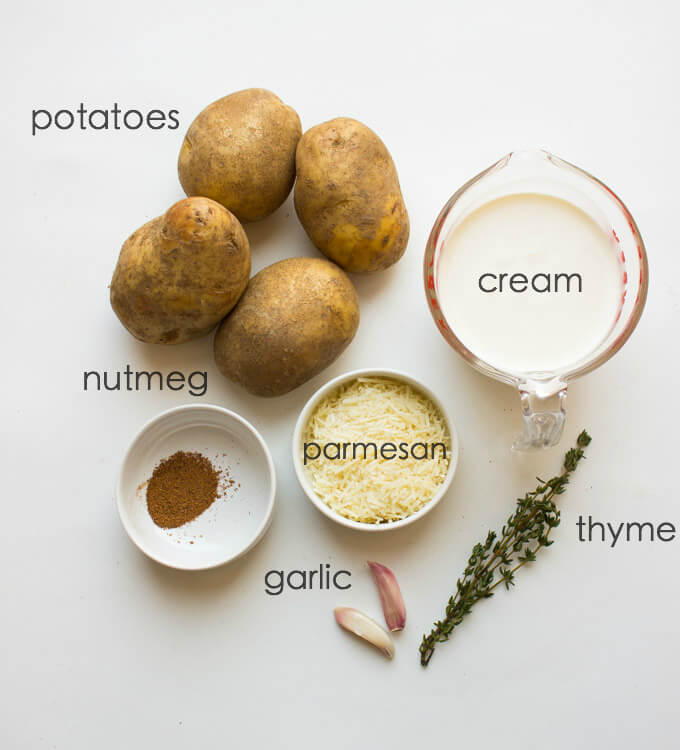 To this day, it's still one of my favorite side dishes and my biggest weakness. That is why I hardly, ever, ever make it at home. Unless, it's a special occasion. I normally go for a classic mashed potato dish but this year I will be serving these potato stacks.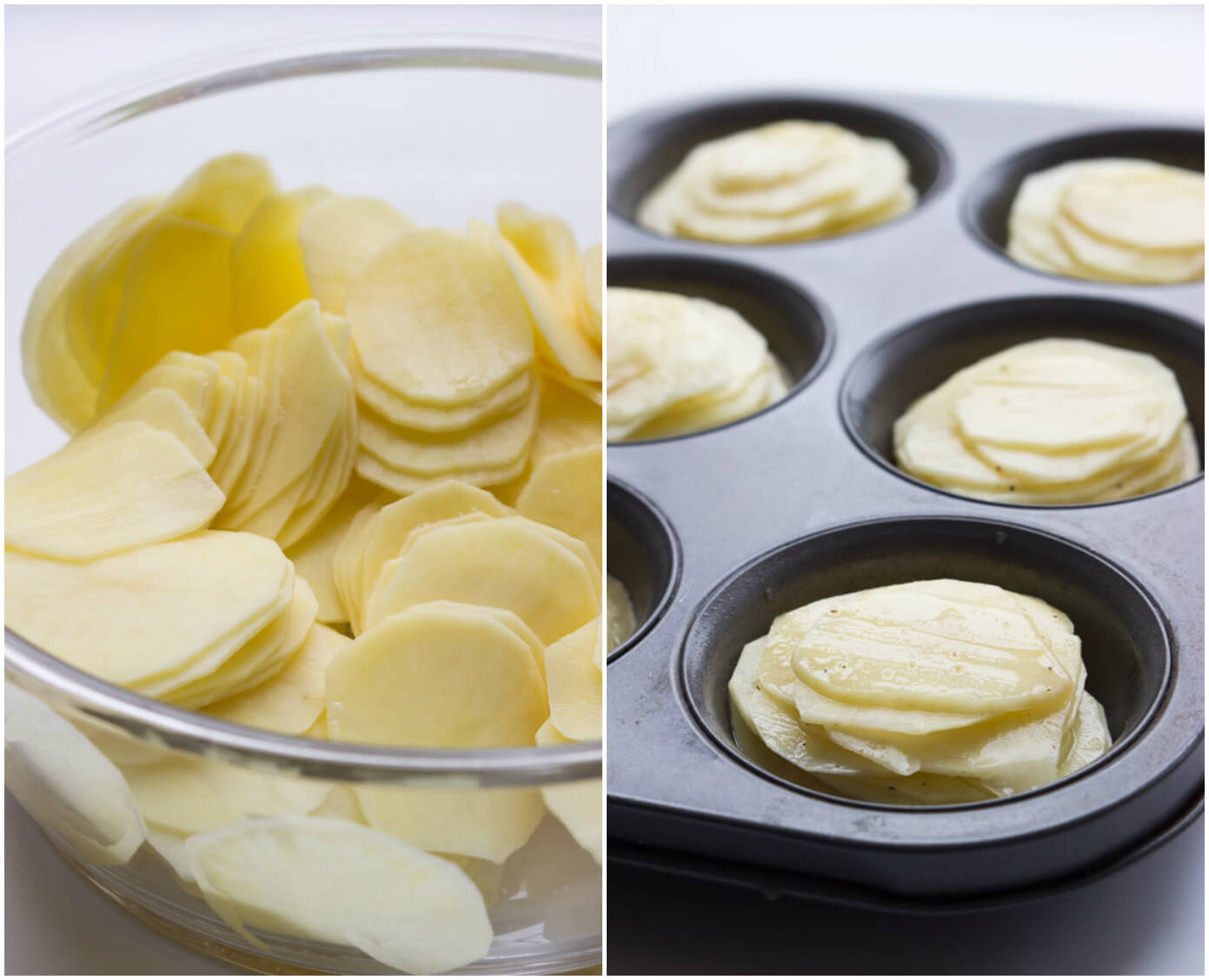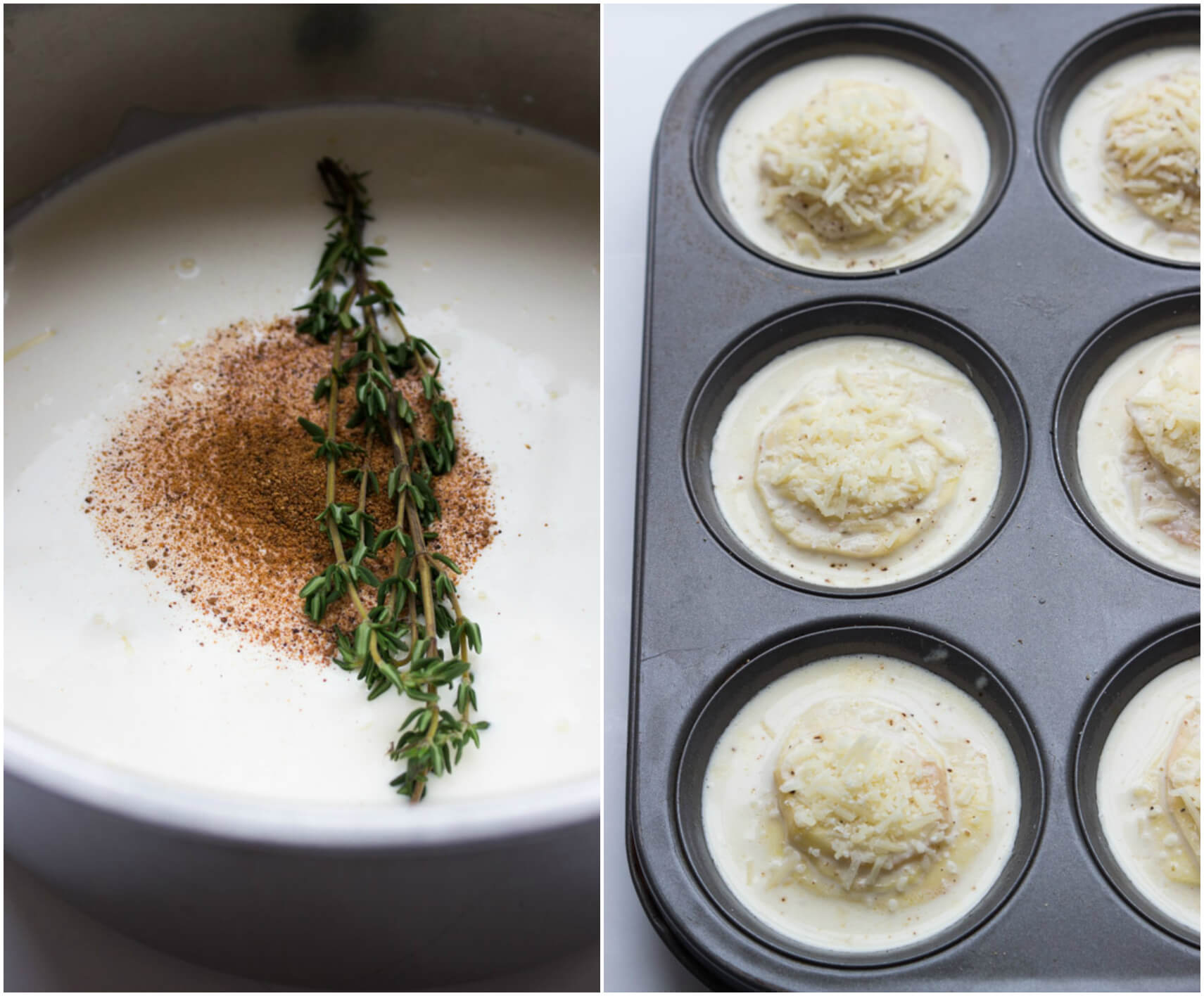 Inspired by Two-Potato Scalloped Gratin, these stacks are made up of super thinly sliced russet potatoes that are baked in a garlic and thyme infused cream and baked in a standard muffin pan until golden brown with a sprinkle of parmesan. They are creamy on the inside from the cream and slightly crisp on the outside from the parmesan.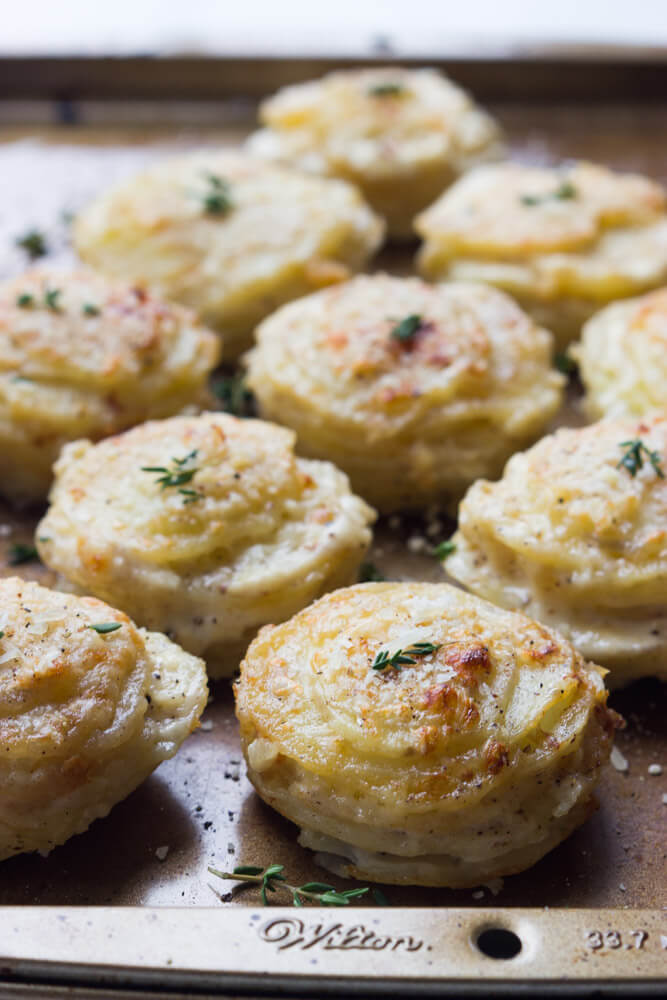 They make for a pretty delicious side dish for not only holidays, but any dinner party!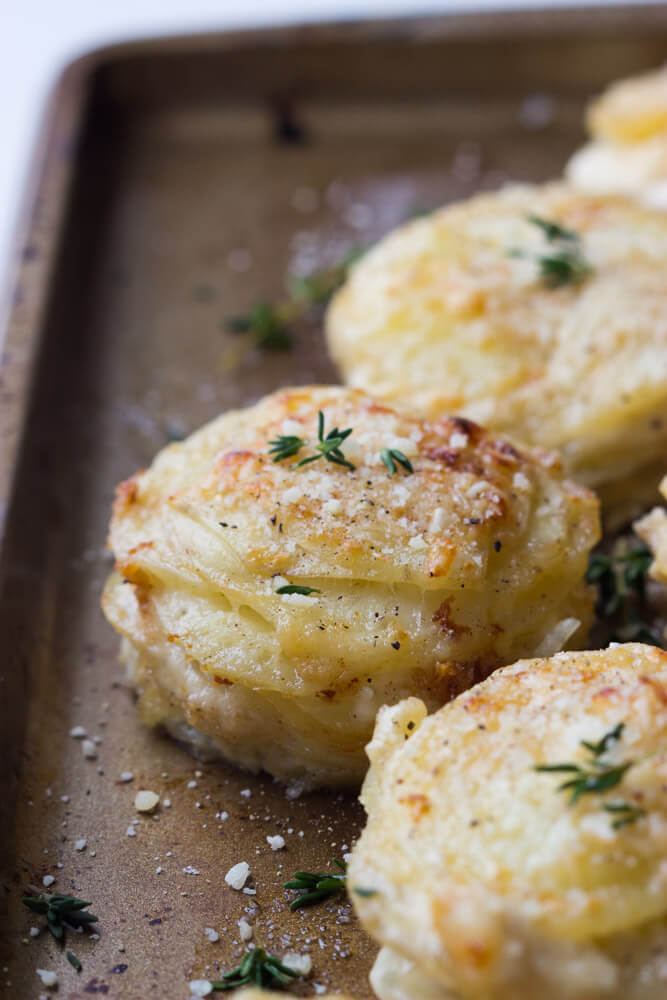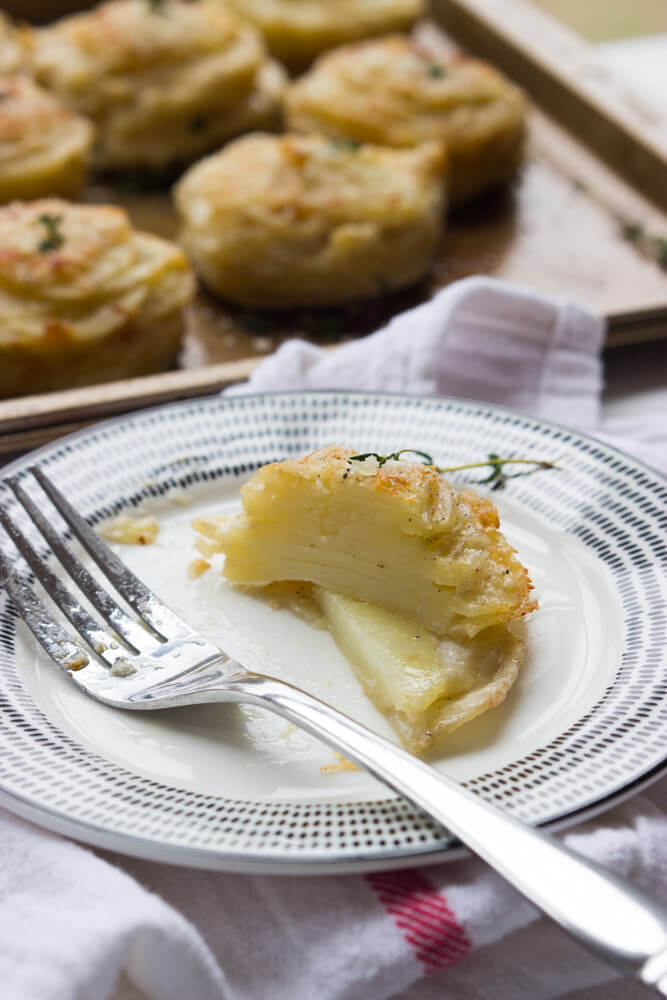 Creamy Potato Stacks with Garlic, Thyme, and Parmesan
Author:
Katya @ https://www.littlebroken.com
Ingredients
1½ cups heavy cream
1 sprig fresh thyme
2 garlic cloves, minced
½ tsp. nutmeg
2 lbs. medium russet potatoes (about 4-5), peeled and sliced ⅛ to 1/16 inch thick
1 tsp. salt
½ tsp. black pepper
freshly grated parmesan cheese
Special Tools
Instructions
Preheat the oven to 375F. Spray 12 cup standard muffin pan with nonstick cooking spray.
In a small sauce pan, whisk together cream, thyme, garlic, and nutmeg. Bring to a slow simmer and remove from the heat. You want the cream just heated through. Discard the thyme.
Toss the potato slices with salt and pepper and layer into stacks in the prepared muffin cups, filling each one to the top but not over the top.
Spoon cream over each potato stack, filling almost to the top. You will have couple or so slices exposed. Sprinkle with parmesan cheese.
Bake for 25-30 minutes or until the potatoes are knife tender and golden brown on top.
Remove the muffin pan from the oven and let sit for 5 minutes. Run a knife around the edges to loosen up the stacks and carefully remove to a serving platter.
Serve immediately.
© Little Broken. All images and content are copyright protected. Please do not use my images without prior permission or claim my work as your own. Feel free to Pin, Tweet, Facebook and share away with a link back to the recipe post. If you want to republish this recipe, please re-write the recipe in your own words and link back to this recipe.
*Disclaimer: this post contains affiliate links, which means I receive a small commission if you make a purchase using this link.