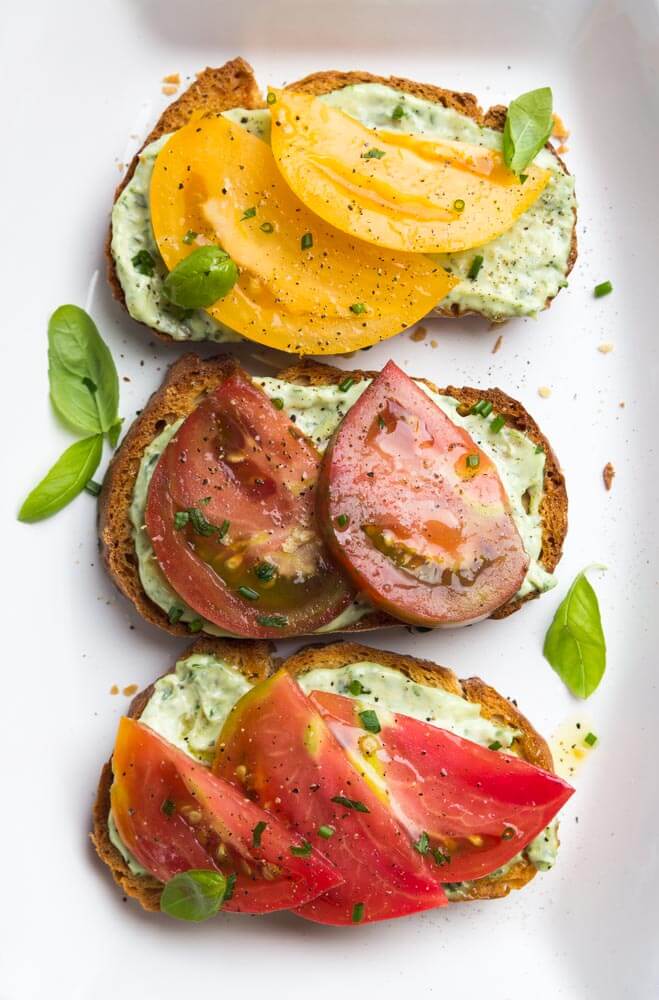 Happy Fri-yay friends! Well, don't be surprised but I got more juicy heirloom goodness to share with you today. But first I need to give a shout out to my in-laws. They are truly the sweetest. We went home with probably close to 20 pounds of heirloom tomatoes from their garden couple weekends ago and this week, they sent another box of the same goodies. I'm loving life these days. Plus, have you seen the prices of heirloom tomatoes at the grocery store!? Yeah. It's pretty ridiculous. So free produce=happy me. Especially tomatoes. They are the juiciest and the ripest right now. And the best way to have them is to make a sandwich with some garlicky mayo.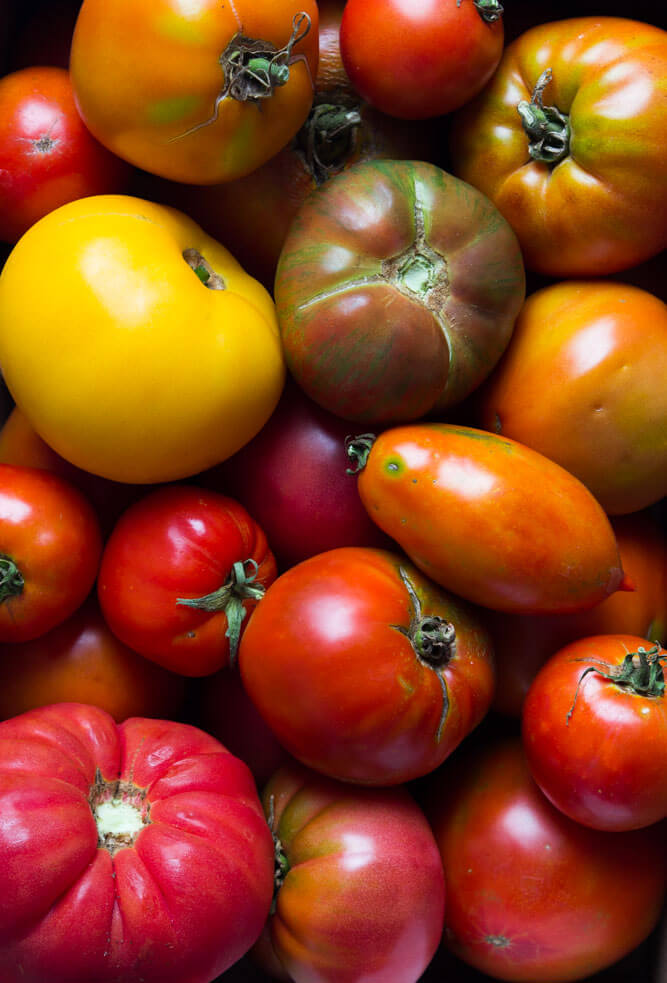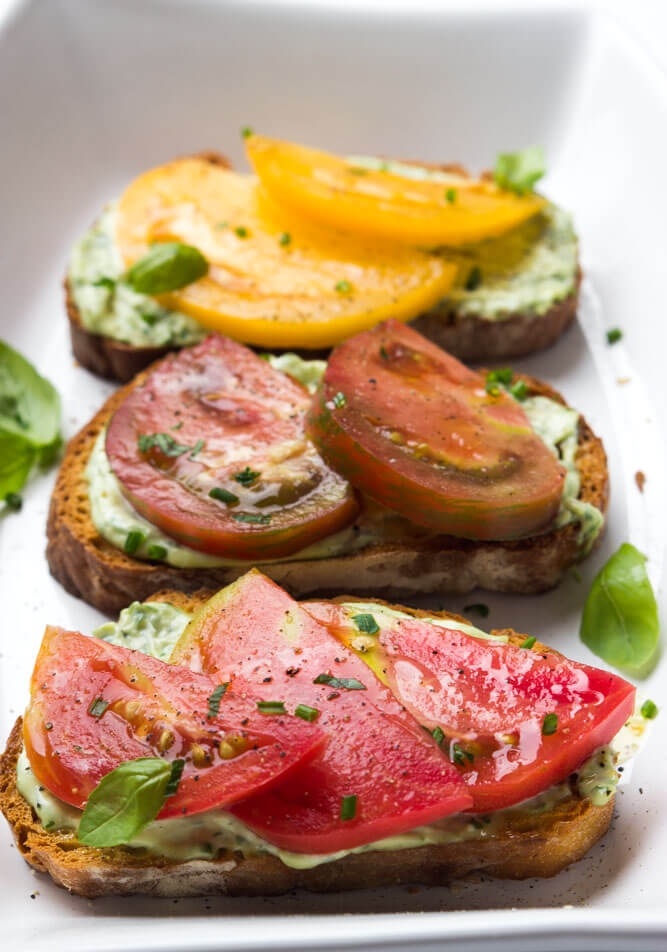 Aioli is pretty much a fancy way of saying garlicky homemade mayonnaise. But who has time to make homemade mayonnaise? Right? Instead, you buy the already made one and pack it with tasty fresh herbs and garlic to make it your own. It takes like 5 seconds to make this garlic-herb aioli and you'll want to eat it by the spoonful. It's super herby, fresh, and a perfect spread for these open-faced tomato sandwiches.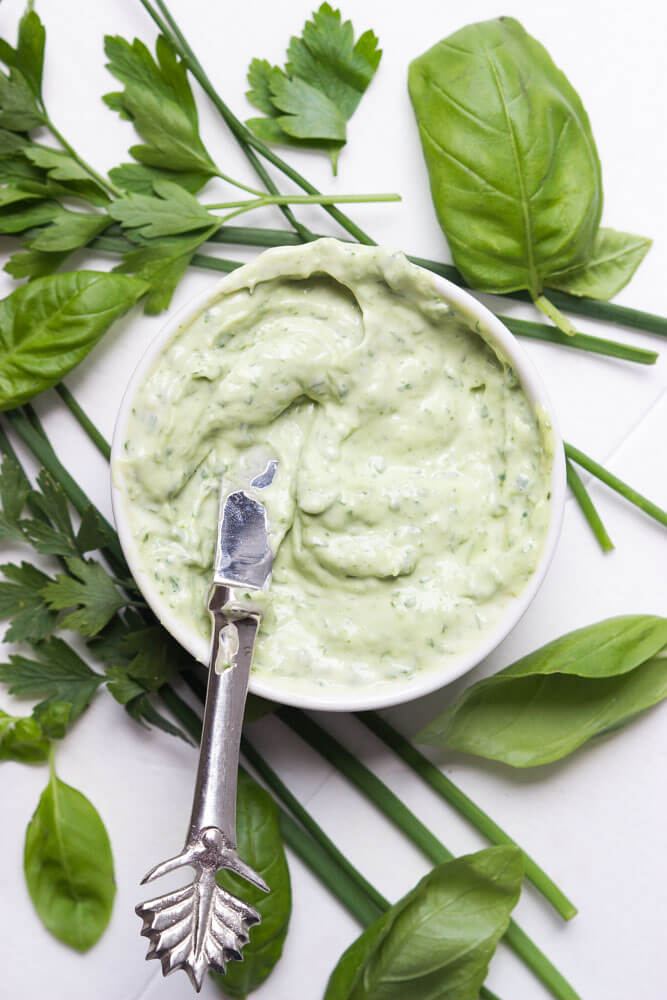 All you need is a food processor + fresh herbs. I used a mixture of basil, chives, and parsley. There is no specific measurement for each. You can use more or less, depending on your own taste. You pack everything in a food processor, pulse until blended and smooth, then spread it on your toast forever and eva. This stuff is addictive and good. And it goes just so perfectly with juicy sweet tomatoes and toasty bread. Summer at its finest if you ask me.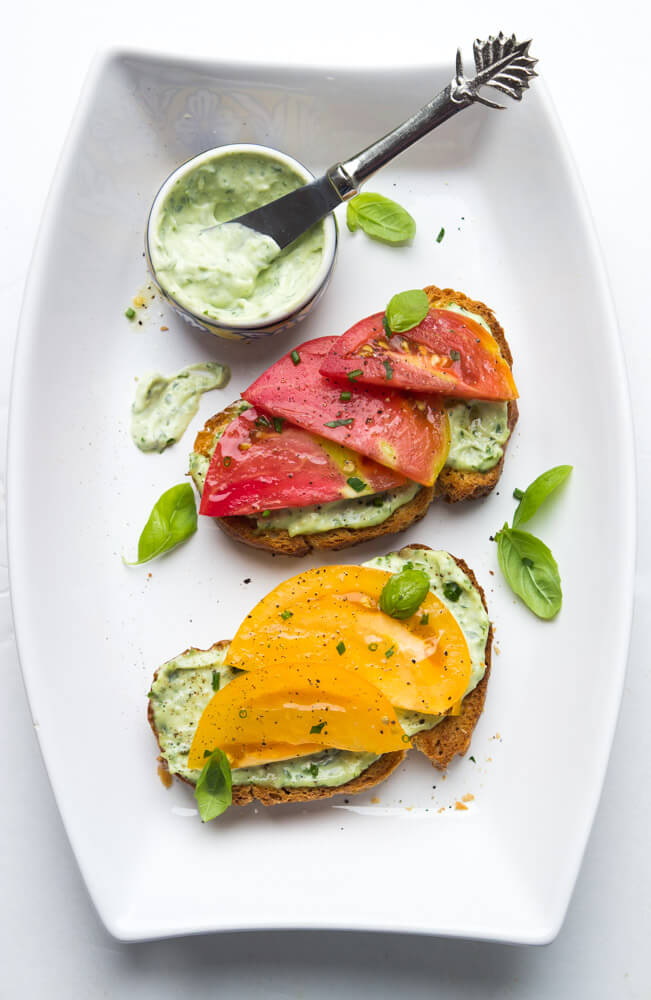 It's totally breakfast, lunch, or dinner appropriate too.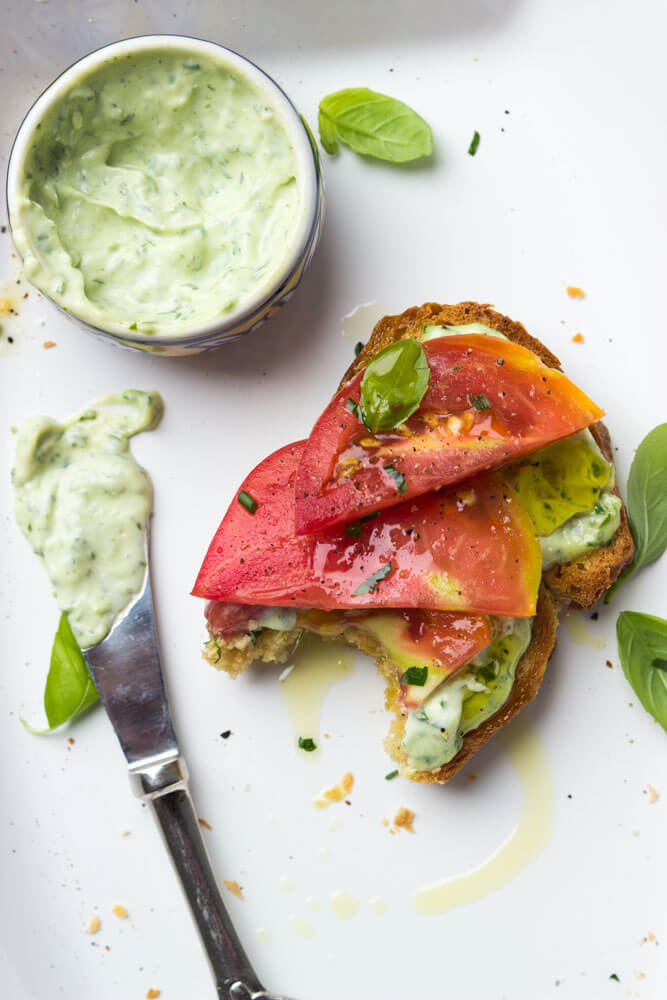 Tag me @littlebrokenblog and follow me showing me your food creations, whether from LittleBroken.com or your own: Facebook, Instagram, Pinterest.
Open-Faced Heirloom Tomato Sandwiches with Garlic-Herb Aioli
Author:
Katya @ https://www.littlebroken.com
Ingredients
Garlic-Herb Aioli (yields: ½ cup)
½ cup mayonnaise
⅓ cup (packed) fresh mix of chives, basil, parsley
2 medium garlic cloves
1 Tbsp. olive oil
½ tsp. fresh lemon juice
Sandwiches
crusty bread, sliced ½-inch thick (such as Pane Italian Bread, Ciabatta, or any type of "rustic" bakery style bread)
heirloom tomatoes, sliced
olive oil
coarse sea salt + freshly ground black pepper
Instructions
In a bowl of a food processor, combine the mayonnaise, herbs, garlic, olive oil, and lemon juice. Pulse until blended and smooth. Store covered in the refrigerator while preparing the toast.
To prepare the toast, preheat the oven to 400F.
Place slices of bread in a single layer on a baking sheet. Brush each slice on both sides with olive oil. Bake the toasts for 12-15 minutes or until they are crisp and browned. Remove from the oven and cool.
To prepare the sandwiches, spread the aioli over toast. Top the toast with tomato slices, and sprinkle salt and pepper to taste. Drizzle with tiny bit of olive oil. Serve.
© Little Broken. All images and content are copyright protected. Please do not use my images without prior permission or claim my work as your own. Feel free to Pin, Tweet, Facebook and share away with a link back to the recipe post. If you want to republish this recipe, please re-write the recipe in your own words and link back to this recipe.