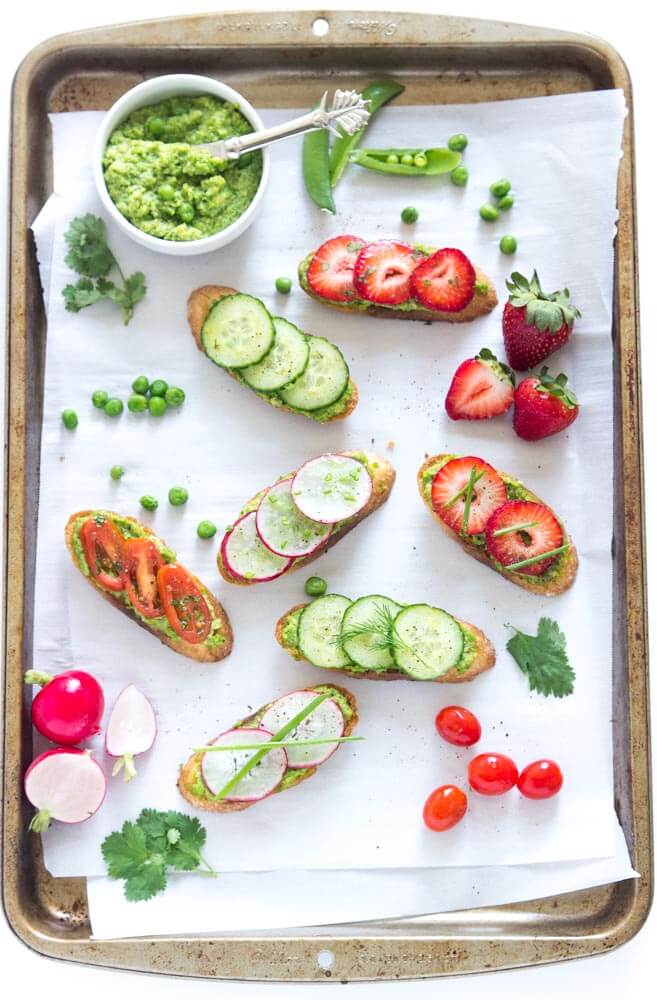 Happy first day of Spring and happy Friday! It's a double winner today. Are you guys loving life and feeling the sunshine in your cute spring-y floral clothes today? I hope so. We're more like boots, coats, and light snow up in here but at least it's Friday, middle of March and we're slowly climbing into double digits. I'll take that for now.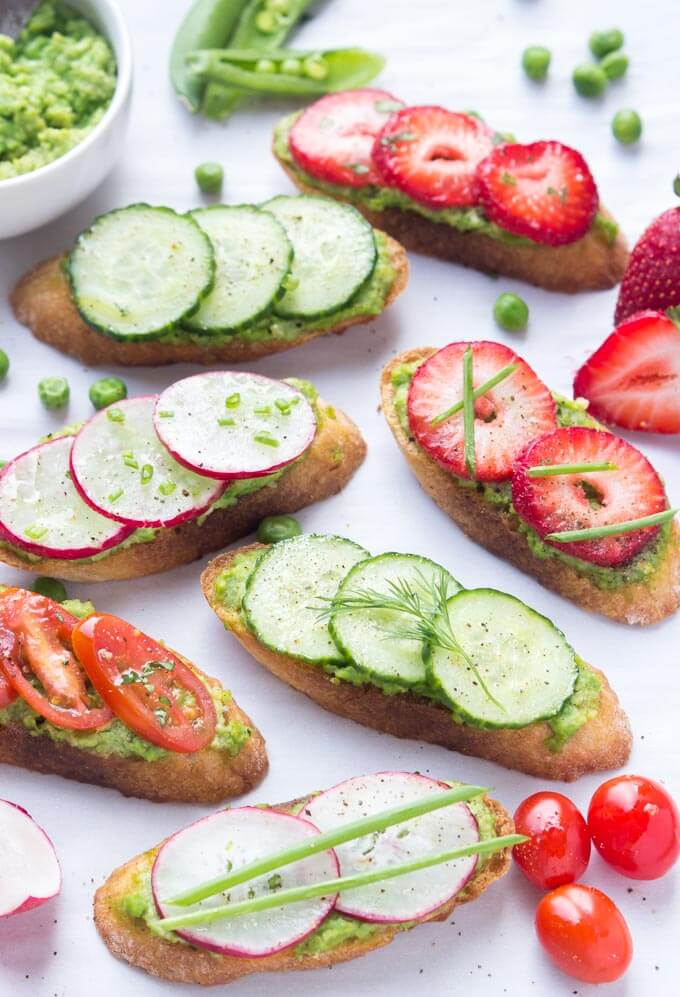 There's no doubt that I've been on a spring kick lately and it's not the weather, trust me. More like bright spring produce at the supermarket. So it's just fitting that I share another easy and delicious spring inspired appetizer with peas that I'm thinking can serve really well for Easter brunch.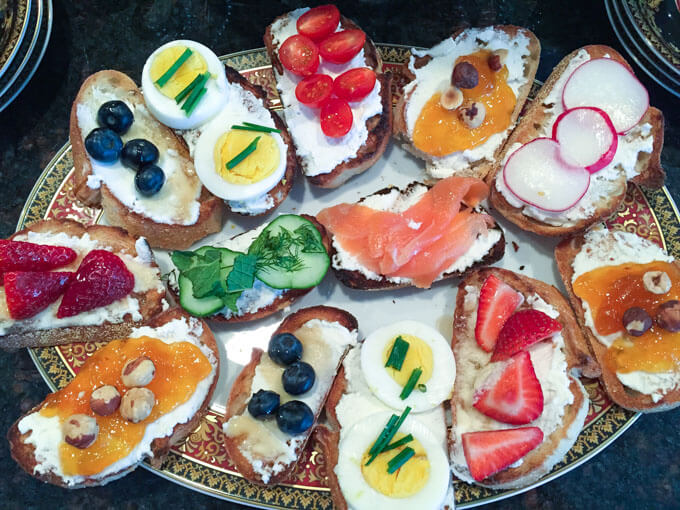 My awesome lady friends threw me an intimate tea inspired baby shower last weekend and served up these gorgeous crostinis! Aren't they something? Those toppings were so good and so gorgeous and being the foodie that I am, I was making mental notes and drawing inspiration for my bloggity friends 🙂 We had a really good time catching up. That's the best part about having true friendships is that no matter how much time passes, how far we live, and how busy we all get, we pick up right where we left off. I love them all so dearly and blessed to have them in my life.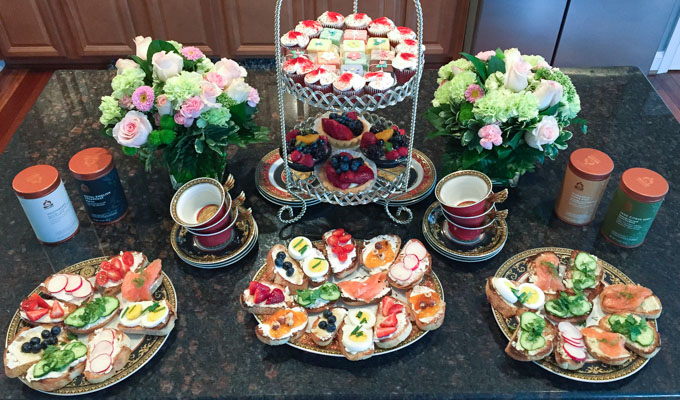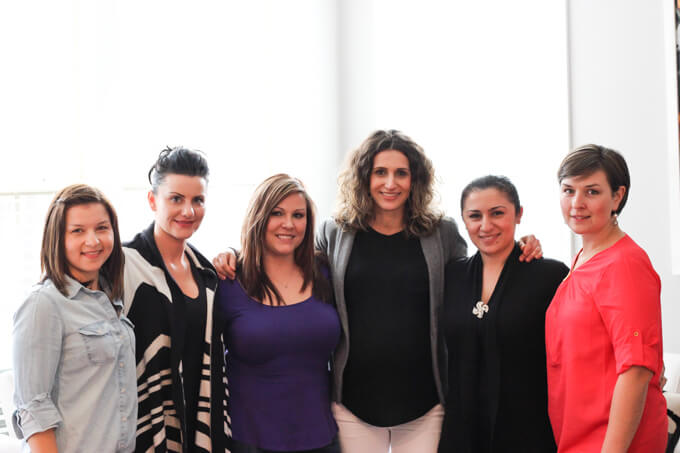 So, I made my version of crostinis but instead of cheese spread I went with pea pesto. Spring peas are bright, flavorful, inexpensive, and if you can get your hands on a bag of fresh ones then lucky you! But if you can't, frozen ones will do the job just right.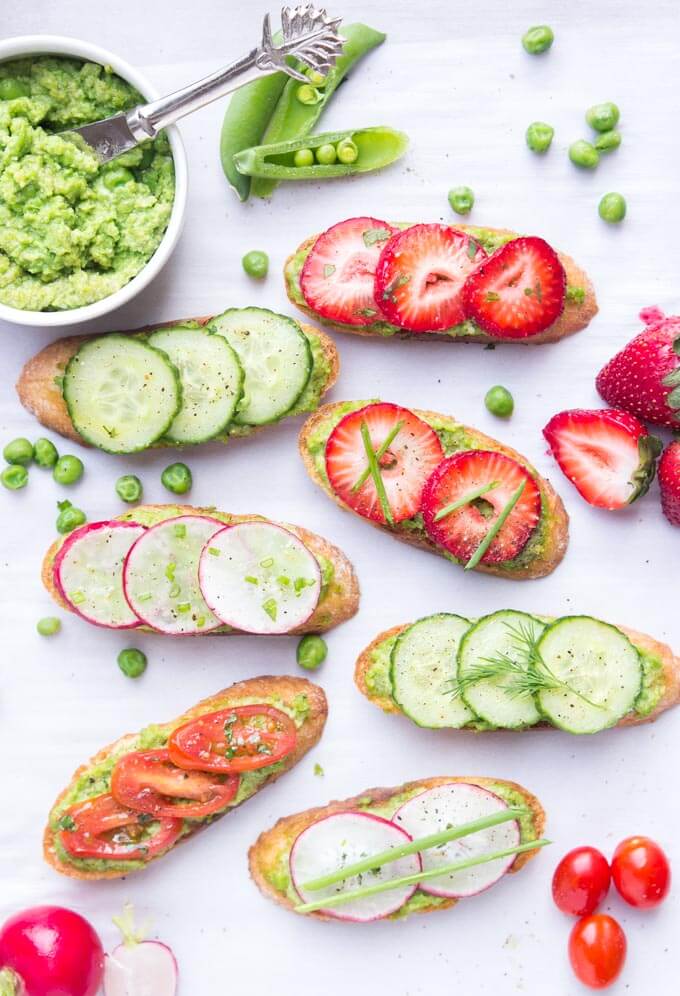 Pea Pesto is pretty much the same idea as basil pesto but without the pine nuts. Frozen peas (thawed) combined with garlic, Parmesan cheese, and olive oil in a food processor with salt and pepper. You get a chunky consistency pesto that goes on top of a crostini and then topped with crisp fresh toppings. You can also add little bit of lemon juice to the pesto for freshness but since I kept the toppings crisp I omitted the juice.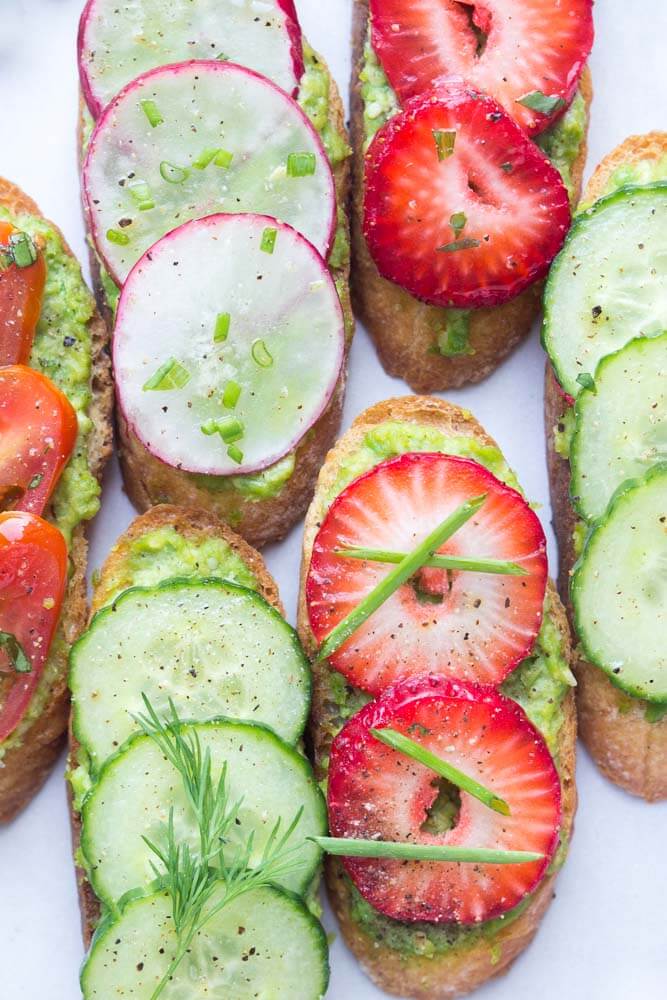 I found that crisp fresh veggies and certain fruits, like strawberries, compliment this garlic-y parmesan type pesto the best. So I went with seasonal favorites like radishes, strawberries, cucumbers, and tomatoes. Cucumber is my favorite.
If you guys try this recipe make sure to tag me @littlebrokenblog and share your crostini toppings in the comments below! Enjoy.

Spring Crostini with Pea Pesto
Author:
Katya @ https://www.littlebroken.com
Ingredients
1½ cups frozen green peas, thawed
1 medium garlic clove, peeled
½ cup freshly grated (or store bought shredded) Parmesan cheese
⅓ cup extra-virgin olive oil, plus extra for crostini
1 baguette (French Rustic or Ciabatta), sliced ½-inch thick
salt and pepper
Toppings
cucumbers
radishes
tomatoes
strawberries
fresh chopped herbs (dill, chives, basil), optional
Instructions
In a bowl of a food processor, pulse the peas, garlic, and parmesan cheese. While the processor is running, gradually add the olive oil. Season with salt and pepper to taste.
Preheat the oven to 350F.
Arrange baguette slices on a baking sheet. Brush one side with olive oil, and lightly season with salt and pepper. Bake until golden crisp, 12-14 minutes, flipping halfway through. Let cool on baking sheet.
Top crostini with pesto and desired toppings; serve immediately.
© Little Broken. All images and content are copyright protected. Please do not use my images without prior permission or claim my work as your own. Feel free to Pin, Tweet, Facebook and share away with a link back to the recipe post. If you want to republish this recipe, please re-write the recipe in your own words and link back to this recipe.
FOLLOW ME and use hashtag #littlebrokenblog or tag me @littlebrokenblog if you try my recipes! Facebook, Instagram, Google+, Pinterest.