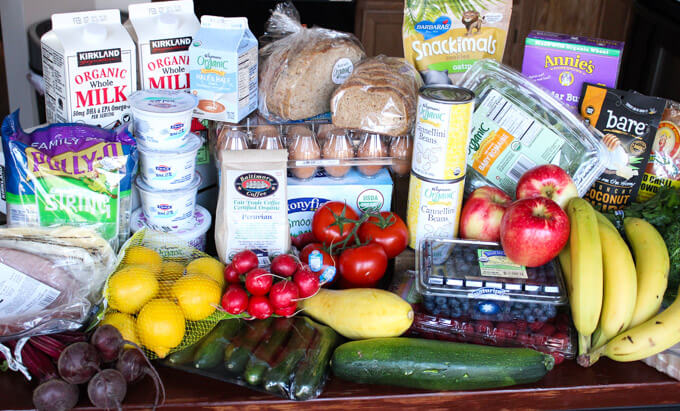 Guys, we're getting a little personal today and I'm baring it all. I'm showing you inside my fridge! Eeek….
Obviously I love anything food and that includes grocery shopping. It's one of my favorite things to do and I gotta admit I'm somewhat of a grocery store snob. I love a nice, clean, easily layed out with everything readily available type of grocery store. I guess I fall easily into the clever grocery store marketing strategy. Make it purty and they will buy it idea. They win. every. single.time.
I'm also curious what people are buying, cooking, eating, snacking and splurging on.  Especially at the check out ….have you ever just stood there and wondered what the person in front of you is going to cook with all the food they're putting on the grocery belt? I do it all the time. Sometimes it's no brainer and sometimes it's like "what!…you're going to eat that?!" So today, I'm inviting you inside my fridge and laying everything out in case y'all are wondering 🙂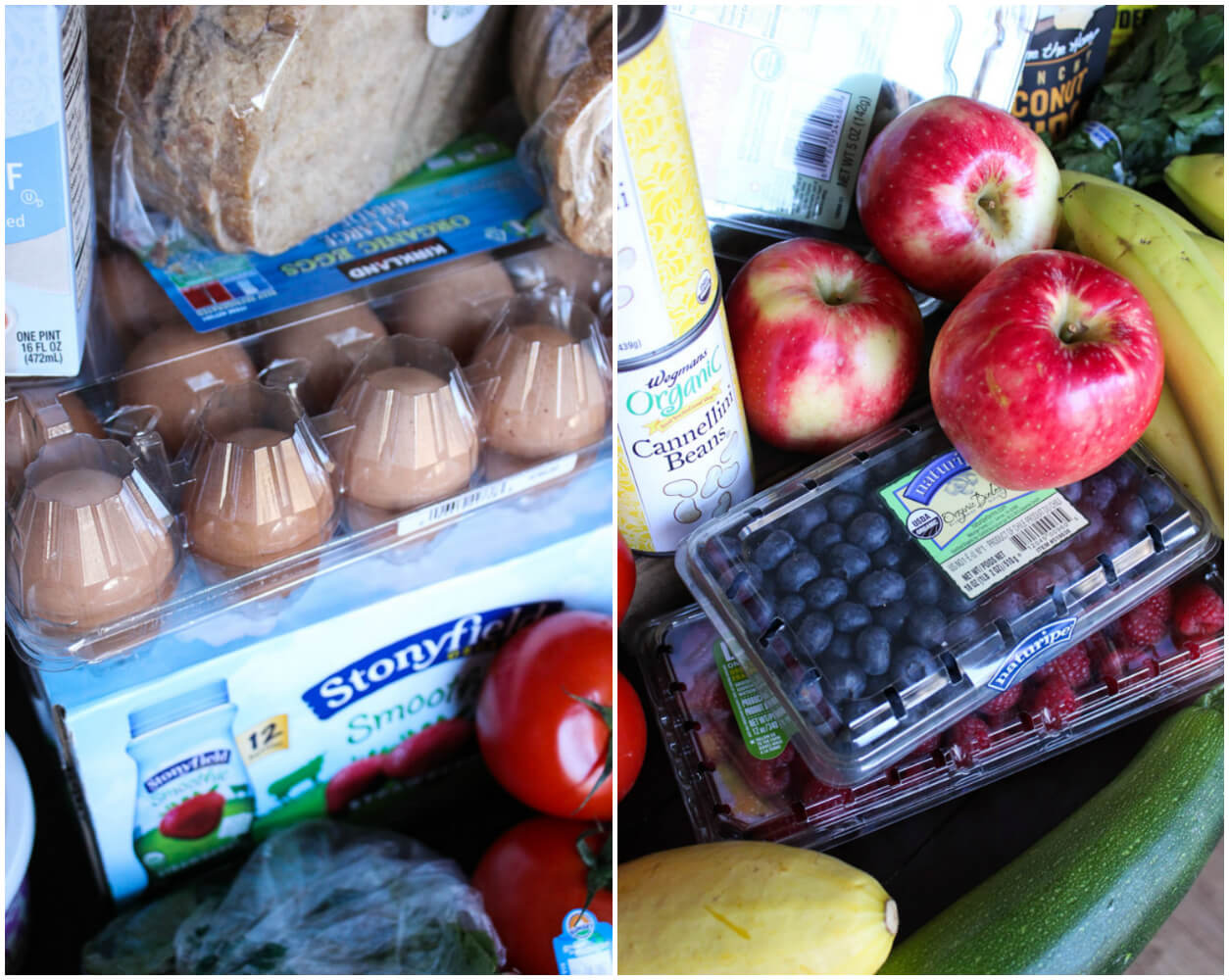 I'll be the first one to admit I kinda went off the wagon over the holidays but glad to report that I'm slowing getting back on track. What you see here is my norm on weekly basis of what I buy and feed myself and my family.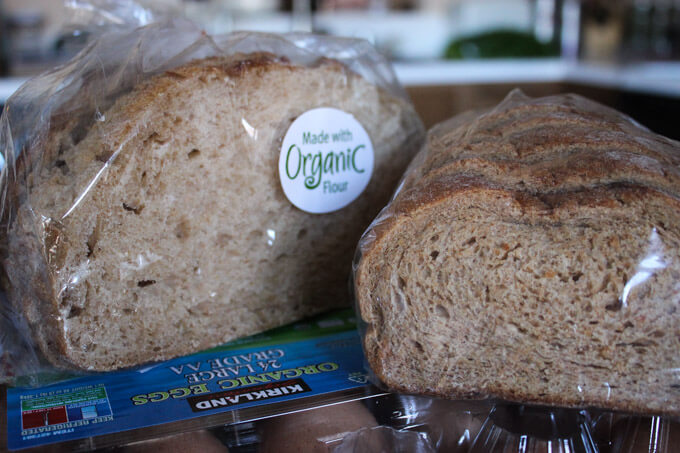 There is no doubt that I'm super passionate about food but more importantly how my food is grown, what it's fed, and where is comes from. By no means am I an expert here nor a health freak. I'm sure I've had my share of MSG and GMO packed foods. I do love my ice cream, potato chips, and anything else that seems like a good idea in the moment. And I do have a six year old who splurges on snacks and treats once in a while. But for the most part, I do read labels, buy organic whenever I can, and consciously are aware of what I'm putting inside my body.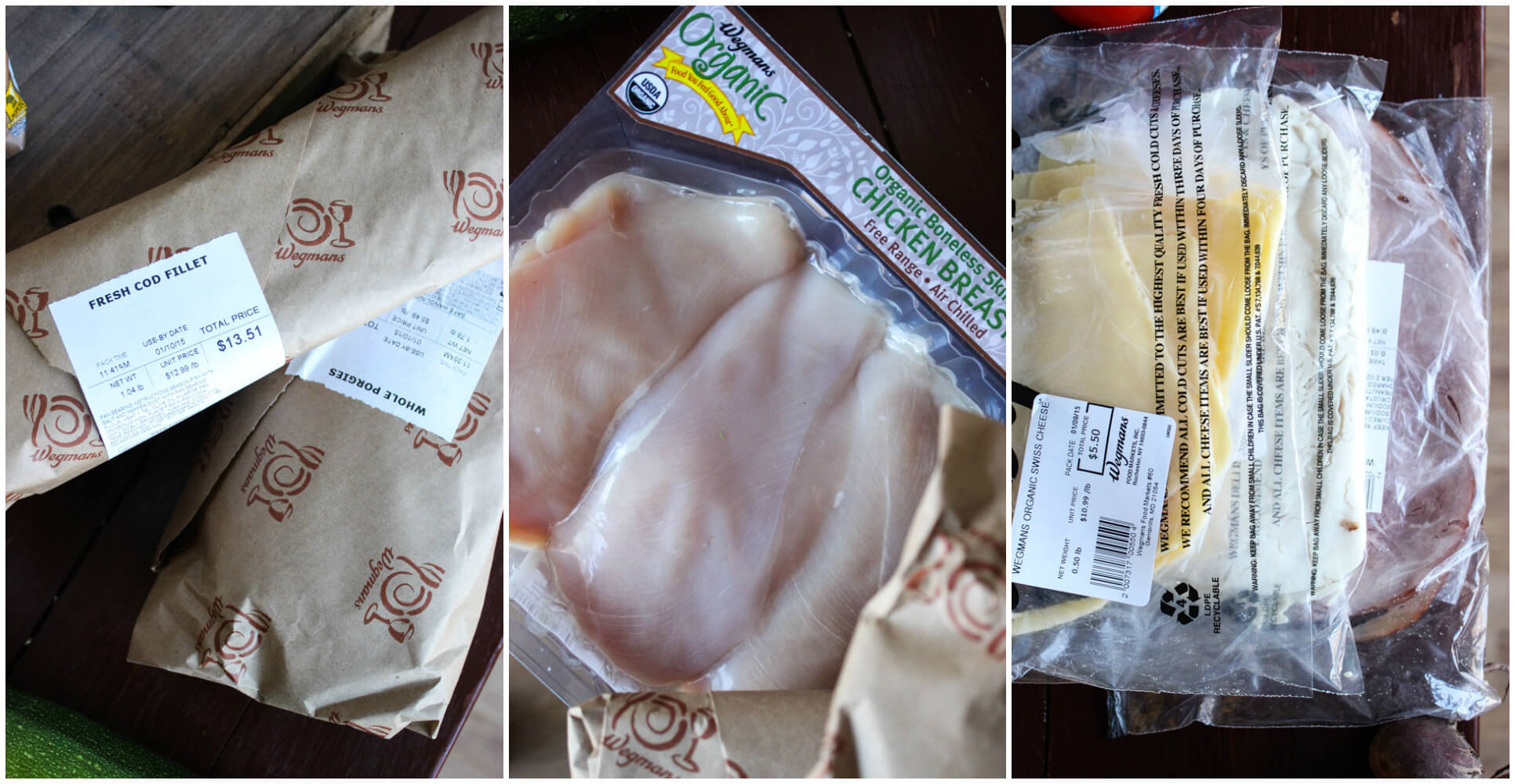 7 Tips for Clean Eating Grocery Shopping
      1. BUY ORGANIC
stick to "dirty dozen" list when buying organic produce. That is the produce with high concentrations of pesticides that should always, whenever possible, be bought organic. Full list here. My rule of thumb, if something has a delicate skin (lettuce, berries, tomatoes, etc.) to buy organic but will pass up organic on something like bananas, watermelon, onions, etc. As far as dairy and meat, I always buy milk and eggs organic (that's something we consume a lot of), as well as all my meat (chicken, beef, lunch meat). Everything else depends on the availability.
       2. BUY WHOLE WHEAT BREAD
look for whole wheat flour or 100% whole wheat flour when buying bread. That should be the first ingredient and only flour listed. Don't fall for wheat flour, unbleached wheat flour, multigrain enriched flour or stone ground wheat flour as they are same as refined white flour. Stay away from anything with high fructose syrup. I normally pick up fresh bread at the grocery store bakery but if I need to pick up bagged sandwich bread, I like Pepperidge Farm 100% Whole Wheat Bread or Arnold 100% Whole Wheat Bread.
        3. BUY SHORT INGREDIENT LIST FOODS
It's no brainer that processed foods are death. Anything in a bag or box I limit as much as possible but certain things I do pick up that are in a box, bag, or can, such as snacks (cookies, crackers) to pack for school lunches, canned beans (I go for organic always as there are no added additives), condiments (stay away from anything with high fructose syrup – ketchups are a good one to be on the look out for! My favorite is Simply Heinz), and certain canned vegetables. My rule of thumb is to always look for short ingredient list, if and when buying processed foods, and to stay away from anything with corn syrup.
         4. BUY WILD-CAUGHT vs. FARM-RAISED FISH
this is something that I recently became aware of but a lot of farm raised fish (not all though) are fed hormones to help fish grow bigger, pesticides to keep the water clean, and artificial dyes to give fish a brighter color. Tilapia is almost ALWAYS farm raised. Wild-caught fish is the way to go and is going to cost you a little more but benefits outweigh all the costs. Good way to ensure you're eating plenty of fish is to plan your meals around the availability of wild caught fish at the grocery store. I normally put fish on my weekly menu but don't indicate type of fish and just go with what I pick up at the store that week. Look for whole fish as it costs less per pound than fillets. Some of my favorites are porgies, branzino, and red snapper.

          5. STAY AWAY FROM MSG
MSG is practically found in every ready-made mix, sauce, dressing, broth and stock you can find in the grocery store. Some manufactures use nonspecific terms such as "natural flavor," "vegetable flavoring" or "flavor enhancers," which are always made from MSG. Also listed as hydrolyzed soy or vegetable protein, textured vegetable protein, and yeast extract. These are some of the popular names used for MSG. If you google MSG, you'll find more names and risk benefits. To ensure you're not eating MSG, make your own dressings, sauces, and stock. MSG can creep up anywhere, just be aware and read labels when buying anything processed.
          6. STAY AWAY FROM GMO's
genetically modified foods. Know how to read your produce labels – anything beginning with a 4 is conventional food, 9 is organic food, and 8 is GMO food. Buy organic, whenever possible, and avoid at risk ingredients that might be derived from GMO's, such as Corn, Soybeans, Canola, Cottonseed, Sugar Beets, Hawaiian Papaya and a small amount of Zucchini and Yellow Squash. If a non-organic product made in North American lists "sugar" as an ingredient (and NOT pure cane sugar), then it is almost certainly a combination of sugar from both sugar cane and GM sugar beets. As far as dairy, look for labels stating No rBGH, rBST, or artificial hormones.
           7. STAY AWAY FROM LIQUID CALORIES
water by far is the only way to go. That's the ONLY drink in our household. I stay away from juices and we do not drink soda. Not only are sodas packed with "rat poison" as my hubby calls it but it's nothing then artificial colors and dyes. I stay away from juices as well as most of them are packed with artificial sweeteners and dyes. I pack daily school lunches for my 6 year old and I'm probably the worst mother ever but he gets bottled water. And honestly, he's not complaining. If I am craving juice, I make my own with a juicer or by way of a smoothie. That way I know exactly what's going in my drink.
Best way to stay healthy is to be educated about foods that we are putting in our bodies. Eating healthy is very personal to me. I lost my father at age of 49 and my mom had a major stroke (at early age of 53) that left her wheelchair bound, so all I can do when it comes to food is be aware of what I am putting in my body. Now I can't prevent everything nor have control over diseases and sicknesses but food is one thing I do have control over and why not take charge of it.