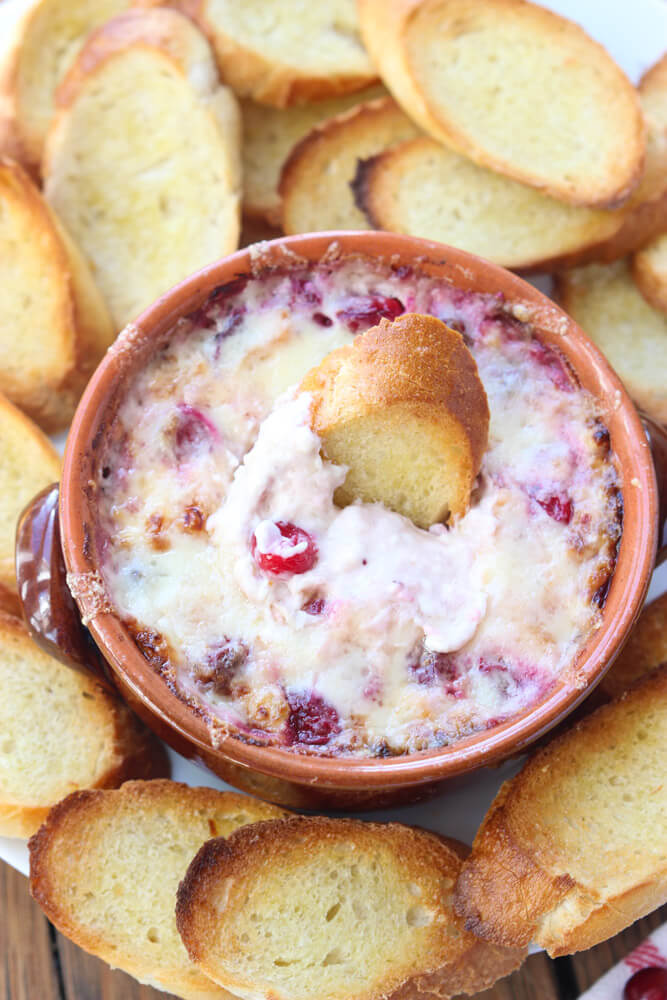 Hello, November!
I'm super excited to kick off this month with a Thanksgiving Countdown!
In case you guys need a reminder but we're about 4 weeks away from Thanksgiving and 8 from Christmas! Crazy, ha? Feels like summer was just here and my baby was starting kindergarten. Now it's November and holidays are literally around the corner and that usually marks the beginning of crazy people on the road, impatient customers everywhere and maxed out credit cards. Sad but true.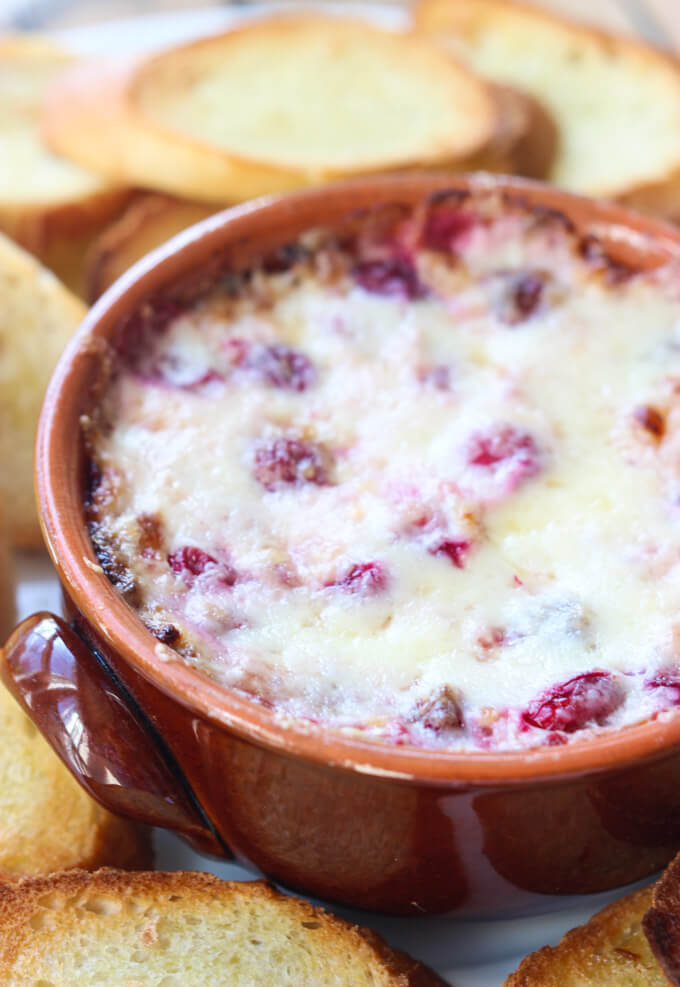 It's easy to get caught up in the commercialized side of the holidays and remember to slow down and reflect on what's important. I know, I'm so guilty of that.  I'm a recovering perfectionist so I used to be that crazy person on the road running late somewhere because of too many commitments and the impatient customer who felt the need to purchase things that she couldn't afford but did it anyways because in her perfect little world everyone had to get a present. (My Oprah moment: "you get a car, you get a car…"). It's a sad picture and I know for sure I'm not alone.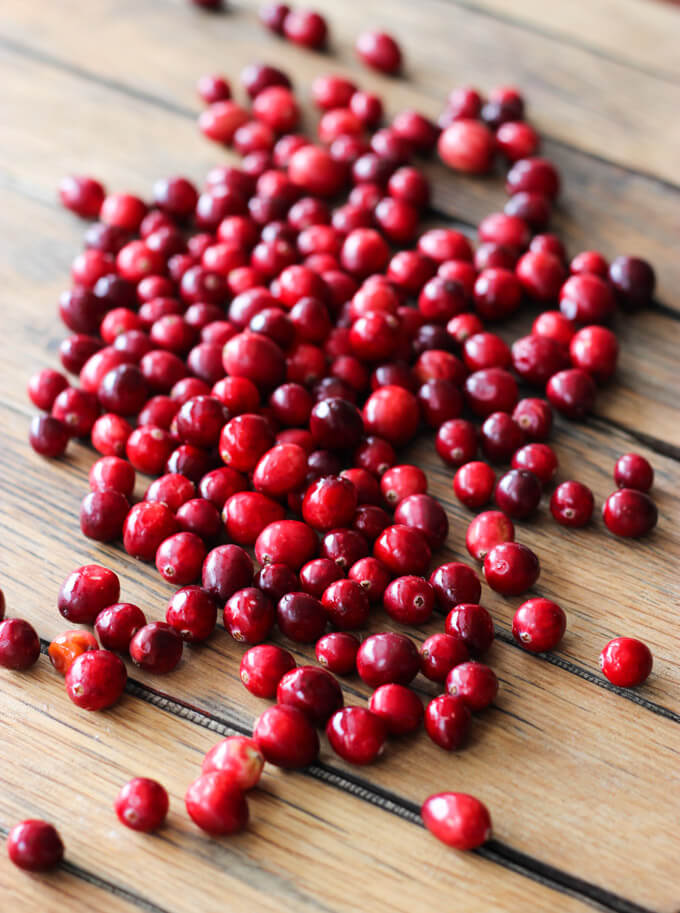 But I've learned to let go of so many superficial things that once seemed so important and focus on time, time with my family and true friends, which in my book is priceless. Time. Everyone wants it but nobody has enough of it. So, how do we make and give more time? Well, I can't give you an extra hour in the day but I can promise to give you some delicious, tasting ideas for Thanksgiving that will hopefully ease the stress of holiday prep, whether you're hosting, attending or crashing a party and hopefully allow more time with the loved ones.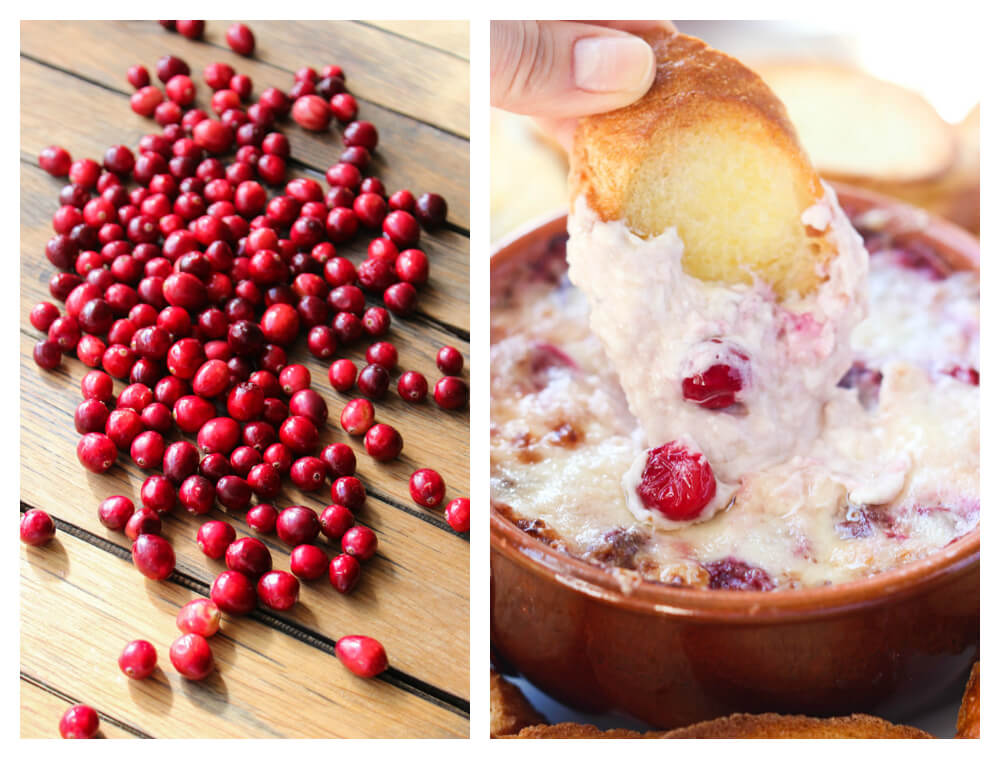 I'll be featuring my favorite Thanksgiving dishes throughout the month of November. Some are oldies and some are newbies. This week it's all about appetizers and White Cheddar and Cranberry Dip is a perfect way to start.
Everybody loves a dip, especially if it's hot and bubbly with gooey cheese. White Cheddar and Cranberry Dip is exactly that, plus more! Only four ingredients: white cheddar cheese, cream cheese, homemade cranberry sauce, and fresh cranberries. All mixed and baked in the oven until bubbly.  End result: salty with a kick of sweetness from the cranberry sauce and MY FAVORITE part, with every bite fresh whole cranberries bursting in your mouth. Yes, please! Anytime. Serve along with homemade crostini that you can prepare while the dip is cooking away in the oven.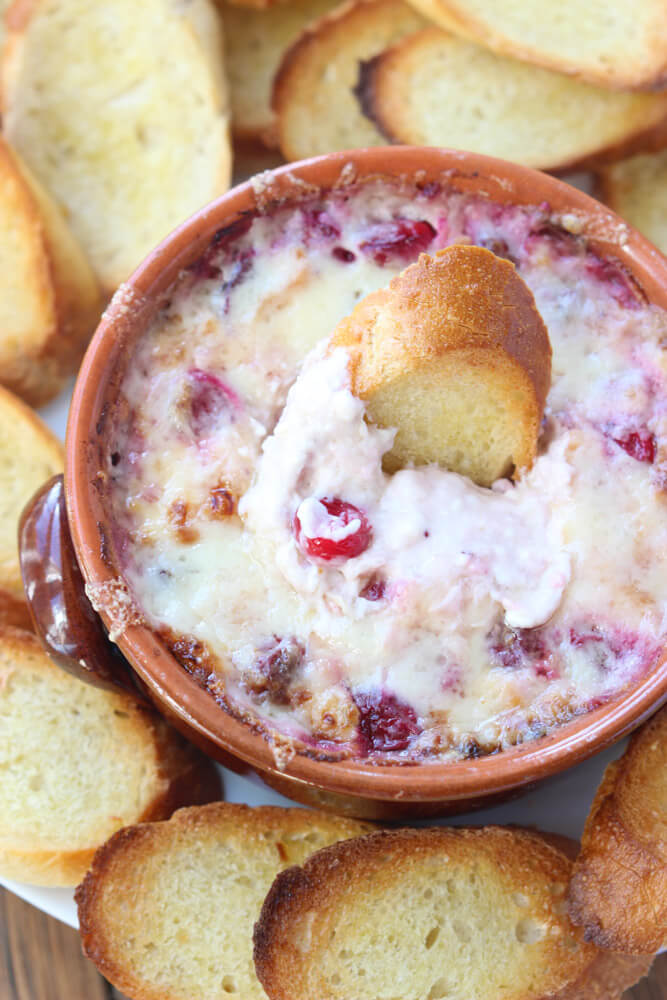 Can we please talk about cranberry sauce? Canned stuff=no good. Homemade=yes good. It is so simple to make and one batch of homemade sauce goes a long way. It can be prepared in advance and stored in the refrigerator. My recipe yields about 2 cups of sauce but you will only need 1/4 cup for this dip. NO worries though! Nothing to waste here…I'll be sharing recipes in the weeks to come featuring this Cranberry Sauce. So make a batch of cran sauce and stay tuned for delicious ideas to come…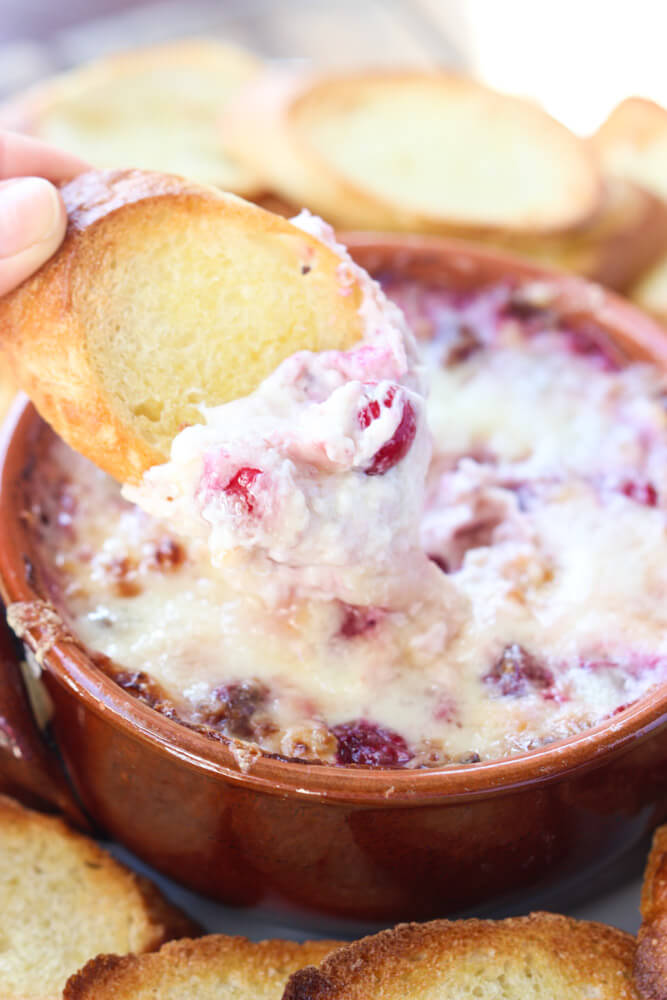 Time Management Tip: prepare the dip ingredients up to one day in advance and store in the refrigerator, covered, in an oven-safe baking dish. When ready to bake, pop in the preheated oven just when your guests begin to arrive. Or if you're bringing the dish to a party, prep it at home and bake it at the party.

White Cheddar and Cranberry Dip
Author:
Katya @ https://www.littlebroken.com
Ingredients
2 cups Extra-Sharp White Cheddar cheese, shredded (2 Tbsp. reserved)
8 oz. cream cheese, at room temperature
¼ cup cranberry sauce (recipe below)
½ cup fresh cranberries
French Baguette
Olive Oil
Cranberry Sauce - yields about 2 cups
1 (12 oz.) bag fresh cranberries, rinsed
1 cup + 2 Tbsp. granulated sugar
3 Tbsp. orange juice
1 Tbsp. lemon juice
¼ cup water
Instructions
Preheat the oven to 375F.
In a bowl, mix together the cheddar cheese and cream cheese. Fold in the cranberry sauce and fresh cranberries. Lightly coat an oven-safe baking dish with non-stick spray and add the dip. Bake on a baking sheet on the middle rack for 18-23 minutes or until heated through and bubbly.
While the dip is baking, slice the baguette on a diagonal and arrange the slices in a single layer on a baking sheet. Brush tops of slices with olive oil.
After the dip is done baking, switch the oven to broil. Sprinkle the reserved cheddar on top of the dip; broil the dip and the prepared baguette slices for 1-2 minutes or until lightly brown and toasted. (Keep an eye on both as they burn easily).
Cranberry Sauce
Add all the ingredients to a medium saucepan.
Cook over medium-low heat, partially covered, stirring occasionally, until the sugar dissolves and the cranberries burst, about 15-20 minutes.
© Little Broken. All images and content are copyright protected. Please do not use my images without prior permission or claim my work as your own. Feel free to Pin, Tweet, Facebook and share away with a link back to the recipe post. If you want to republish this recipe, please re-write the recipe in your own words and link back to this recipe.