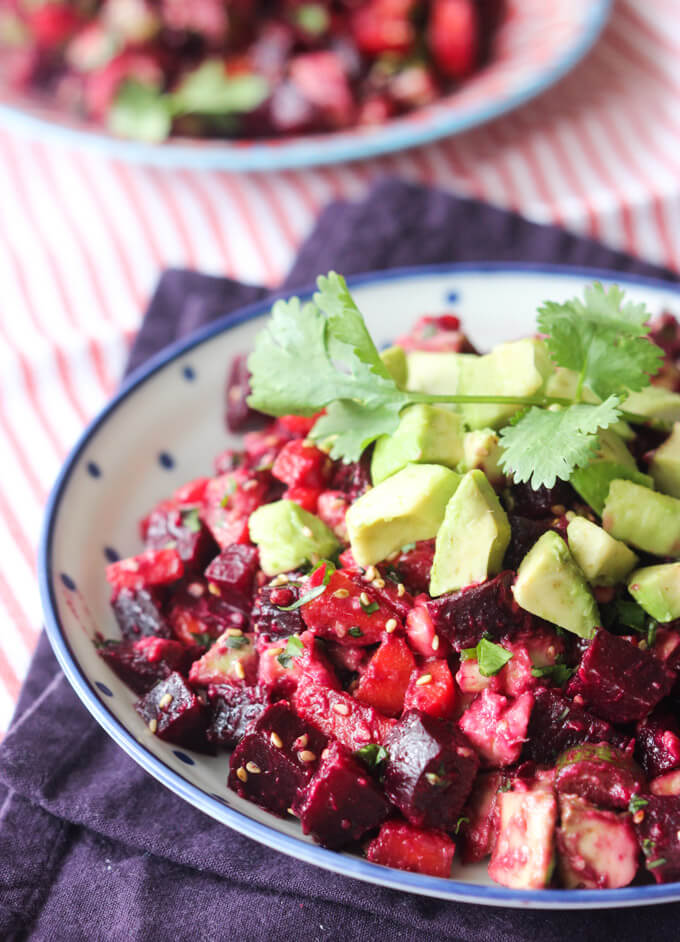 My recollection of eating beets growing up were either in a salad form (Shuba, Vinegret) or Borscht (beet soup). First salad is pretty much non-existent in my house today just because I'm not a fan of mayo based salads and second salad I make on occasion as well as Borscht. But other than that, I recently realized that I don't know how to prepare beets in any other form. When I should be all over them as they are naturally sweet, low in calories and high in fiber. Super good and healthy!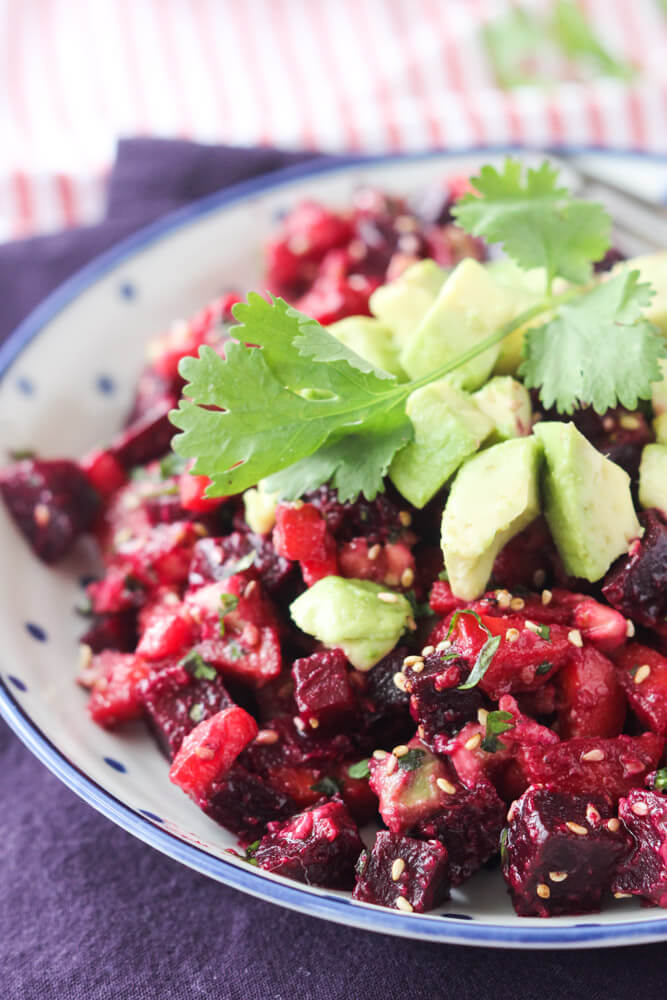 So, I'm branching out a little today and sharing my version of a Beet Salad, which is full of surprises, from the avocado to fresh ginger to toasted sesame seeds. It's colorful, beautiful and very healthy.
I made two versions of it. First time around, I did not cook the beets nor the carrots. Instead, I chopped them up raw and it was okay but I like the taste of cooked beets better. Much softer and sweeter to taste. So I cooked the carrots and beets second time around and everything else went in raw. It's an oil and vinegar based salad with little bit of fresh lemon juice to give it some zest. All the flavors come together very nicely. From the sweet beets to crunchy celery, creamy avocado, nutty sesame seeds and unexpected kick from the fresh ginger. It's an easy side salad that you can make in no time.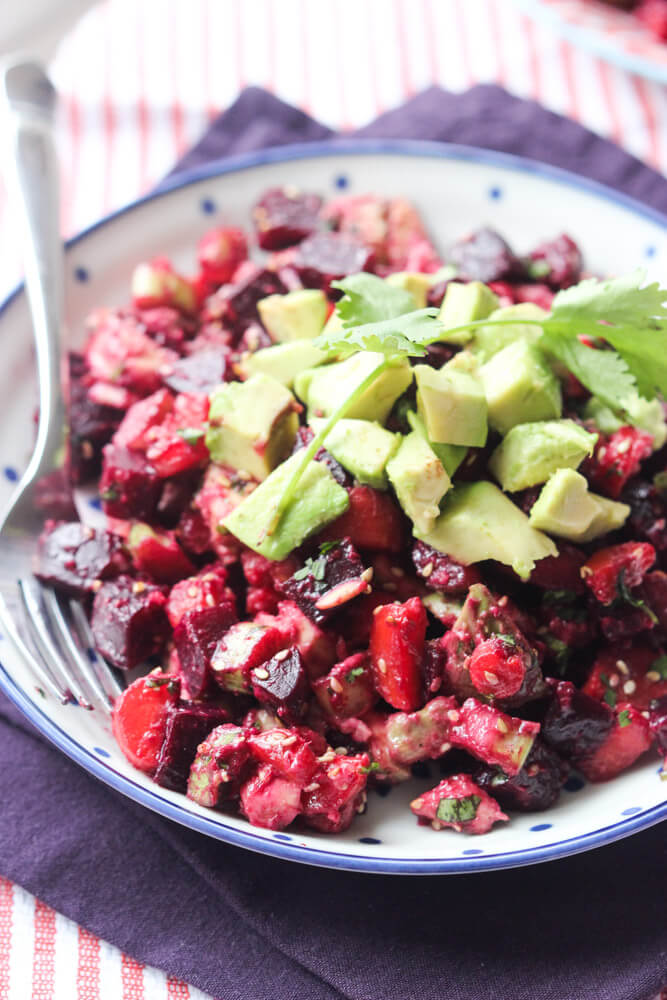 I like it best when chilled for atleast 20 minutes or overnight. If chilling overnight, I would recommend waiting to add the avocado just before serving as there is nothing worse than a brown avocado! To save time and allow the cooked veggies to chill the max. You can cook the veggies a day in advance and chop everything else the next.

Beet Salad
Author:
Katya @ https://www.littlebroken.com
Ingredients
4 small/medium carrots, halved
4 small/medium beets, greens/stems cuts off
2 celery ribs, chopped
1 avocado, chopped
½ tsp. fresh ginger, minced
1 Tbsp. fresh cilantro, chopped
1 Tbsp. toasted sesame seeds
1 tsp. fresh lemon juice
3 Tbsp. extra-virgin olive oil
1 Tbsp. balsamic vinegar
salt and pepper
Instructions
Place unpeeled carrots in a pot of boiling water and cook until knife tender, about 10-15 minutes.
While the carrots are cooking, do the same with beets. Place unpeeled, whole beets in a pot of boiling water and cook until knife tender, about 30 minutes. Drain both and cool. Once cooled, peel the carrots and beets; cut both into cubes.
Transfer the cubed carrots and beets to a large bowl; add the remaining ingredients. Season with salt and pepper. Gently mix and chill in the refrigerator for at least 20 minutes or overnight.
Notes
If chilling the salad overnight, omit the avocado until ready to serve to avoid having brown avocado.
adapted from a cookbook: unknown
© Little Broken. All images and content are copyright protected. Please do not use my images without prior permission or claim my work as your own. Feel free to Pin, Tweet, Facebook and share away with a link back to the recipe post. If you want to republish this recipe, please re-write the recipe in your own words and link back to this recipe.