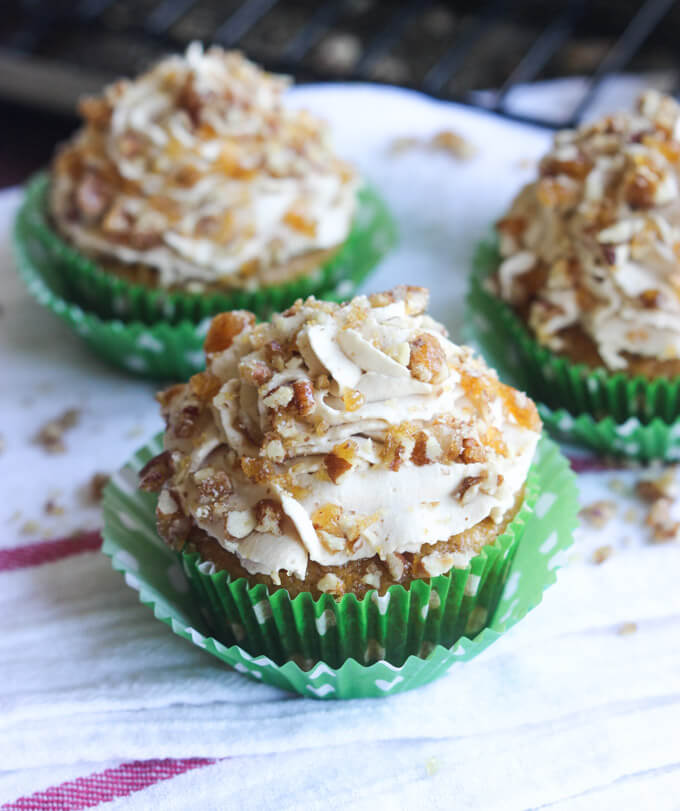 It's been too long since I shared a cupcake recipe! Personally, I love miniature desserts and cupcakes fit right in that title. Now, I know, there's cupcakes in all shapes and sizes out there but when compared to a cake, I feel like they're still "miniature." Plus everyone loves a cupcake! Super easy to serve and nobody has any idea how many you've had since you're not slicing chunks off a whole cake. Yeah, I like it that way.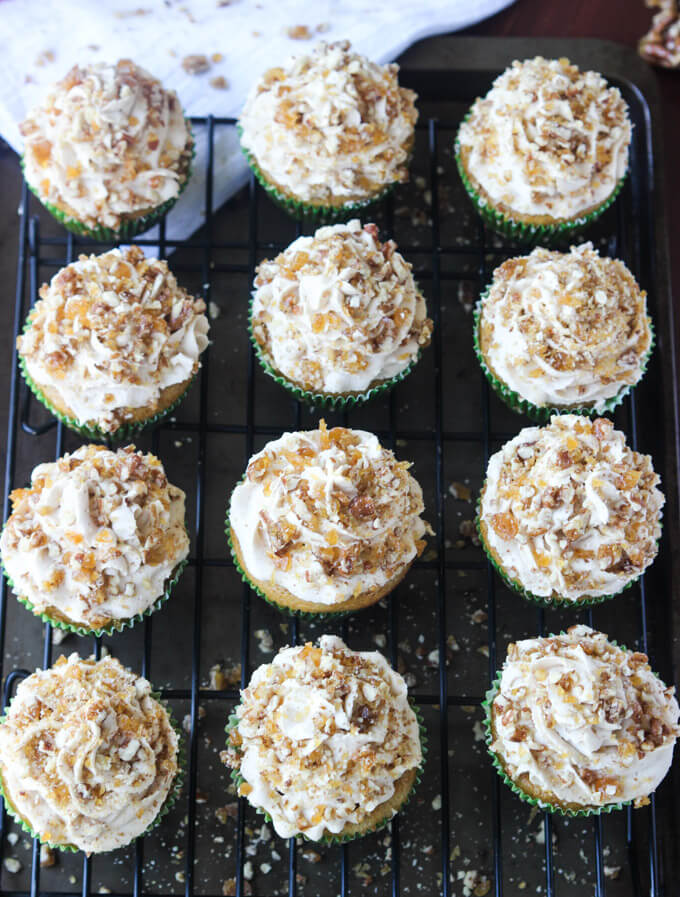 I get intimidated by the whole cake baking since it don't happen often in this house. Did I use the correct size eggs? Did I overmix the batter? Do I need to pack brown sugar or just scoop? And don't even start me on decorating…not my cup of tea. You know what I mean? On the other hand, I have yet to screw up a cupcake recipe and for the most part can manage to make them look somewhat decent. I baked a minion cake for my little birthday boy couple weeks ago and let's just say I spent the whole morning decorating that thing and it still looked a five year old did it (it tasted good though..that's the most important part, right?).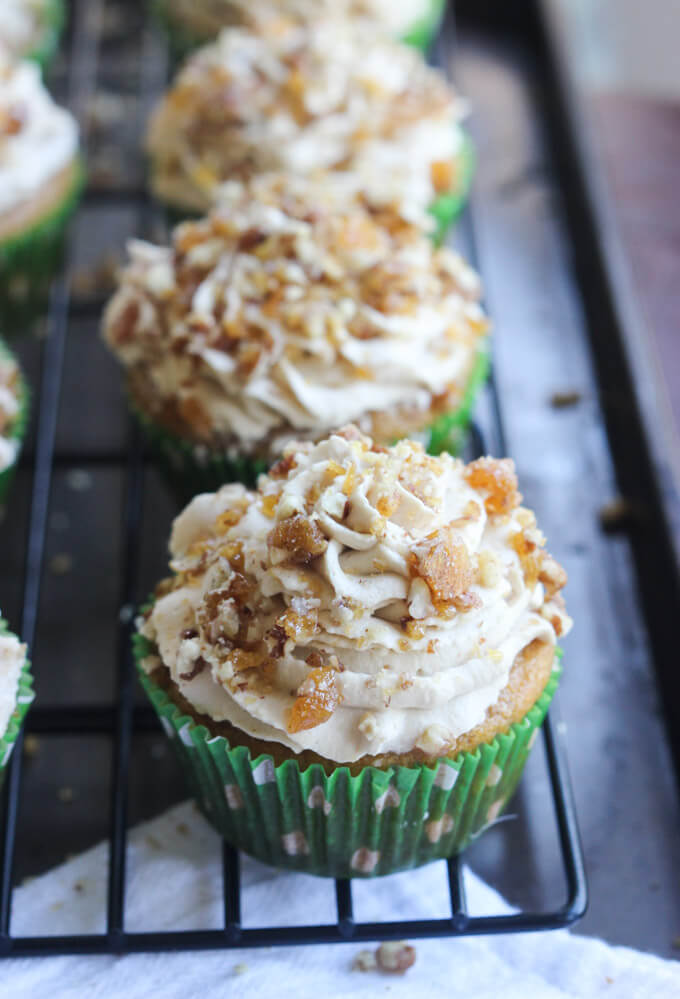 Cupcakes, well cupcakes are easy, fun, cute, and everyone loves them! So what's a better way to embrace the fall smells, colors, and flavors than by making pumpkin cupcakes but not just pumpkin cupcakes with frosting but Pumpkin Cupcakes with Whipped Brown Sugar Cream and Pecan Praline! Yes, yes, and yes! I've been wanting to make them since we officially entered fall. It's a treat that I make every year around the holidays that has become a regular in my fall baking or the only baking I should say. It's a delicious pumpkin spiced cupcake spiked with fresh orange zest, topped with the most simple but creamiest whipped brown sugar cream and sprinkled with pecan praline! That pecan praline is the bomb.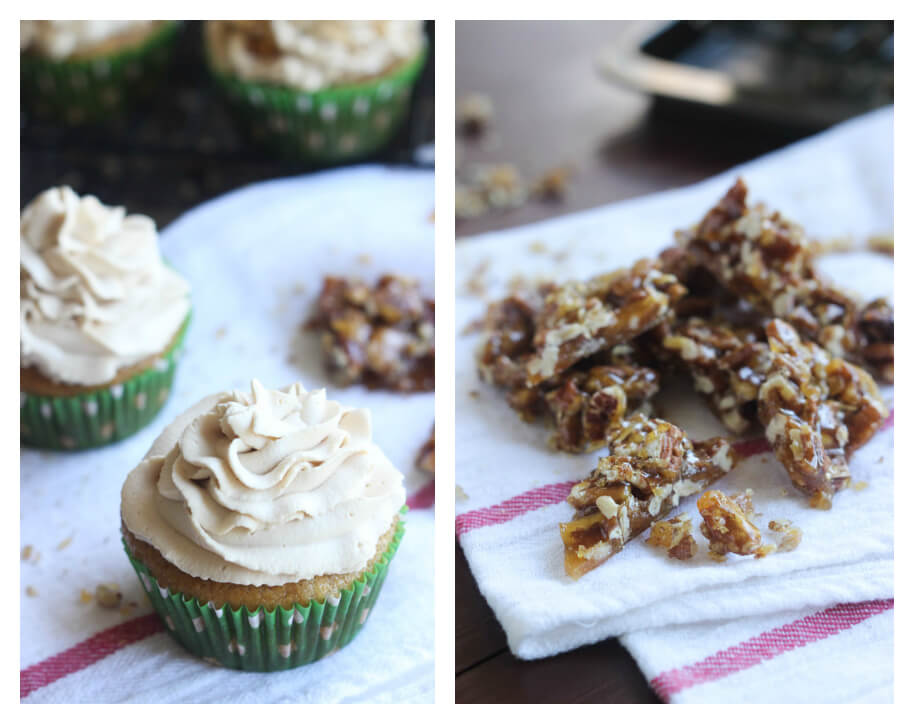 The original recipe is a cake recipe that I've acquired from I can't even tell you where. I've had the recipe glued into one of my recipe books forever, so we'll just say it's from a magazine. But converting a cake recipe into cupcakes is actually quite simple as long as it's a simple butter-sugar-egg type recipe and not cheesecake or angel food cake. Those can be a little challenging and will require a little more expertise in the baking department, which we know is not my department. Two -8 inch layers of cake yield about 24 cupcakes just to give you an idea. I did not change the oven temperature and kept it right at 350F as the cake recipe. The baking time though I did adjust and I went with the standard 15-20 minute requirement for the cupcakes. It took exactly 15 minutes to bake the cupcakes but it may vary a bit for everyone, all depending on the oven. They came out absolutely perfect. Soft, tender, and tasty!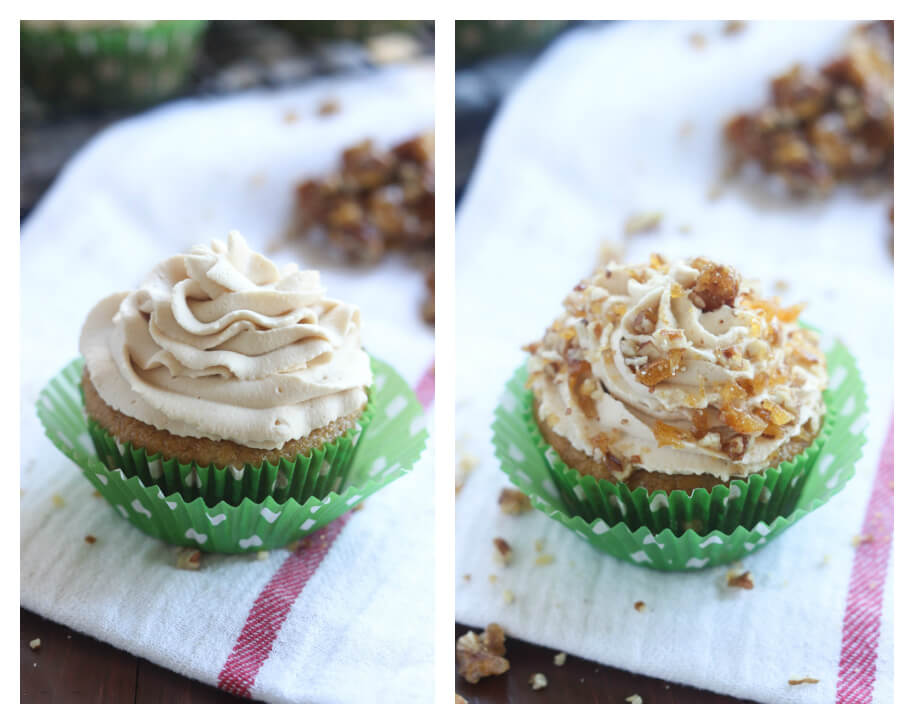 The whipped brown sugar cream is absolutely heavenly, with only 3 ingredients and perfect for frosting cupcakes or spreading on top of any cake. What makes these cupcakes so unique is the pecan praline. Granulated sugar + pecans and you have a simple crunchy sugar candy topping that works for these cupcakes or any other dessert. And if pecans are not your thing, try walnuts or almonds.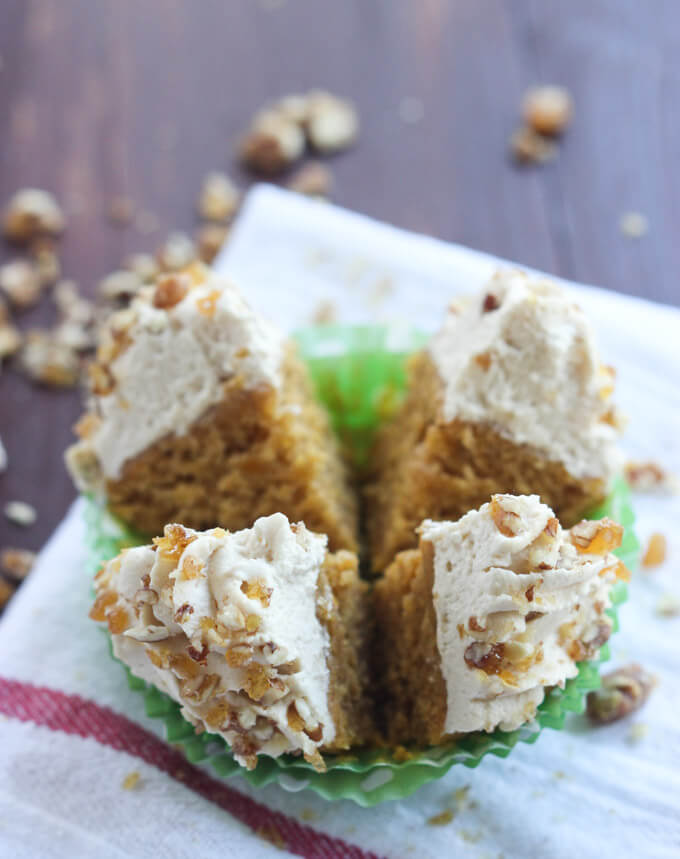 Pumpkin Cupcakes with Whipped Brown Sugar Cream and Pecan Praline
Author:
Katya @ https://www.littlebroken.com
Ingredients
3 cups granulated sugar
2 cups pecans, whole
2½ cups flour
1 Tbsp. pumpkin pie spice
1 tsp. salt
1 tsp. baking powder
1 tsp. baking soda
2 sticks (8 oz.) unsalted butter, at room temperature
2 cups packed brown sugar
4 large eggs, at room temperature
¾ cup milk
grated zest of 1 orange
1 (15 oz.) can pure pumpkin puree
3 cups heavy creamy, chilled
2 tsp. pure vanilla extract
Instructions
Line a baking sheet with parchment paper.
In a large skillet, melt 2 cups of granulated sugar over medium-high heat until light amber. Reduce the heat to low, add the pecans and quickly stir to coat. Transfer the pecans to the prepared baking sheet, spreading in a single layer to cool. **I found that a metal spatula works best for this step. You also want to do this quickly as the sugar sets and hardens really quickly. It does not have to be in a perfect single layer just spread enough to cool.**
Once cool, place the praline in a large ziploc bag and crush into pieces, using a rolling pin or a heavy object; set aside.
Preheat the oven to 350F.
Line 24 cup standard-size cupcake pan with liners.
In a bowl, sift together the flour, pumpkin pie spice, salt, baking powder and baking soda. Using an electric mixer, beat together the butter, ½ cup brown sugar and remaining 1 cup granulated sugar until light and fluffy. Add the eggs, 1 at a time, beating until combined.
Beat in the flour mixture in 3 parts, alternating with the milk and orange zest on low speed. Add the pumpkin puree and beat until combined.
Fill the cupcake liners ¾ of the way full, using a medium ice cream scoop (about 2 scoops).
Bake cupcakes for 15-20 minutes or until a toothpick inserted in the center comes out clean. Cool on a rack.
Using a hand mixer or standing mixer, whip the cream on medium speed until soft peaks form. On low speed, gradually beat in the remaining 1½ cups brown sugar and the vanilla extract until stiff peaks form. **I found that sprinkling in the brown sugar with yours hands vs. dumping, leaves the whipped cream lump free** Cover and refrigerate until ready to use.
Frost the cupcakes by using a piping bag and a decorative tip of your choice (I used Wilton tip #2D). You can also spread the cream using a knife or a small spatula. Chill the frosted cupcakes in the refrigerator for 15 minutes. Once chilled, sprinkle with crushed pecan praline. Enjoy!
Notes
Whipped cream and pecan praline yields a little more than required for the amount of cupcakes in this recipe. Cover and refrigerate the whipped cream up to 3 days. Use a top of your favorite pancakes, waffles or desserts. Pecan praline can be stored in a tight container at room temperature.
© Little Broken. All images and content are copyright protected. Please do not use my images without prior permission or claim my work as your own. Feel free to Pin, Tweet, Facebook and share away with a link back to the recipe post. If you want to republish this recipe, please re-write the recipe in your own words and link back to this recipe.