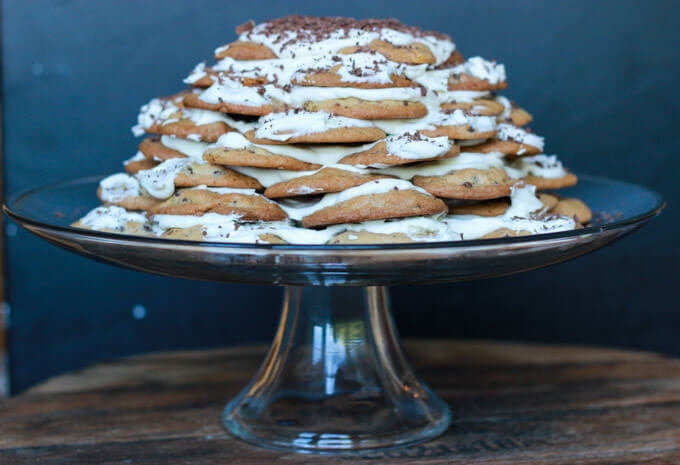 Chocolate chip cookies. My favorite: chewy, warm, with cup of coffee. Perfection.
There's something very homey about putting a batch of cookies in the oven and watching them bake into perfect, chewy, warm chocolate chip cookies.  No matter how many times I make cookies, this transformation never gets old. I think the combination of butter, brown sugar, vanilla, and chocolate is delicious, particularly when they are both crunchy and chewy. Oh, my my! My mouth is salivating just from typing this but I think because my body is in "no sugar coma" (yeay day 2 to #whole30, 28 more to go!).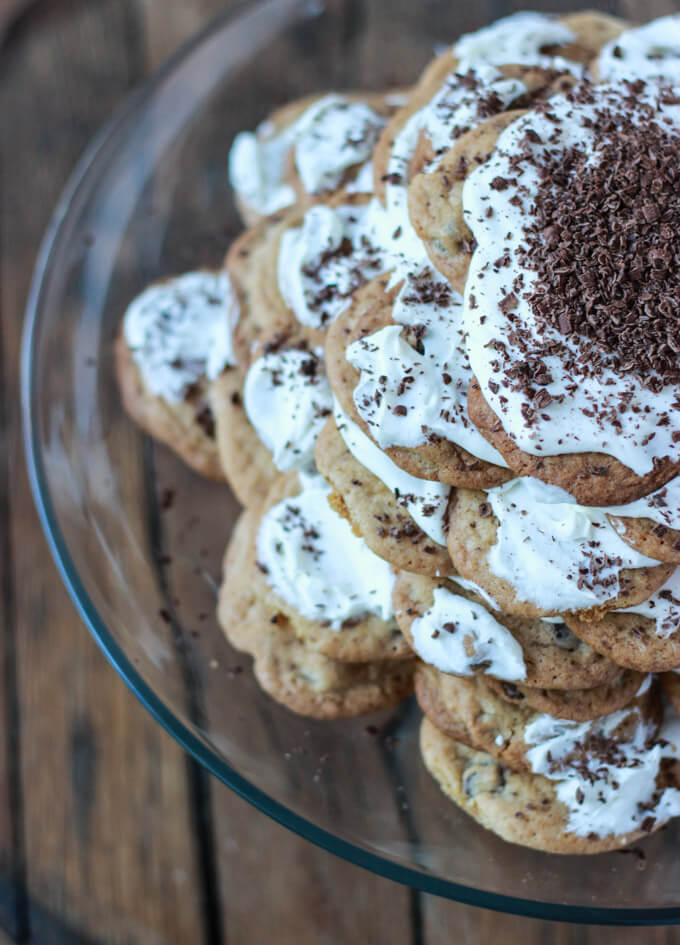 I love to bake cookies with my little guy. Two of my best worlds. My kitchen and time with my child. Plus, what child doesn't like eating cookie dough or chocolate chips out of the bag?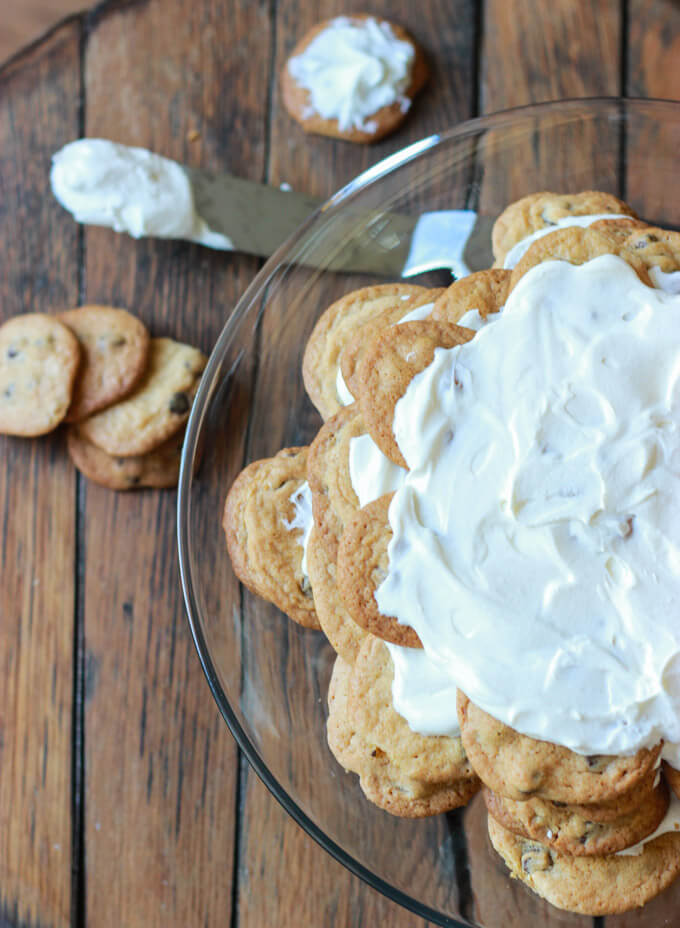 This little cake is such a fun idea for any party! We had  too much fun putting it all together.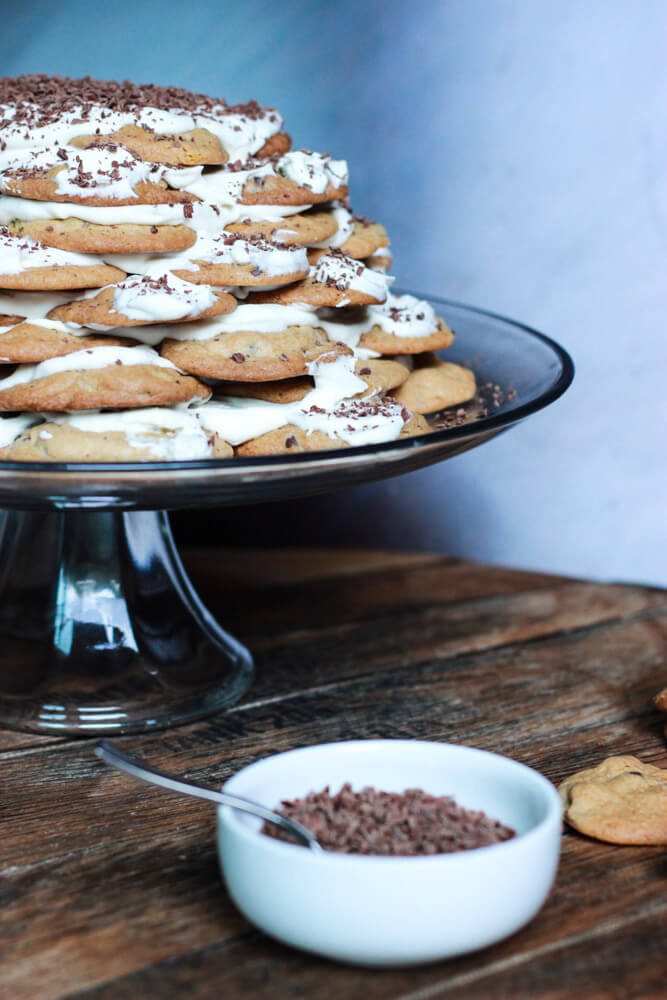 Eight dozen chocolate chip cookies baked until crispy and layered with cream to form "cake" layers. Sprinkled with chocolate shavings. Refrigerated overnight (covered). Cookies soften and cake can be cut into traditional cake slices.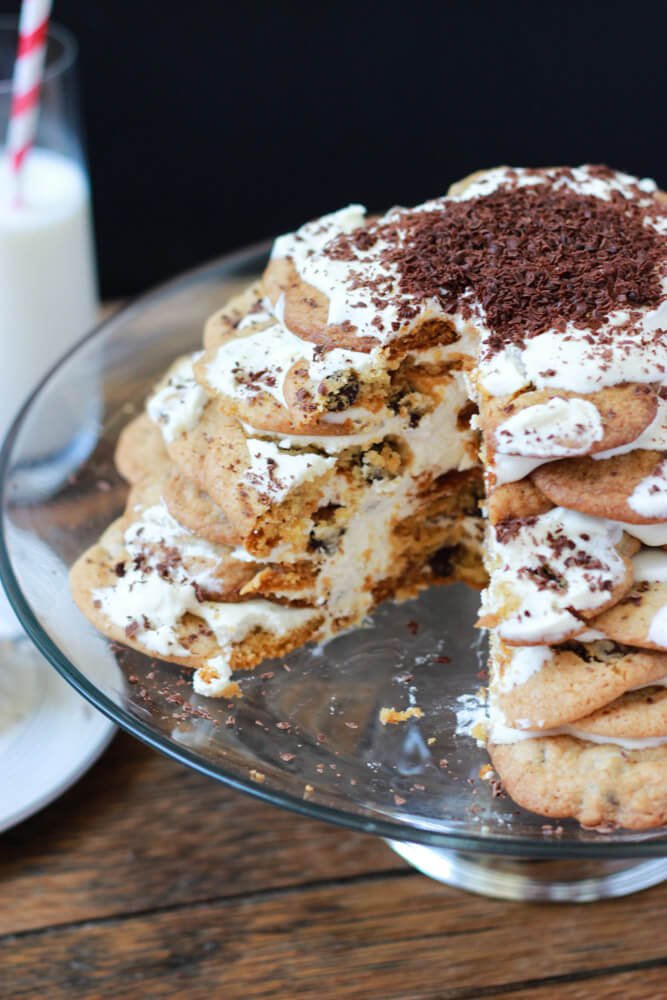 I also love the idea of getting creative and instead of chocolate shavings, using chopped nuts , candies, or maybe even fruit. Easy, fun, and calling my name after 28 days that is (gulp!).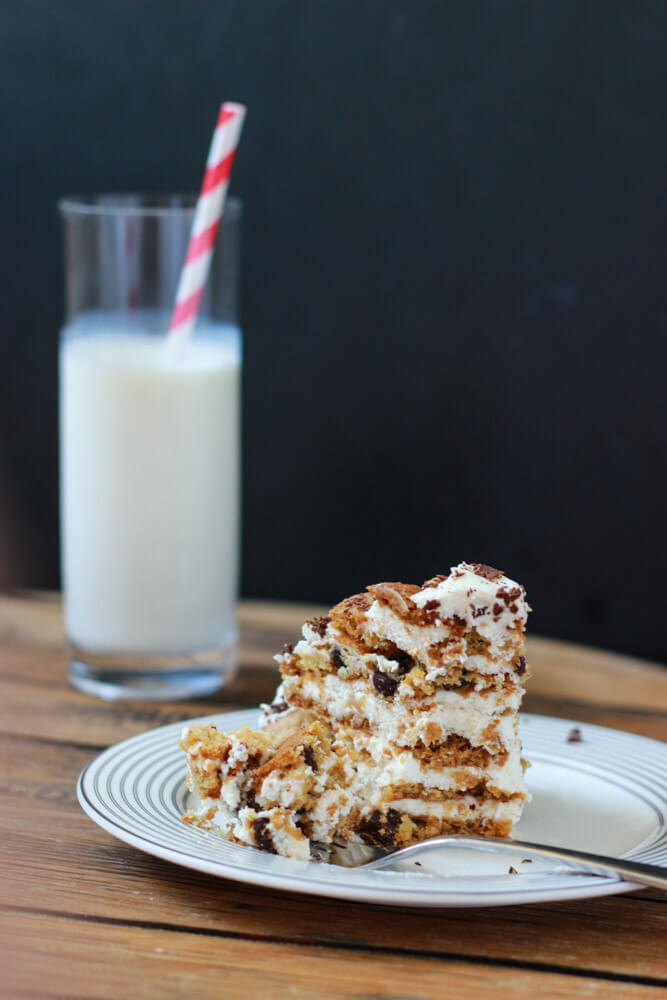 Chocolate Chip Cookie Cake
Author:
Katya @ www.littlebroken.com
Ingredients
Chocolate Chip Cookie Base
2¼ cups all-purpose flour
1 tsp. baking soda
1¼ tsp. salt
2 sticks unsalted butter, room temperature
1½ cups light-brown sugar
¾ cups sugar
2 eggs
2 tsp. vanilla extract
12 oz. semi-sweet chocolate chips (2 cups)
Cake
3 cups cold heavy cream
8 oz. mascarpone cheese
2 Tbsp. sugar
1 Tbsp. Grand Marnier (optional)
8 dozen Chocolate Chip Cookies
Chocolate shavings, for garnish
Instructions
Chocolate Chip Cookie Base
Preheat oven to 350F.
In a medium bowl, sift together flour, baking soda, and salt.
In a large bowl with a mixer, beat butter and both sugars on medium-high speed until pale and fluffy. Lower the speed to low and add eggs, one at a time. Add flour mixture in three additions. Beat in vanilla and mix in chocolate chips.
Scoop 1 tablespoon of cookie dough onto a baking sheet approximately 1 inch apart. Bake for 14-16 minutes until cookies are crisp. Transfer to a wire rack and cool. Makes approximately 8 dozen 2-inch cookies.
Cake
In a large cold bowl, beat heavy cream and mascarpone with a mixer on low-medium speed until soft peaks form. Add sugar and Grand Marnier. Continue to beat until medium-stiff peaks form. If not using right away, cover and refrigerate (up to 3 hours).
On a 12-inch platter or cake stand, arrange approximately 9 cookies in a circle so they are touching. Place however cookies needed in the center to fill the space. Spread approximately 1 cup of cream evenly over cookies, leaving a small border on the outside. Repeat to form however many layers you like (I had 8 layers), ending with cream. Garnish with chocolate shavings or any other fun topping such as candies, nuts or fruit.
Notes
You will have little bit of leftover cookies.
Recipe adapted from
Martha Stewart
© Little Broken. All images and content are copyright protected. Please do not use my images without prior permission or claim my work as your own. Feel free to Pin, Tweet, Facebook and share away with a link back to the recipe post. If you want to republish this recipe, please re-write the recipe in your own words and link back to this recipe.