This week has been raining cats and dogs! We were under every warning you can think of: flood, flash, tornado, etc. You name it but sometimes you just gotta make the most of it.
I love everything about the rain though: smell, calming, makes me more reflective and creative. Plus I love being snuggled at home with a cup of tea behind my lap top. Unfortunately my week has been the opposite. I've been on the go since getting back from FL. Work at the office, work at home, unpacking, laundry, grocery shopping…
You know how it is, right? Need a day off from being away but I'm not complaining. I'm feeling very grateful and blessed for everything in my life. So today, I can finally catch up on my fav bloggers, cook up something delicious and paint my nails something bright and cheery. Today is a good day!
So lately, I've been on a Mexican kick (Exhibit 1: Chopped Mexican Salad with Honey-Lime-Cilantro Vinaigrette anyone?) but I'm always on a Mexican kick. I love Mexican food. I think it's the warmer days that make me crave everything and anything avocado (Exhibit 2: Skinny Avocado Pizza) and ice, cold drink.
We don't go out often for Mexican food as I feel it's so easy to make at home (and healthier too) but when we do there's a little place locally that makes their own fresh guac in front of your table. Oh, I can order a bowl and I'm a happy girl!
This is a traditional guacamole recipe with a little bit of a twist: mango!
Sweetness of a ripe mango combined with a creamy, buttery, smooth taste of avocado is perfection in a bowl. I add heaps of cilantro to my guacamole as it tastes fresh and almost citrus like to me. It doesn't get more simple and delicious than that!
Love to know your favorite guac combinations?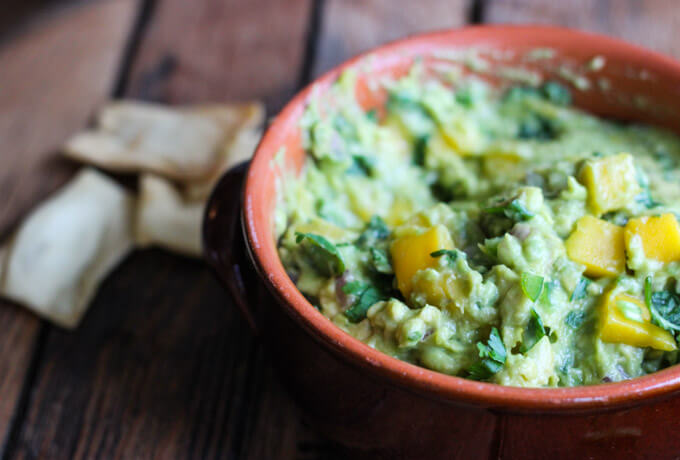 Mango Guacamole
Author:
Katya @ www.littlebroken.com
Ingredients
2 ripe avocados, halved and seeded
1 ripe mango, peeled and cubed
¼-1/2 cup red onion (depending on personal taste), finely chopped
1 jalapeno, seeds removed and finely chopped
¼ cup fresh cilantro, chopped
2 Tbsp. fresh lemon juice (approx. juice of 1 lemon)
sea salt
Instructions
In a medium bowl, mash the avocados with a fork until somewhat chunky.
Add mango, onion, jalapeno, and cilantro. Add the lemon juice and season with salt. Mix well.
Serve immediately or refrigerate until chilled.
© Little Broken. All images and content are copyright protected. Please do not use my images without prior permission or claim my work as your own. Feel free to Pin, Tweet, Facebook and share away with a link back to the recipe post. If you want to republish this recipe, please re-write the recipe in your own words and link back to this recipe.