Balsamic pesto ricotta flatbread with zucchini, corn, tomatoes, spinach, and three cheeses! It's the ultimate veggie loaded summer appetizer.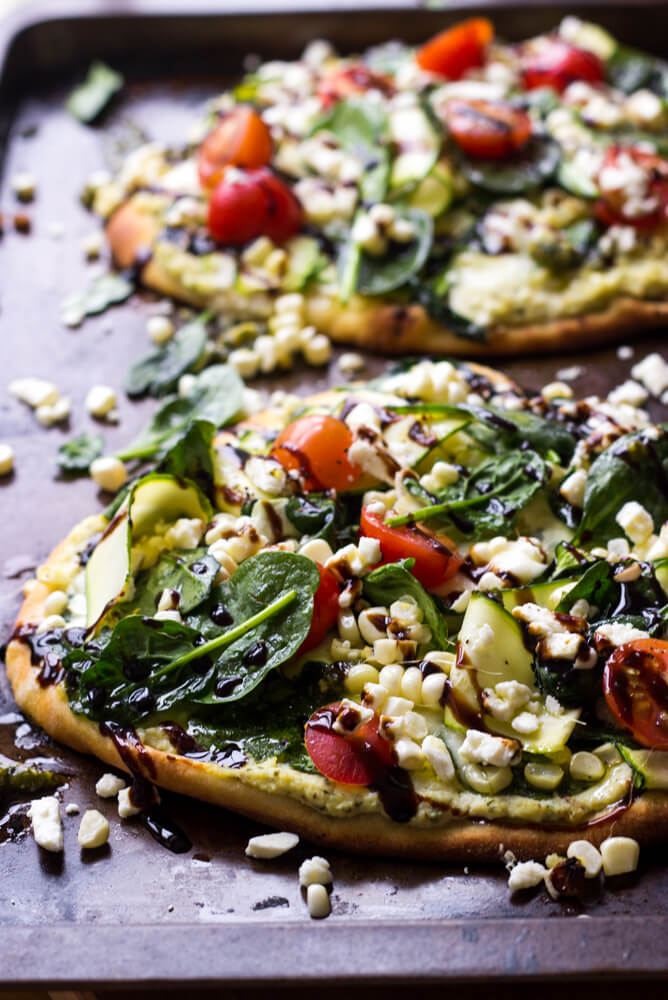 Today is a happy day! It's Friday, sun is partially shining, and I made a summer appetizer that is loaded with all kinds of fresh veggies. Doesn't get much better than that!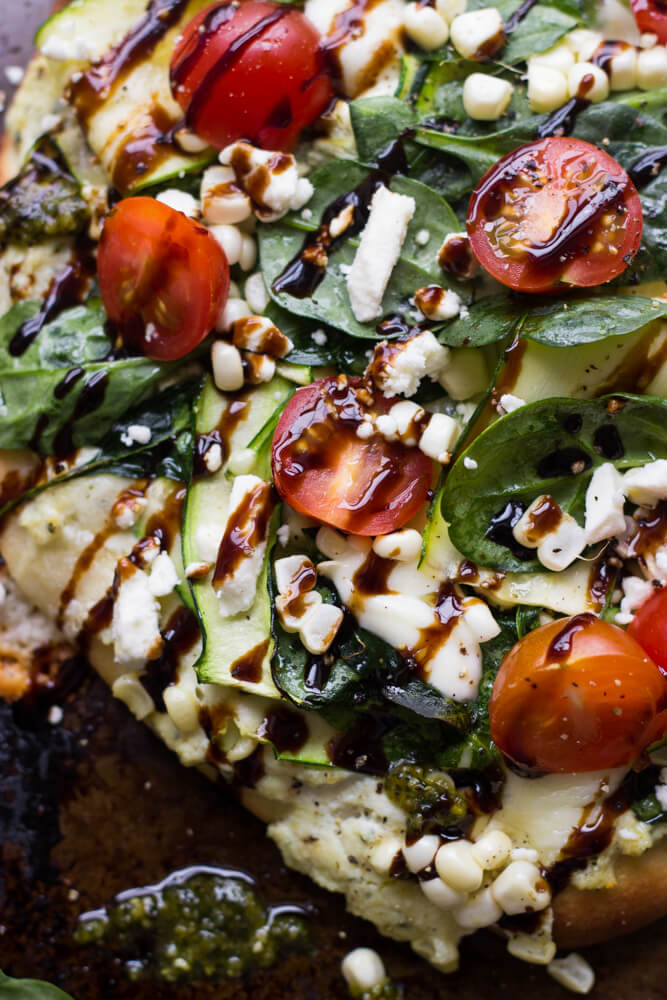 I love meals like this for Friday nights or the weekends. It can be an appetizer or a light lunch/dinner. We hardly ever cook on Fridays as it's usually leftovers or take out for us. This balsamic zucchini flatbread, however, I don't mind cooking because there's hardly any involved!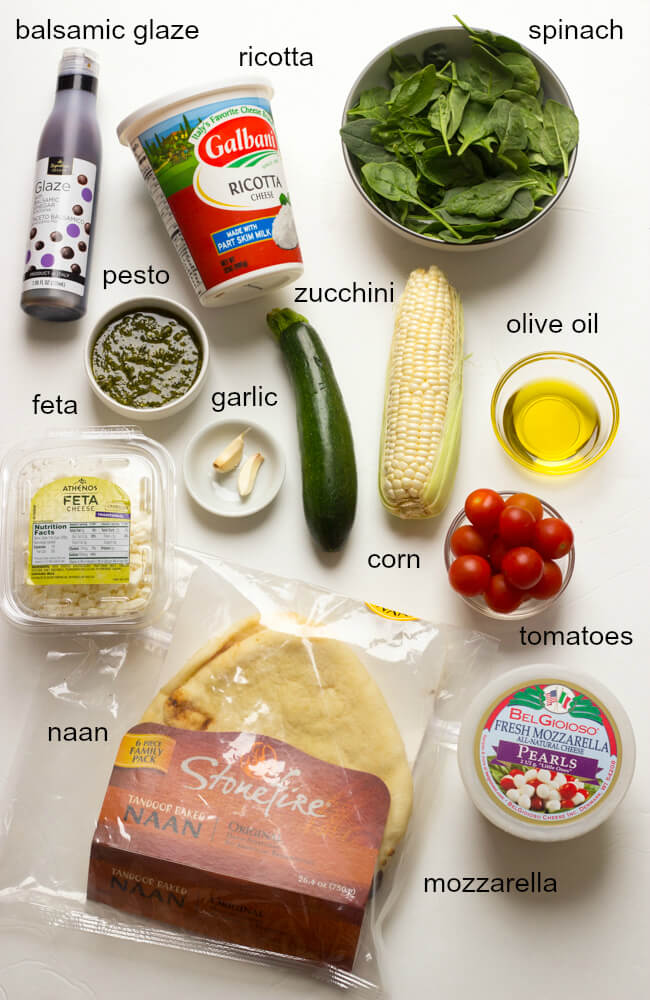 It comes together in less than 25 minutes with so many delicious layers. I love flatbreads probably because there's no dough or complicated steps involved. It's almost like a lazy pizza and this one could not be any more easier.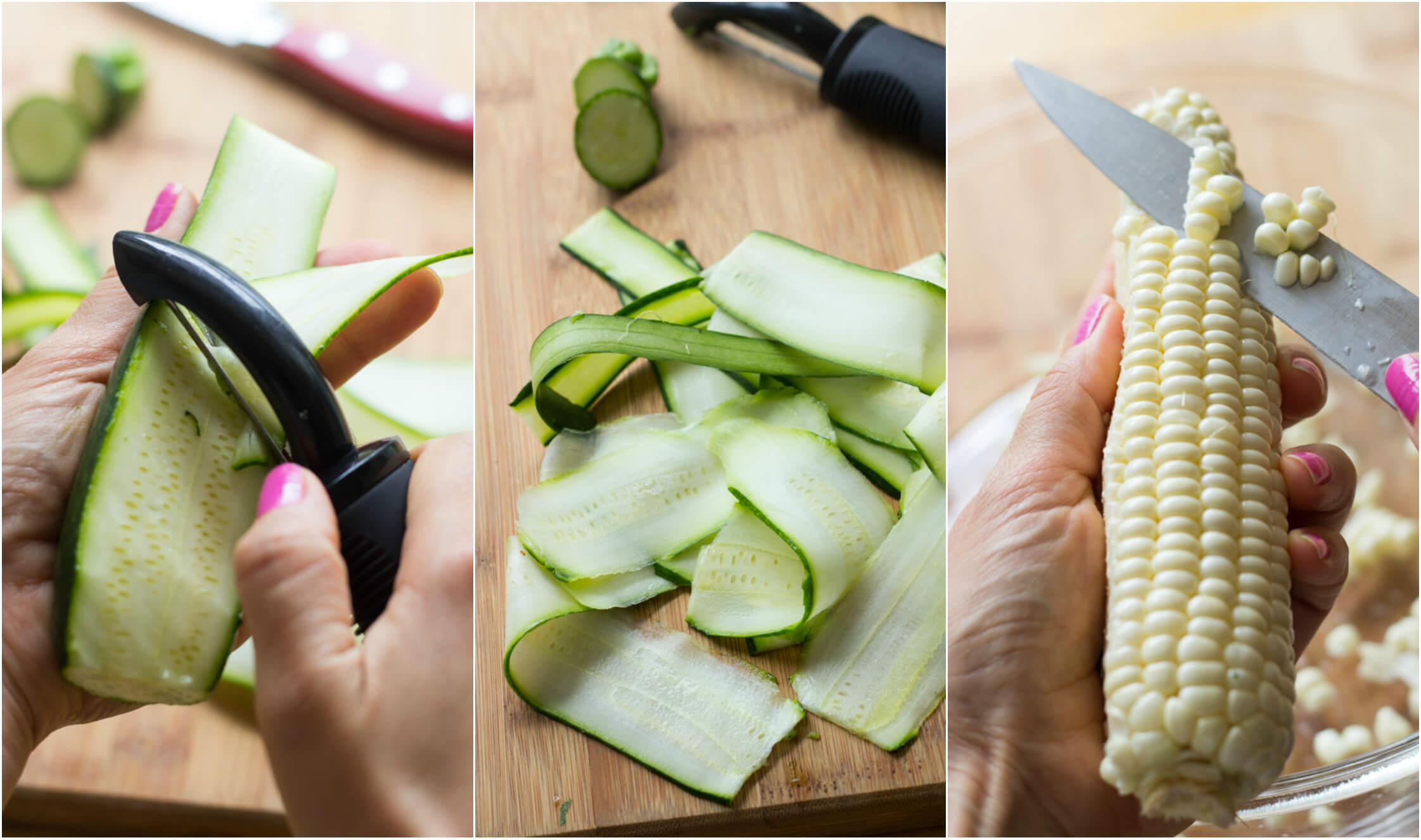 You start off with making the ricotta pesto by mixing together the ricotta, basil pesto, and garlic. If you have 5 extra minutes, make your own pesto. You wont regret it. Then you spread each naan with the ricotta, top it with fresh zucchini, fresh corn, and spinach. PLUS those small little mozzarella balls. They melt a little and add cheesiness to the flatbread.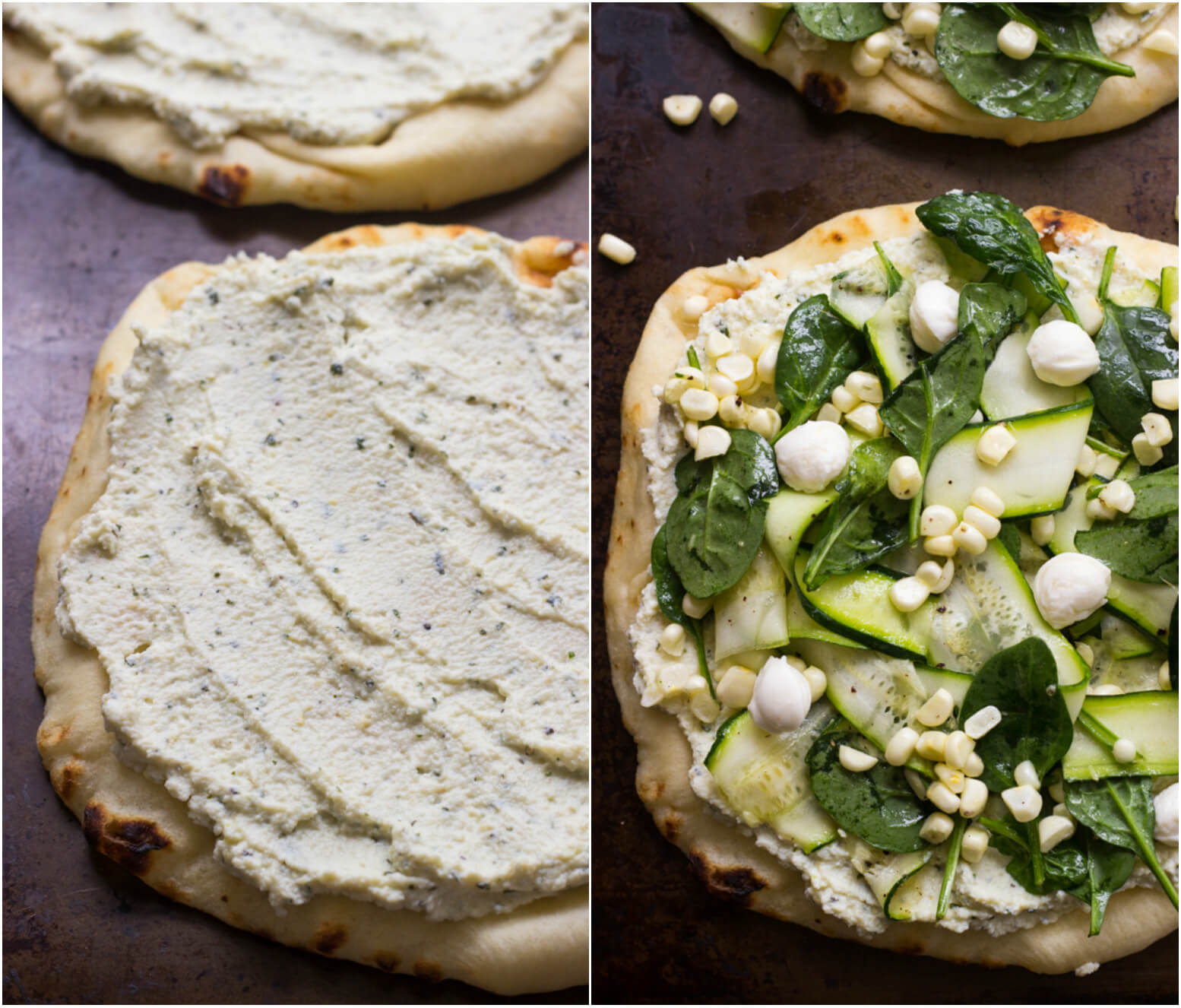 Then on go the fresh sweet cherry tomatoes, feta, drizzle of olive oil and balsamic glaze. The last part might be my most favorite. Light drizzle of olive oil and balsamic glaze totally make this flatbread!  You can find balsamic glaze in the same aisle as oil and vinegar. If for some reason you can not find it, you can make your own by cooking down the balsamic vinegar. I will link a recipe in the notes section below.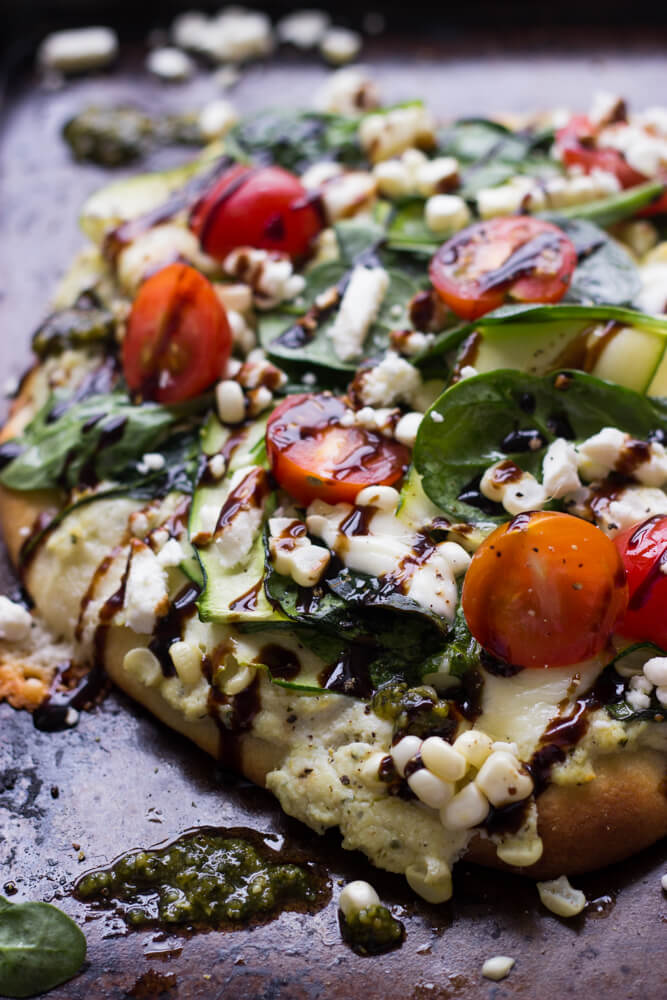 But this flatbread is the perfect warm weather food. There's creaminess and slight sweetness of the ricotta combined with tender summer veggies with a drizzle of sweet balsamic glaze. So good! Have it with a crisp white wine preferably out on the patio with your girlfriends. On repeat. Yes, please!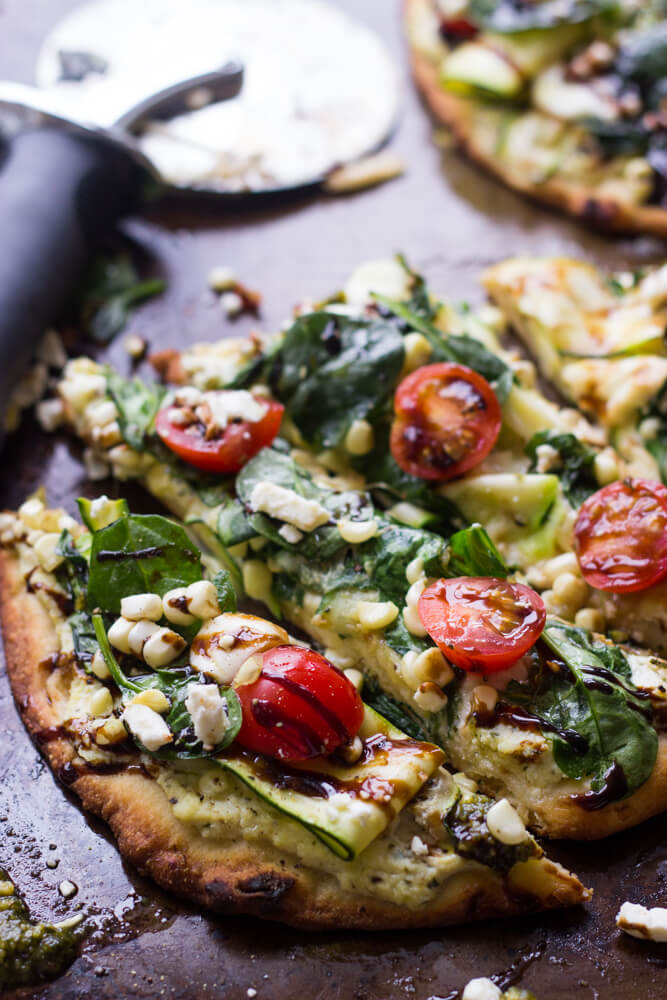 Make it. Snap it. Show it. Instagram @littlebrokenblog or snapchat → littlebrokenblg
Balsamic Zucchini and Fresh Corn Flatbread with Pesto Ricotta
Author:
Katya @ https://www.littlebroken.com
Ingredients
2 naans/flatbread
¾ cup ricotta cheese
1 Tbsp. prepared or homemade basil pesto
2 garlic cloves, grated
1 small zucchini, about ¼ pound, cut into ribbons with vegetable peeler
1 cup fresh baby spinach, lightly packed
1 ear fresh corn, kernels removed (1/2 cup)
1 Tbsp. olive oil, plus more for the top
¼ cup fresh mozzarella balls "pearls"
½ cup sweet cherry tomatoes, halved
2 Tbsp. crumbled feta cheese
prepared Balsamic Glaze*
salt and fresh ground black pepper
Instructions
Preheat the oven to 425 degrees F.
Place naans on a large baking sheet and set aside.
In a small bowl, combine ricotta, pesto, and garlic. Season with salt and pepper, to taste.
Spread the ricotta mixture evenly over each naan.
In a medium bowl, toss zucchini, spinach and corn with olive oil. Season with salt and pepper, to taste. Spoon the mixture evenly over each naan, then top with mozzarella balls.
Bake 9-12 minutes or until golden crisp.
Remove from the oven, scatter on the cherry tomatoes and then sprinkle feta cheese. Just before serving, lightly drizzle with olive oil and balsamic glaze.
Slice and EAT! Serves 3-4 as light meal or appetizer.
Notes
*Balsamic Glaze can be found in the same aisle as the vinegar/oils. If you can not find balsamic glaze, you can make your own
here.
Nutrition information does not include the additional drizzle of olive oil and balsamic glaze. Serving size: 2 slices.