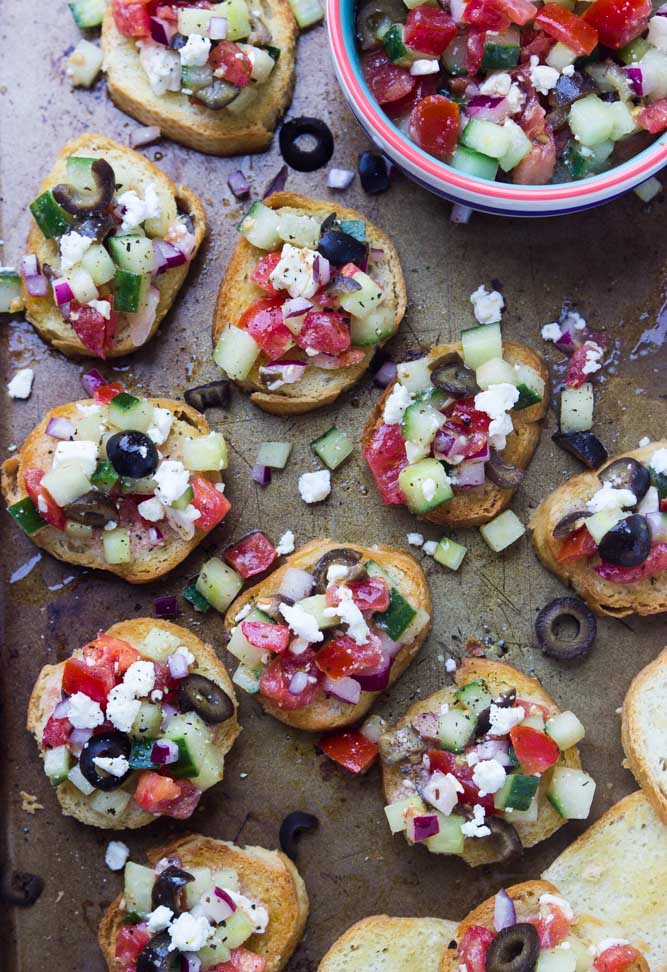 So, I think I'm back in business! I sent off my 1st grader to school this morning and now I'm dancing. By dancing, I mean trying to figure out whether I take a shower, fold laundry, finish unpacking or shooting a recipe that I started yesterday. This is my life guys. Constant go, more so now than ever. Is this how mom life is? Not going to lie, I'm sooooo looking forward to a little less chaotic days now that my kiddo is in school and the other one is finally settling into some kind of routine. That means more time for this little blog of mine. I have some new things lined up that I can't wait to share with you guys. So stay tuned 🙂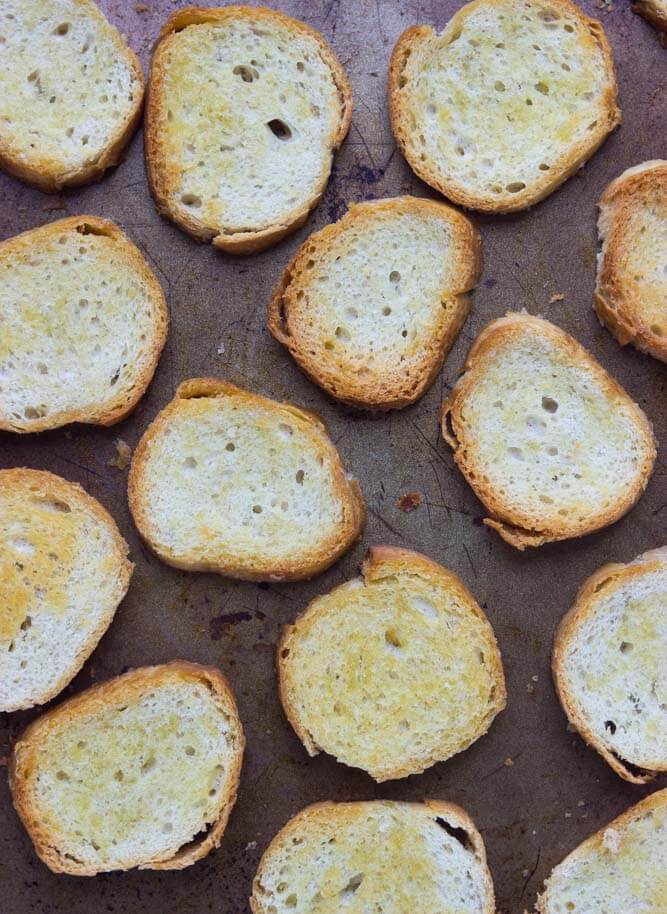 Today though…let's do some bruschetta. Not just any bruschetta but some Greek Bruschetta. It's a different twist on the traditional tomato based bruschetta with all the favorite greek flavors! Also, this is my new favorite way to eat a greek salad. If you're like me, holding on to the last days of summer then you have to make this delicious appetizer, which also doubles as a light meal (in my book). You can technically make this year round but there's just something about summer veggies that make this extra sweet and juicy.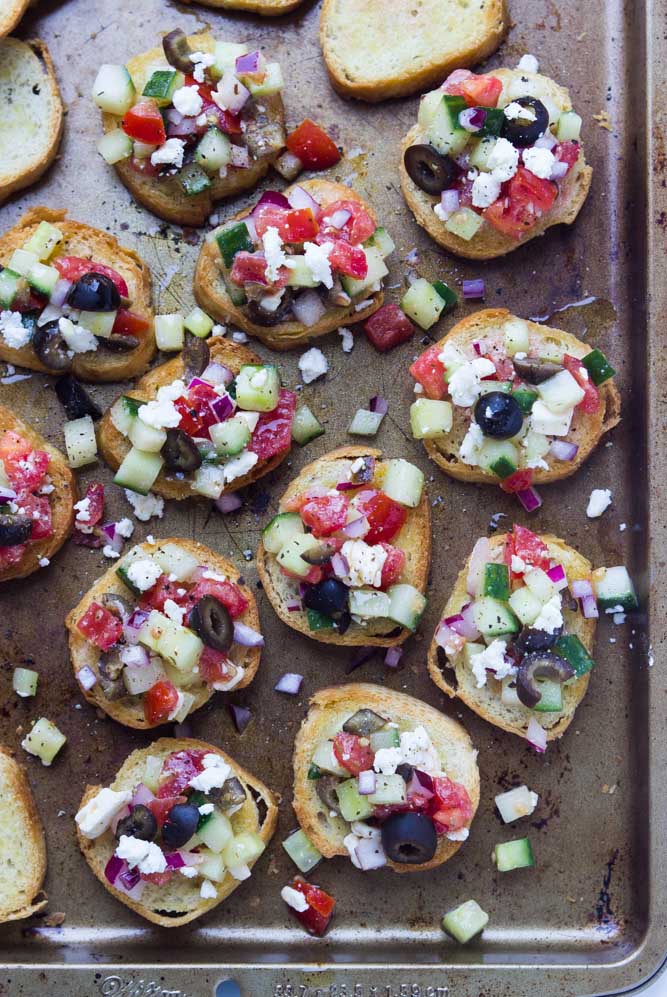 For the greek bruschetta topping, I went with a really basic greek salad recipe that consists of cucumbers, tomatoes, red onion, olives and feta. I used small, on the vine, campari tomatoes that are mildly sweet and less acidic and go absolutely delish with the rest of the ingredients. Everything tossed with a Greek Vinaigrette and served on a golden crisp crostini.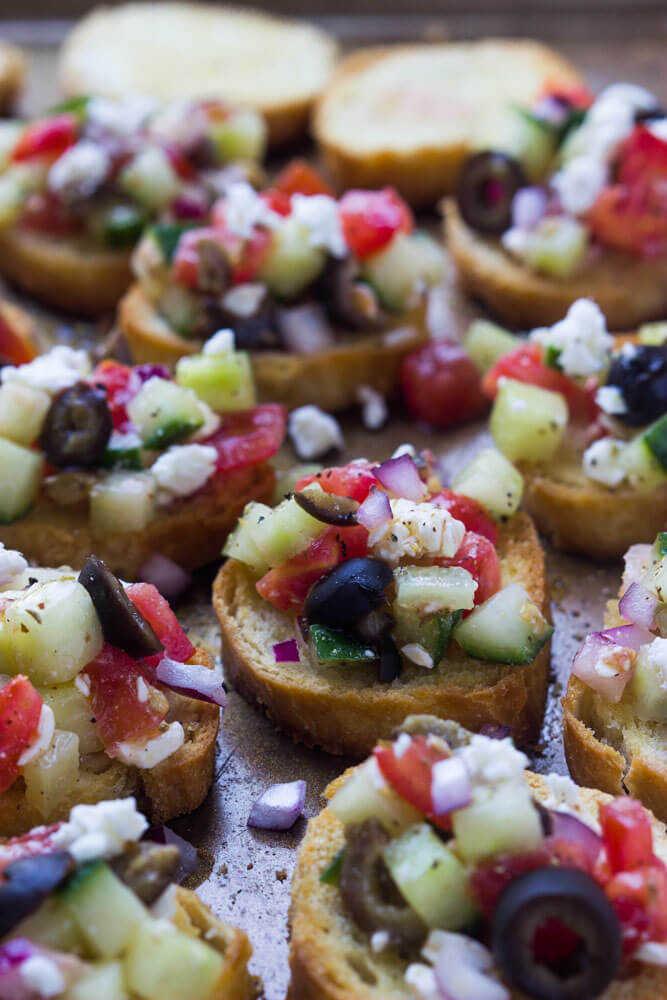 You can prepare the crostini the night before, cool and store in a ziploc bag. The bruschetta topping needs to be chilled for 30 minutes before serving.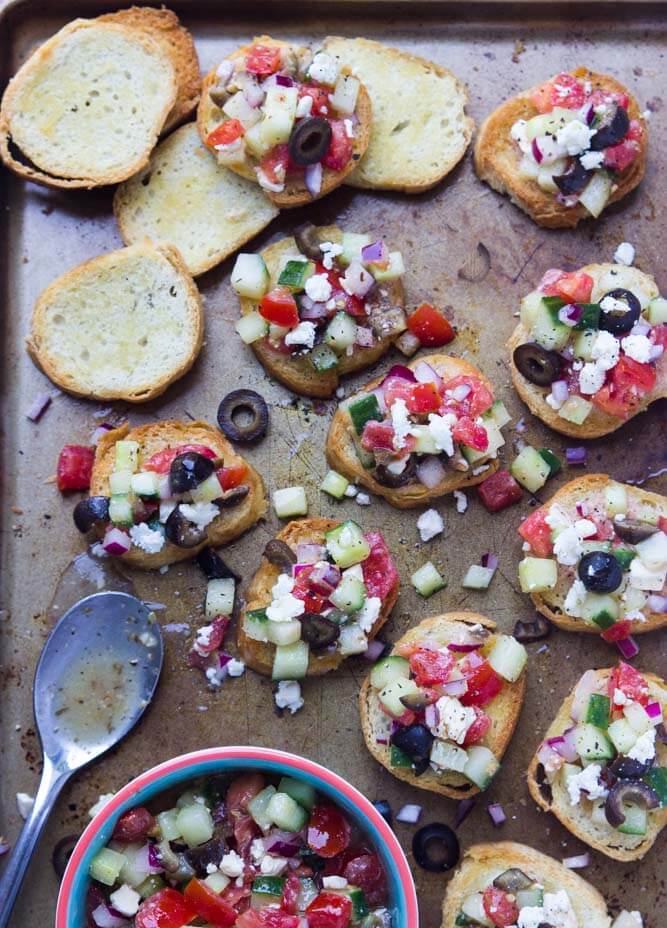 Tag me @littlebrokenblog and follow me showing me your food creations, whether from LittleBroken.com or your own: Facebook, Instagram, Pinterest.
Greek Bruschetta
Author:
Katya @ https://www.littlebroken.com
Ingredients
1 french baguette, sliced ½ inch thick (approx 45 slices)
1 large hothouse cucumber, diced (2 cups)
6 campari* tomatoes, chopped (1¼ cups)
⅓ cup diced red onion
⅓ cup roughly chopped black olives
½ cup crumbled feta cheese
4 Tbsp. Greek Vinaigrette (or your favorite brand Greek dressing)
olive oil
salt and fresh ground black pepper
Instructions
Preheat oven to 350F.
Arrange baguette slices on a large baking sheet; brush both sides of baguette with olive oil, and season lightly with salt and black pepper.
Bake until golden and crisp, 14 minutes, turning over halfway. Cool completely.
In a medium bowl, toss cucumbers, tomatoes, red onion, black olives, and feta cheese with Greek Vinaigrette. Season with salt and pepper, as needed. Cover and chill for 30 minutes.
When ready to serve, top crostini with chilled greek bruschetta. Drizzle lightly with olive oil (optional) and serve immediately.
Notes
*campari tomatoes are small, sweet, on the vine, and have low acidity
**add 30 minutes to time for salad to chill
© Little Broken. All images and content are copyright protected. Please do not use my images without prior permission or claim my work as your own. Feel free to Pin, Tweet, Facebook and share away with a link back to the recipe post. If you want to republish this recipe, please re-write the recipe in your own words and link back to this recipe.