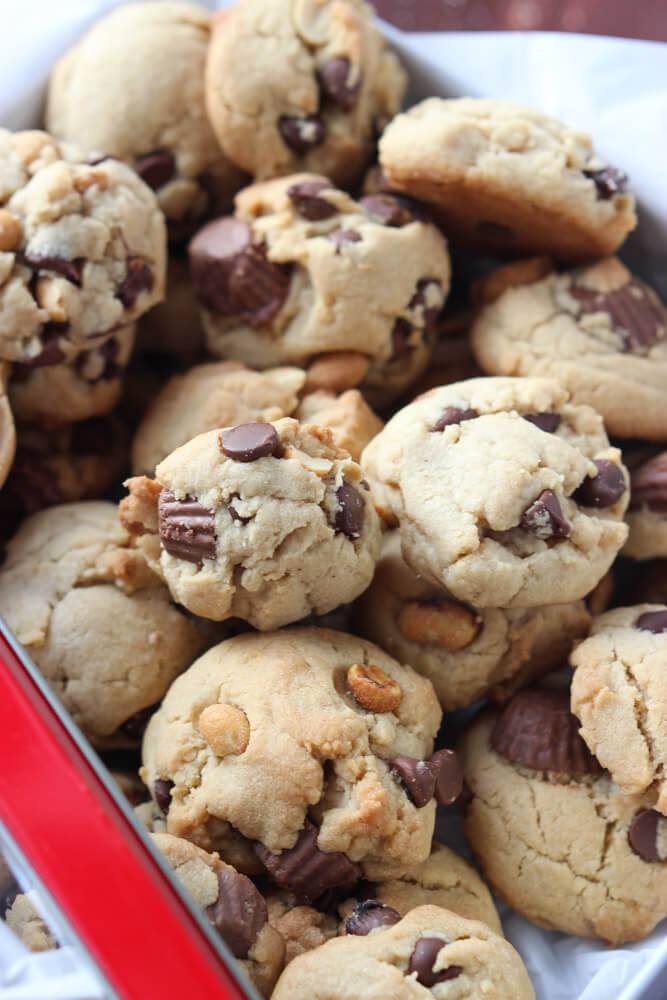 Guys, get your cold glass of milk ready! Because these cookies are calling for it.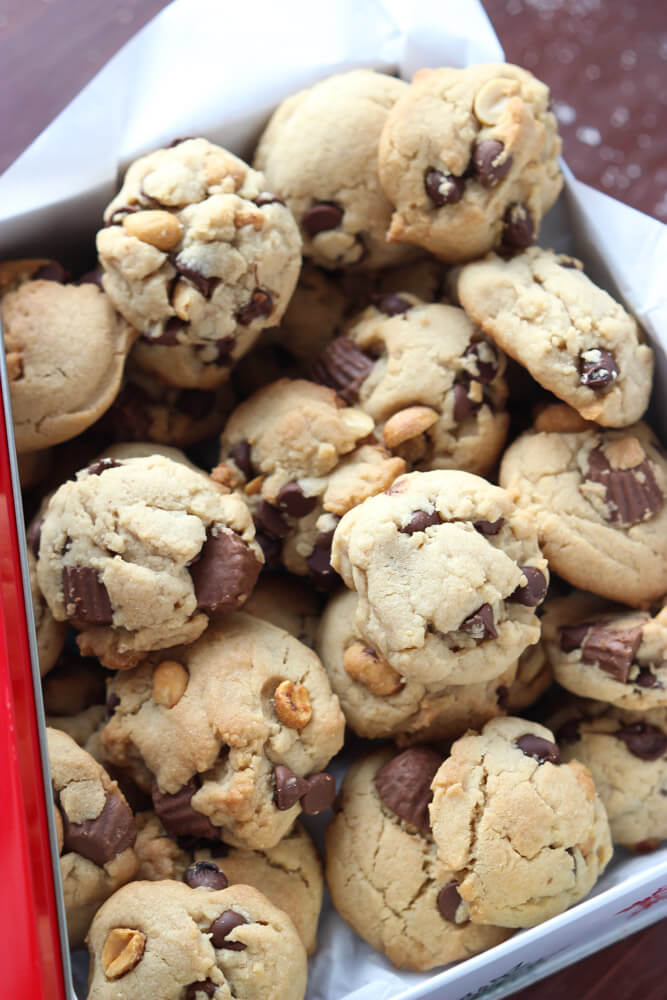 Triple-Peanut and Chocolate Chip Cookies are literally triple the peanut taste. Classic creamy peanut butter, mini peanut butter cups, and roasted peanuts all in this chunky cookie goodness. But don't stop there…there's also milk and semi-sweet chocolate chips that make up this crispy, crumbly, chunky cookie.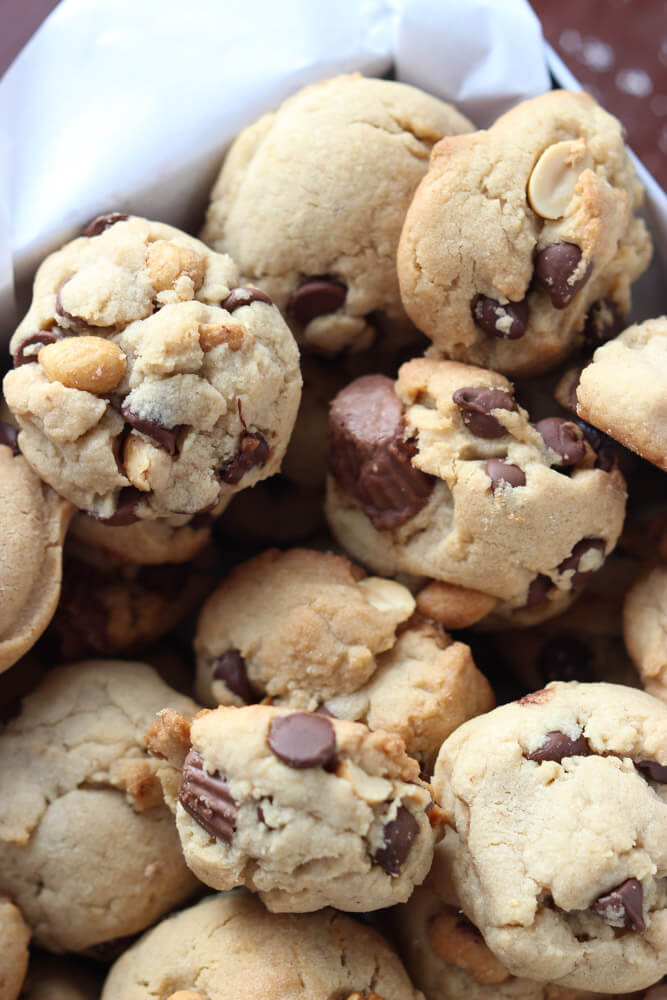 I can't think of anything more better than a combination of peanut and chocolate all in one bite. In my opinion, that's the best combination for a cookie and also my favorite, especially those mini peanut butter cups. I used to eat them by a bagful when they just came out but quickly learned that having one mini peanut butter cup was just plain cruel and having a whole bag was double the time in spin class and that wasn't going to happen. So I had to say goodbye to the chocolates but we're still cool and see each other once in a while, just like old times 🙂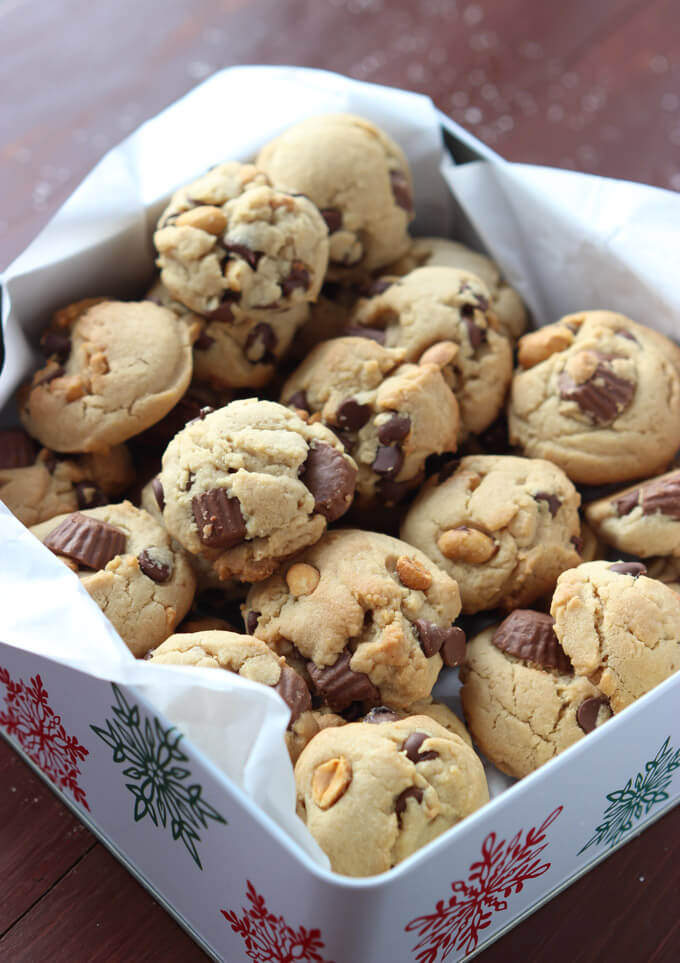 One batch of these will feed a village, well maybe not literally but these yield anywhere between 2-3 dozen cookies depending on the size. Making them perfect for classroom parties, potlucks, or gift giving. They hold up really nicely too, so you don't have to worry about breaking or drying out. You can bake them a week in advance and store in airtight container, covered, at room temperature.  But I guarantee they wont last a week…just stored.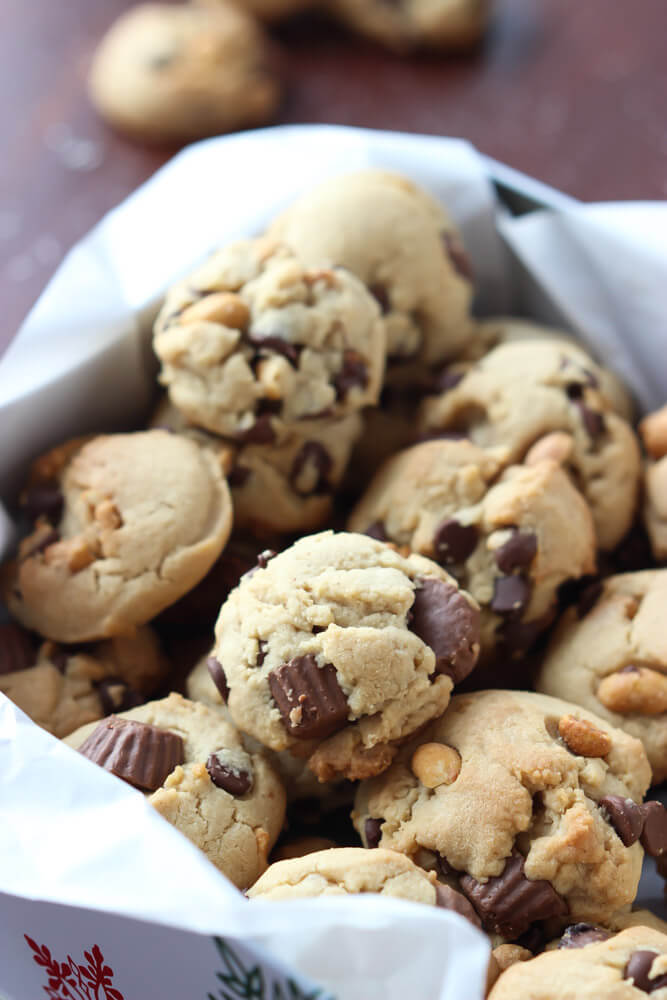 Triple-Peanut and Chocolate Chip Cookies
Author:
Katya @ https://www.littlebroken.com
Ingredients
½ cup butter, at room temperature
½ cup shortening
½ creamy peanut butter
1 cup packed brown sugar
½ cup granulated sugar
1 tsp. baking soda
2 eggs
1 tsp. vanilla
3 cups all-purpose flour
½ cup bite-size unwrapped mini chocolate-covered peanut butter cups
½ cup semi-sweet chocolate chips
½ cup milk chocolate chips
½ cup honey-roasted peanuts
Instructions
Preheat the oven to 350F.
In a large bowl, beat butter, shortening, and peanut butter with a hand held mixer on high speed. Add brown sugar, granulated sugar, and baking soda; beat until combined. Beat in eggs and vanilla. Lastly, beat in the flour in batches. You may need to use a wooden spoon to stir some of the flour if the dough becomes too dense. Stir in peanut butter cups, both chocolate chips, and peanuts.
Drop dough by rounded tablespoons, 2 inches apart onto an ungreased cookie sheet. (I used foil lined baking sheets for easy clean up).
Bake 10-12 minutes or until edges are golden. Transfer to a wire rack to cool.
Notes
adapted from Better Homes and Gardens magazine "100 Best Cookies" 2014
© Little Broken. All images and content are copyright protected. Please do not use my images without prior permission or claim my work as your own. Feel free to Pin, Tweet, Facebook and share away with a link back to the recipe post. If you want to republish this recipe, please re-write the recipe in your own words and link back to this recipe.