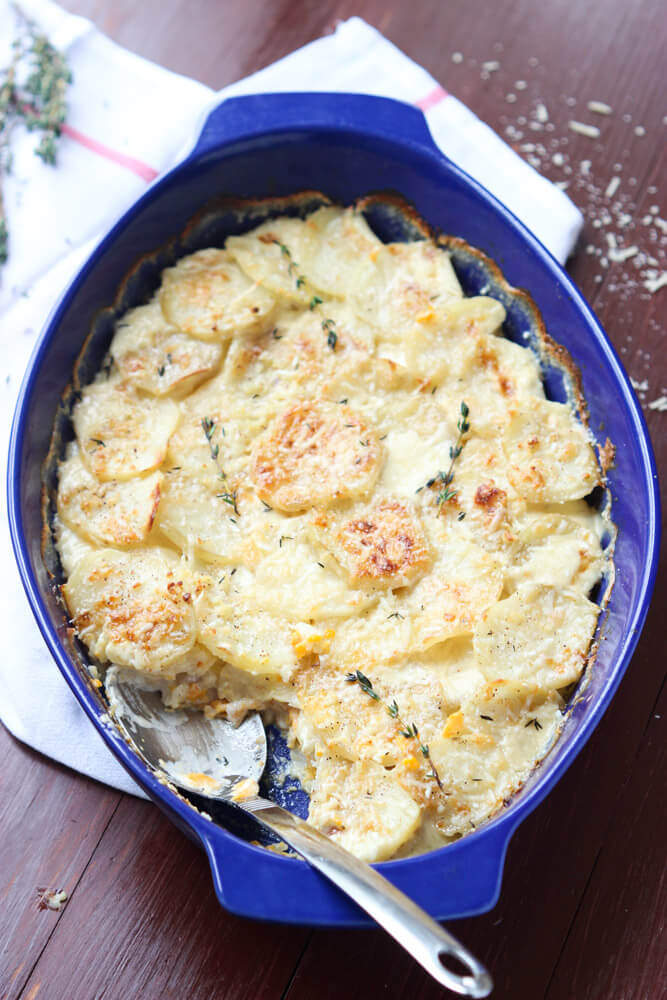 Holidays without some type of potato dish is not a holiday. With traditional Thanksgiving mashed potato recipes floating around the web now, scalloped gratin is a different twist on the beloved holiday side dish. And in case you haven't guessed it….this weeks I continue my Thanksgiving Countdown with salads and side dishes. In general, I am a HUGE potato lover.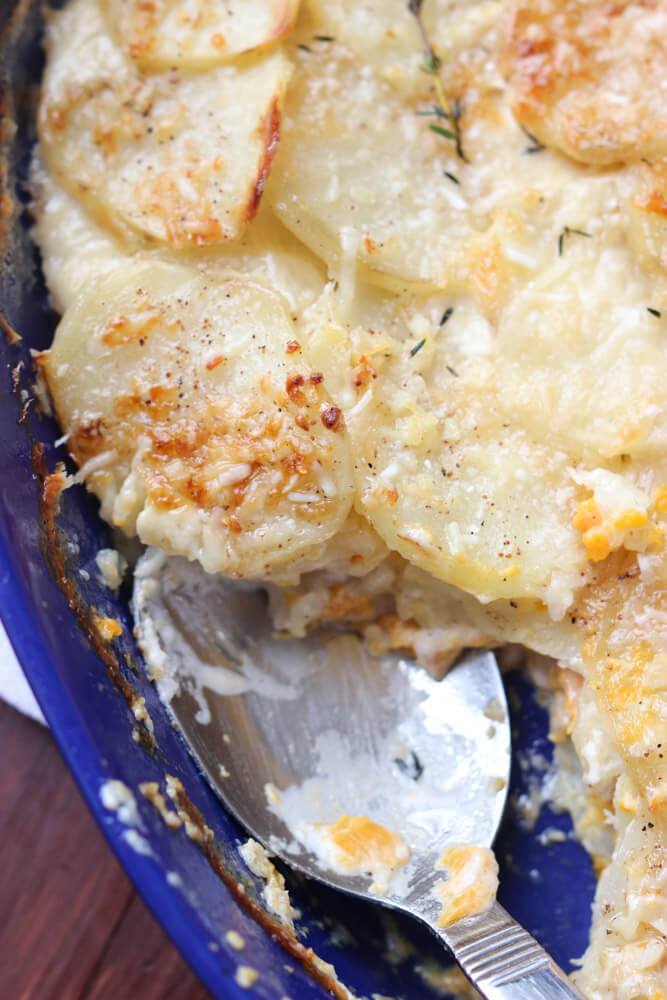 It's an ultimate comfort dish to me, whether it's baked, fried, scalloped or mashed, I don't care as I will eat it ALL! And for me potato side dishes on a holiday is truly a holiday as I hardly cook potatoes on regular basis but have to have them on special occasions.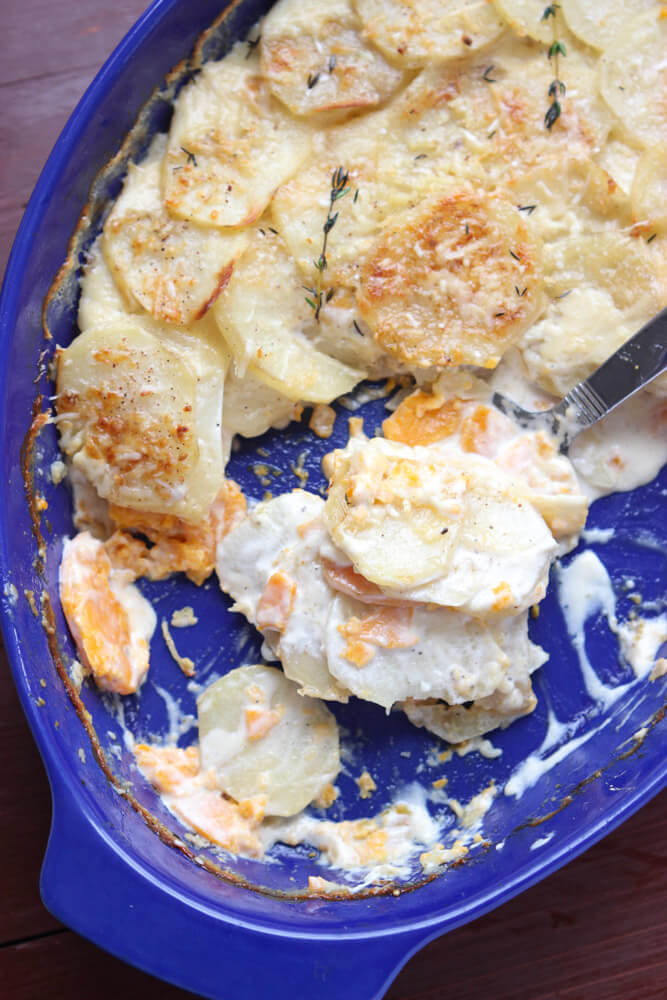 Two-Potato Scalloped Gratin is a combination of sweet and russet potatoes in one dish. It has become my new favorite! My family is not a huge sweet potato lover so I made one layer of sweet potatoes and three of russet. But if you love sweet potatoes more than I do, add as much of them as you like.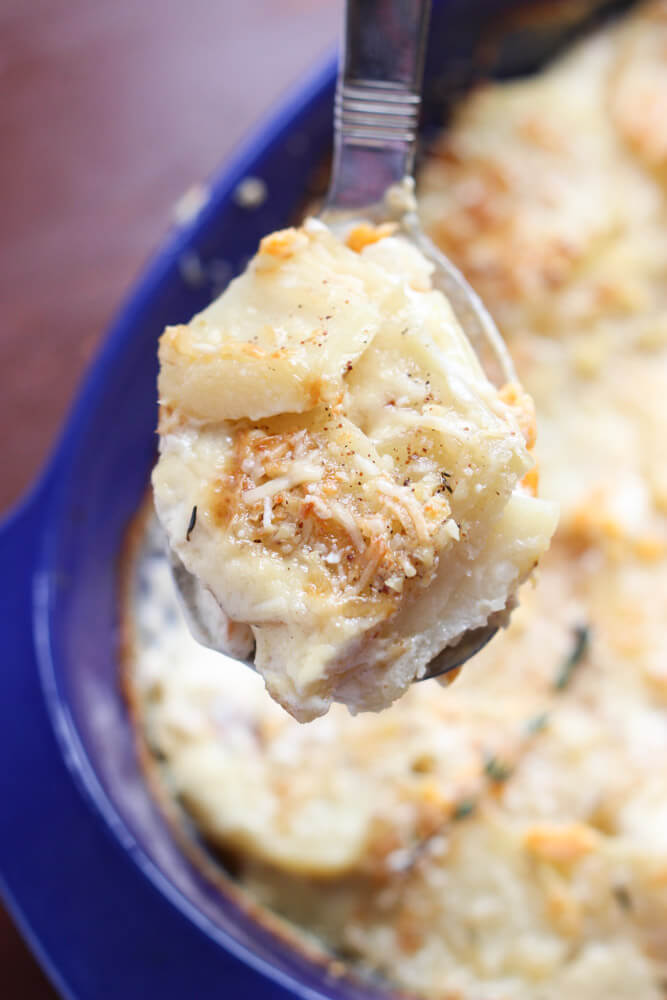 This beautiful two-potato gratin is baked in garlic, thyme, and nutmeg cream and sprinkled with Parmesan cheese. The sweet potatoes give just enough of sweetness without overpowering the savory side of the russet potatoes and the cream thickens while baking and creates a silky texture to this side dish. I honestly think it's a perfect combination of both potatoes without overpowering each other and just enough to taste the both.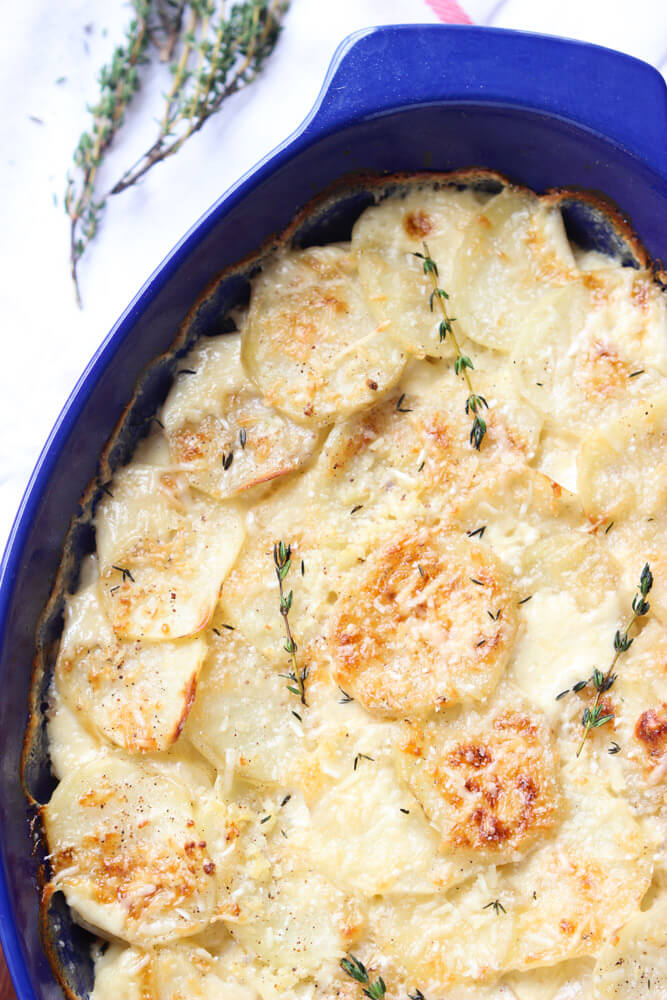 Perfect as a side dish to your holiday Thanksgiving table. It feeds a village. Well, maybe not a whole village but 8-10 people. So it's a nice size portion side dish, whether you're entertaining 2 people or 10. It makes a yummy next day frittata with eggs and veggies! You can easily double up the recipe and have two gratins going at the same time.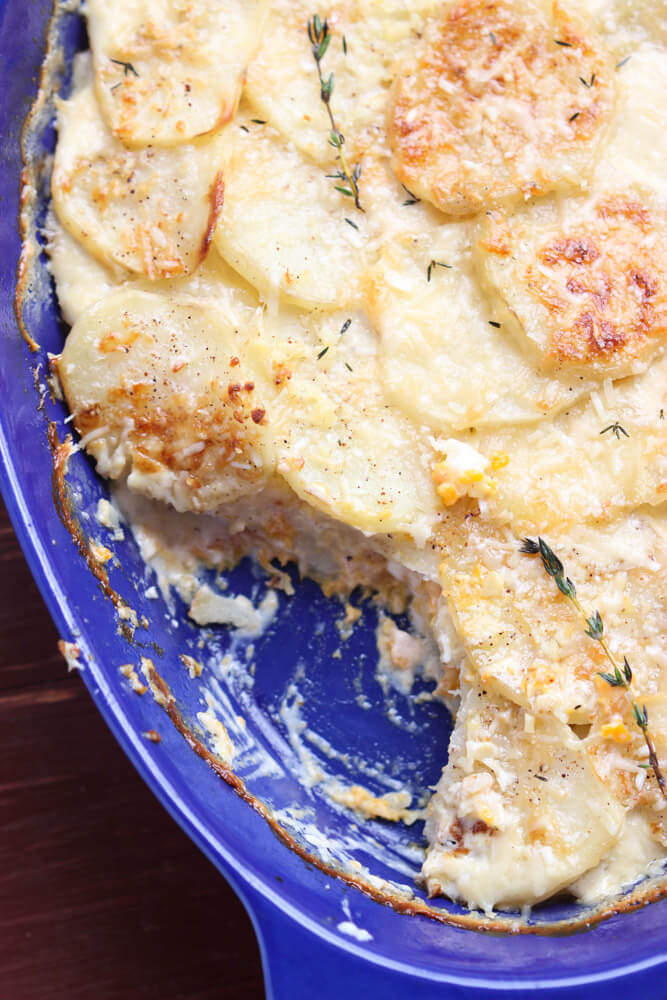 Two-Potato Scalloped Gratin
Author:
Katya @ https://www.littlebroken.com
Ingredients
2 cups heavy cream
1 sprig fresh thyme
2 garlic cloves, minced
½ tsp. ground nutmeg
¾ cup grated Parmesan, plus extra for broiling
1 sweet potato, peeled and sliced ¼-inch thick
4 russet potatoes, peeled and sliced ¼-inch thick
Butter
Salt and Pepper
Instructions
Preheat the oven to 375F.
In a saucepan, heat the cream with thyme, garlic, and nutmeg. When you see bubbles forming around the edges remove the cream from the heat (you want the cream heated and not simmered). Disgard the thyme.
Butter a large (9X13) casserole dish. Layer the sliced sweet potatoes on the bottom of the casserole dish in an overlapping pattern and season with salt and pepper. Pour a little cream over the sweet potatoes and sprinkle with parmesan cheese. Make 3 same layers with russet potatoes. Topping with parmesan cheese.
Bake, uncovered for 45 minutes. Sprinkle the top with additional parmesan cheese and broil on high until the cheese browns, about 1-2 minutes.
Serve immediately.
© Little Broken. All images and content are copyright protected. Please do not use my images without prior permission or claim my work as your own. Feel free to Pin, Tweet, Facebook and share away with a link back to the recipe post. If you want to republish this recipe, please re-write the recipe in your own words and link back to this recipe.