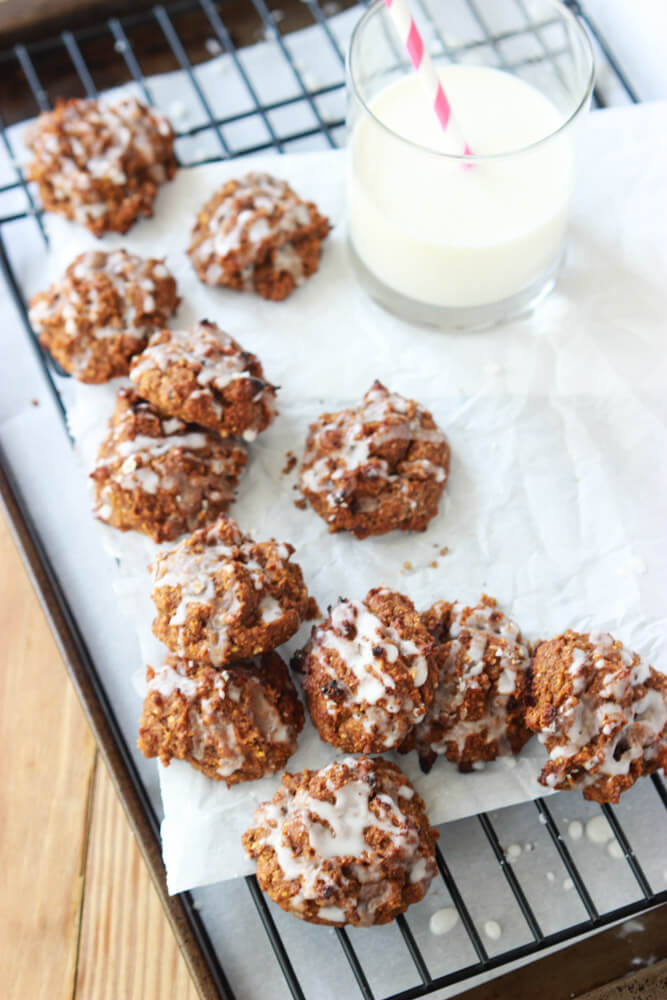 I finally pulled out all my fall spices! I have a separate shelf dedicated to them, which is really funny considering I don't do much baking but I seem to have every type of spice out there that qualifies for fall. I love that warm cozy smell of pumpkin spice, cloves, and vanilla. Reminds me of a good fall candle and fall is probably one of my favorite seasons  and also the time I find myself baking more than usual. I blame it on the cold weather.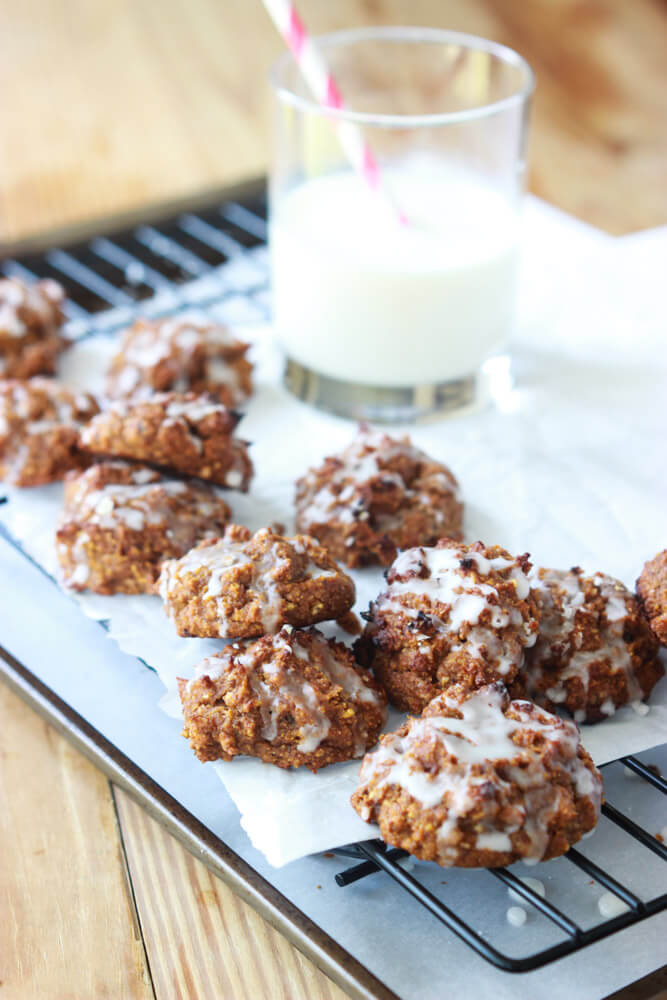 These little cookies are all about fall and they are good for you! Well, not literally but 99% ingredients are clean (not processed). There's no dairy and they're also vegan. Honestly, I wasn't sure what to expect when I started baking these, thinking well there's no dairy so they'll probably be super dry and tasteless. But I was completely wrong!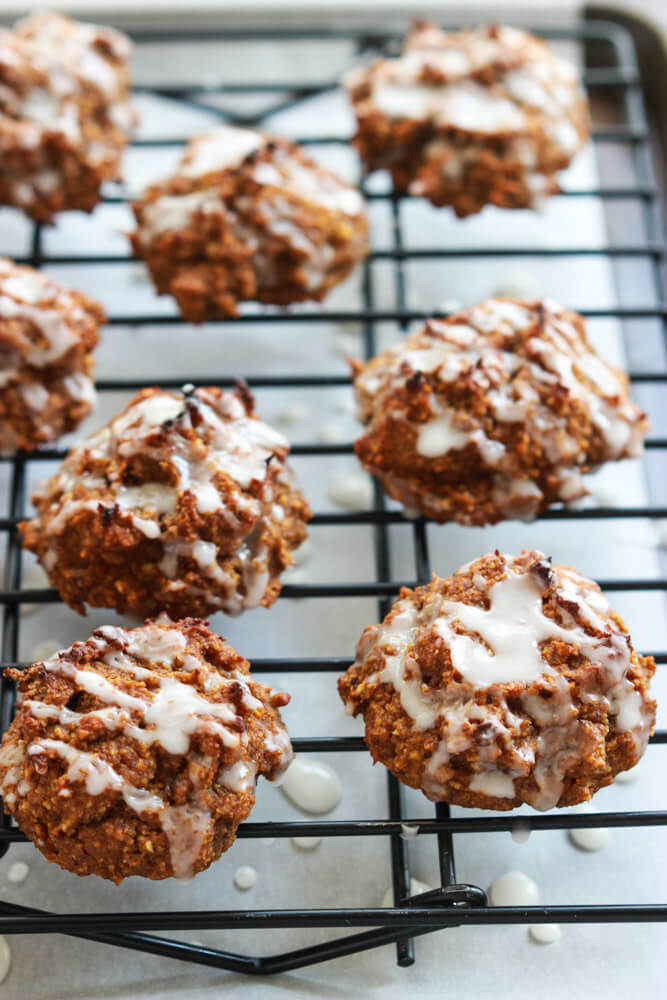 Toasted pecans is what holds these cookies together and gives ton of flavor! Combined with pureed pumpkin, cloves, cinnamon and scented with fresh orange juice and zest. Oh and the chopped dates add a nice texture.  They are seriously my favorite "no guilt cookie."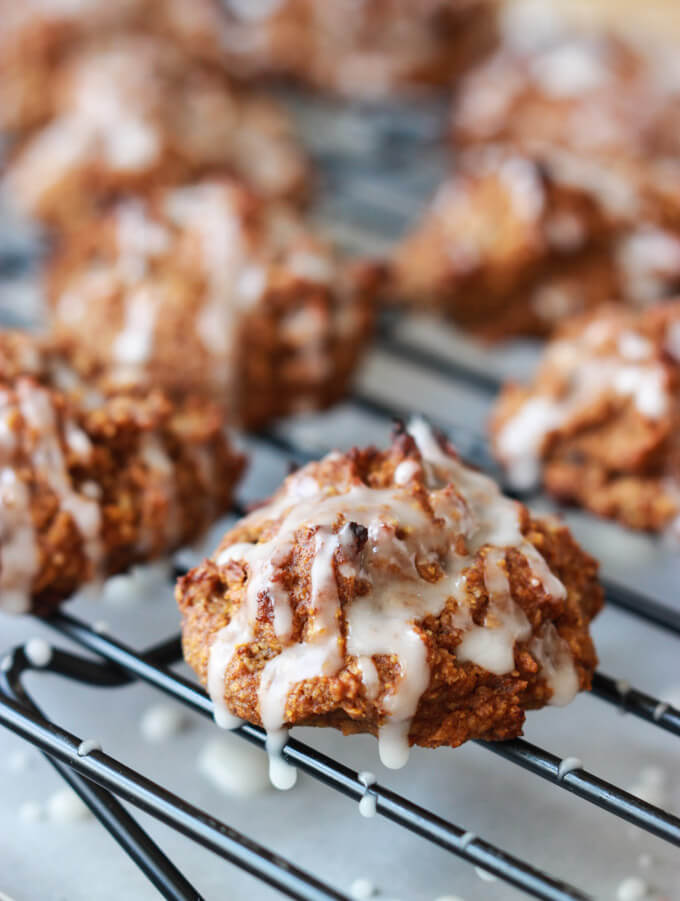 Have them straight out of the oven with a glass of cold milk. Yes, that's exactly what I did! They taste the best when warm but what cookie doesn't? Soft and very oatmeal like but not harsh as oatmeal, much lighter and delicate. Your whole house will smell like a good Yankee candle. Super cozy, warm, pumpkin, and vanilla like.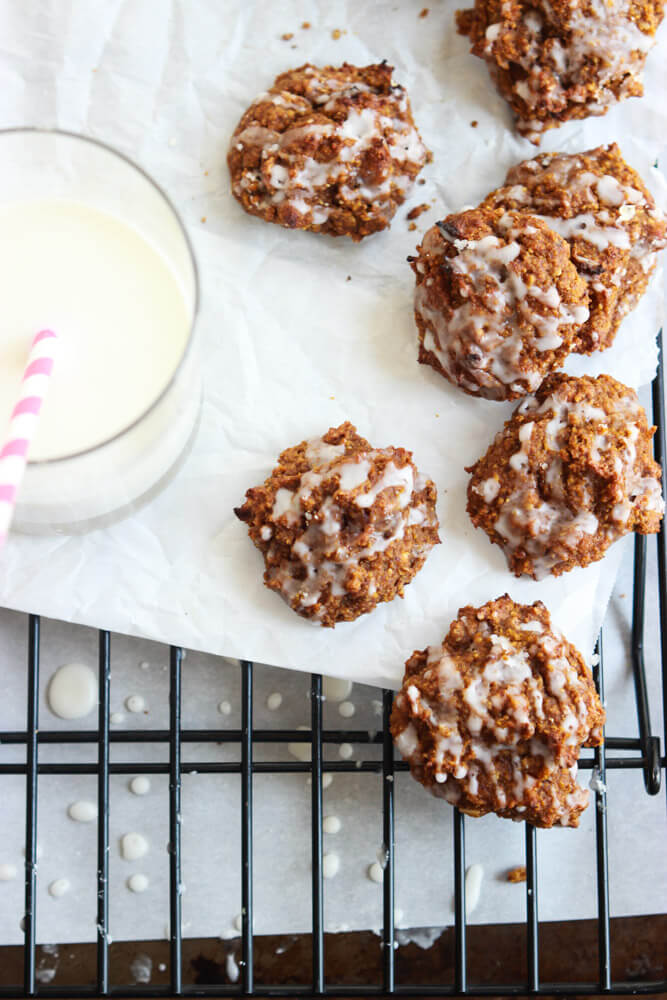 I added a simple orange glaze to give them a little more life but you can go without it as they taste super as is. Store them in medium size mason jar. Keep one for yourself and give one away. They make cute little gifts, especially around holidays.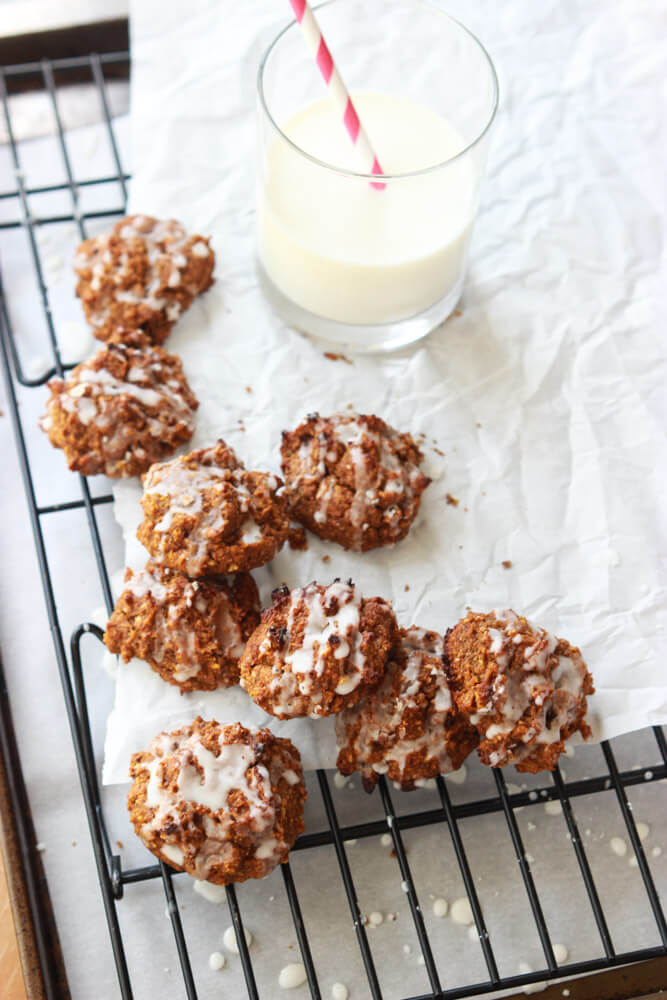 Pumpkin Pecan Cookies with Orange Glaze
Author:
Katya @ https://www.littlebroken.com
Ingredients
Cookies
2 cups pecans, toasted
½ cup old-fashioned rolled oats
1 cup whole wheat pastry flour
1 tsp. baking soda
½ tsp. fine sea salt
1 tsp. ground cinnamon
¼ tsp. ground cloves
¾ cup pumpkin puree
1 Tbsp. orange zest
¾ cup freshly squeezed orange juice (about 3 oranges)
2 tsp. pure vanilla extract
1 cup dates, pitted and chopped
Glaze
½ cup confectioners sugar
2 tsp. freshly squeezed orange juice
2 tsp. water
Instructions
Cookies
Preheat the oven to 375F. Line two large baking sheets with parchment paper.
In a bowl of a large food processor, pulse pecans and oats until fine meal is formed.
Add flour, baking soda, salt, cinnamon and cloves; pulse until all ingredients are combined. The consistency is going to be thick and almost dough like. Transfer to a large mixing bowl.
Add pumpkin puree, orange zest, orange juice, vanilla and dates to the food processor. Process until mixture is smooth. You may need to stop the processor to scrape the sides.
Add the wet ingredients to the dry and using a spoon or spatula mix everything thoroughly until combined.
Spoon the batter by 1½ tablespoons onto the baking sheets, spacing about 1-1½ inch apart.
Bake for 20 minutes or until the bottoms are lightly browned. Cookies should be lightly browned but still very soft. Remove and cool.
Glaze
In a small bowl, combine the confectioners sugar with water and orange juice until smooth glaze forms. Using a spoon or small ziploc bag (with tip cut off), drizzle the glaze over the cooled cookies.
Serve with cold milk or morning coffee. Enjoy!
Notes
Store the cookies in airtight container to keep them from drying out.
Recipe for cookies adapted from Whole Foods