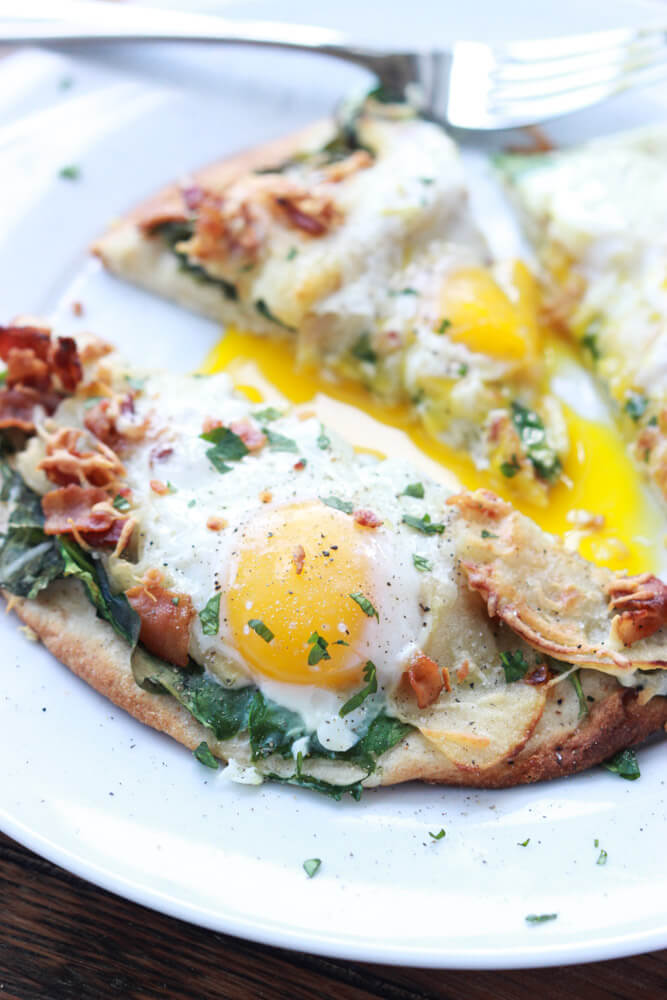 Whoever came up with breakfast pizza is a genius. It's practically a whole breakfast on a slice of bread.
You have your bread, vegetables, fruit, meat and dairy. I think that covers all the food groups. Right? No wonder, why pizza is so popular. There are a gazillion recipes for different type of pizzas and breakfast being one of them. But the best part is, breakfast pizza is not only for breakfast. It tastes even better for dinner.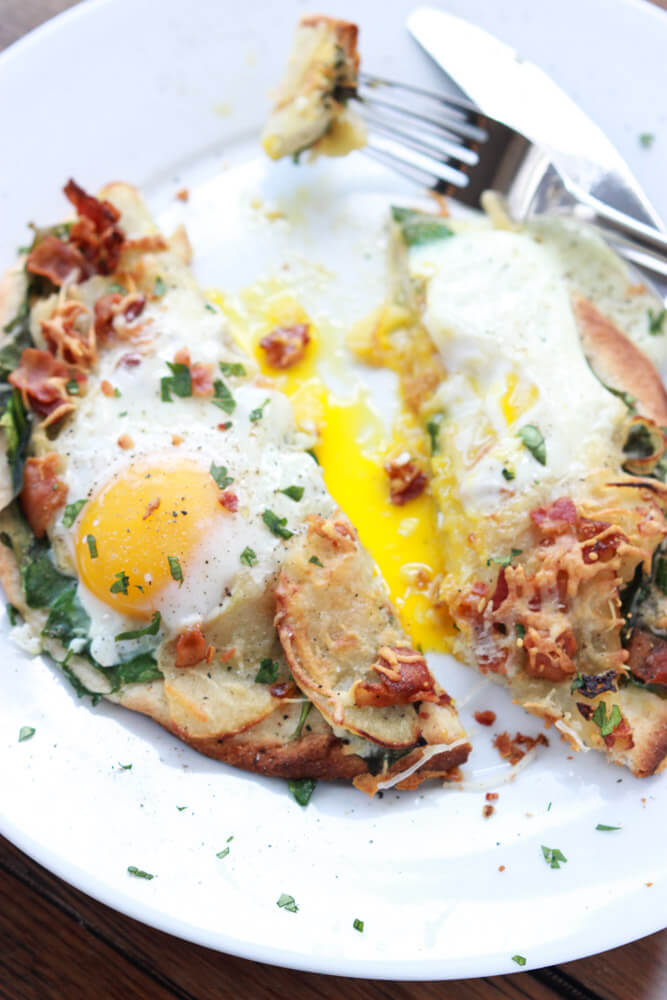 I love breakfast food for dinner. It always tastes super good. Have you ever had a cup of coffee in the middle of the afternoon. Doesn't it just taste super delicious? That's what breakfast does for dinner.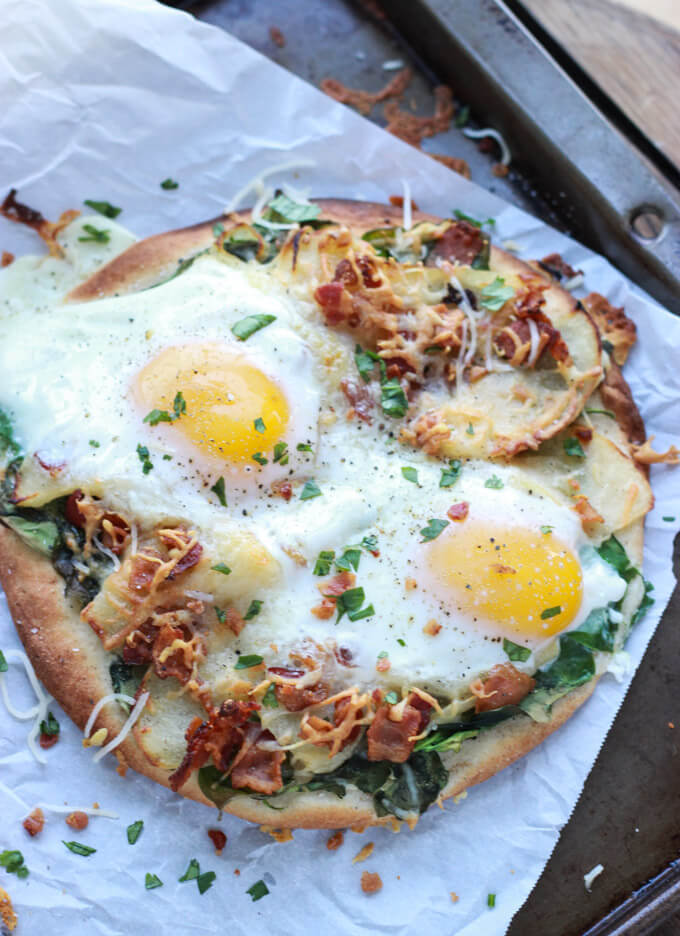 And Bacon, Apple, and Swiss Breakfast Pizza is breakfast and dinner all in one. You pick.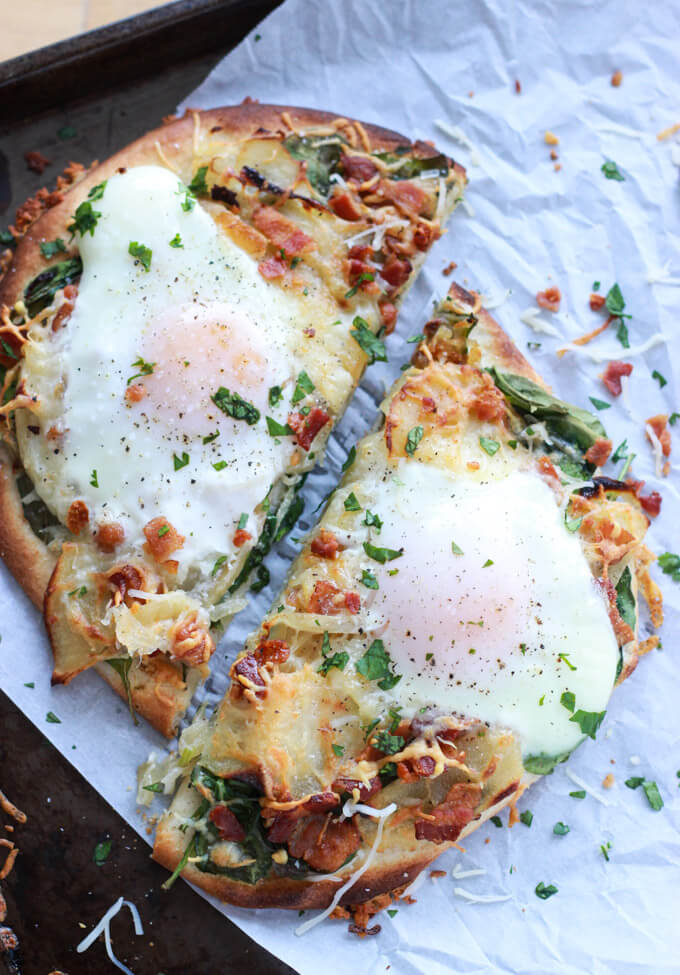 It's packed with fresh spinach, crispy bacon, caramelized onion with apples and topped with fresh eggs. Nutritious for a breakfast and fulfilling for dinner. Caramelized onions with apples combined with salty bacon is what makes this pizza. It's a perfect sweet and salty combo but not too sweet, just perfect. Plus apples this time of the year are the best. It's a great way to slowly warm up to all the fall flavors.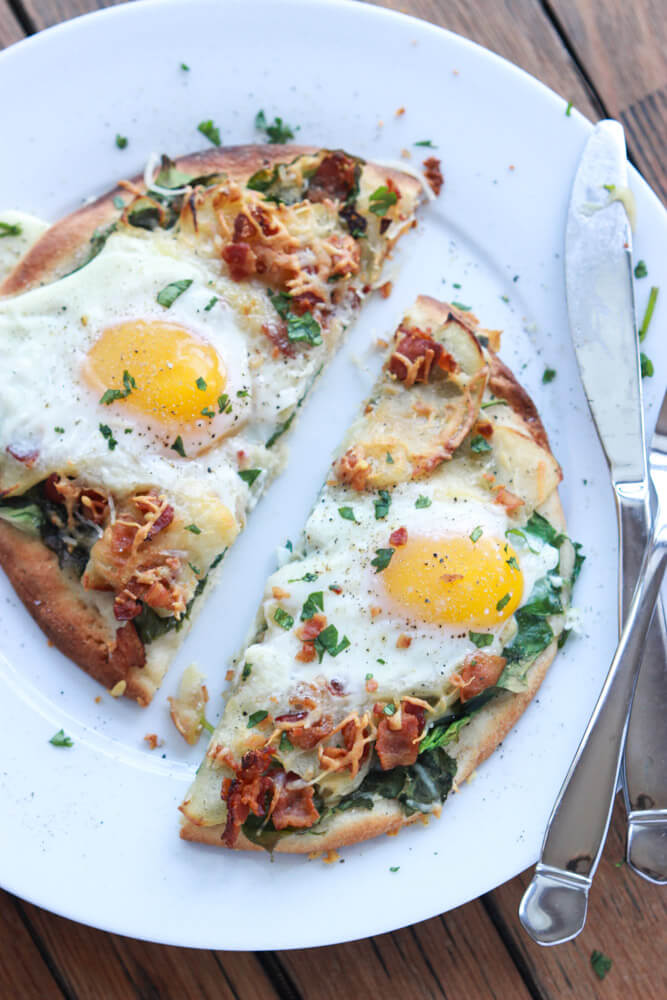 Bacon, Apple, and Swiss Breakfast Pizza
Author:
Katya @ https://www.littlebroken.com
Ingredients
4 slices bacon, chopped
1 Tbsp. unsalted butter
1 small onion, thinly sliced
1 Pink Lady apple, peeled, cored and thinly sliced
2 pocketless pita breads (I used 7½ " round pita breads)
2 cups fresh spinach leaves
4 Tbsp. shredded swiss cheese
4 eggs
salt and pepper
Instructions
Preheat the oven on 400F.
In a medium non-stick skillet over medium heat, cook bacon until crisp; about 10 minutes.
Drain bacon fat from the skillet and melt butter. Add onions and cook until just soft, about 2 minutes. Add sliced apples and continue sauteing until golden and slightly caramelized, about 15-18 minutes. If you find that your apples are not caramelizing, add more butter to the skillet.
To assemble: top each pita bread with 1 cup spinach, half of the cooked apples and bacon. Sprinkle with 2 tablespoons of swiss cheese (or more if you like) and crack two eggs on top of each pita.
Bake pizzas on parchment lined baking sheet for 8 minutes or until the edges are golden brown. Switch the oven to broil and continue cooking for 2 more minutes or until the eggs whites are cooked through. Keep an eye on the pizzas while broiling as the cheese burns easily.
Remove from the oven. Season the eggs with salt and pepper. Enjoy!
© Little Broken. All images and content are copyright protected. Please do not use my images without prior permission or claim my work as your own. Feel free to Pin, Tweet, Facebook and share away with a link back to the recipe post. If you want to republish this recipe, please re-write the recipe in your own words and link back to this recipe.