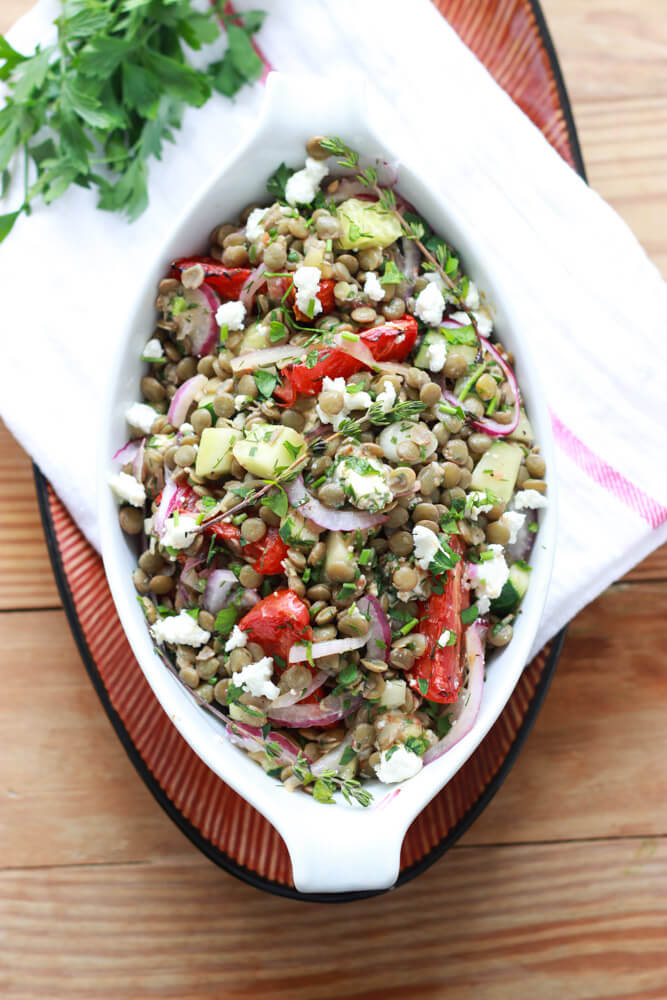 I'm the type of person that will try something at least once and have a list: coloring my hair red, buying TOMS, whitening my teeth with lemon juice, piercing my nose. In the moment all were great decisions and what I wanted but a do over? Probably never. I do have to admit, piercing my nose is still a good idea but eventually it will come out and never will I go through the excrutiating pain of getting my nose pierced. Ever. Again.
Lentils on the list now.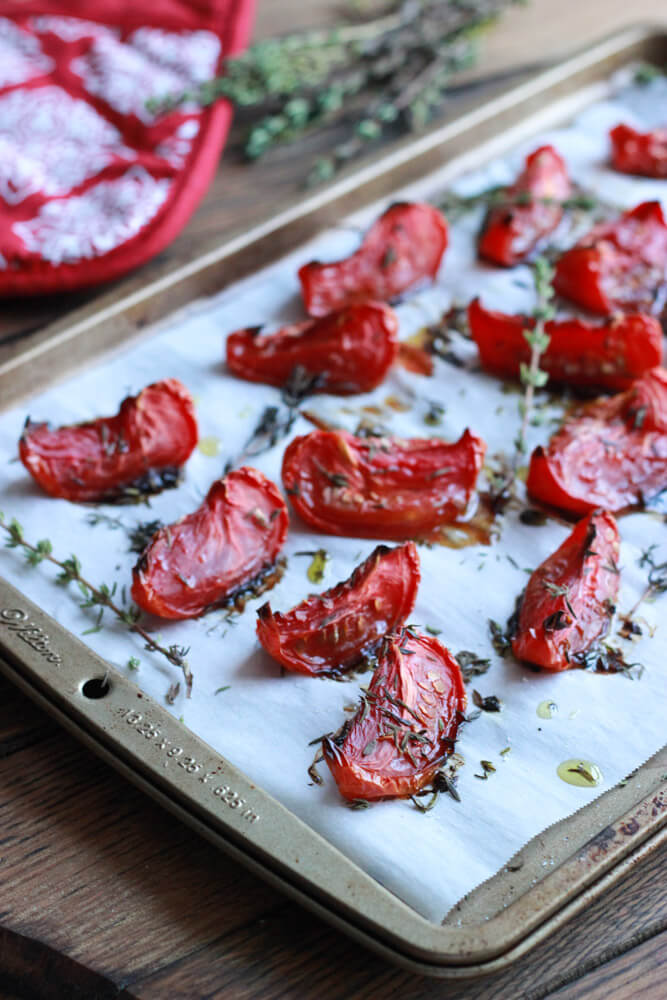 You know how certain foods you just don't care much for but always wanted to try so you can say I've tried it and don't like it. Lentils are like that for me.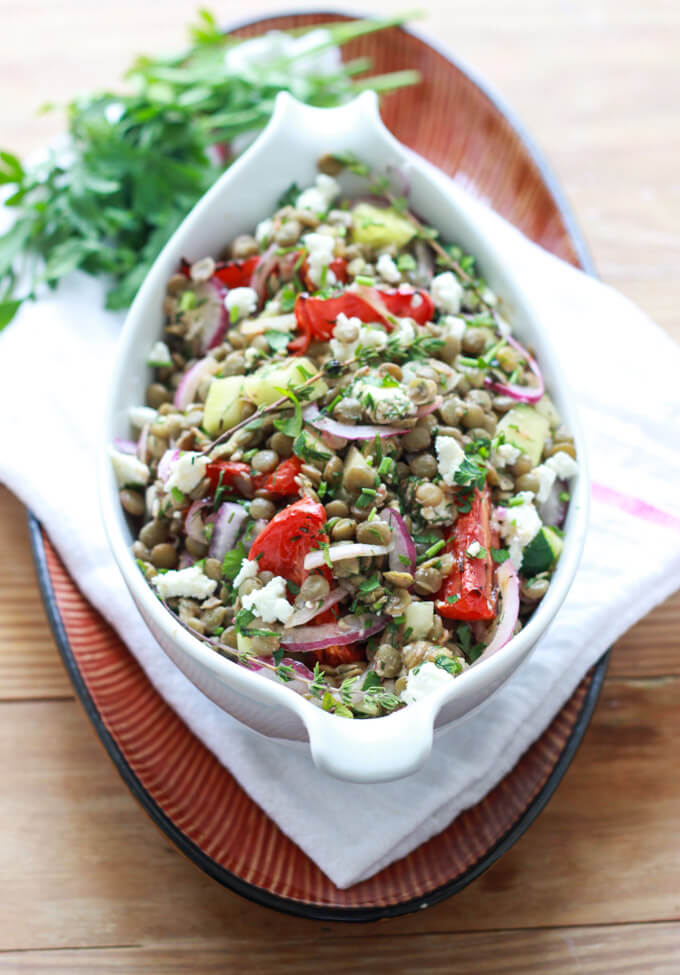 I didn't grow up eating them and never really cared much for them but always wanted to try and now that I did, I don't see myself eating them any time soon. You're probably thinking why in the world is she sharing this recipe then? Well, I look at it like this. I always wanted to try lentils because my friend Marina made lentils and they tasted awesome. I made this lentil salad with all my favorite flavors and it turned out delicious. So instead of chucking this recipe because I don't care for lentils, I actually want to share it because maybe there's someone out there that is just like me looking to try lentils and this is a great starting recipe. Wow that was a long sentence but you know what I mean? I hope you do.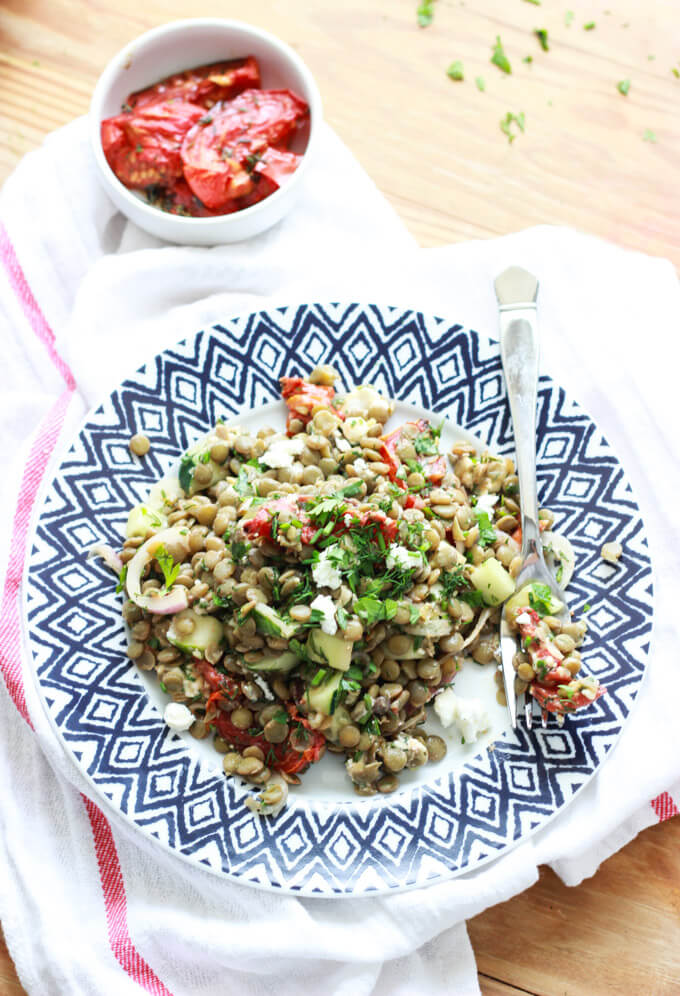 Lentils with Oven-Roasted Tomatoes, Marinated Onion an Feta is simple, tasty, Greek inspired, gluten free and herby. I like herby. Dill, chives, and parsley are yummy together. Plus salty feta always makes any salad taste better. I do love this for all its Greek inspired flavors. Probably my favorite salad combo. Goes well with hot pita bread or served as a side to any meal.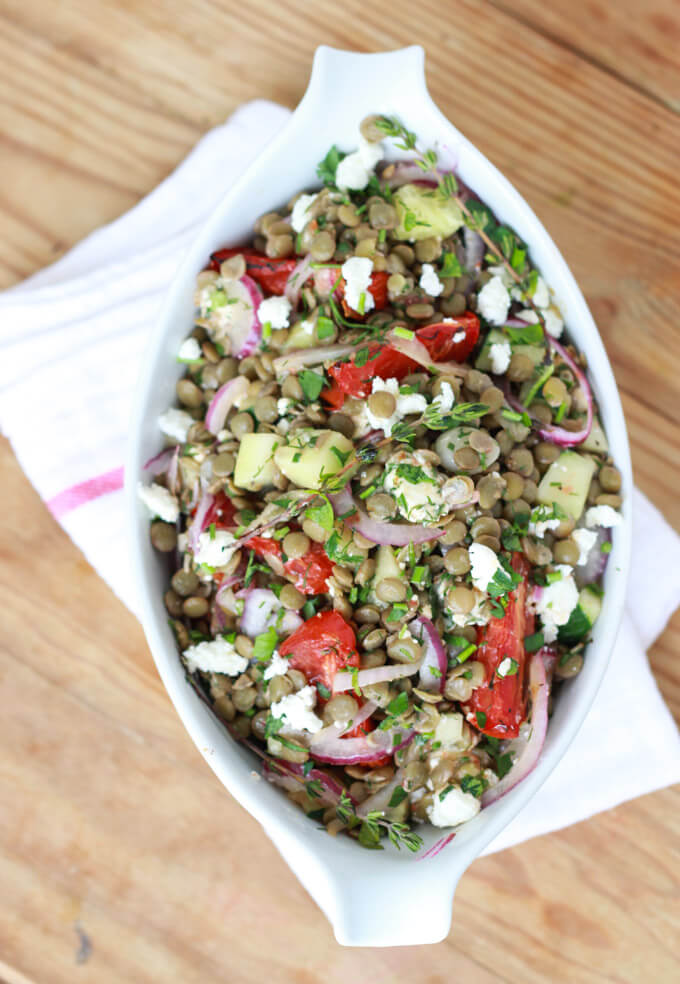 If you love lentils, you will love this salad. If you don't then come back tomorrow, I'll have something tasty for you 🙂

Lentils with Oven-Roasted Tomatoes, Marinated Onion and Feta
Author:
Katya @ www.littlebroken.com
Ingredients
Tomatoes
2-3 medium tomatoes, cut into eight wedges
8 thyme sprigs, leaves removed
1 Tbsp. balsamic vinegar
extra-virgin olive oil
sea salt
Lentils
1⅓ cup lentils
½ medium red onion, thinly sliced
1½ Tbsp. red wine vinegar
1 tsp. sea salt, plus extra
2 garlic cloves, pressed
3 Tbsp. extra-virgin olive oil
1 medium cucumber, chopped
3 Tbsp. parsley, chopped
3 Tbsp. chives, chopped
4 Tbsp. dill, chopped
⅔ cup crumbled feta
1 Tbsp. lemon juice
freshly ground black pepper
Instructions
Tomatoes
Preheat the oven to 400F.
Line a medium size baking sheet with parchment paper. Arrange the tomatoes skin side down. Drizzle with extra-virgin olive oil and balsamic vinegar. Sprinkle with thyme leaves and sea salt. Roast for 20 minutes. Remove from the oven and allow to cool completely.
Lentils
Cook the lentils according to package directions for approximately 20 minutes.
While the lentils are cooking, place the red onion in a small bowl and pour over red wine vinegar and sprinkle with sea salt. Stir and let stand at room temperature while the lentils are cooking.
Drain the lentils and add the red onion, garlic and extra-virgin olive oil. Stir to mix and allow to cool completely.
Once cool, add the roasted tomatoes, cucumber, parsley, chives, dill. Mix gently. Stir in feta, lemon juice and freshly ground black pepper. Taste and adjust seasoning.
Serve cold.
© Little Broken. All images and content are copyright protected. Please do not use my images without prior permission or claim my work as your own. Feel free to Pin, Tweet, Facebook and share away with a link back to the recipe post. If you want to republish this recipe, please re-write the recipe in your own words and link back to this recipe.