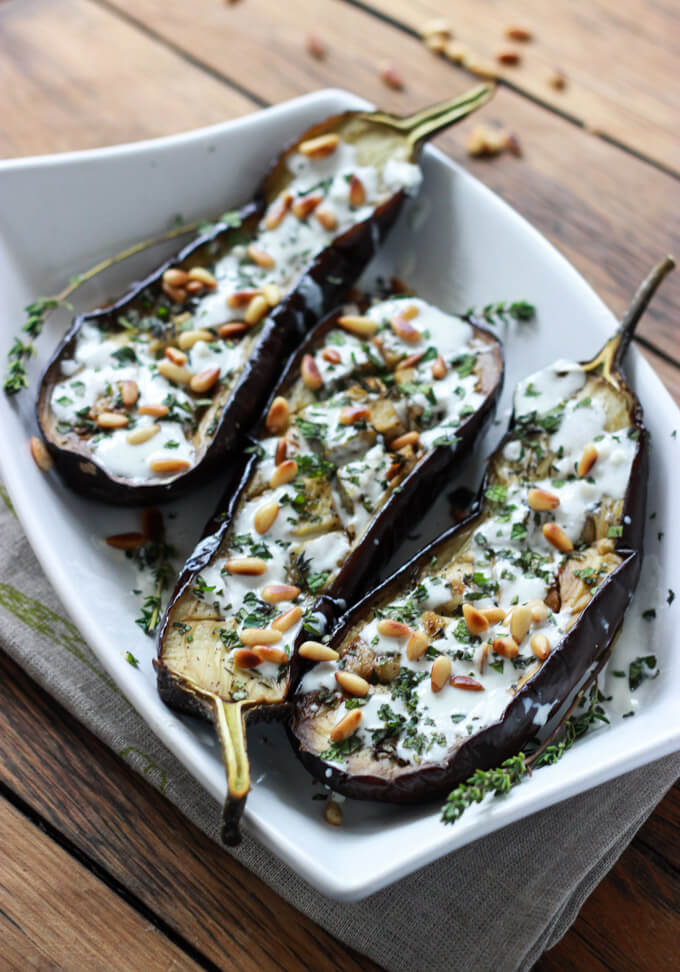 Who loves eggplants?! I do. A LOT.
But first TGIF. Cheers to Friday! Woop.
Back to eggplants….I'm very psyched! I haven't been this excited in a while, especially about eggplants.
You know why? Because they are just so darn good and I think everyone should eat them. Seriously, roasted eggplants served with buttermilk sauce and fresh herbs is my new thing.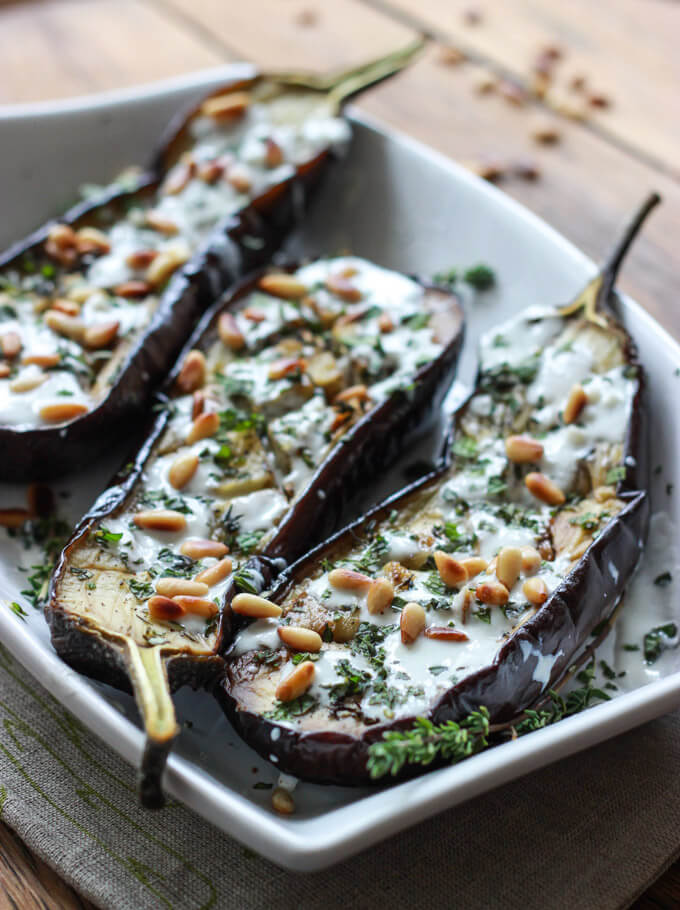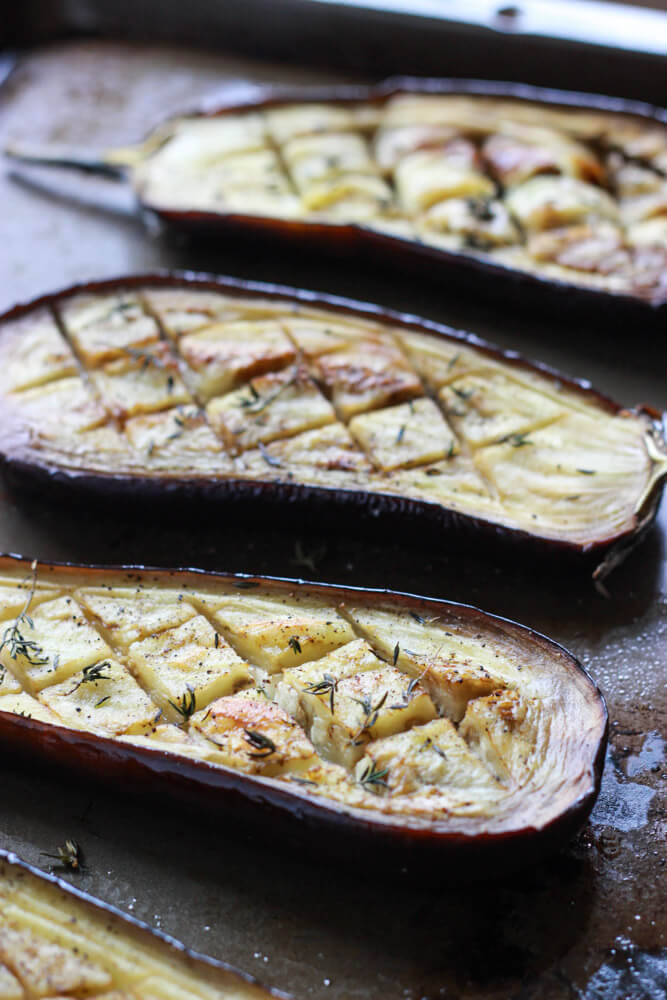 Nuttiness of the eggplants and pine nuts combined with zesty buttermilk sauce and finished off with fresh earthly herbs. You can even do better and serve this side dish with fresh pita bread . I like it with a side of salad. Kinda weird combo but crispiness of the fresh greens with nutty, sweet and garlicky flavors of roasted eggplants are my kinda yummy.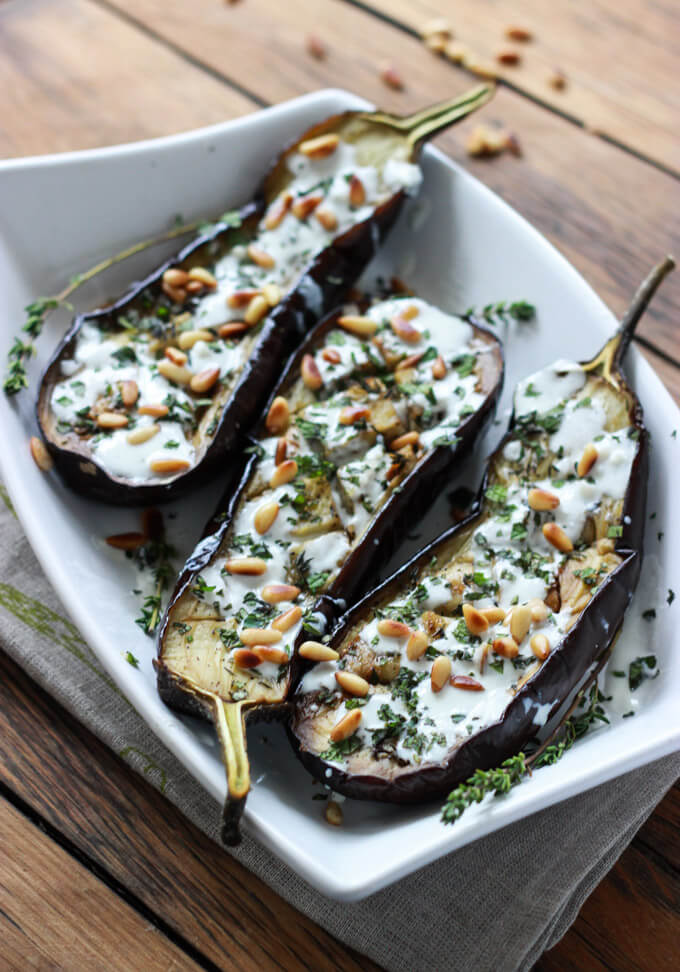 Buttermilk does not get enough love but buttermilk with greek yogurt makes a great sauce. Secret ingredient is fresh lemon juice. It still amazes me that a squirt of lemon juice can make or break a dish. I made gazillion variations of this sauce and at the end of each something was still missing until Mr. Spouse (he's such a smarty pants) was like.."why don't you add lemon juice?" Why didn't I think of that! But that's why I love him.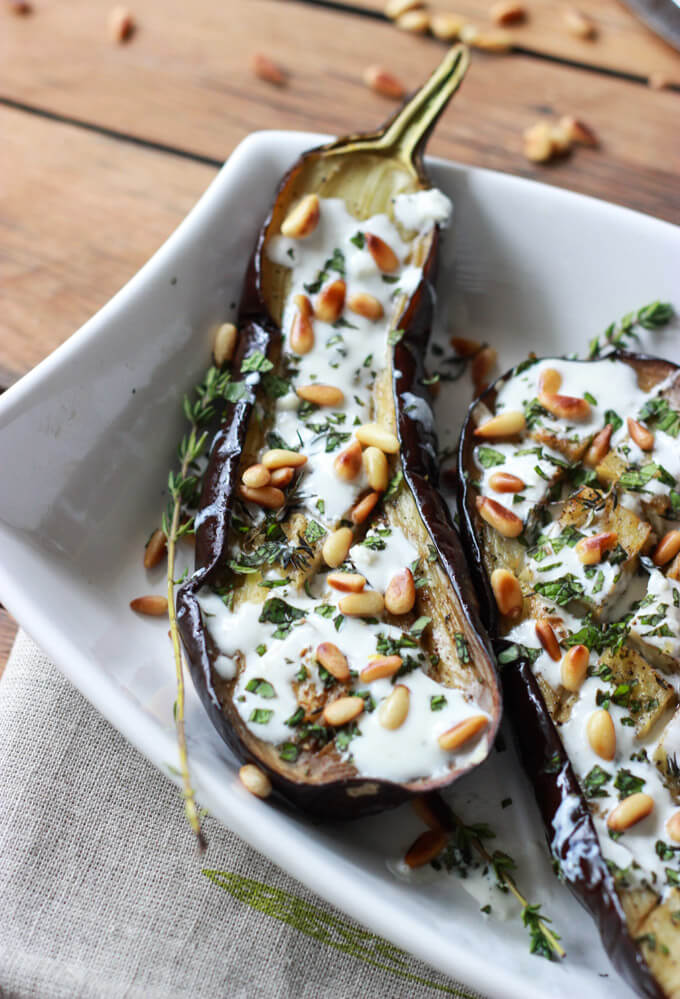 Lemon juice adds a little freshness and brings out the flavors of the mint, which I thought was awesome. Plus I have more mint growing than I know what to do with. I finished it off with roasted pine nuts, which are amazing and too expensive but so worth it.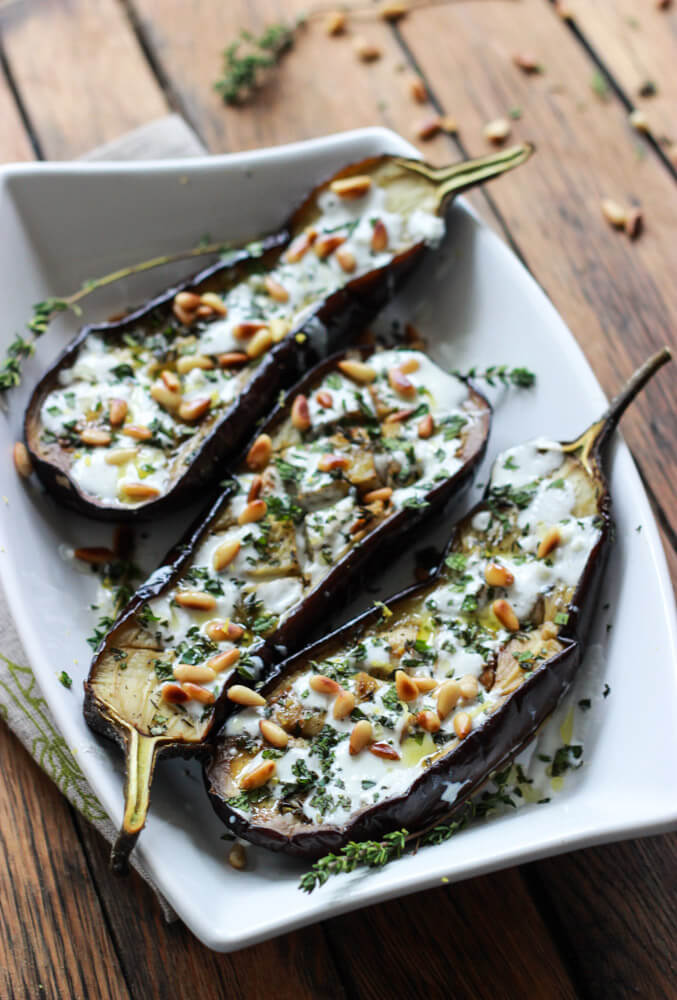 Roasted Eggplant with Buttermilk Sauce, Mint, Basil and Pine Nuts
Author:
Katya @ www.littlebroken.com
Ingredients
Eggplant
2 eggplants, halved lengthwise
¼ cup extra virgin olive oil, plus extra for drizzling
1½ tsp. fresh thyme leaves
10 fresh basil leaves, minced
10 fresh mint leaves, minced
3 Tbsp. pine nuts, toasted
lemon zest
sea salt and fresh ground pepper
Buttermilk Sauce
¼ cup plain Greek yogurt
¼ cup buttermilk
1 tsp. extra virgin olive oil
1 tsp. fresh lemon juice
3 garlic cloves, pressed
sea salt and fresh ground pepper
Instructions
Eggplant
Preheat the oven to 400F.
Place the halved eggplants cut side up on a baking sheet. Make four parallel cuts on the inside cut of each eggplant with a sharp knife without cutting through the skin. Repeat at the opposite angle to get a diamond shaped pattern.
Brush the eggplants (cut side) with olive oil, going back and forth until all of the oil has been absorbed by the eggplant. Sprinkle with thyme, salt and pepper. Roast in the oven for 40 minutes or until soft and browned. Remove from the oven and cool slightly.
Buttermilk Sauce
In a small bowl whisk all the ingredients until combined. Season with salt and pepper to taste.
To Assemble
Drizzle the eggplants with buttermilk sauce as much or as little as you like, sprinkle with mint, basil and pine nuts. Right before serving, drizzle with little bit of olive oil and sprinkle with fresh lemon zest.
Serve warm or cold.
Notes
This dish serves anywhere from 4-8 people depending on eggplant size. Larger eggplant halves can be cut into large chunks to serve more.
inspired by Alexandra at alexandracooks.com 
© Little Broken. All images and content are copyright protected. Please do not use my images without prior permission or claim my work as your own. Feel free to Pin, Tweet, Facebook and share away with a link back to the recipe post. If you want to republish this recipe, please re-write the recipe in your own words and link back to this recipe.