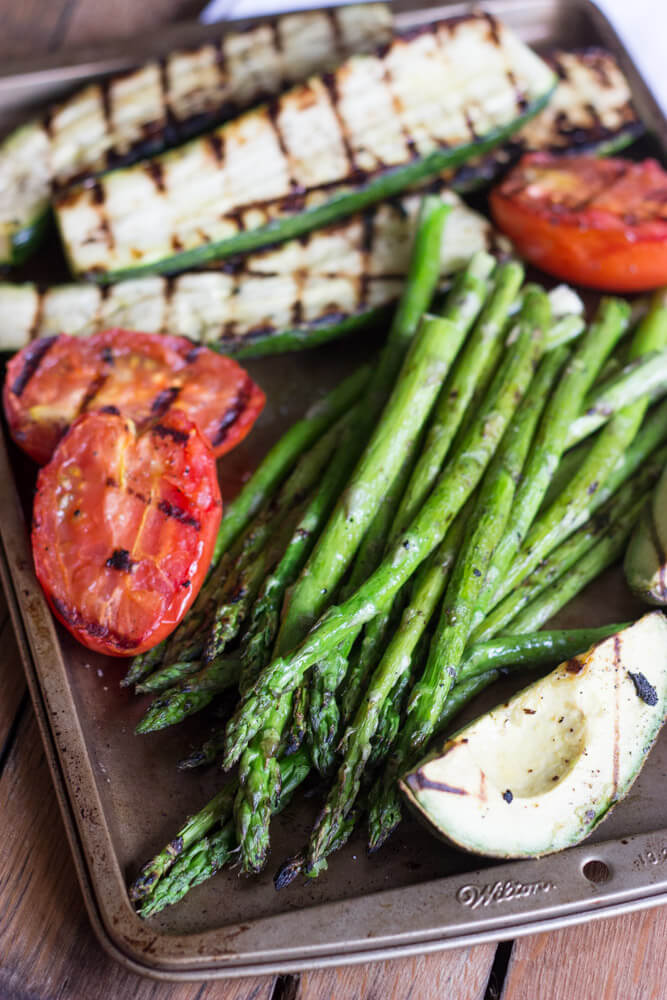 When Mr. Spouse and I were dating, we used to go to Barnes and Noble a lot. We were young and options were limited as to where we could hang out and a bookstore was sweet, innocent AND most important parent approved. We would browse the numerous aisles or read up on the latest magazines. Back then it was just our way to be together.
Twelve years later: house, career, child, hustle and bustle of every day life and not so much Barnes and Noble anymore. But recently I found myself back at that place feeling a little nostalgic.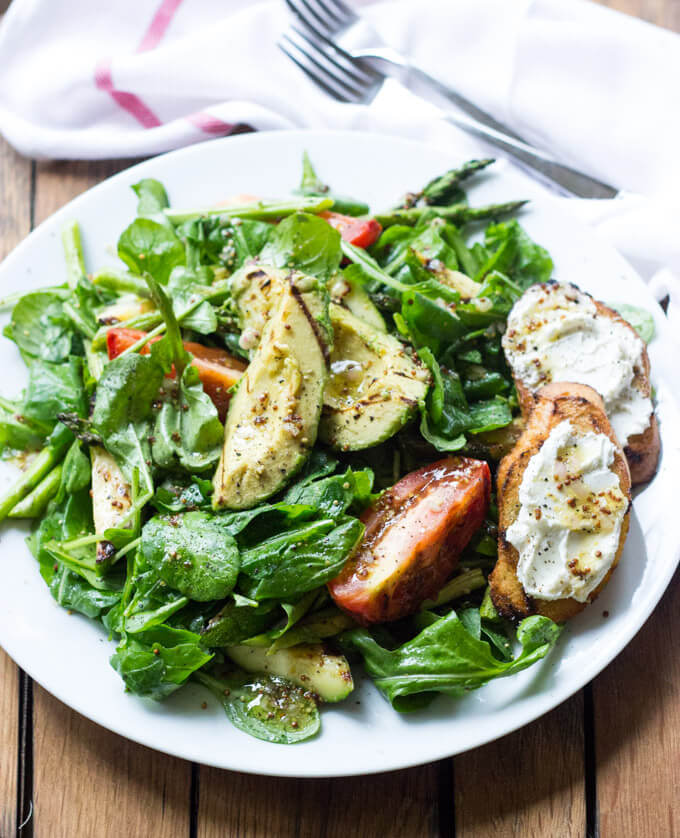 I had couple hours to spare one early Wednesday evening and a bookstore seemed like a good idea. I don't normally get up and say I'm going to a bookstore today but that day that was my only mission without any stops on the way or interruptions. Woo, hoo for me! Any mother will tell you that does not happen often. The fact that I was there by myself …well that was just icing on the cupcake.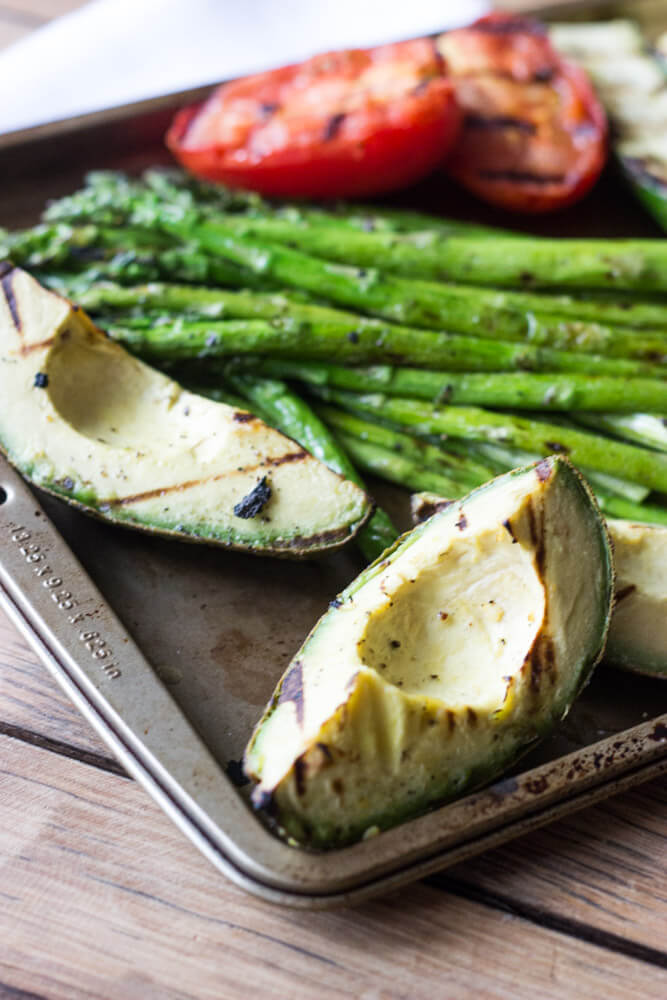 I found myself in the cookbook isle salivating over picture perfect food on every cover. I love cookbooks for inspirations and for as long as I can remember always loved browsing through food books, whether in a bookstore, magazine or internet.
That day, I came across Curtis Stone's "What's for Dinner?" cookbook. Never really followed him but realized that I need to as he has so many picture perfect recipes. I wasn't planning on buying cookbooks that day so I did something that I'm not really proud of…I snapped couple recipes with my iPhone. I know…don't judge.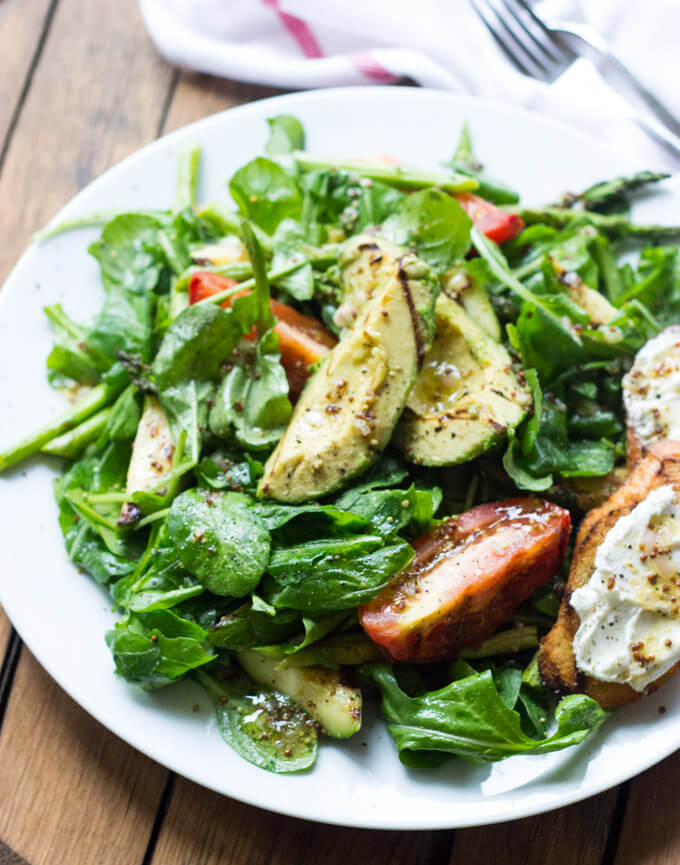 Grilled Vegetable and Arugula Salad with Goat Cheese Crostini was one of them only to find out he has a website and many of the recipes, including this one is online. Shame on me. Grilled veggies on a bed of arugula, drizzled with Dijon vinaigrette and served with goat cheese crostini. Plus who would've though that you could grill avocados?! That's a new one to me and I also found they don't turn brown so fast when grilled as I had leftovers next day and avocado was still perfectly green. This salad is simple enough that I went home and made it that day and it turned out just like the picture but tasted even better. Sweetness of the grilled veggies combined with tangy Dijon vinaigrette and salty goat cheese crostini is a combination of perfect opposites. Dijon vinaigrette is only 4 ingredients but is so powerful. I think I found my new favorite.
So that day, not only did I discover a new recipe but it also got me reminiscing a little bit of my dating days with Mr. Spouse and realized we need to do more simple things that we once enjoyed but no longer have time for as simple way of life is so much better if you ask me. So our next date is coffee at a bookstore and I promise this time I'm buying the cookbook 🙂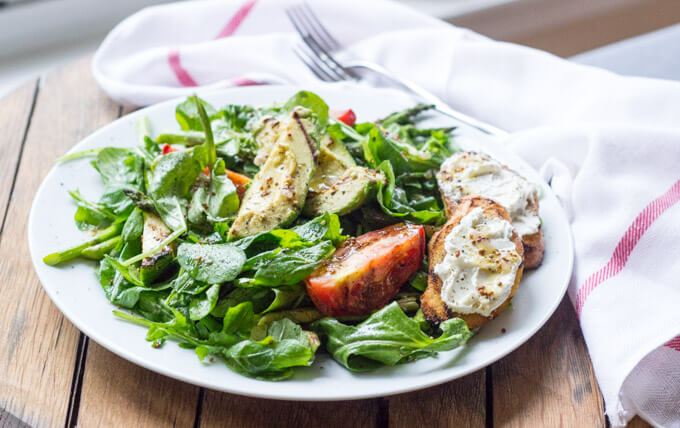 Grilled Vegetable and Arugula Salad with Goat Cheese Crostini
Author:
Katya @ www.littlebroken.com
Ingredients
Dijon Vinaigrette
¼ cup extra-virgin olive oil
3 Tbsp. white wine vinegar
2 Tbsp. finely chopped shallots
1½ Tbsp. coarse-grain Dijon mustard
Salt & pepper
Salad and Crostini
5 oz. bag baby arugula
1 firm but ripe avocado, pitted, quartered but not peeled
2 plum tomatoes, halved lengthwise
1 zucchini, halved lengthwise
½ lb. asparagus, woody stems trimmed
8 slices baguette (thinly sliced on diagonal ¼ inch thick)
2-3 oz. goat cheese, room temperature
Olive oil
Salt & Pepper
Instructions
Dijon Vinaigrette
In a small bowl, whisk together the vinaigrette ingredients until combined. Season with salt and pepper; set aside.
Salad and Crostini
With a pasty brush, lightly coat cut sides of avocado, tomatoes, zucchini and asparagus with olive oil; season with salt and pepper. Brush one side of baguette slices with olive oil; season with salt and pepper.
Preheat the grill to medium-high. Grill the baguette slices for about 2 minutes per each side or until toasted. I did not leave the grill for this part as the baguette slices are easy to burn. Spread the goat cheese over crostini; set aside.
Next, grill the avocado quarters cut side down until grill marks form, about 3 minutes. Remove the peel from avocado; cut into large chunks and set aside. Grill the remaining vegetables, turning occasionally, until slightly charred, about 4-5 minutes.
Chop the grilled vegetables into large chunks when cool enough to handle.
To assemble the salad: place the arugula in a large wide bowl or platter. Add enough vinaigrette to the arugula to coat lightly. Arrange the grilled vegetables on top of the arugula. Drizzle additional vinaigrette over salad as needed.
Serve the salad with goat cheese crostini (2 per each person). Season to taste with salt and pepper.
Notes
Top this salad with grilled chicken, shrimp or salmon for a full meal
© Little Broken. All images and content are copyright protected. Please do not use my images without prior permission or claim my work as your own. Feel free to Pin, Tweet, Facebook and share away with a link back to the recipe post. If you want to republish this recipe, please re-write the recipe in your own words and link back to this recipe.